Just got back from a trip to Yellowstone and Grand Teton National Parks (June 29 through July 4). Went with my girlfriend, so it wasn't all about fishing, but we got in a decent amount. For those of you who haven't been, you should go, it's an amazing area. I could go on about everything we saw and did, but I will just stick to the fishing here.
Summary:
Fished here and there throughout 4 days in the two parks. Fished 7 different rivers (none for more than a few hours though). Didn't catch anything huge, but landed Browns, Bows, Cutts, Brookies and Lakers.
Day 1:
After driving all day the day before to get there, we pretty much just did sightseeing the whole day, but I did get to fish the upper meadow of the Gibbon for about 30 minutes. Caught one 12-13" brown and missed some more hits on a Para Adams. Cool looking stream in a big open meadow.
Day 2:
After some more sightseeing, I fished the Yellowstone River for about an hour and a half. Salmonflies were on the menu. Landed a few nice cutts and a decent bow and missed about 15 more takes including probably the biggest cutt I have ever seen. Here is one landed:
Next it was off to Slough Creek. We found a section with no people and fished for about 2 hours. I found a few runs full of fish where my girlfriend was able to get a bunch of fish to come up (mostly small) but she wasn't able to land any. I fished some of the deeper, slower sections hoping for larger fish and had quite a few big fish hit among a bunch of smaller ones. Just one of those times that the fish don't stay on, so we didn't actually land anything even though we had tons of hits. Really neat stream though with some good sized fish in there.
The next stop was just down the road at the Lamar. This was probably my favorite river. I only got to fish it for about an hour, but the fish were willing and the scenery was awesome. Fished a stone dry for most of the time and caught a few decent cutts and missed some more.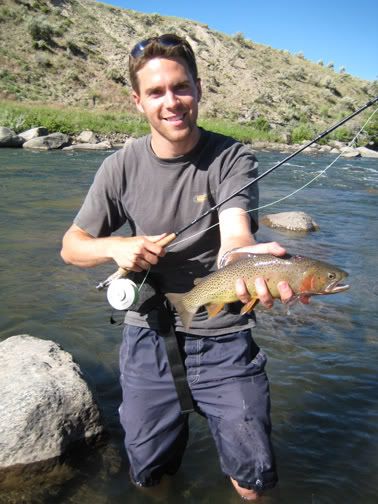 Switched to a streamer after working the dry and landed a few more and lost a few more. Nothing huge, but all nice fish. I wish I had more time because just up river, it went out into a huge open meadow full of wildlife and pretty much no one fishing it. Didn't get a chance to fish this section.
Day 3:
Only got to fish one spot briefly as it was another sightseeing day, but we stopped at the Lewis Falls just below the lake and it looked too good not to try. We went right up to the base of the falls and fished there for a bit.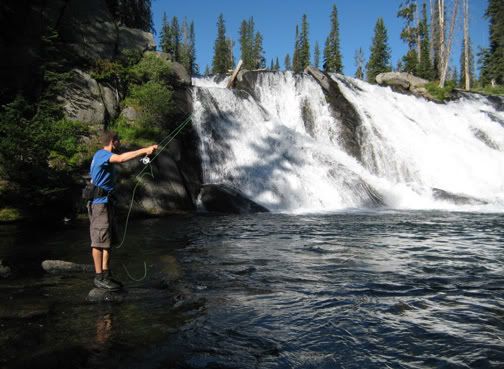 My girlfriend caught a few small brookies and a little brown on a caddis while I chucked a streamer below the falls hoping for something big. Couldn't find anything big, but I caught a small brown and a few super skinny lakers.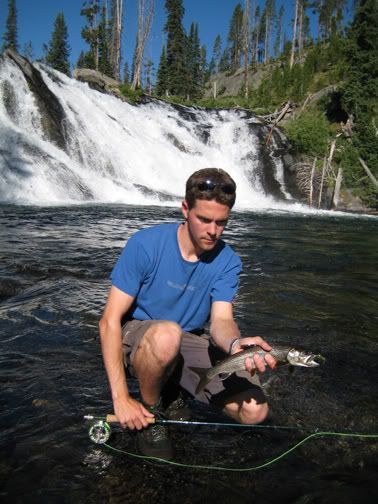 The meadow down below looked really cool, but didn't get a chance to fish it.
Day 4:
Woke up early and fished a small stream inbetween two lakes in the Tetons. It looked like a great stream, but only found a few small brookies trying streamers and dries. I was starting to get a bit discouraged until I found the spot where the stream emptied into the lake...
This was on the first cast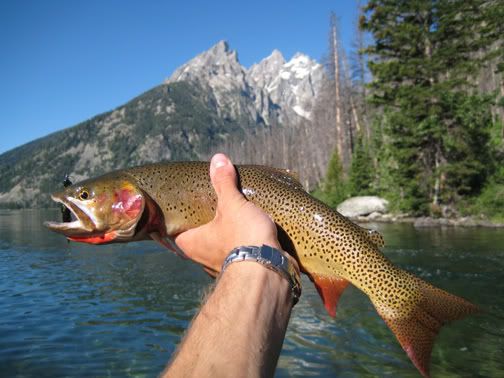 Here is about the 5th cast
After a few more hits but no fish, I switched flies to a big sculpin and proceeded to hook and loose two huge cutts that make the ones above look like pussies...:beathead: A few more casts and I had to head back to camp to do a big hike.
After the hike, we went to the Gros Ventre river. This is another friggin' awesome river. Only got to fish it for a few hours, but we tried a few different sections and she was able to land some small cutts on the salmonfly and I caught a few as well (and missed a bunch more hits).
The sun started going down and the fish were not coming up as well as they were, so I started chucking a big streamer. Right away I hooked and lost two big cutts and landed a decent one (14-15"). Down at the next run, I lost a few more good fish and then it was time to head back to camp.
Overall, the rivers were not really that crowded and the fish were more than willing. There are so many good trout streams and lakes in that area it's rediculous. Next time I'm taking off more work!