Owner and operator of Sea Run Pursuits
Fished a small wild stream here in North Carolina this Sunday with a couple friends. The drive in is about 45 minutes from town but the last 35 of it is dirt road. When we arrived at the end of the road we were met by the sound of rushing water. It was the headwaters of **** River. This river flows 15 miles from it's headwaters without a single road on it. The fish have not been stocked in this river in over 30 years so everything in it is wild and beautiful. This summer western North Carolina has seen a record drought. The air temps have been in the upper 90's with water temps reaching 75 degrees on some of the lower rivers. Fortunately the drought is over and the rain has come, along with cooler temps.
The rivers water temps were 58 degrees and it was overcast. Boy oh boy was this going to be a good day. We worked our way down stream about a half mile and started back up toward the cars. Several fish and a trip to the E.R. for Marty's bee sting that almost killed him literally, we were out of there. Let me tell you driving MPH on torturous mountain roads with your friend dying in the back seat will get your heart a going. Luckily he had an old epi pen in his vest and we got to the E.R. in time.
Here is Greg spin casting the tail out of the Otter hole on the river. Big deep hole that holds a lot of fish.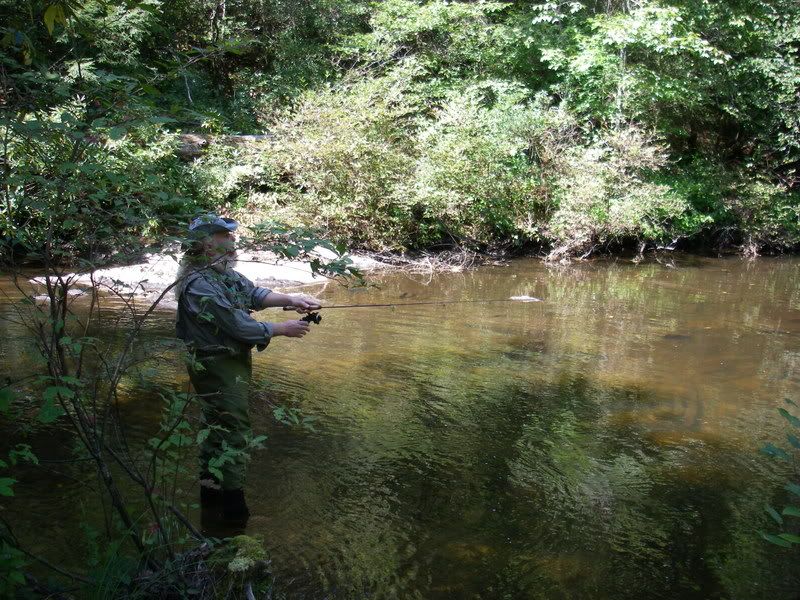 Marty working the bubble line in the Otter hole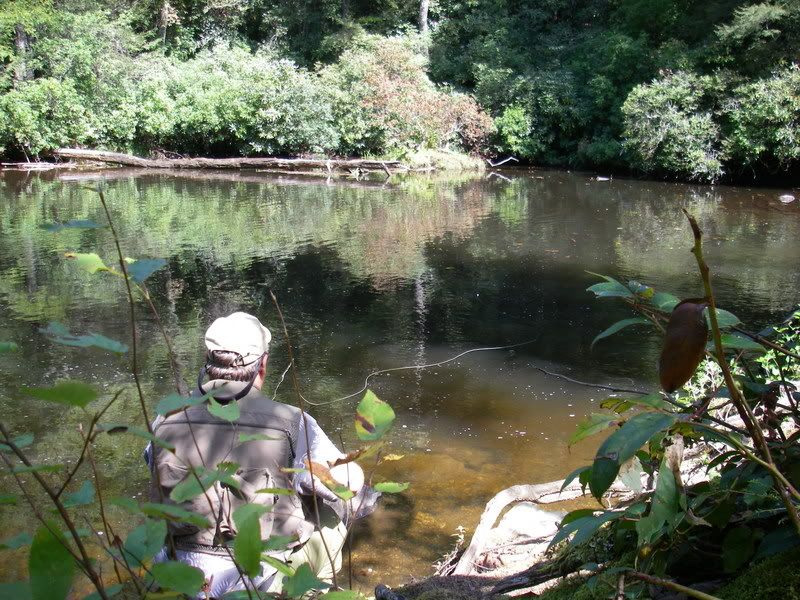 Marty's first of many fish on the day. Damn nymph fishermen!
Tight casting in the Rhodies for brownies.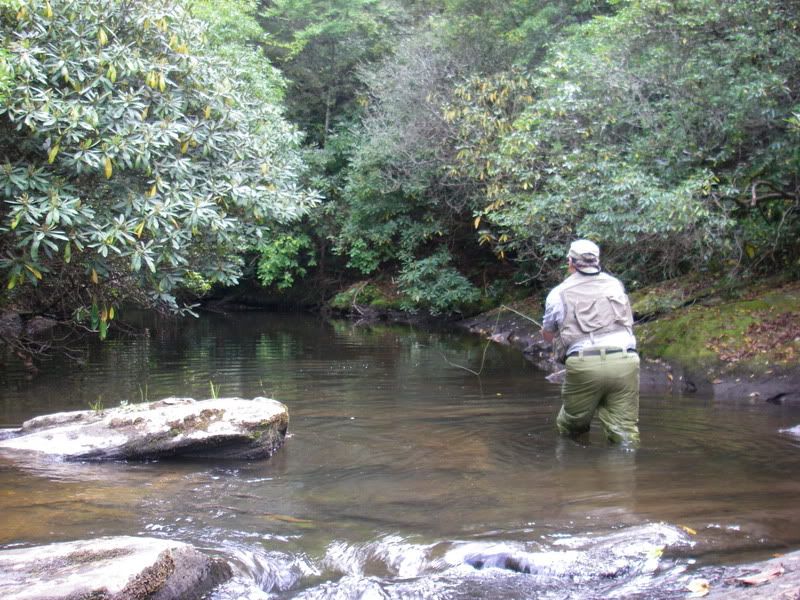 Back up against a wall and still catching fish.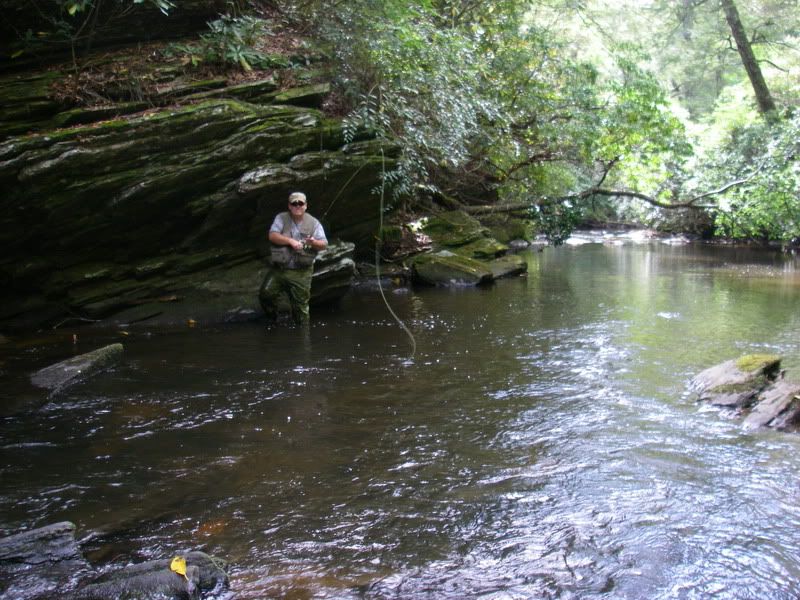 I like to call this the lunch spot. A nice flat rock that sits in the sun most of the day.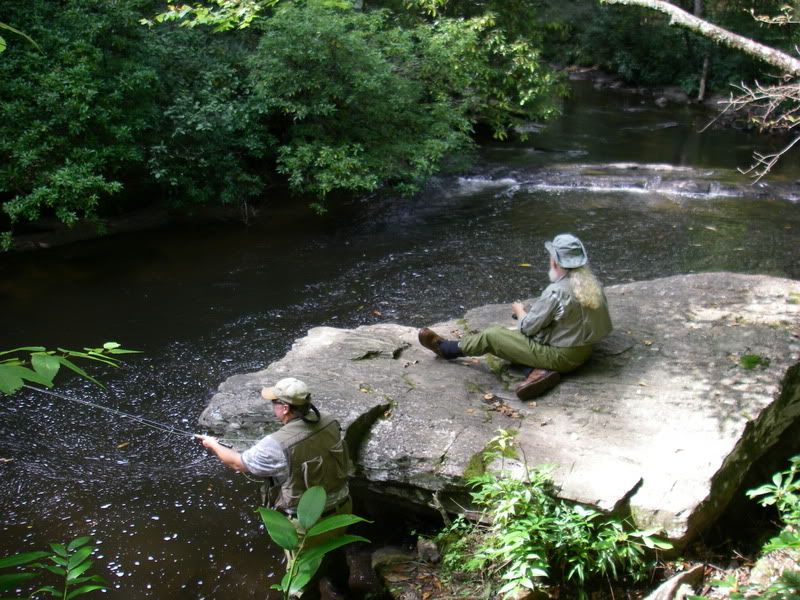 And finally we made our way back to the cars. As the guys were getting ready to go, I just had to go back after this one trout. I have missed him numerous times only to see my friend Robbie pick him up twice. This 10" inch brown sits in this one hole and I always miss him. Well this day I "borrowed" one of Robbie's secret flies and went to the hole. As I came up on the tail out I saw him rising consistently under this tree branch. He was rising about every 5-10 seconds slurping something off the top. I tied on the secret fly and crept my way up to about 20 feet from him. I knew I only had one chance at this guy so I had to make it a good one. I stripped off the 20 feet of line and let it all run down behind me. As the line went taught I lifted and launched it just in front of the spot were the brown was rising. I nervously watched the fly drift down to were I knew the brown was feeding. Slurp. I had him on. Finally I got the brown. There is nothing more rewarding than sight fishing to a single trout and watching him eat your fly (well except maybe taking a nickle bright steel on a skated fly, but I have never done that).