Just got back from a trip down to the Texas coast where I got to visit some family and get some fishing in. Fishing for Redfish in the flats is probably one of my favorite types of fishing, I would definitely recommend it for those of you who haven't tried it. We stayed in Port Aransas and fished right around there. Along the Texas coast (at least in that area), there is a seemingly infinite amount of fishable flats. It's pretty amazing. Well, on to the fishing! We got in 5 half-days:
Day 1
We rented some kayaks and at dawn, headed out into a big area of shallow flats and "lakes" as the locals call them (an area of flats surrounded by land/mangroves). These flats are so full of life, it's amazing. There are mullet everywhere, other little fish jumping around, redfish, speckled trout, catfish, ladyfish, crabs, sting rays, birds, etc. This also makes it more difficult to spot the fish as there is so much going on under the water. For the most part, you are just looking for the right kind of wake in the water or tails popping up. It took us most of the day to start to figure out what to really look for.
The day started out with a little popper action in a deeper cut leading into the flat.
I caught some small speckled trout and ladyfish, but couldn't find any Reds, so we switched to some shrimp patterns and blind casted for a while into the deeper water resulting in the first Redfish of the trip for my dad.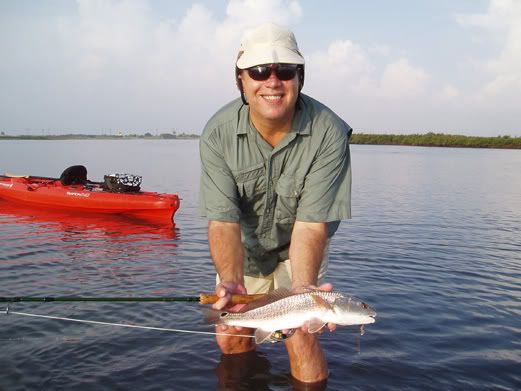 We worked our way onto the main flat and started looking for tails, but there were not many Reds popping up. In the last few hours I started to see them and I landed my first red of the trip and missed a few more.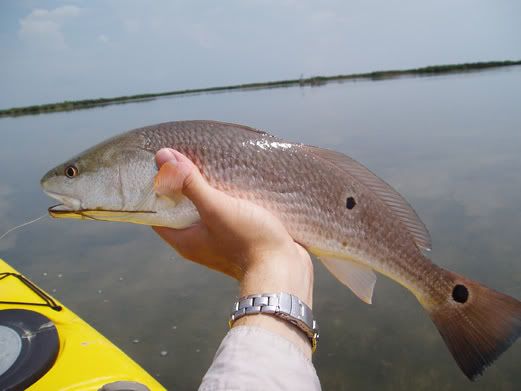 Day 2
We rented the kayaks again and decided to try a little different area of flats. I wanted to try for a few trout before going for the reds and my first cast of the day resulted in a nice one that leaped clear out of the water for the popper. Bad ass!
We tried a little longer with no luck, so we moved onto the flats. Pretty quickly we started seeing big wakes which usually means a school of Redfish is on the move. I paddled over to one school and got some casts in. 3rd cast - fish on! It wasn't fighting quite like a red though, and I got it in to see my first Black Drum on the fly.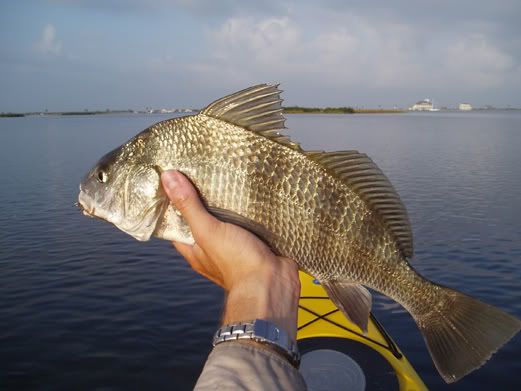 We looked around and noticed a bunch more schools (which I guess is pretty rare), so we had fun catching and releasing a bunch of those guys for the next few hours. We must have caught 10-15 each, there were schools crusing the flats everywhere. Now it was time to focus on the reds, so I started to look for bigger wakes and hopefully some tails. I worked my way towards some mangrove shoreline and saw something bigger. It's tail popped up confirming it was a red and I tossed the fly out in front of his path. The first cast he didn't see the fly, but the 2nd cast he sped up and engulfed the fly. Man, those fish can definitely pull hard!
We kept working our way across the flat looking for tails. We quickly found some, but after a closer look, it turned out to be more Black Drum. We couldn't resist casting to them and pretty quickly a bigger red shape appeared between me and the tails...a nice Redfish! I blew the first cast, but the 2nd was dead on and after a hard battle I tailed a nice Red.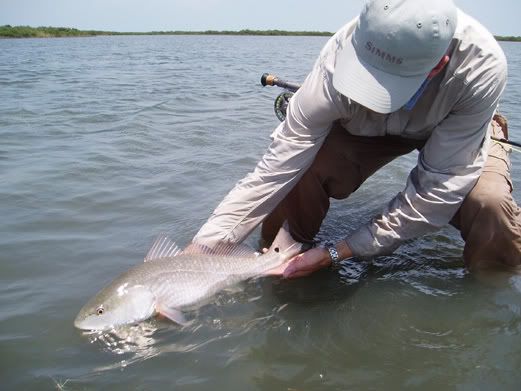 We moved again and found a slightly deeper cut where it seemed many of the Black Drum schools were headed. We sat there for 30 minutes or so and watched school after school of fish crusing by. We plucked a few more of those and right when we were about to move, another red shape came into view. It was almost out of casting range, but I bombed out a nice cast right in it's path and it was fish on! Another nice red came to hand to finish the day.
Day 3
My cousn's friend offered to take me, my dad and some other members of the family out in his boat and drop us off on a flat. We gladly accepted and were greeted to a nice sunrise on the way out:
We saw some birds working some deeper water on the way to the flat, so we stopped to find a big school of fish working some bait. Man, I love that sight! However, it turned out to be a big school of ladyfish and after a few of those, we were ready to move on to the flat.
We parked the boat and walked in to a big shallow lake surrounded by mangroves. Half of us went one way and the other half went the other way. My group didn't find too much, I caught a big ladyfish and a small Black Drum, but that was it. We went over to the other side to join up with the rest and they had been doing quite well for Reds. We quickly started seeing fish, but they were really spooky after beeing chased around all morning, but I was able to land 3-4 smaller ones and miss a few larger. Check out the blue on this one's tail: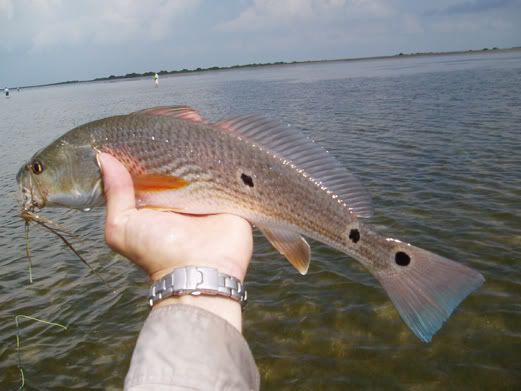 We got back into the boat and headed to one more spot where my dad and I each caught a decent Red, but soon it was time to head back in.
Day 4
We just had 3 hours to fish in the afternoon, so my dad and I rented some kayaks again and headed out. It turned out to be a perfect afternoon with very little wind and lots of fish tails popping up. We found a nice cove to walk around in and we picked off 2-3 Black Drum each. Here is one of my dad's:
Soon we started noticing a few bigger wakes and my dad nailed a nice Redfish. About 10 minutes later I saw a big wake coming my way. About 60' out, I could start to make out the shape of a nice Redfish and I put a cast right in front. It quickly sped up and took the fly, but I pulled it right out of it's mouth! It did a circle looking for the fly and then continued on towards me. Now only 20-30' out, I put another cast down in it's path and it lunged again and I choked and set the hook before it had really taken it. The fish stopped again and looked for the fly and continued on it's path toward me. Now it was only 10-15' away and I don't know how it hasn't spooked. I debated flipping a cast out or just waiting really still for it to get a little further away, but I couldn't resist, so I flipped my fly out in it's path again. Good choice, it quickly nailed the fly! From 15' away, it took all my fly line and a bunch of my backing out into the flat and after a hard fight, I got in my best one of the trip.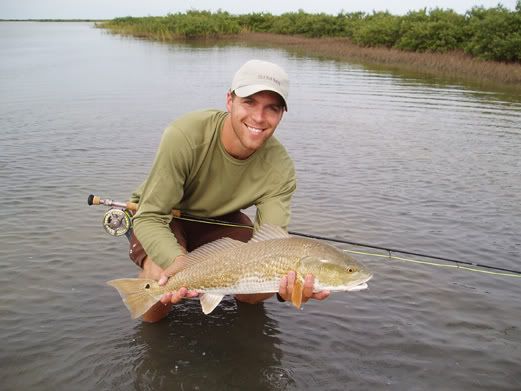 Now it was time to start heading back in to return the kayaks, but on the way back I found a big school of tailing Reds. They all looked huge. I paddled within range and put a cast right on the edge. I saw a big boil and felt a grab but before I could even set the hook, the fish bolted so fast it broke my 12lb leader. Damn that was awesome. I waited 5 minutes or so and the school came back up. I got within range again and got a cast in. Felt another grab and the fish quickly bolted again, instantly breaking me off. They were both big ass fish. Unfortunately, I didn't have time to keep chasing them around, so I reluctantly headed back in.
Day 5
We had a little time before our flight out, so we tried to go out with my dad's friend in his boat, but the engine was having some trouble, so we just rented the kayaks again and headed out to the flats. I quickly found a school of reds and landed a decent one. Found some schools of drum also and landed some of those. Check out the little whiskers under the chin: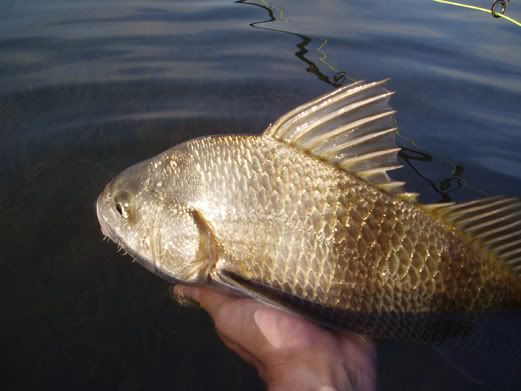 The wind came up, making it pretty difficult to find fish, but I managed to land two more nice Redfish and a few drum bringing a nice trip to an end.
Over 5 days, I caught Redfish, Black Drum, Speckled Trout, Ladyfish, Catfish, a Stingray and even snagged a mullet! We are already planning our trip back next year!