When I first built up my "big boy cataraft" as listed in this thread (if you care to read six pages of my rambling) I mounted my seats all on cross rails.
http://www.washingtonflyfishing.com/board/showthread.php/66527-Big-Boy-Cataraft
What I found was that crossrail mounted seats sit pretty low, leave very little space beneath them and at best you'll stuff a little gear bag, backpack or dry bag under there. Very inefficient for storage.
Here is the family floating on the Yakima. With Mrs. Mumbles, Youngest Mumblette and the anchor aft you can see that Eldest Mumblette is higher than the rest of us. Under the seat cross bars we stuffed our things, and there was a soft sided cooler sitting under the girls' seat cross bar and a 15 gallon storage box on the shelf behind my rowers seat, but space was at a premium and I realize I had not thought that part out very well at all.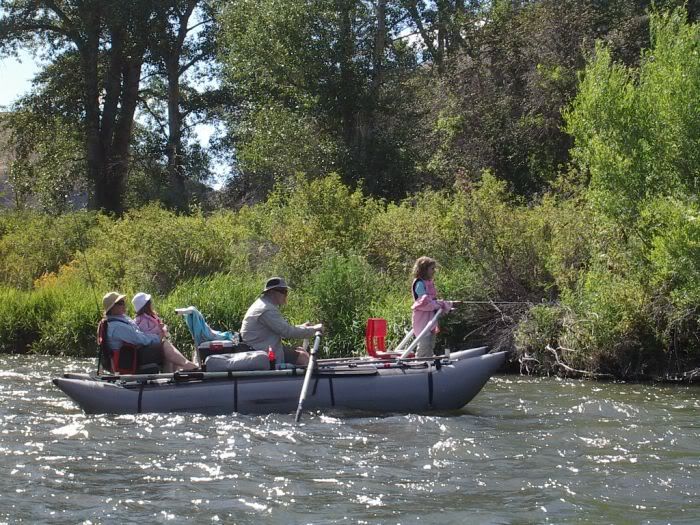 Taking in points from friends Freestone and Salmo_g who both basically told me that things needed to serve two or more purposes to really maximize benefit. Freestone was talking specific to watercraft, Sg was talking about lightweight hiking/fishing trips. Both made excellent points. I decided that if this cataraft is to serve me and my friends for day fishing trips it was okay, but could be better. If it were serving me for an extended trip there was deck space fore and aft but nothing more of use. If it were to serve my family for a multiple day float and camp trip it lacked any logical place to put the stuff we'd need.
I have three 20 gallon storage boxes now. They are not $300 dry boxes, I can't swing that. They are $30 storage boxes from Home Depot. I got three so that I could configure one box to have the side by side little seats for the girls on the family outings. The second box is for the rear seat that should always be a solo. The third seat is a solo seat for fishing friends. I really only needed the lid, because I could swap them out, but for $30 I still did not drop much $$ for a much more space thoughtful and interchangable setup.
The side by side seat mount storage box for the girls (and a place to put lots of rocks to trim the boat if needed) This box material is pretty stout and I used a dremel tool to cut out web strap holes to allow the lower portion to be lashed to the boat cross rails (two in the front of the box, two in the back). This holds the box down and in place. I'll use one strap or a loop strap to fasten the top down so that it will not open randomly. That black deck is 5/8" load bearing oak that has been drilled to allow the frame/pontoon straps to pass through and lock it to the frame. The decks are totally sealed with Line-X with the textured surface for excellent traction. Studs are not a problem here, just don't step on my tubes! That is what the side boards are for. (thanks to Mark Walker for the insistence that Line-X is the way to go. He was right on the money)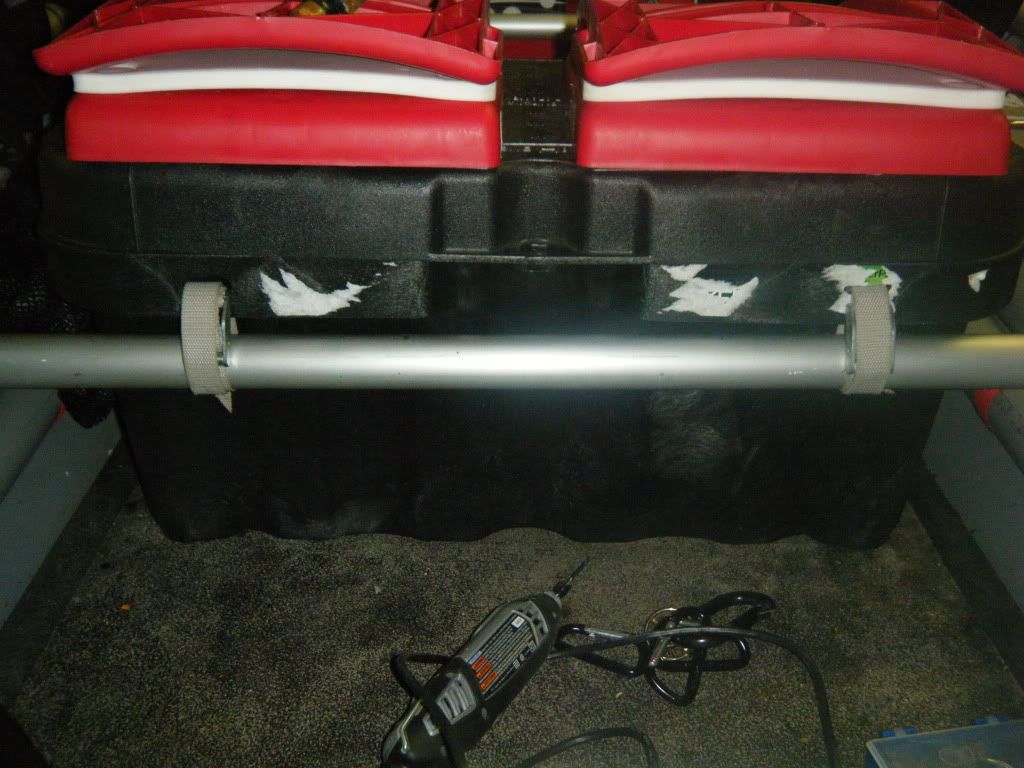 Front box rear corner attachment to my foot bar. In this photo and others you can see the two large PVC tubes used for rod storage. They currently are only accessible from the front and rear of the boat, which is not ideal, but they are safe from most potential damage.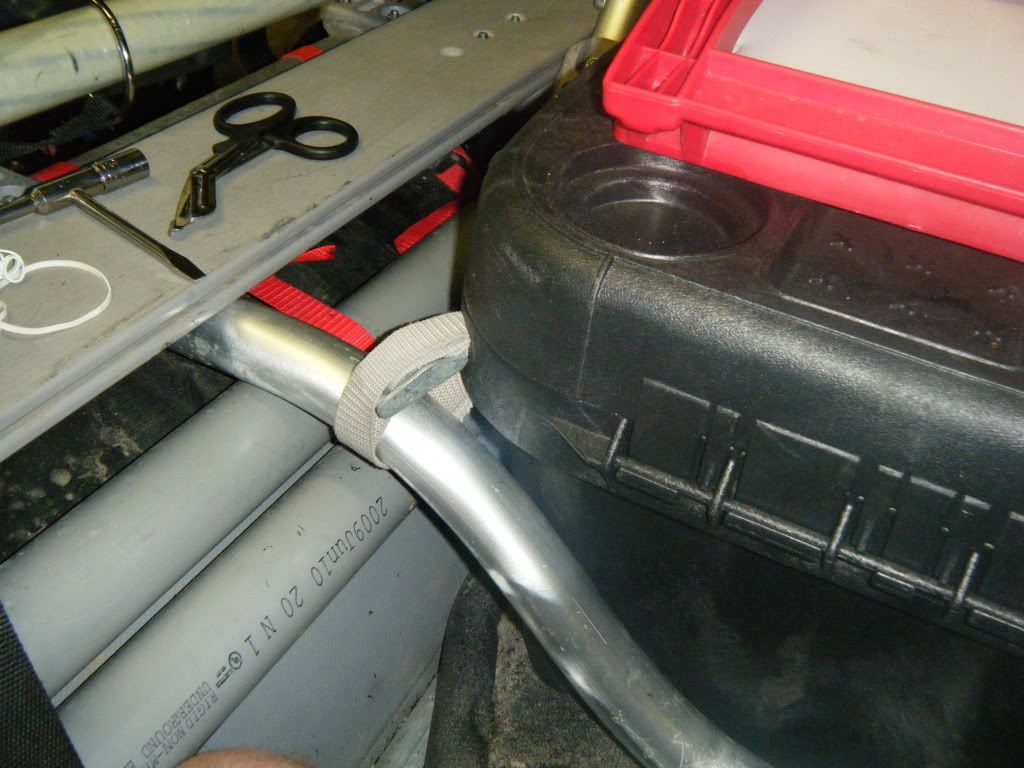 Front box rear corner, opposite side near anchor cleat and pulley.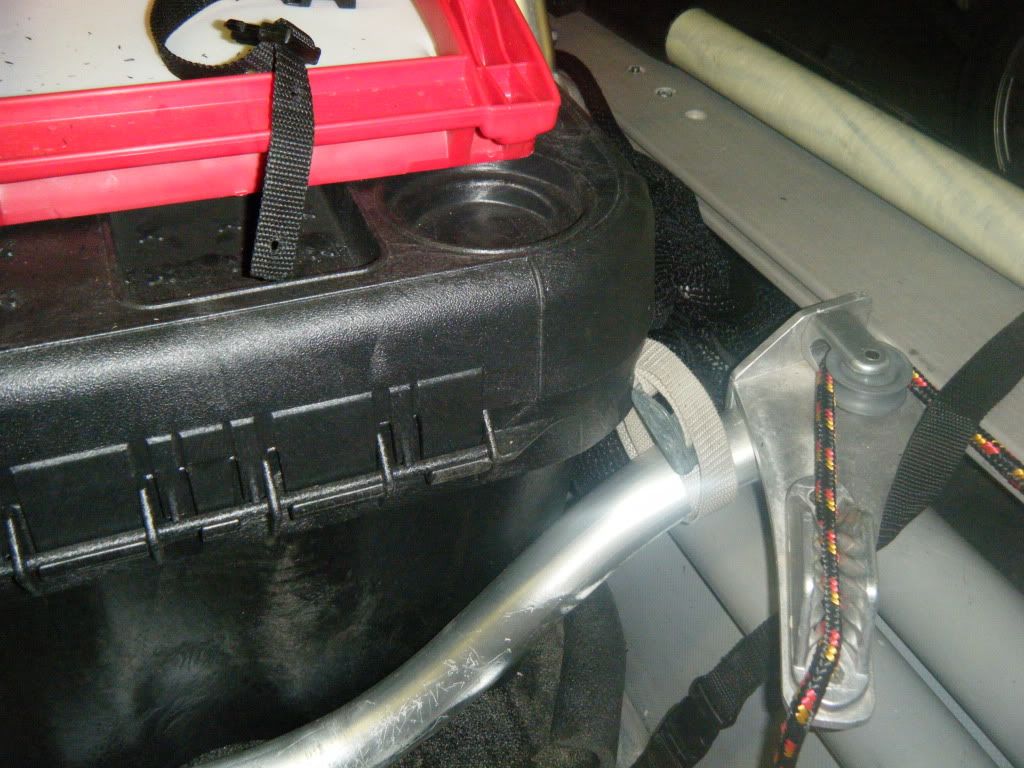 Hands down the toughest darn part of this project so far, mounting this seat to the cooler lid. What a total PITA, but I got it done. Soft sided cooler is no longer needed and the back shelf, plus a thermarest mat, will allow for some napping space for the little ones (or my fishing pals if they really need a nap that badly. The cooler is held in place by a NRS adjustable cooler mount and it also rests on the rear deck (about 3") and the rower's scouting step (also about 3") Two loop straps come over the top to hold the lid down. This cooler is only a 48qt, but it is paid for. The frame will take a 72 qt igloo marine cooler, and I'll add that when funds permit.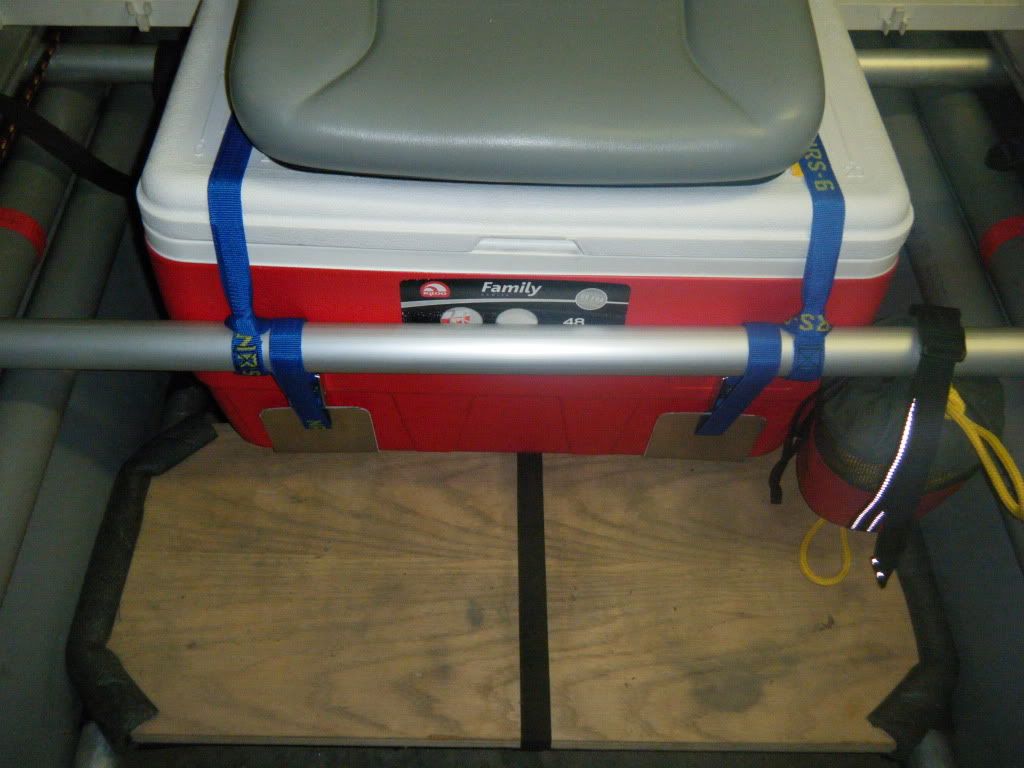 After dremel cutting out a section to fit around the Y thigh bar upright I mounted the shelf behind my seat. This is a 4' wide floating dock tread made by flow thru, I found it at a hardware store and knew I could put it to use. I plan to replace my untreated wooden rower's scouting step with one when the gear fund permits. Super strong, lightweight, sheds water through those large holes and has a textured surface for good grip. Well worth the $20 this one cost. I'm actually contemplating replacing my 6" wide side rails with these bad boys from end to end. In this shot you can also see the rear storage box and its small web straps holding it into the bay. There are two straps in the back too.
What I did not know when I started was anything about building frame boats around bays that will contain boxes. I just figured out how many crossbars to get to hold seats and lean bars and put it together. Now I have much more flexibilty, storage, cold storage and really only had to tighten the front and rear casting areas about two inches each. Still enough room for me to get into the front and rear areas to fish and I like that these seats are a bit higher than they were down on the crossbeams.
For you boat gurus, what am I missing now?