After reading Lugan's review of his 6/7 Steffen 8' (see here
http://fiberglassflyrodders.com/forum/viewtopic.php?f=2&t=38721
), I thought I would post some photos and comments about my 8'6" 6/7 wt. 4pc. build I'm working on. I will start with saying that everything that Lugan says about his 8' 6/7 carries over to the 8'6" as well. I was one of the people who contacted Lugan shortly before he received his rod and I received my blank voicing my concerns about whether this was going to be "too much" rod for me. Before I received the blank I started second guessing my decision and wondering if the swing weight of this rod was going to be too much. In short, I can say that it is NOT too heavy for me and it is a JOY to cast!
I'm not 100% finished with this rod, as I need to touch up the finish work on my tip top wrap which was had some inconsistencies that I sanded down and I want to add a hook keeper. So in the coming weeks I will likely wrap a hook keeper and when I finish that wrap I will also refinish the tiptop wrap. But the rod is definitely fishable and I spent some time casting it alongside my recently built McFarland 8'3" 6wt. 3pc. yellow glass rod this weekend. (see here for the McFarland 6wt photos:
http://fiberglassflyrodders.com/forum/viewtopic.php?f=8&t=38622
)
Here are the specs on my build:
Seat: Lemke black anodized uplocking all metal seat with hidden screw locks
Grip: Flor Grade 1/2" rings. 7" Full Wells with mild flares on either end
Guides: Snake Brand Traditional in Black Nickel ***see bottom of post***
Stripping Guide: REC Recoil #12 Black Pearl
Wraps: YLI 50wt. Copper (#183) w/ YLI 50wt. Black tipping
Finish: Two-Part Epoxy Finish. 1 coat.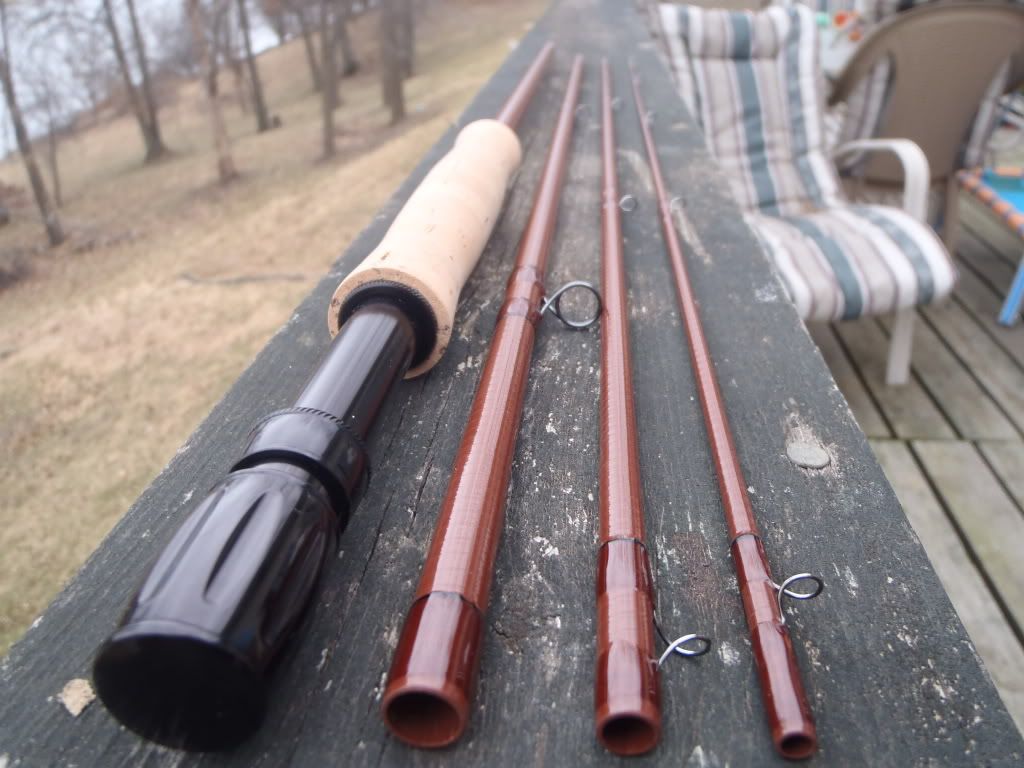 I'll first make a few comments about the Steffen 6/7 wt. 8'6" rod. I paired an Orvis MidArbor V reel with the rod. The reel weighs 6.5 oz. empty and I have about 100 yds. of backing and a Sage 230 Grain Bass Taper Fly line rigged. Even though the 230 grain head is the equivalent on the cusp of being a 9wt. line, I believe it is considered by sage to be an extreme front tapered 7wt. line for turning over large bass bugs. The reel balanced perfectly, and the line/rod combo was so magnificent, I have yet to try another line on the rod. It was absolutely perfect!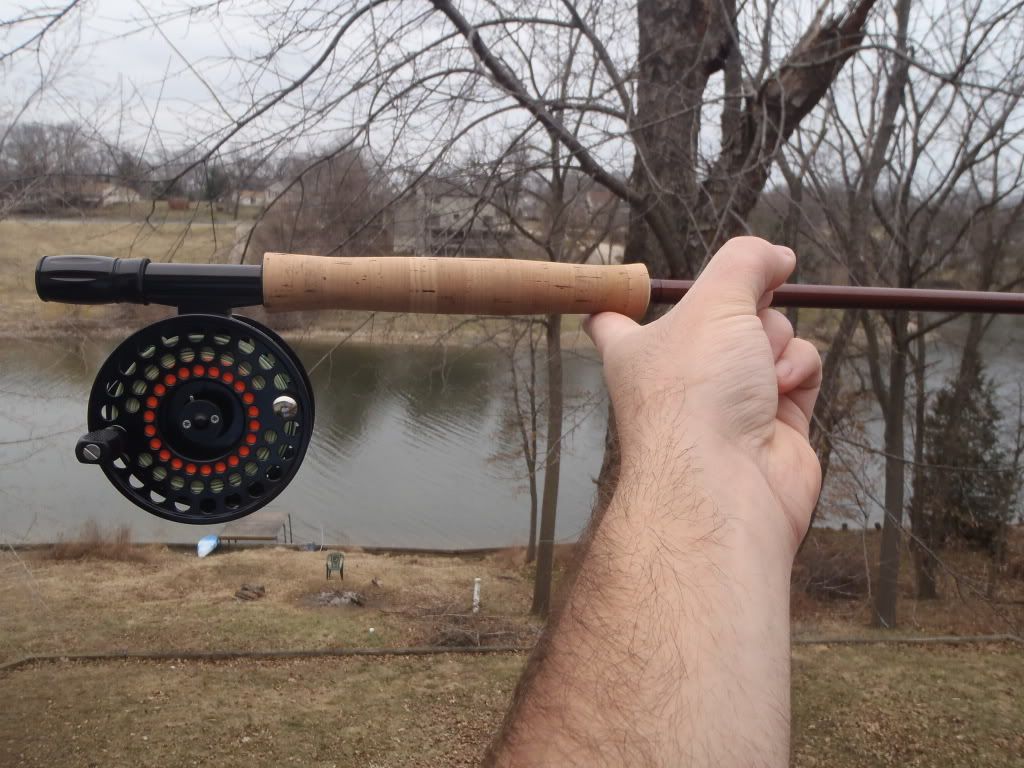 I spent most of my time casting the #8 dumbell eyed wooly bugger shown in this shot: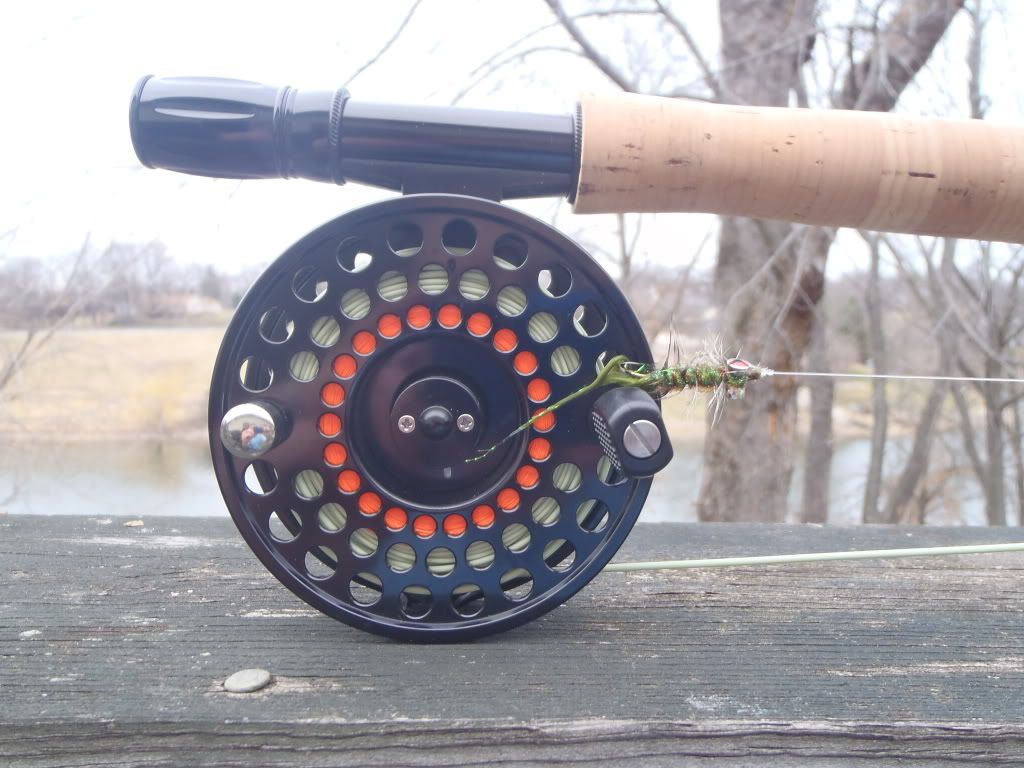 Seventy foot casts were easily made with this rod/line combo. As long as I had 30 feet of line in the air and my loose line was unobstructed, I could shoot casts out to 70' or more very consistently. The rod was extremely accurate from 30' to 50' and still fairly accurate out to 70'. My loops were insanely tight and I was able to accomplish these distances casting into a mild breeze (probably 5 to 10 mph) although it was mostly a nice day for testing the rod.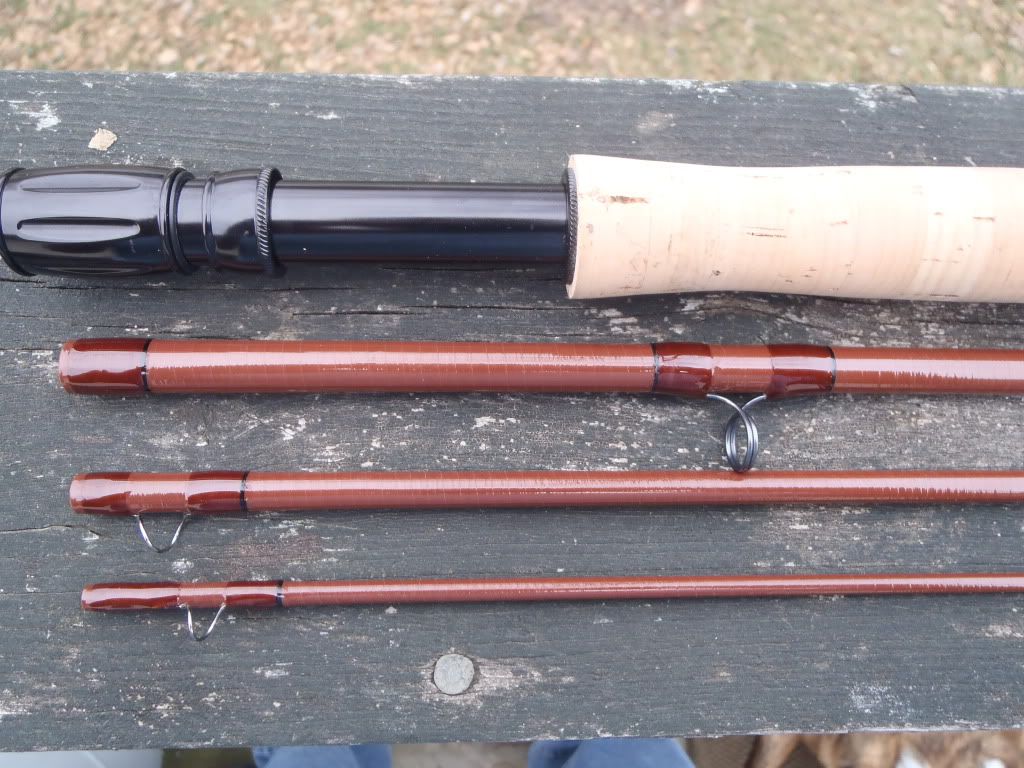 Even though I spent most of my time concentrating on casting and testing the capacities of the rod, I did manage to hook into and land a nice 12" crappie. The fish put a respectable bend in the rod which I was glad to see as I was hoping for a rod that was not overly stiff. This rod is not. The action is very progressive and even the crappie was a lot of fun on this rod. The fact that my rod is a 4pc. did not seem to affect the action in the least.
I would go so far as to say that this is the best casting rod (Glass or Graphite) that I've ever handled in this weight class. It seems like it is going to perfectly handle the conditions that I encounter fishing for bass in Central Illinois: Streamer fishing mostly in sizes #2 to #10, dries and poppers in size #4 to #10, and still allowing a 1-2 lb. bass show off and put a nice bend in the rod! Just an all around AMAZING rod!
To offer another perspective, I decided to spend about an hour casting the 6/7 wt. 8'6" Steffen next to the 6wt. 8'3" McFarland. Going into this, I can say that the 6wt. McFarland is an excellent rod as well. But there are some subtle differences that I will note here. I had the 6wt. McFarland paired up with an Abel TR3 which weighs 4.6 oz. empty. However, that weight is certainly increased as I have about 140 yds. of backing and a 6wt. Ridgeline Airflo WF line spooled up. The reel balances very nicely on the rod: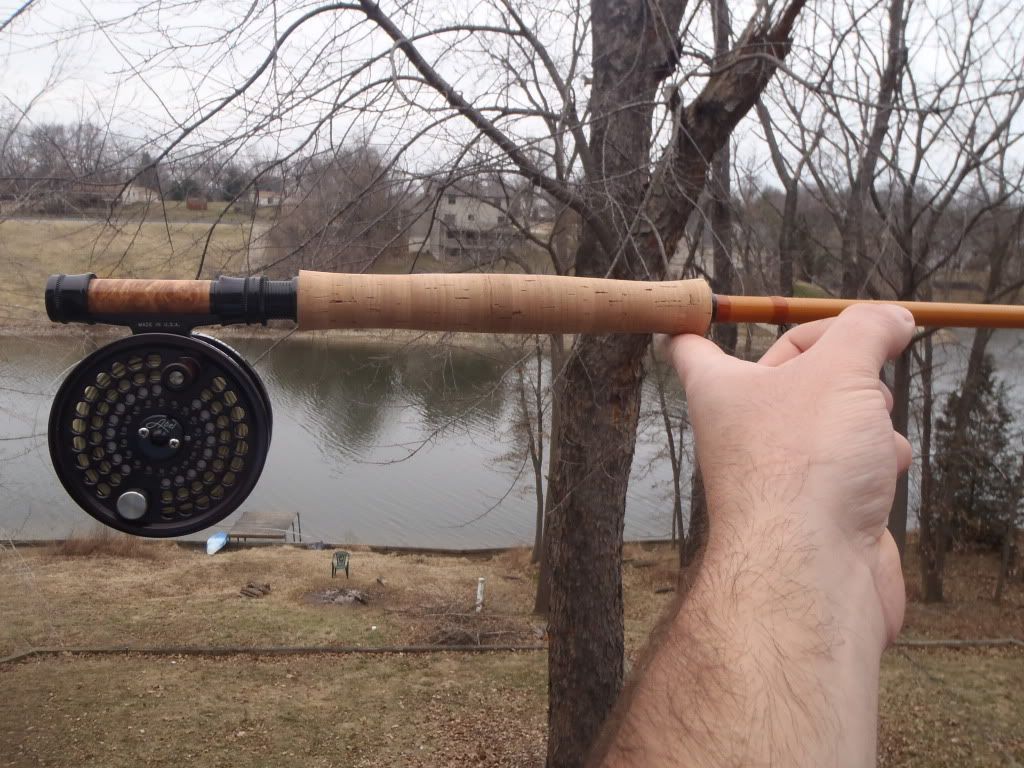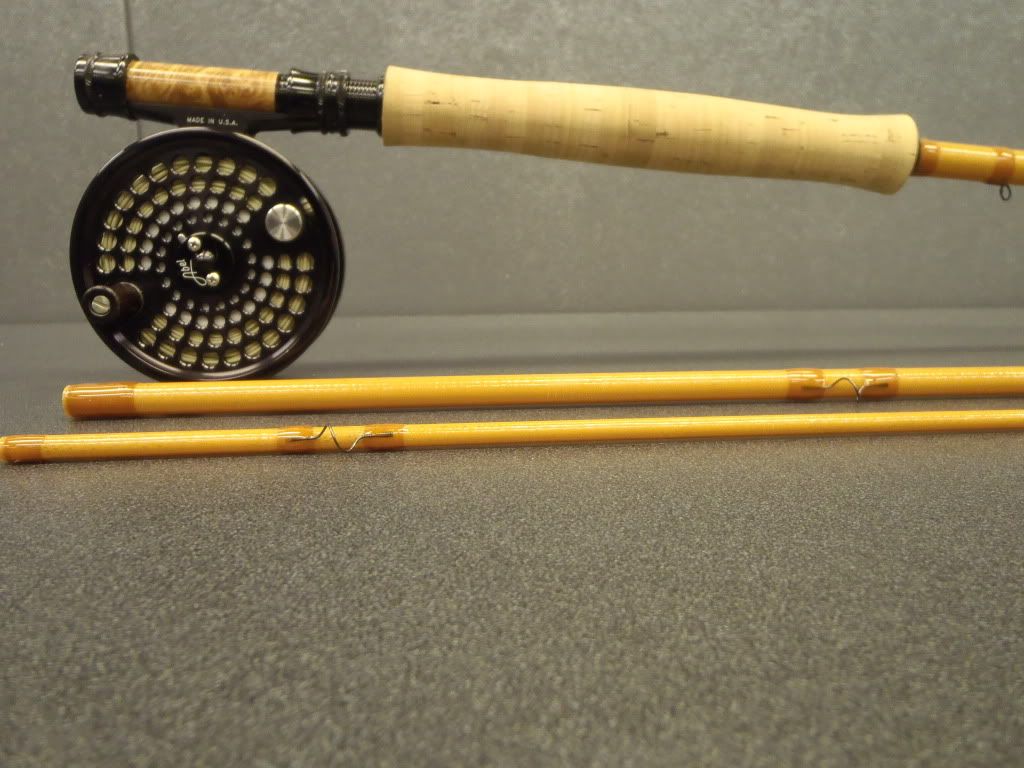 As a general statement, I think if I were a trout fisherman trying to choose between these two rods, I would favor the McFarland 6wt. It has a bit more delicacy and I think that it would open the door for casting and fishing some smaller dries in addition to medium sized weighted wooly buggers. But if I were a bass fisherman, I would hands down pick the Steffen 6/7 wt. The steffen might not be able to present a #12 Stimulator as nicely as the McFarland, but it broadens the spectrum of larger streamers and larger poppers that could easily be presented. The Steffen has that extra reserve of power that helps turn over those harder to cast flies for a 6/7 wt. rod.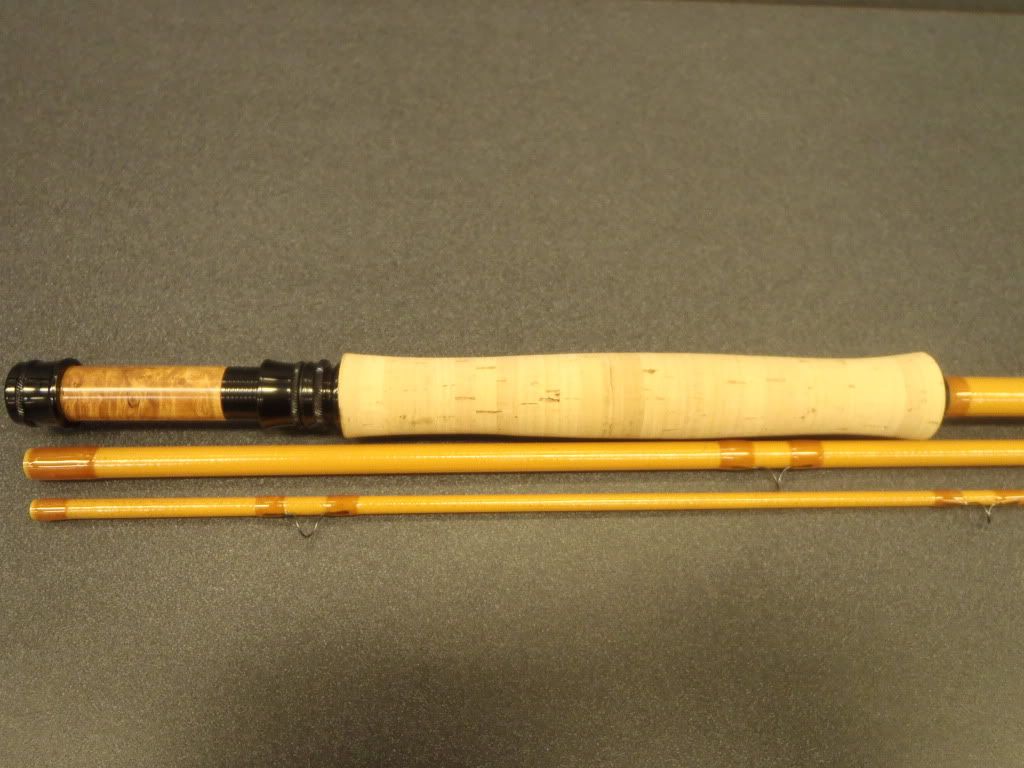 Nevertheless, both of these rods still seem to flex about the same. The McFarland probably flexes a bit deeper than the Steffen but it was hardly noticeable. For those that have read Lugan's report of his 6/7 wt. Steffen, he makes a comment about disliking that "thud" that occurs on the back cast of the rod. I know exactly what he is talking about and he is absolutely correct that the Steffen is SUPER smooth and virtually "thudless". The McFarland on the other hand, when I was casting the same #8 dumbell eyed wooly bugger, I felt a mild thud on the back cast. I was still able to reach out to 65' to 70' but my accuracy was much less with the McFarland. However, the McFarland was just as accurate if not more so at shorter distances from 20' to 45'.
While I have not tried this yet, it is my assumption that the McFarland 6wt. could not handle the Sage 230 grain bass taper fly line that I was using on the Steffen 6/7 wt. rod. Likewise, I have a feeling that the 8'6" 6/7 wt. Steffen would likely feel a bit underlined with the 6wt. Airflo Rigdeline WF line that I was using on the McFarland 6wt.
I completely intend on hanging onto and fishing the McFarland 6wt. as it is a very fine rod. I foresee favoring my McFarland 6wt. when I am chasing spooky carp on the Fox River, as it is a bit more capable of gently placing the fly. But I must say that the Steffen 6/7 wt. 8'6" rod is my favorite of the two rods for most of my warm-water purposes. The Steffen 6/7 wt. is a perfect all around warm-water rod for me! And I'm extremely pleased that I ended up getting the 4pc. design as I fully intend to make the Steffen 6/7 wt. my go-to travel rod. I've made the seat saltwater friendly, and I think the rod ought to handle everything from trout on big western rivers, light steelhead, bass, carp, bonefish, redfish, and other light saltwater, and etc., etc., etc. I built about 20 plus rods last year (mostly ultralight) and the Steffen 6/7 wt. is certainly one of the most impressive casting rod I've come across to date. FIVE STARS!
***The Snake Guides were given to me FREE by Mike at Snake Brand Guides. For those interested go to his website and see the link to request a free set of guides. I did this and Mike called me personally about an hour later. He asked about my rods and my builds and he sent me a free set of guides which arrived about a week later! What a great guy and some of the best guides I've worked with!***
http://www.snakeguides.com/