I took a morning off from training the dogs to fish the Chena for Grayling. I have never fished them before so I was eager to try. I found the fish to be abundant and eager to rise to dry flies. I caught nearly fourty fish in 4.5 hours. The vast majority of The fish I found were 8-12", I had about six at about 14", a pair about 16" and fish of the day was around 18". What beautiful fish with their oversized exaggerated multi colored fins reminded me much of the Siamese Fighting Fish or Beta's. I also find it very interesting that their eye set is at a slant or angle to look up much more than a trout which likely explains thier fondness to surface feeding. I caught a few fish on nymphs but dries were the order of the day, I fished Adams, Mahogany May's, dry Muddlers all performed equally well but they showed a decided definite confidence or preference for Elk Hair Caddis, the fish had more conident takes on the EHC and most of my bigger fish were unable to resist a skittered presentation, often after repeated dead drift presentations. Gin clear water allowed many fish to be spotted first and is that I could watch thier reactions to presentations and then watch the subsequent take, very exciting. While I fished on a Tuesday morning I saw no other fisherman while fishing and only several fishing in a 15 mile stretch. What a great fishery especially for new fisherman. I was told July is the prime month to fish. Incredibly the experience is available only a hours drive away from downtown Fairbanks.
Tight line regards,
Check out the ventral fin.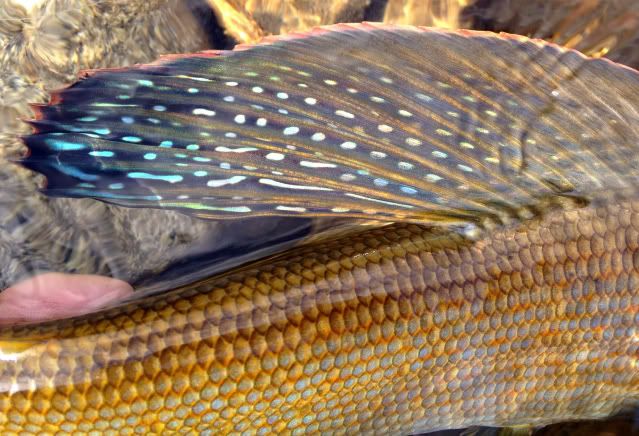 Clownish if not Peacocky.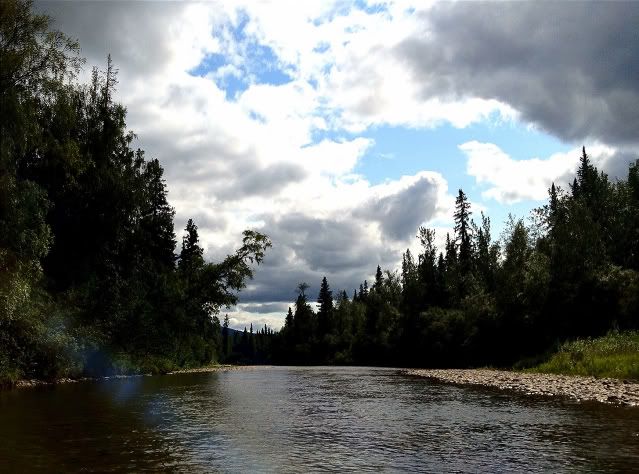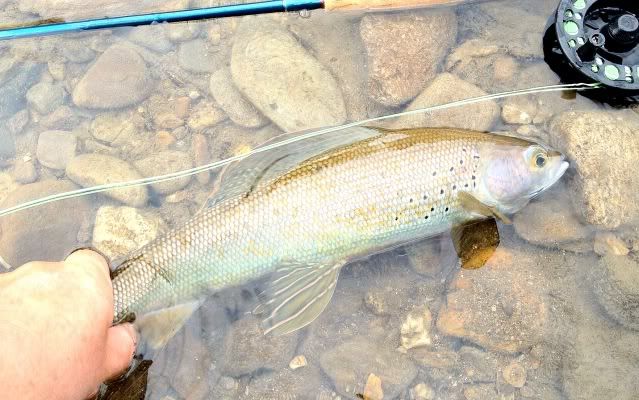 Upward cast eye set.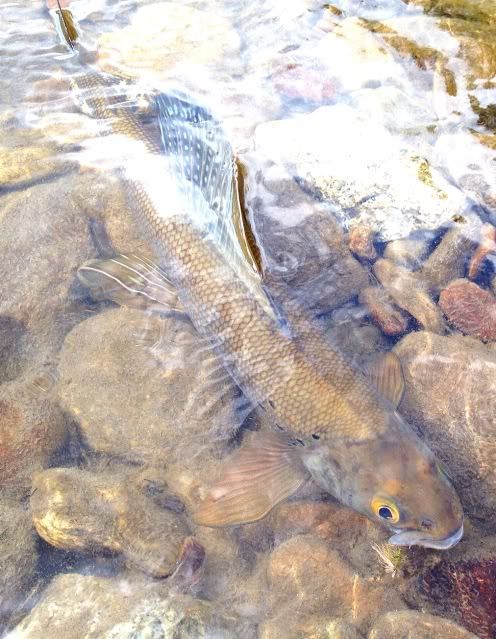 A leaner just about all leaned out.