It has been almost 11 years since my oldest son was born. In the years that have followed my time has been spent doing many wonderful activites, fly fishing however, was not among them. We have had many vacations together to many great locations, But I have been looking forward with great anticipation to the day I could take my boys fly fishing. Well it finally happened, my boys aged 9 & 10 caught the fly fishing bug this summer and it has been an absolute blast! We started the summer dragging buggers on Lake Desire, then we moved down to the Cedar River once the weather heated up. It has been tough splitting time between the two of them and keeping it even, but I only feel safe taking 1 boy wading at a time. Besides, I spend enough time untangling line with 1 of them, I would never get to fish if I took them both! The boys have done a great job listening and being safe!
After a great summer fishing, I decided it was time for something special. I have waded the Yakima a ton, but never floated it. It has been something I have wanted to do for a long time, and I finally had the perfect excuse! After a bit of research I got a hold of Bruce Skotland at Yakima River Anglers Guide Service. We decided on Tuesday the 28th to take the 1st trip.
Before taking my boys on an expensive guided trip, I took the time to make sure they had the skills and knowledge to enjoy the trip. We watched a couple how to videos together. Most importantly, we went up to Bellevue and took the Orvis free Casting Class. That really made all the difference. My boys do a pretty good job listening to me, but after awhile I sound like Charlie Brown's teacher. Having Leyland and his guys helping them was a huge help. Plus they had fun trying to cast out to where the ducks were! The Orvis class is fantastic, and I would recommend it for anyone that would like to improve their fly casting skills. It helped me a ton and it helped my boys even more.
The big day finally was upon us, after a bit of a late start we met up with Bruce at the Thorp Fruit stand about 11:45. After meeting up we had to drop my rig off, drive up to the launch, and put his boat in. Bruce then spent a few minutes watching my son cast and giving us some pointers on fishing from a drift boat. I could tell right away that I had chosen the right guide for us! We were headed down the water before 1:00 in the afternoon.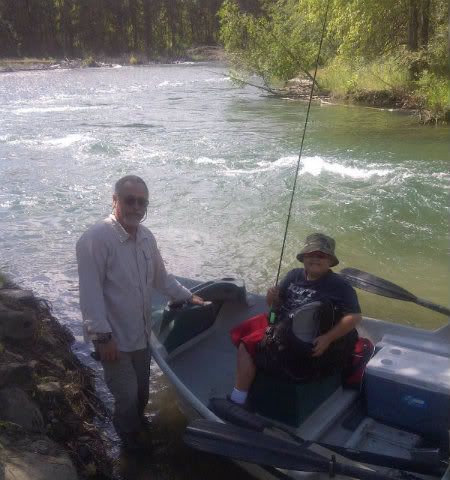 Bruce tied a nice big Chernobyl onto my son's line, and a caddis onto mine. Bruce was fantastic with my son, he was constantly pointing out where to cast, when to mend, when to re cast, and when to set the hook. Bruce took the time to answer all my son's questions, and did a great job explaining everything my son ever wanted to know about fly fishing the Yakima river.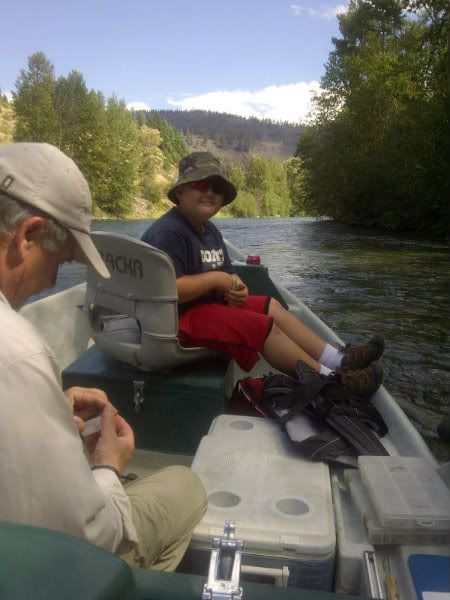 After drifting down the side chanels and around some rough water, we finally made it to some prime fishing water. Bruce did an absolutely amazing job of navigating us down the river, all the while helping my son. They had an ongoing conversation throughout the time on the river. Bruce was so helpful and encouraging, I just can't say enough about how well he worked with my son. In fact, the highlight of my son's summer came only an hour onto the water. After some close calls, he boated a beautiful Rainbow after less than an hour on the water!!!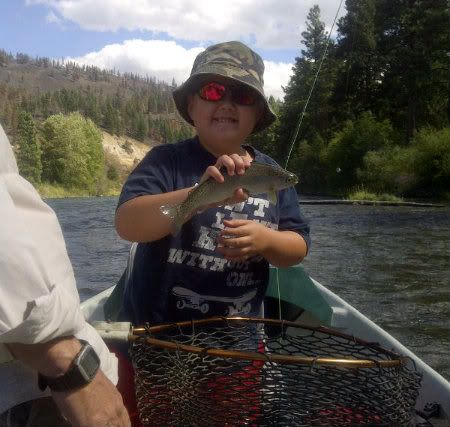 Bruce was careful to keep the fish in the water until we had anchored and go all setup. He then showed my son how to get his hands wet and explained that he needed to be very careful and not harm the fish. It worked out perfect, the beautiful 'bow was only out of the river for 20 seconds before my son had him back in the water and released for the next angler to enjoy. My son was so excited! He giggled for the next 10 minutes.
We had several other hook ups and nice fish released at, or close to, the boat. Then an hour later, Boom, a very nice Cut Bow. We took the time to take another picture. This time my son did a bit better job handling the beauty. Again, it was out of the water for less than 20 seconds.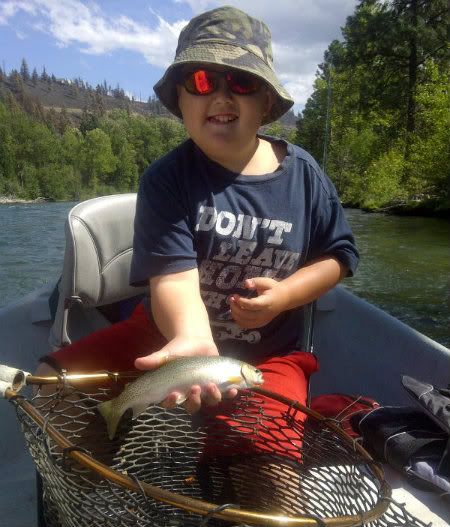 We spent the next 2 hours catching many more fish, all released without being taken out of the water. The Chernobyl/Hopper pattern ended up being the fly of choice for the day. Bruce was extremely knowledgeable, extremely patient, and overall provided a fantastic day on the water!
We stopped for lunch about 5, right after the heavy winds started. After eating some sandwiches, Bruce took 30 minutes turning over rocks and showing my son all the different creatures that the fish like to snack on. We saw some mayfly larva, caddis nymphs, and of course, a ton of short wing Stone flies in all levels of their life cycle.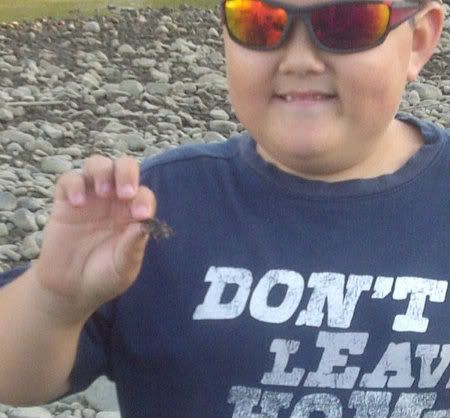 The wind pretty much killed the bite and from 5:00 on we only had a couple takes. We spent most of our time untagling our lines, The wind made it pretty difficult for my son to cast and our lines were constantly wrapping around each other. Bruce was great and if it weren't for his vast experience and knowledge we wouldn't have had the takes we did.
Overall we had the time of our lives. This is a trip my son will always remember!! I can't wait until next month, when I will take my older son over to meet Bruce and float down the Awe inspiring Yakima River!!!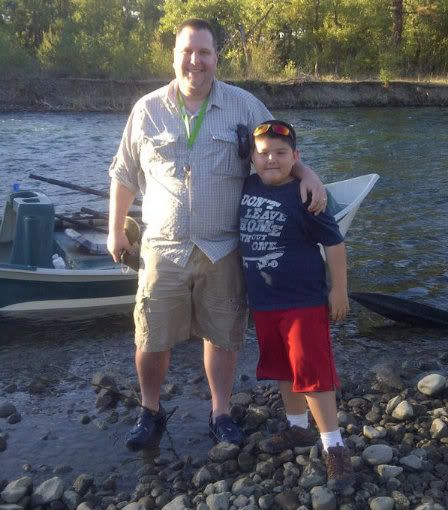 To Book a Trip with Bruce Skotland take a look at his website
http://yakimariverangler.com/
or call him at