So, finangled some time again on the water, Fri afternoon and then again this morning. Let's begin with Friday...
You know how some fishing trips were just not meant to be? If you were anywhere near the water yesterday afternoon, at least where I was, well then you know. Wind was howling. It was a pretty steady rain the whole drive out from my place (I live in Bonney Lake if you know where that is...) Anyway, driving to my first chosen spot, not only is it wet and cold, but there are branches and crap all over the road, like a hurricane is about to pass thru. Get to the water, white caps everywhere. Worse, the wind is kicking up a sizeable mudline where I want to fish. Try and wade out past it, get swamped by an honest-to-goodness wave. Try to cast, get a mere 50' of line out, and 30' of it stacks straight up into the air, held up by gusts. Needless to say, I don't last long at this spot, and do not get even a strike.
Head elsewhere, looking for a protected area, anywhere that the wind isn't directly at me. Think I know a spot that should work, long drive but oh well. Get there, and the bloody road is blocked by Puget Sound Energy truck, apparently a tree fell acoss some lines. Don't know my way around, get misplaced trying to get around it, but EVENTUALLY get down to the water. Sure enough, there is a line of mud coming off some nearby work being done, which was my concern. But the water is calmer, so I give it a try. Nada. Zilch. Wind kicks up, I decide to get back, and realize with the tide coming in, I'm now forced to climb over some fallen trees. Trees in water have barnacles, duh, and I rip my waders scrambling across one of them. Then my hemostats fall off into the water. Too deep to grab (I am, well, vertically challenged as they say...)
Back to car, heat on, thinking, this is nuts, as whitecaps again form on the water. Oh well, found a few things out about the tide and the area, all lessons learned and useful in the long run, but man, talk about not meant to be...
So, decide to try again this morning. Get out on the water early, tide is still dropping out. But it is cold, calm, and lo-and-behold, sunny. Not what I was expecting. But stick with it, and sure enough get a decent number of fish to hand. All small, but bright and feisty, got a so-so pic of one in the air. Very cool. As the tide is at the bottom, the action slows (ok, stops) and so I headed to a new spot I wanted to try out. Tide is now turned and incoming at the new spot. See a few swirls, get a number of hits but can't come tight. How in the world can a fish hit so hard and not be hooked? Operator error I'm sure. Anyway, so current is moving nicely now, wind is picking up and it's clouding over. I switch to a little pink squiddy-looking thing I tied, and start really hooking up. Like, a good hour and a half of pretty constant action. The weird thing was how close the fish were hitting at times. I got the best fish of the day with my leader/line loop in my tip-top. Couldnt' clear the knot back out, ended up fighting the fish in circles around me since it was basically stuck a leader-length away, haha!
Talked to a nice landowner, he was giving me some interesting tips. One observation- at the second spot I fished, there was a lot of clam/oyster nets or something on the bottom. What is protocol/etiquette regarding these? I waded around them to avoid stepping on them, is this warranted? Also, all of the fish near the net area had sea lice on them, first I've really noticed this. Is this due to the oyster/clam nursery?
Good morning, nice to break the stink of yesterday afternoon, thought I'd share. I have to say, I think SRC's are just the ideal gamefish. I'd rather spend an hour or two casting away on some isolated beach then fight the crowds on the river. And due to my need to stay close to home for the foreseeable future, it really works out well for me. Thanks again all, if someone could let me know the proper thing on the nets and walking on them, much appreciated.
Dan
Airborne!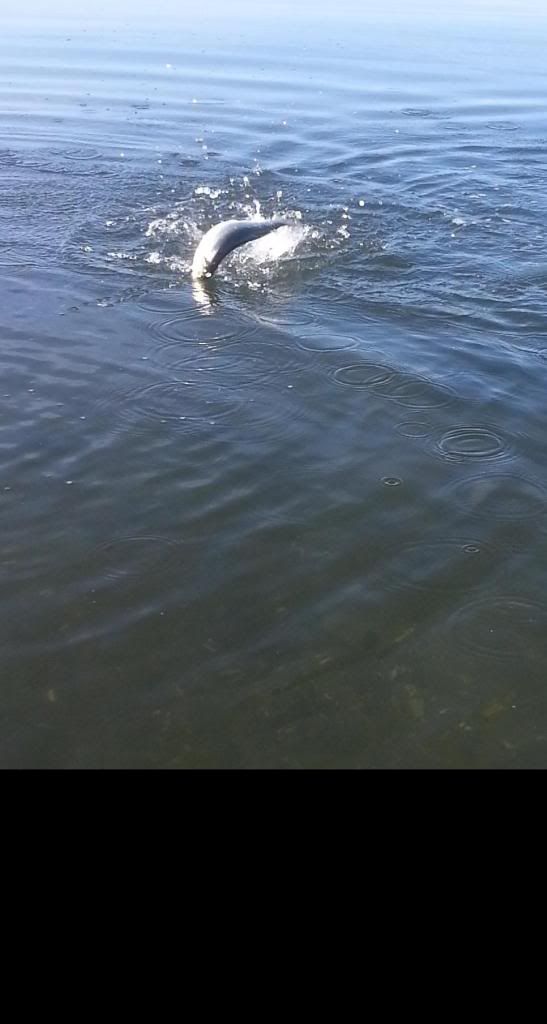 Sunny and calm, but fish didn't seem to mind...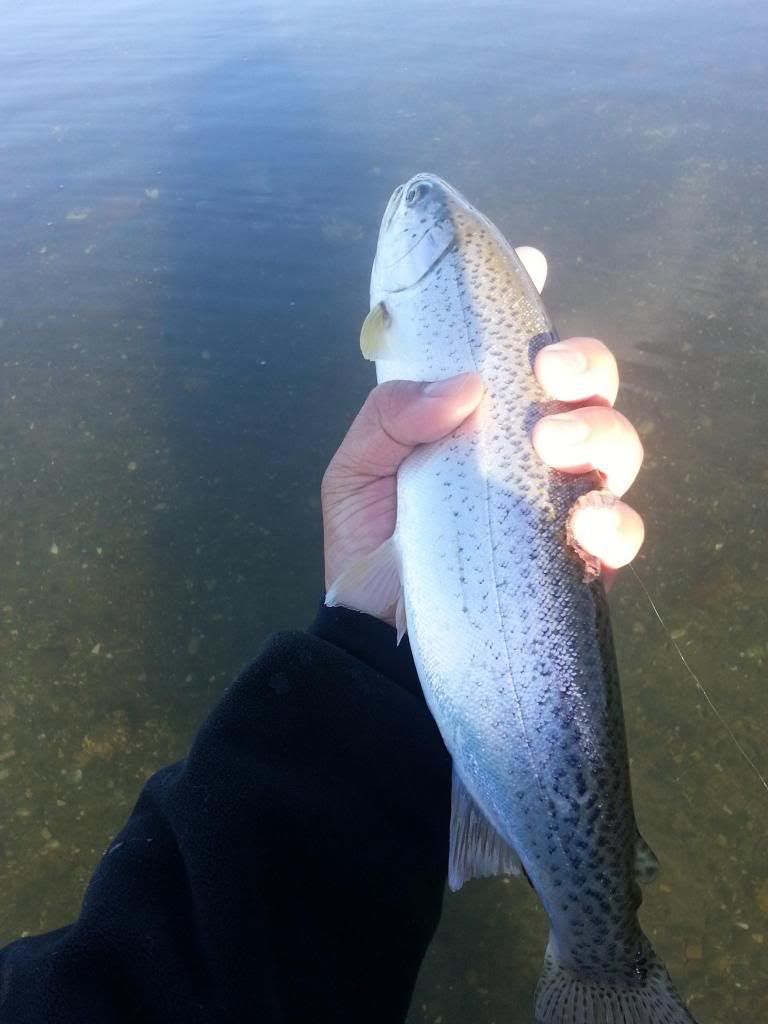 Pink, squiddy thing
Almost looks like a rainbow rather than a cutt...