I met up with an old friend Mike in Seattle and we cruised up to Anchorage and then King Salmon. Our guide for the afternoon Robert picked us up at the airport and we hit the local pub for lunch. From there we got on the Naknek river to warm up our fishing skills. King salmon were in very short supply so Robert was relieved we didn't want to troll all day for them. We swung some flies in likely places and Mike seduced an 18" rainbow and a couple of bright chum salmon. Sunday night at the B and B was good with a spaghetti dinner and a pancake breakfast. I tied up a couple more flies by the midnight light and was soon glad I did so. Monday am we flew out on the float plane to Angler's Alibi
http://www.anglersalibi.com
or
https://www.facebook.com/anglersalibi
and met our hosts and fellow guests for the week. My friend John Perry is managing the camp again this year and the experience was so great the year before I had to return. The report on king salmon in the river was poor: hot weather had the fish either bolting for the spawning grounds or waiting at sea. With modest hopes for big fish we started out with TR and went looking for kings on a hot sunny afternoon. We needed a few fly rods both single and double handed in the boat!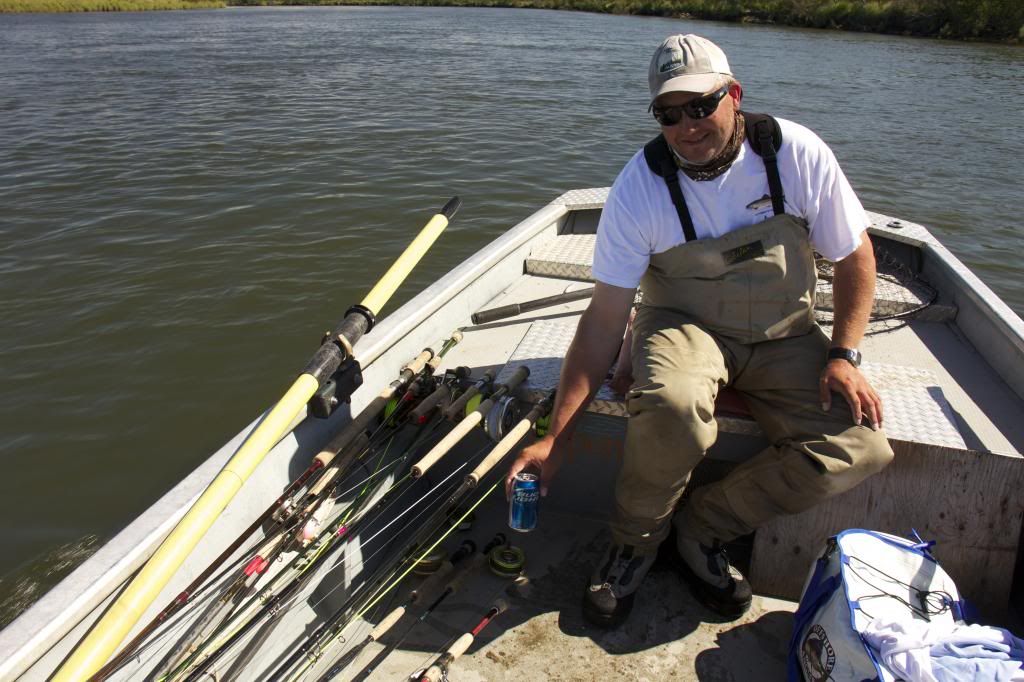 I worked the head of a deep run with a bright blue and chartreuse fly that worked well last year. After reconsidering how bright the sun was I switched to the smaller pattern I had tied the night before in King Salmon. First cast with the 8 weight and I was hooked up to a decent fish. A colored 25lb buck came to the net. I thought flies might be on fire for the week but it was just a lucky start.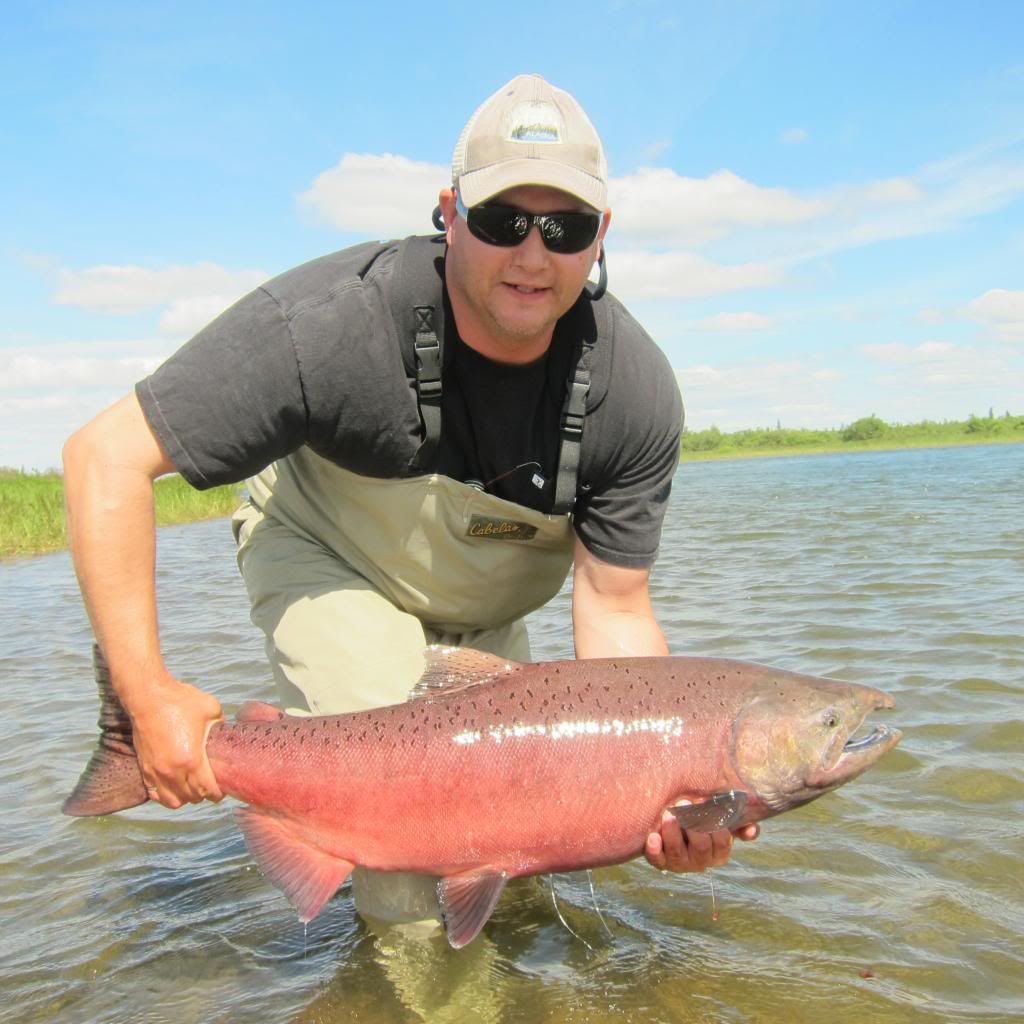 That night we went out with TR again and tried to find some chum salmon but only managed a couple of fresh fish.
Tuesday with JP we tried to hit the chums on the pollywog: a pink popper fly that silver (coho) salmon and chums will smash or slurp from the surface. Chums were not around in the lower river so we tried up river for kings. We covered a lot of territory but found no players. We stopped at the dock for dock rainbows (known as going to the DR. after this).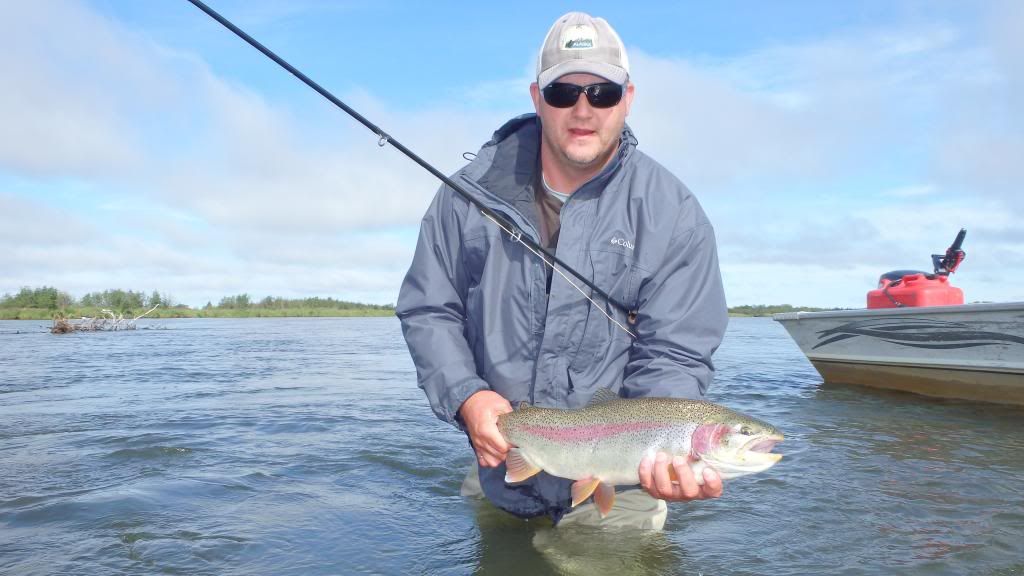 Good presentations with beads or sucker spawn flies produced rainbows to 23". After lunch we spent the afternoon trying the pollywog just across river from the lodge. John showed us how to work it and while we didn't land any fish we got many follows and plenty of takes. The foam popper seemed to suffer from short strikes that didn't find a hook hold. That evening I reconstructed the pollywog as a stinger hook fly: pink marabou with flash for a tail and a piece of pink flip-flop foam for the head. I named the fly The McGruder. Next day with TR we brought along some cheater balls (brightly colored foam in the shape of a quail egg) fished with pencil lead on bait casting outfits. After prospecting with the fly we cleaned up what was down there with the cheaters. While not fast fishing I managed 3 kings (only one over 10lbs) and Mike took one.
We tried up river in the afternoon and Mike pulled out a bright 8lb king salmon from Evan's run.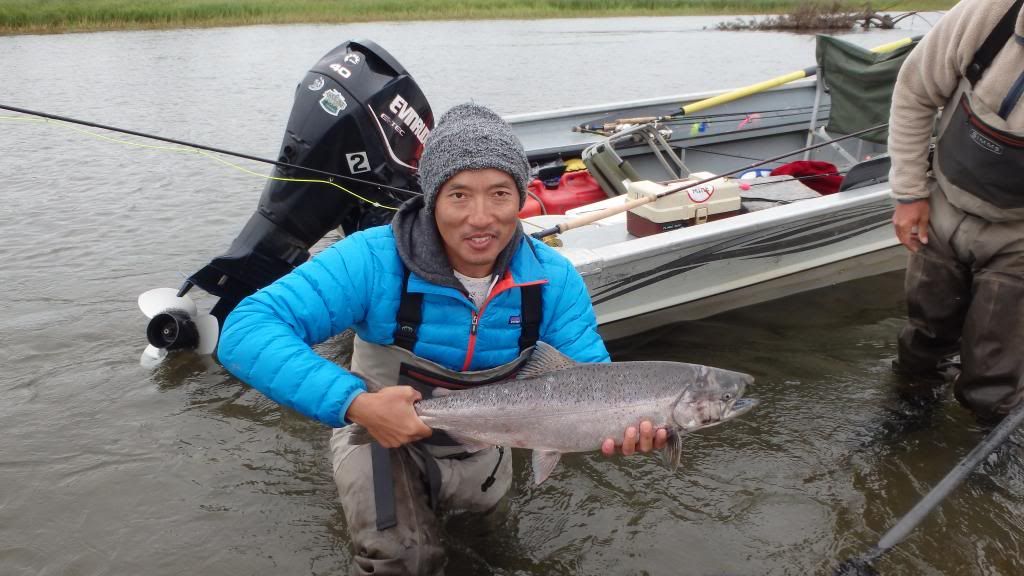 I tried the pink super fluke on some chum salmon . While not the smashing take of a snook the chums would smack the ugly pink thing around. Back to the dock and a visit with the DR.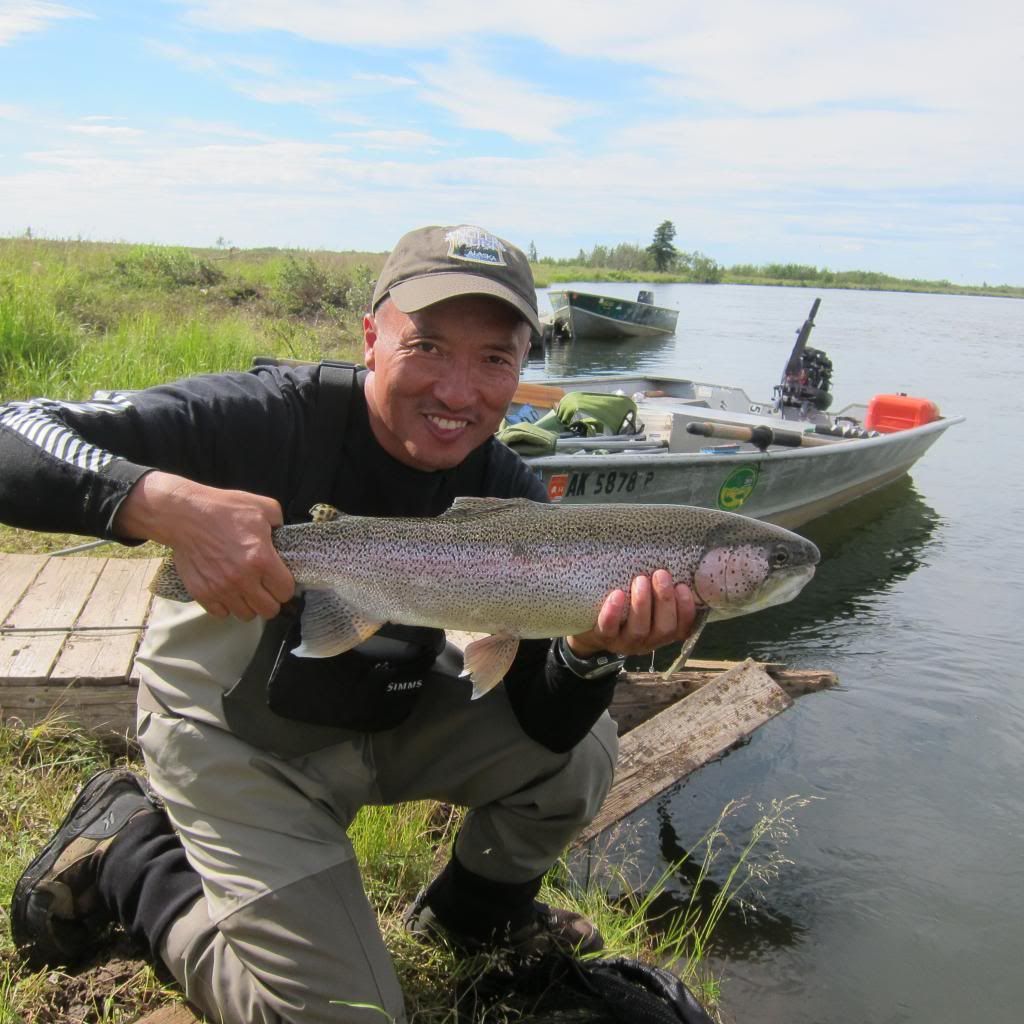 That evening the MacGruder was deployed on the chum. They were still tough to get a hit from but at least I would feel the weight of the fish on nearly every take. Taking a lesson learned from Captain Bob I dropped some slack at the next hit and slid the popper down the chum's throat: fish on!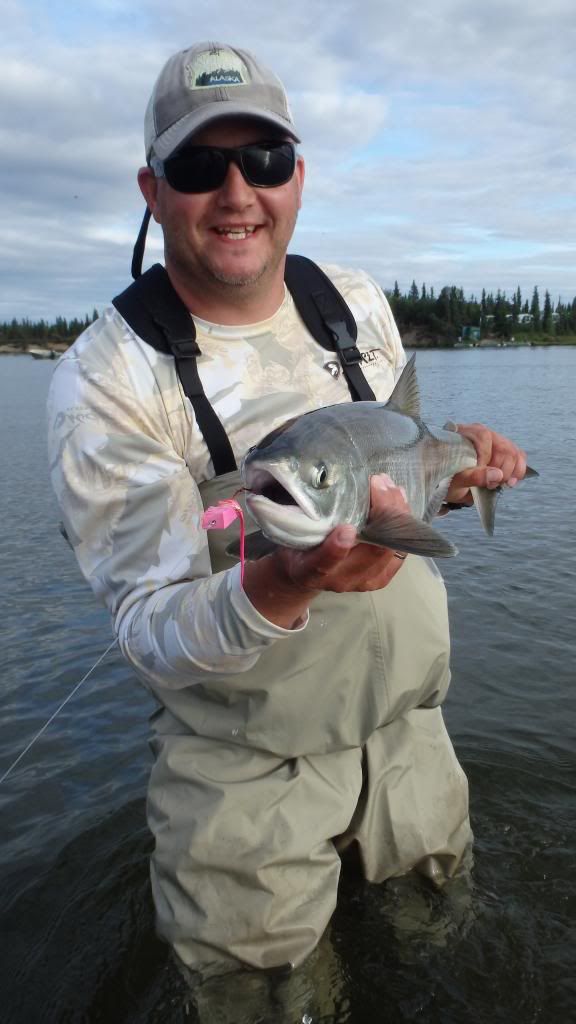 Next day we were back with JP and hit some of his favorite king salmon spots with fly first. We were fishing effectively but not finding kings. A switch back to cheater balls to see if there were any fish in the river did produce a keeper king for me and a decent fish for Mike.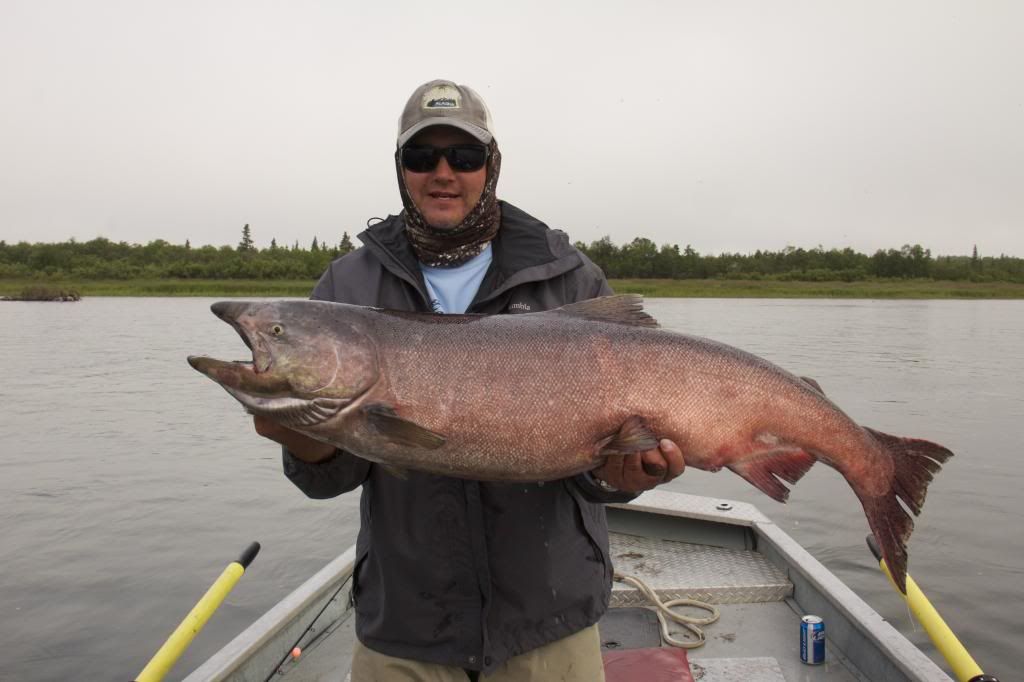 The few kings in the river seemed to be mostly holding in very deep runs that were tough to fish even with the gear. We did some prospecting for silver salmon but could find no takers. The chums were fished again with either swung flies or the pollywog. That evening before supper the heat finally got to us and we had to go for a swim. With rods and beverages in hand we did a float downriver. No kings were hooked but the beers were successfully dispatched.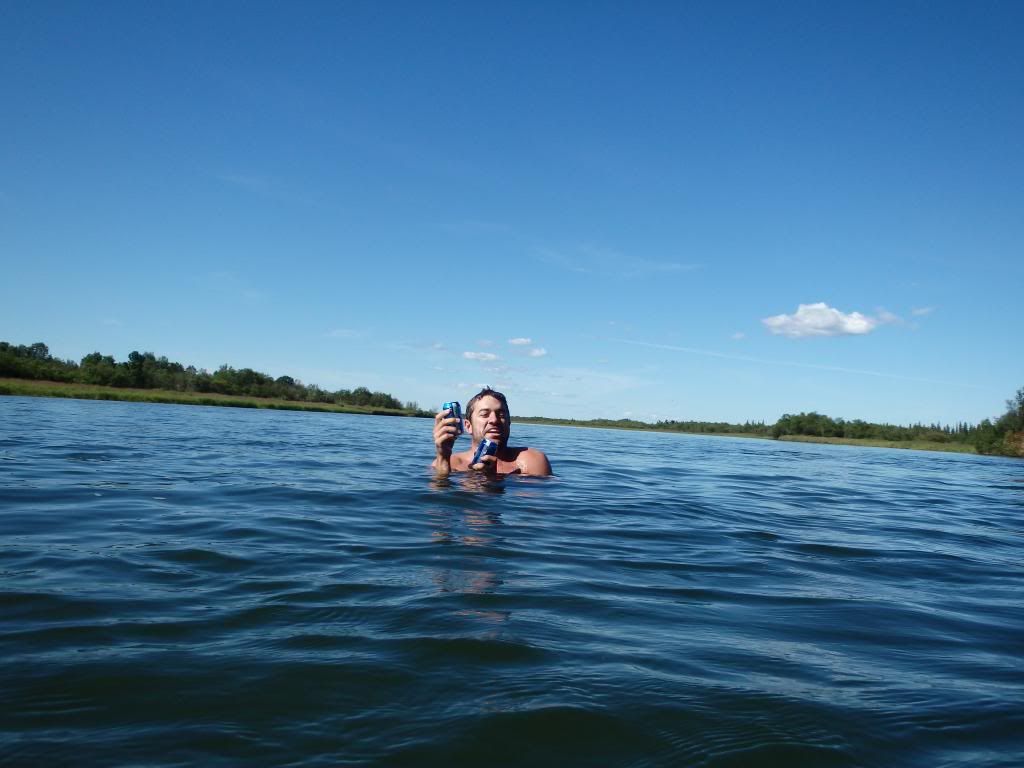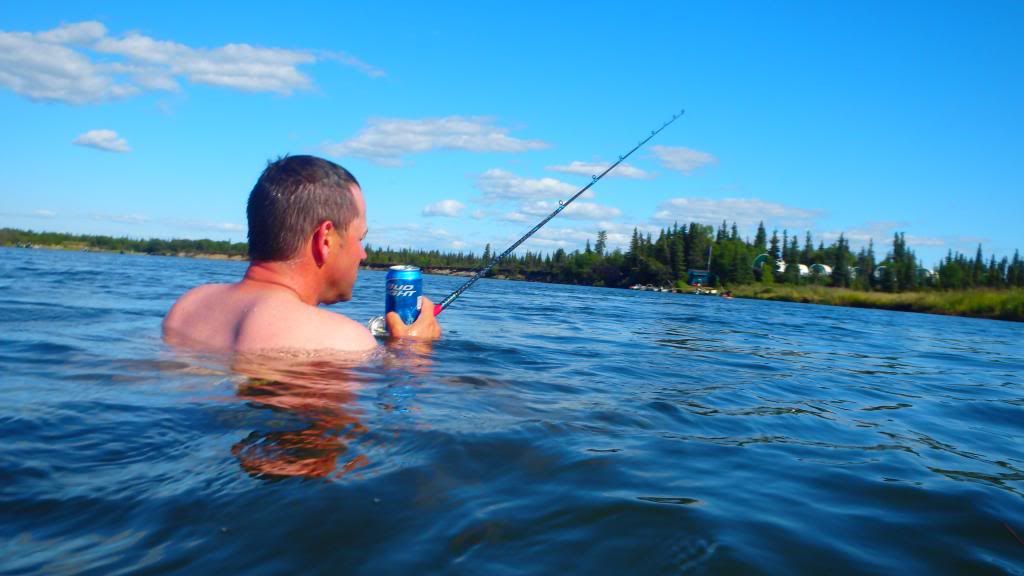 Another evening bite on the chums for some volume fishing.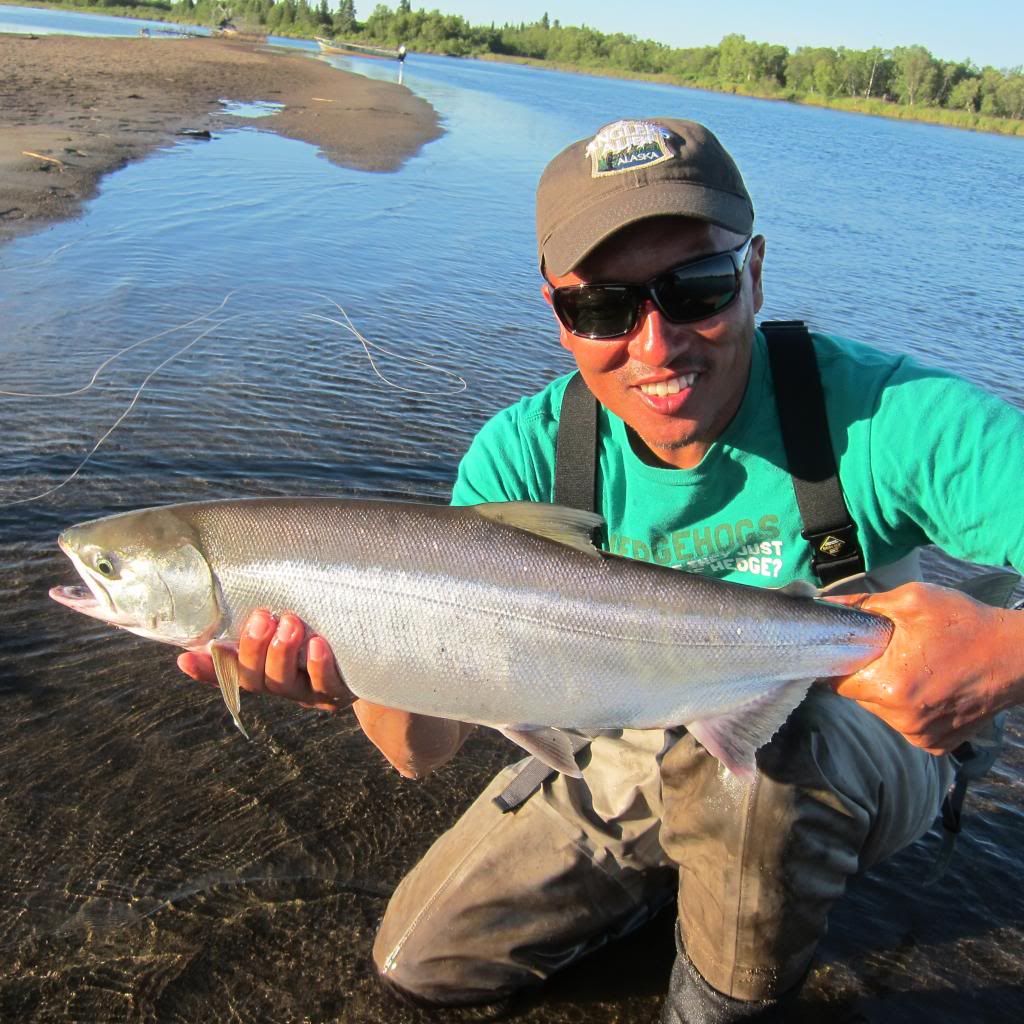 On Friday Evan's run remained a favorite to fly fish with a gorgeous tailout and easy wading. We made sure to enjoy lunch on the water when fishing was slow: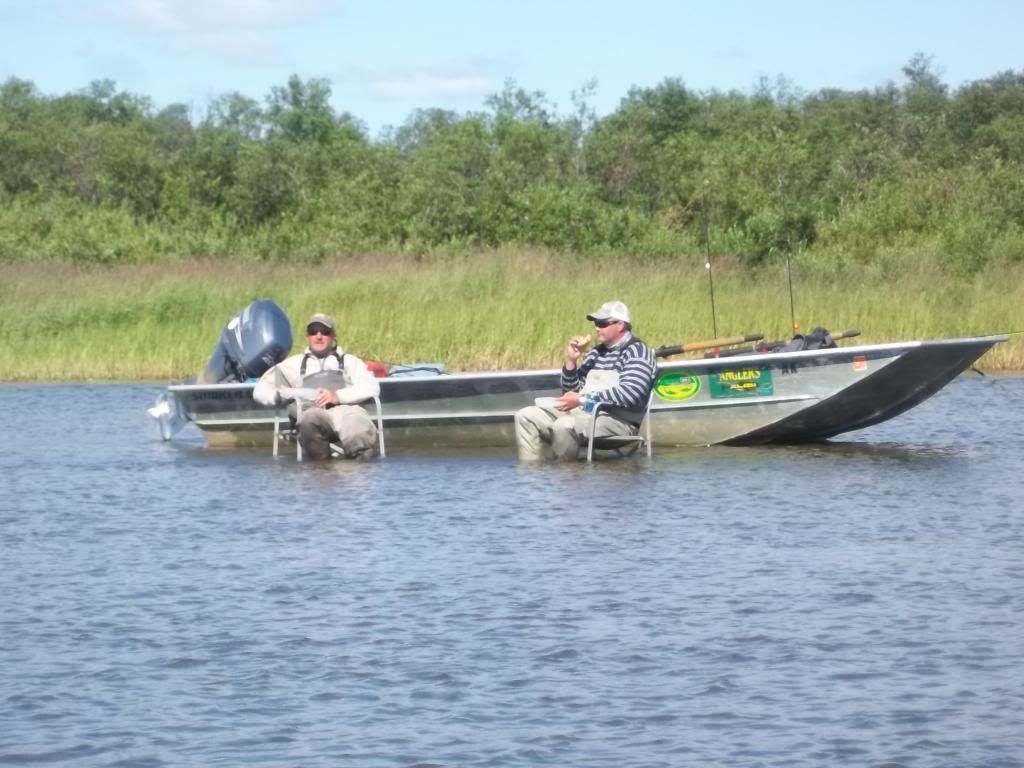 Saturday was our fly out trip to Moraine Creek. Our fellow guest Carol was joining us as she had unfinished business with Moraine. Ten years ago on her last trip to Angler's she had passed on the fly out to Moraine and had to endure too many stories of how great the fishing had been on that trip. There was no way she was going to miss out a second time. Moraine is a small stream above the tree line known for many large rainbow trout. It was a little early but since the weather had been warm, JP was confident we would do well. Based on his tale of using 9" long flesh flies on large rainbows I tied up a couple of oversize Flesh 'n' Bones (coral marabou and flesh colored rabbit with rubber legs (the Bones!) that were 5" long. We landed in a small lake and hiked across ¼ mile of tundra to the creek. We were greeted with a spectacular number of bears that even the guides thought was impressive. There's 23 bears in the picture if you zoom in to the trees.
It only took me a couple of minutes to get used to the bears again while Mike and Carol took a little longer to grow accustomed to the furry fishermen.
A modest number of well colored sockeye were in the river and the massive number of early rainbows were working hard to either induce spawning by bumping the females or pick off bits of bear scraps: too many rainbows and too few sockeye was ideal for fishing. John set Mike and Carol up with appropriate beads pegged an inch above a small hook with a strike indicator to nymph up some rainbows while I went with the my small Flesh 'n' Bones fly.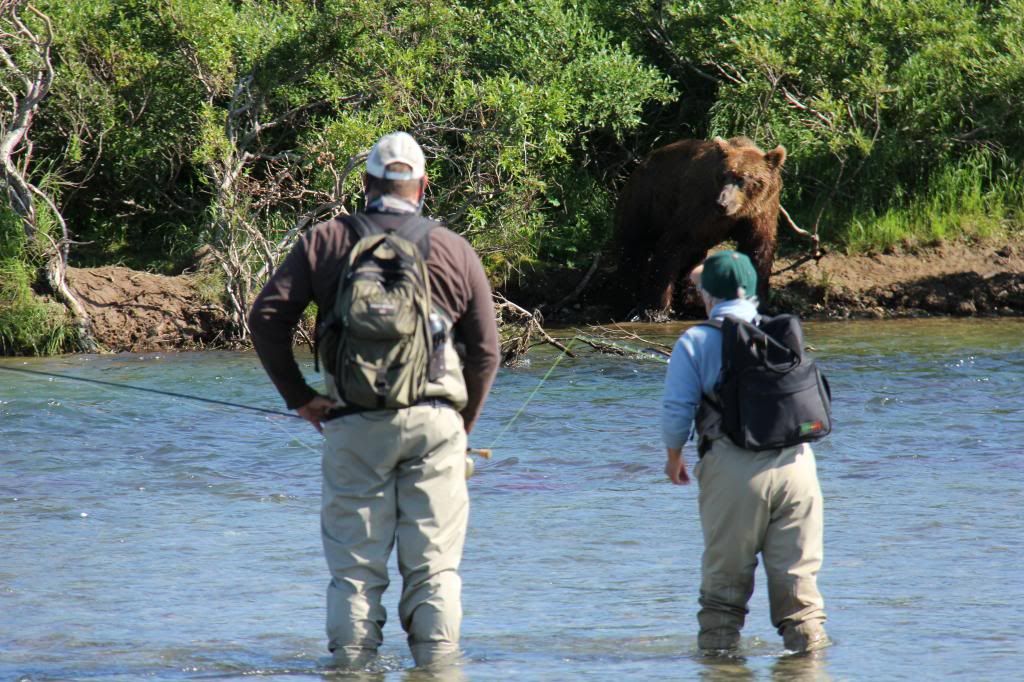 We were all fishing 6wt rods with floating lines. We did a little bit of blind casting but soon everyone could see the rainbows standout from the sockeye and we picked out a target before casting or had a spotter calling out the shots to the fish visible to him. It was way more about the quality of the experience than the quantity: we could have easily caught twice as many fish but I doubt we would have enjoyed the experience any more.
The flesh fly remains my favorite to fish as I would get a nice dead drift with a very visible fly which produced plenty of sightfishing hits and then a swing back out of the holding lie that would provoke a violent strike on a tight line. I think the clear floating Airflo line helped with a subtle presentation.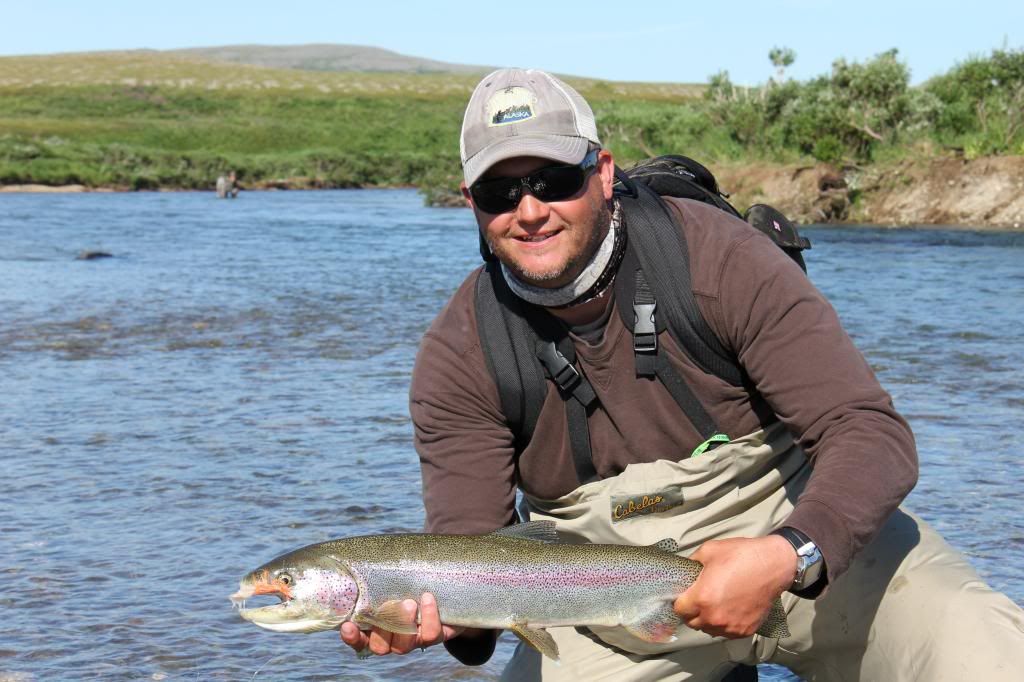 John took a turn with my rod at my insistence while Mike borrowed a net from another guide to land Carol's fish of the trip: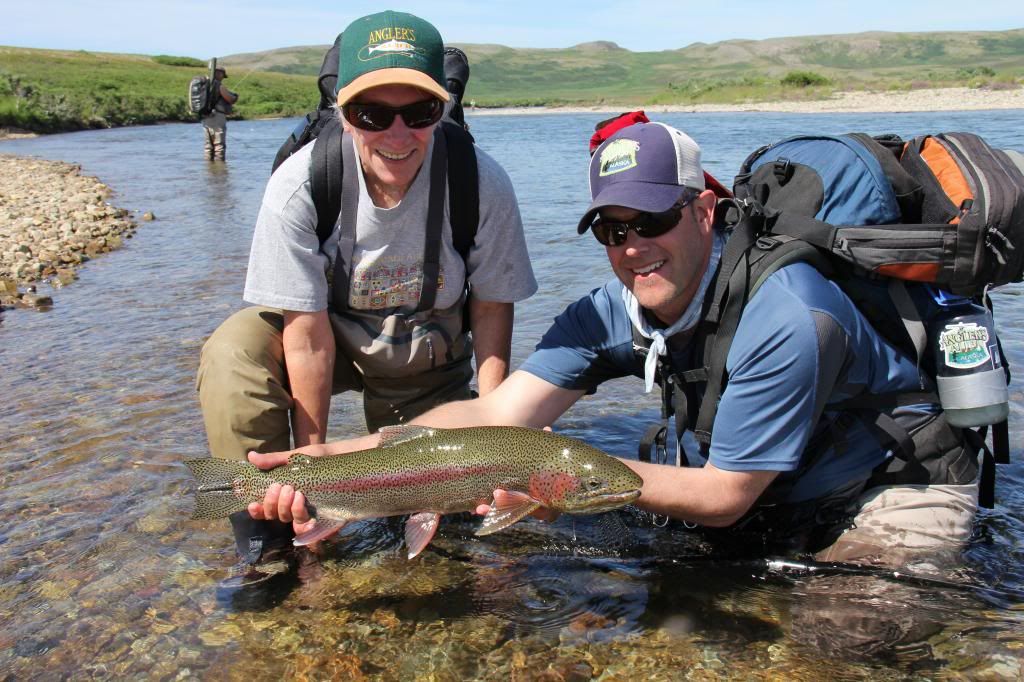 There were so many fish that we just took turns picking out targets and watching each other catch fish. During the entire fishing trip we would have to pause for a bear every 10 minutes or so. It was a great study in all sorts of bear behavior of sows with cubs pushing big boars around, a couple of young cubs drifting down river towards a boar but saved by mom just in time, younger boars chased off by bigger ones if they caught a fish. Here's a cub on the leisure learning / sloth imitating program with mom: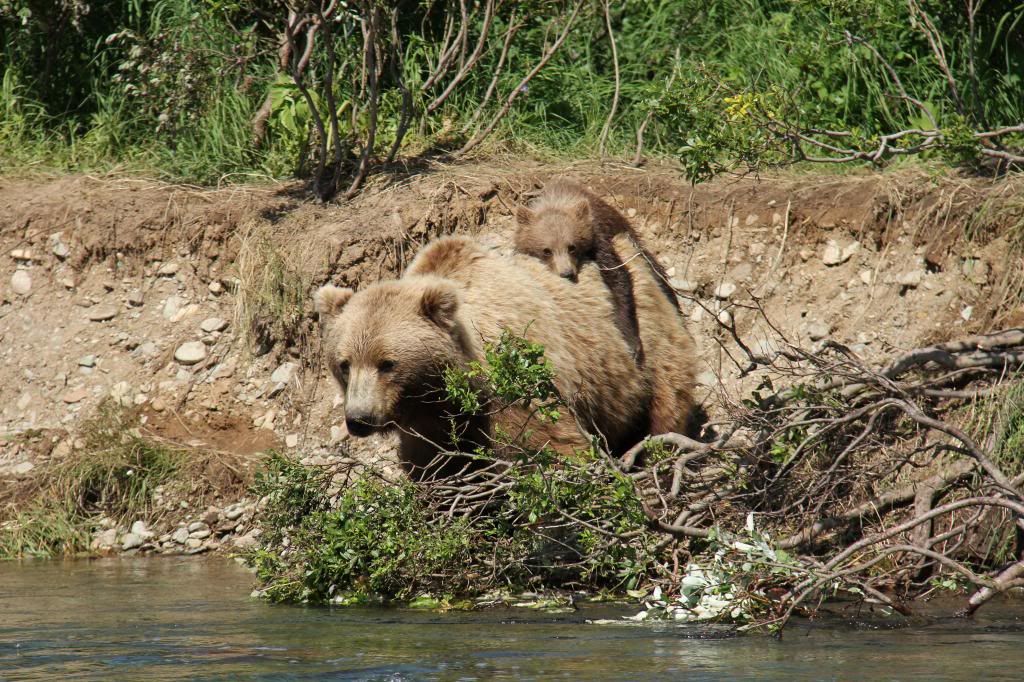 We nicknamed this large old fellow the Warden because he controlled both sides of the creek from his island perch in the middle. I'm guessing it's probably not his last season but I doubt he's got too many more left in him.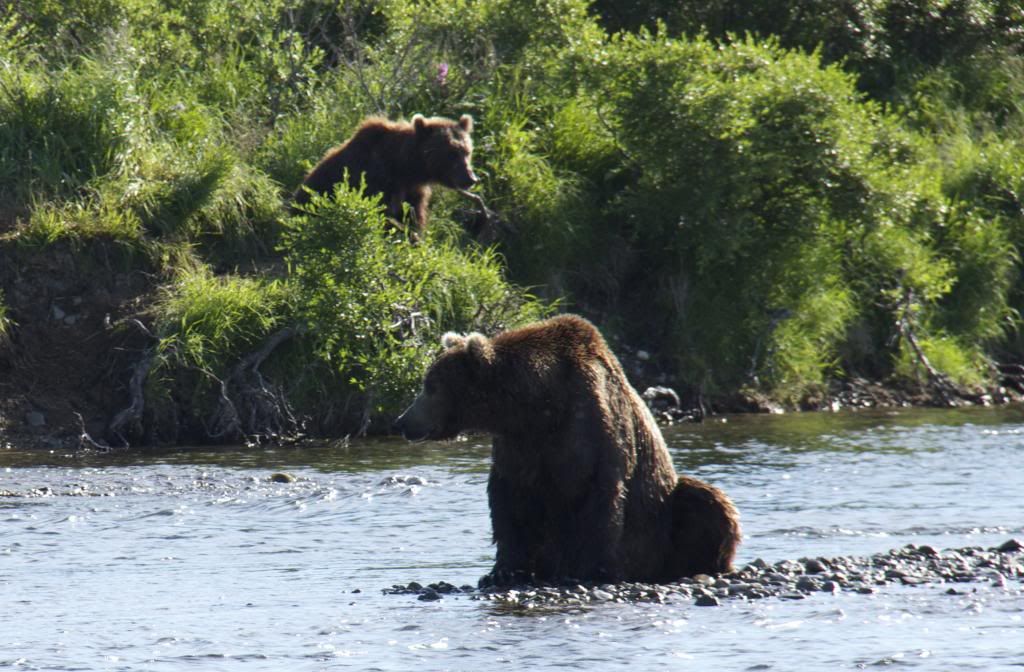 The last day we had Lance as our guide. It was his first year guiding so he was hoping to make a good impression with his first pair of fly anglers and he certainly did produce results. Our hopes were modest after a week on the river and declining king salmon fishing so we decided to try for silvers mixed in with some chum. Lance took us to a new run further up river than we had fished with fly so far. It was perhaps the best piece of fly water for swinging we saw on the whole river. The chum were rolling and I was soon hooked up. It took Mike a little longer to find a fish but he hooked a big one. At the mid point of the fight we were thinking it was way too big for a chum. After a 10 minute battle Mike beached a great 29lb king salmon.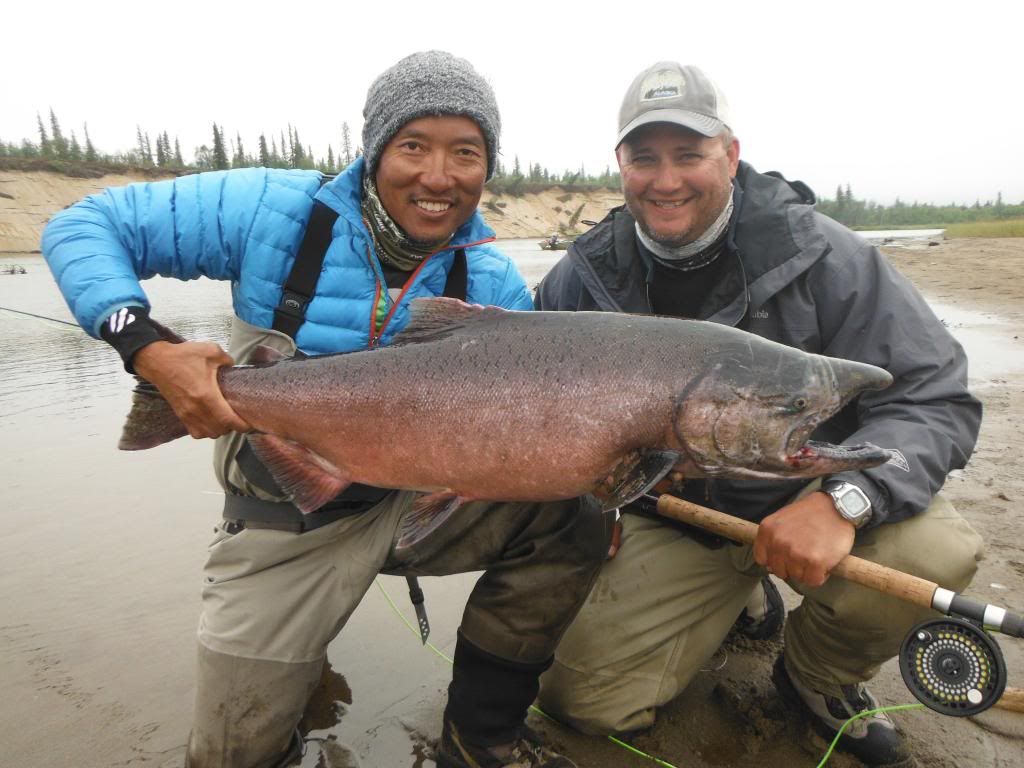 We hit a few more runs on the way down. At a run called Rafter's Mike swung his fly into a decent silver salmon for our first of the trip but the fourth in the camp.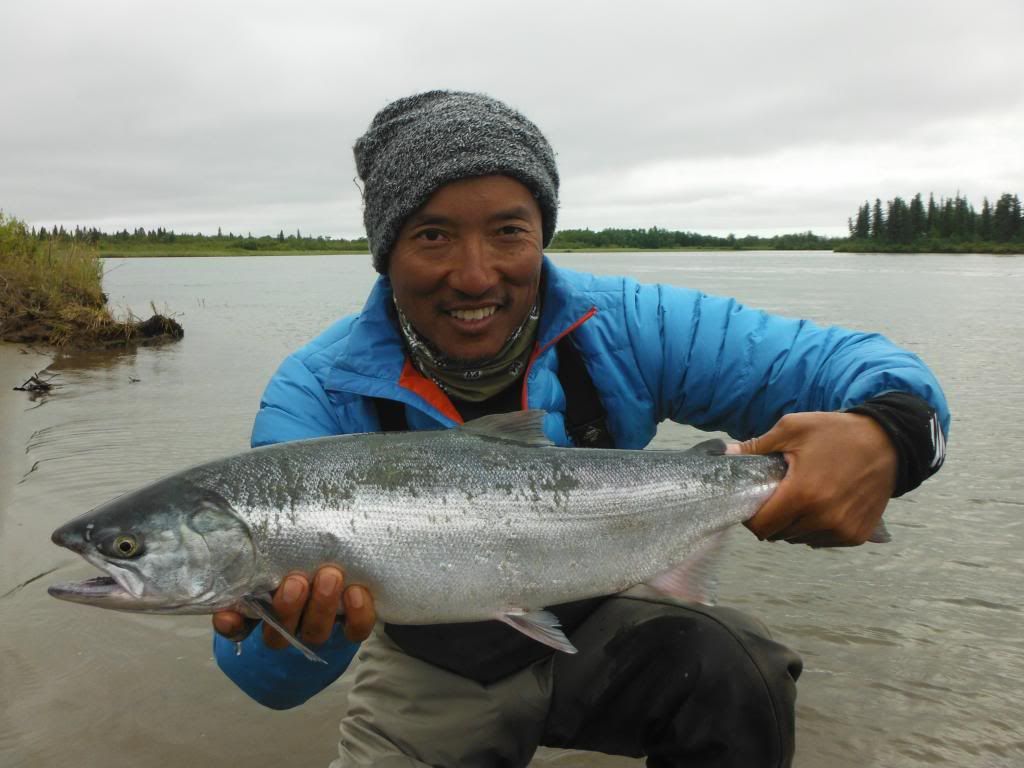 We finished the day at Long Bar with a huge school of chums that were very receptive to the Mcgruder Pollywog. Lance and I took turns shooting video.
My elbow tendonitis is very angry after fighting all those fish. I'll be resting up for quite a while.
The food was excellent again and the staff friendly and easy going. You feel like a family member after your first week and definitely like family when you return! In my opinion it's just the right amount of creature comforts for fishermen without a pile of expensive extras that you can't use.