I recently just got back from a trip with my Dad to Loreto for the first time. I had been down to Baja before when I was younger, so I was looking forward to seeing it again and chasing after the fish with a fly this time. Overall the fishing was slow, partially due to a full moon and also some cooler currents keeping the fish pretty far out. We had a blast though, here is the day-by-day.
Flying in
Day1
Our guide picked us up around 6:30 and we went to the marina to pick up our bait (Sardinas) for chuming up fish. I'm thinking there is a bait guy with a netted area where he keeps the bait. Nope, it's just a guy with a throw net and he nets the bait that is swiming in the marina. Apparently more Sardinas come in every night to replenish the ones taken out every morning. I wonder how long that will last...
So we head out for open water and come across a big school of fish. Our guide calls them "Bonitas" and we start casting. The school was moving around a lot and was spooked from the boat, so getting one to take was tough. I caught one fish and it turned out to be a small Jack (3-4lbs). My dad switched to a lure and caught a few as well. We didn't see any larger fish, so we moved on. We put out the trolling gear to try and get some fish to come up and after a while, hooked into a fish. Turned out to be a nice Marlin that broke off after a few crazy jumps. Nothing else for the next hour or so, so we headed in to fish for some Pargo and Cabrilla. I had one fish grab my fly and take me straight down into the rocks and break off, but other than that, not much action for the rest of the day. Headed in around 2:00.
We went back out again for the afternoon around 4:00 to try again for some near-shore action. We went to a few different areas, but couldn't find much going on except for a few nice Roosterfish that we spooked. I caught a few small jacks on fly and my dad caught a few as well. One hit so damn hard I thought I hooked one of those nice roosters - took all my fly line and about half my backing in one run and it was a friggin' 4lb fish! I'd love to see what a big one does...
Sunset that evening
Day 2
Left around 6:30 again and headed off shore to look for fish. We trolled around for a few hours and couldn't get anything to come up, so we headed in to look for some more Roosters. We went to a really cool bay and right away we started seeing fish. The water was crystal clear and relatively calm, so spotting them wasn't a problem. Catching them however...
We saw a bunch of big Roosters (40-50+lbs), but they wouldn't even take the live Sardinas thrown out and wouldn't even look at my fly. I'm pretty sure they were spooked by the time we saw them. We did find some smaller ones though including a pretty big school and we both caught a few. After a few hours we headed in.
Some scenery around the bay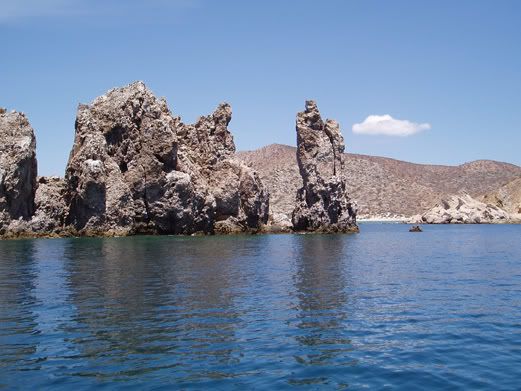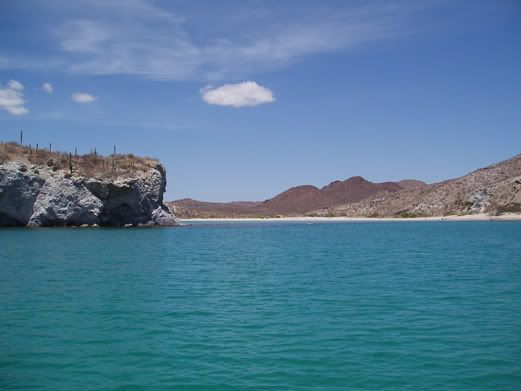 We went out again in the afternoon with a different guide, but the fish we not cooperating and he took us back in after only fishing for about an hour.
Day 3
Left around 7:00 and decided to try further out for some Dorado after hearing a pretty good report. It took nearly 2 hours to get out there. What most boats do is troll around with something and then when they hook up with a fish, stop the boat and try to attract the school with the live Sardinas. We started trolling some Sardinas and had a few takes, but couldn't hook up. We switched to trolling some big pink squid flies and got a solid hook up. My dad took the rod and I went up to the bow to get my fly rod ready. Sure enough, a few nice Dorado showed up and started crashing the bait. I had 3 fish take the fly and hooked one, but lost him after a quick run. After about 5 minutes, it was over and they left. We landed the other fish and started trolling some more. We ended up catching two more Dorado trolling, but neither of them had any other fish with them. We also had one Sailfish come up, but it missed the lure.
Dorado
Day 4
We went out that direction to try again and saw some Sargasso weed on the way. We slowed down and threw out a few Sardinas and trolled for a bit. Right away we got hit, so we stopped the boat, grabed the fly rods and started casting. My dad hooked up with a Dorado pretty quickly and a few minutes later I hooked one too. These were smaller than the ones before, but still fun. Actually, mine ended up being really small, but it was my first on a fly, so it gives me something to shoot for next time!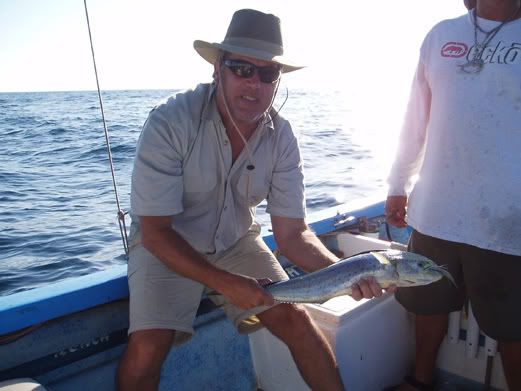 After this, the fish went down and we trolled for a while longer then headed in to the bay again to try for the Roosters. The wind was picking up, so the water was chopped up and murky. We only saw a few pairs of large Roosters, but found a huge school of smaller ones. We each caught 4-5 before moving on.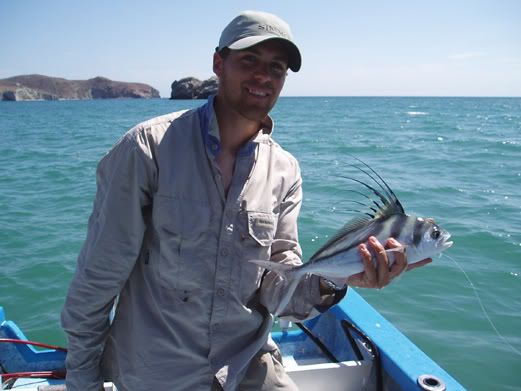 After getting pounded by waves on the way back, we stopped in a calm section of shoreline and tried for more Cabrilla and Pargo. My dad used a Sardina on a hook and I kept with the fly rod. With both caught 5-6 small Cabrilla (1-3lbs) and my dad caught one nice one (6-7lbs) and lost two more fish that broke him off in the rocks.
Day 5
We went out to try and find some Dorado again but at a closer location. We trolled around for nearly 2 hours with no luck so we stopped the boat to switch to bait and the guide threw out a sardina while we finished getting ready. It got hit right away and it was a Dorado. There were no others, so we brought it in and threw another Sardina out. It was quickly hit by something big, but it got off. My dad threw another out that was quickly taken and he set the hook into a big sailfish. While he was fighting that, two more sailfish showed up to feed on the Sardinas that had been thrown out. I went up to the bow to try and hook one on fly. I totally wasn't set up for Sailfish, but I figured I would give it a shot anyway. The rented rod I had consisted of a 12wt and a reel that was way too small for the rod (and fish). I had 2 hits on my Sardina fly, but the hook was too small to really do much and missed them both. I switched to a big pink squid fly and got one to take it and set the hook hard. The fish took off and we had a double!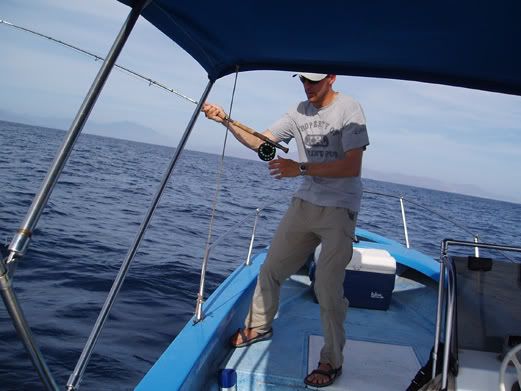 My puny reel was screaming and I was running out of line in spite of palming it as hard as I could, so we had to chase it down while my dad kept his on. Partway through the fight, the spool came loose and kept falling out as I was playing the fish. That made things really interesting... After about 20-30 minutes of fighting and chasing the fish, I got it in for a picture. The guide grabbed the bill, pulled it over the side, told me to grab the tail for the picture and then carefully slipped it right back into the water. I think he has done that move about a hundred times before. Then we focused on my dad's fish and he landed his. Turned out to be a pretty damn good day, especially since I wasn't expecting to get a shot at a Sail with a fly. What a blast!