(Disclaimer to the disclaimer: I'm not much of an angler, least of all in flowing water, which is still less than a one year chapter in my fly fishing journal) (Disclaimer: No sheep were harmed during this trip, although there was much talk about a pair of hip waders and how to properly use them.)
Hello angling enthusiasts. Allow me to introduce myself. My name is Mumbles and I've been appointed to start the thread to report on the trip that a few motley WFF members took over the past 4-7 days. Here am I, working on a hat covered with flies, hoping it makes me look like I know what I'm doing.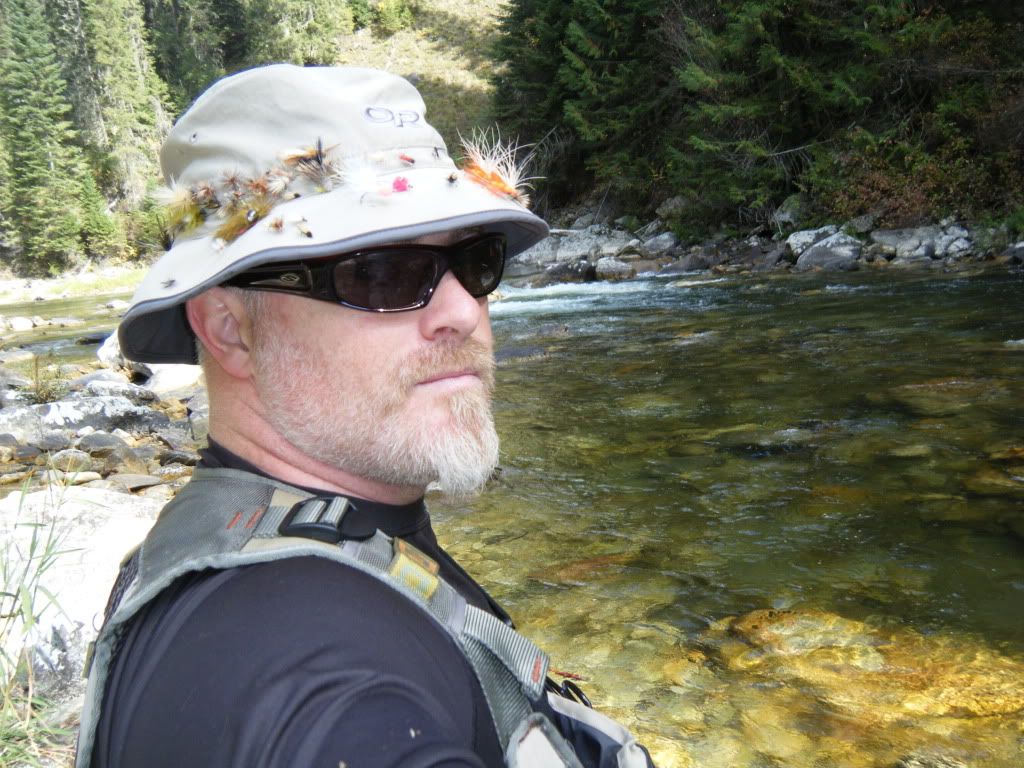 Here is my all too frequent trip companion riding point.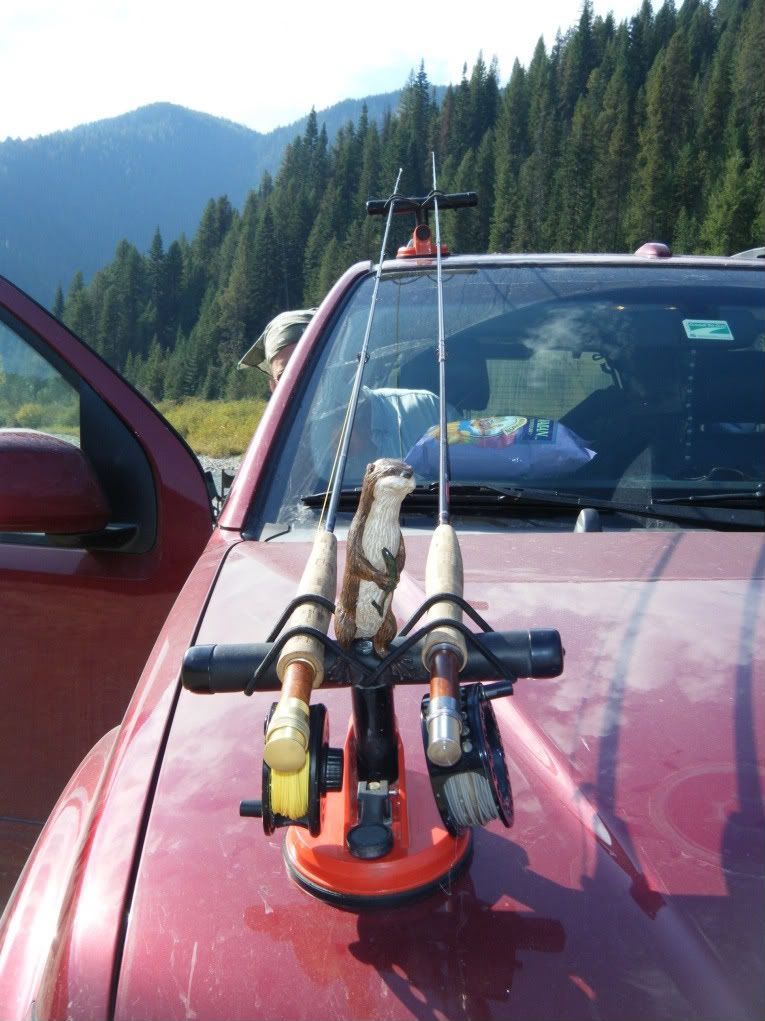 Here is a glimpse into the vast middle of freaking nowhere of the Clearwater National Forest.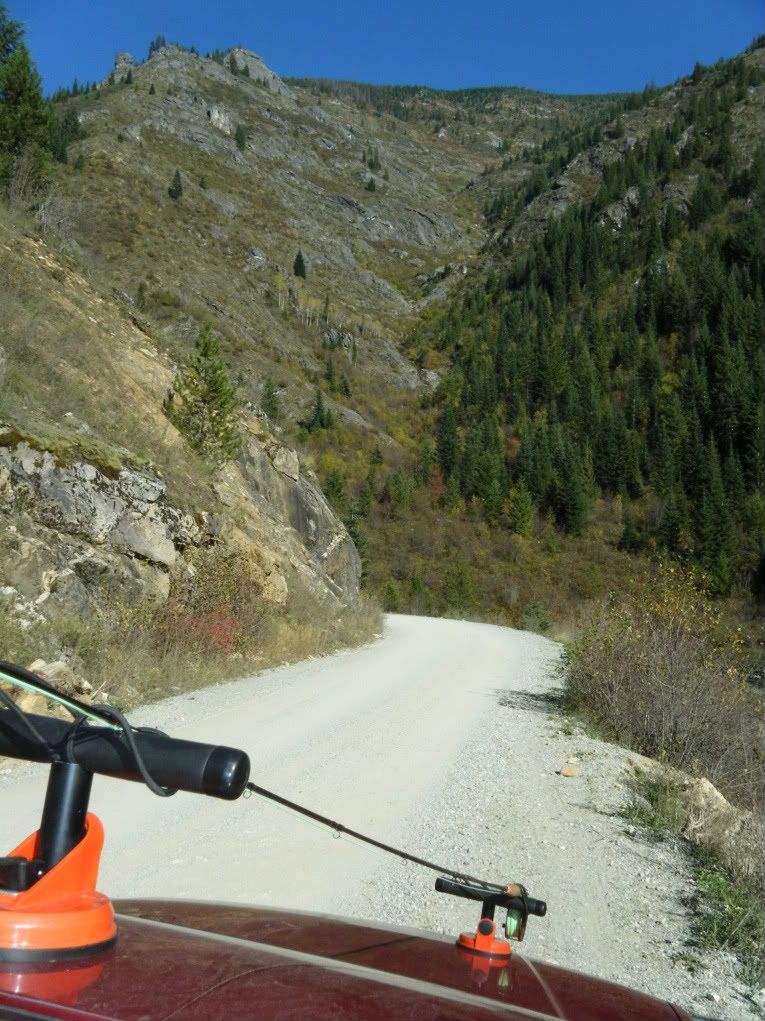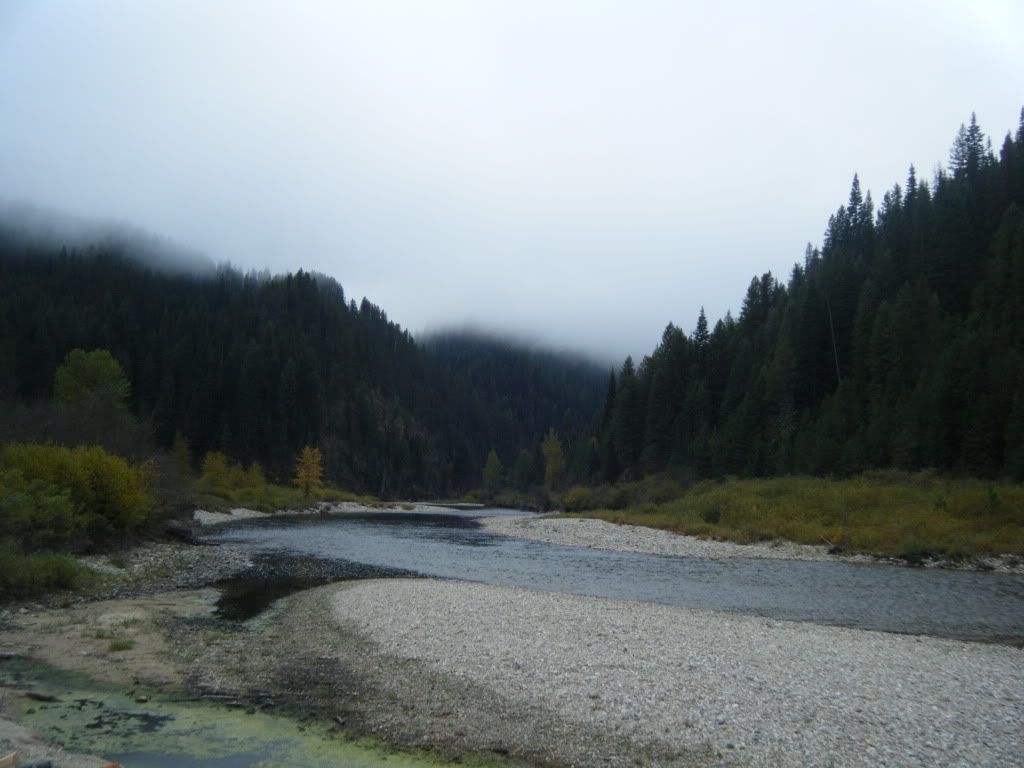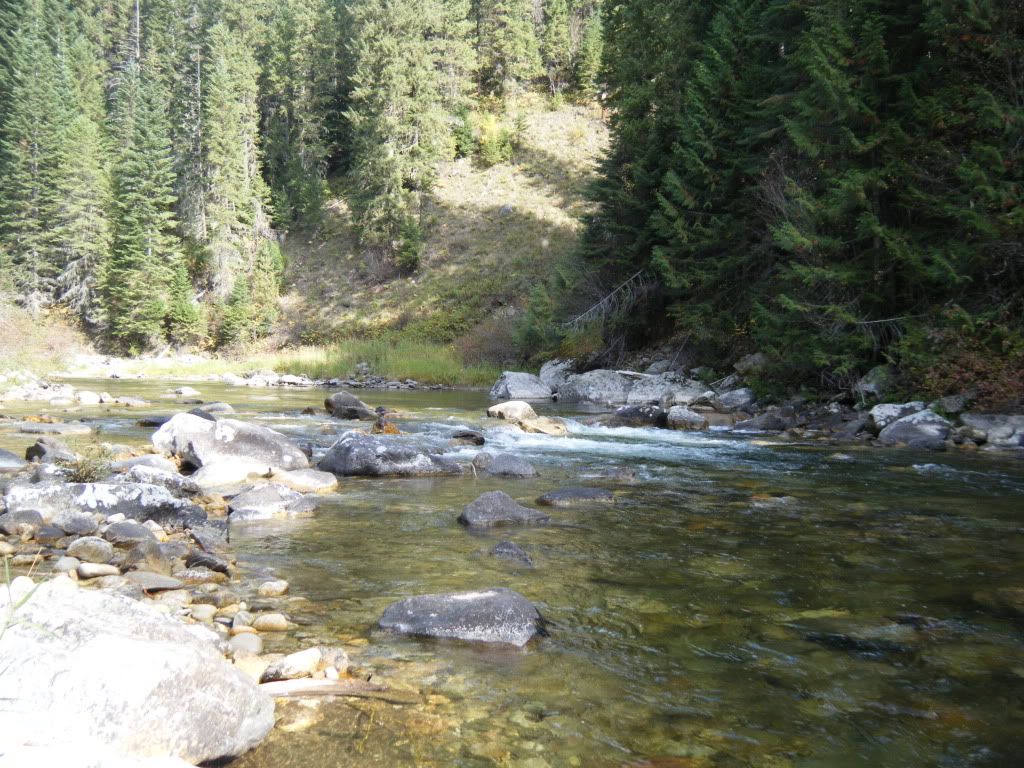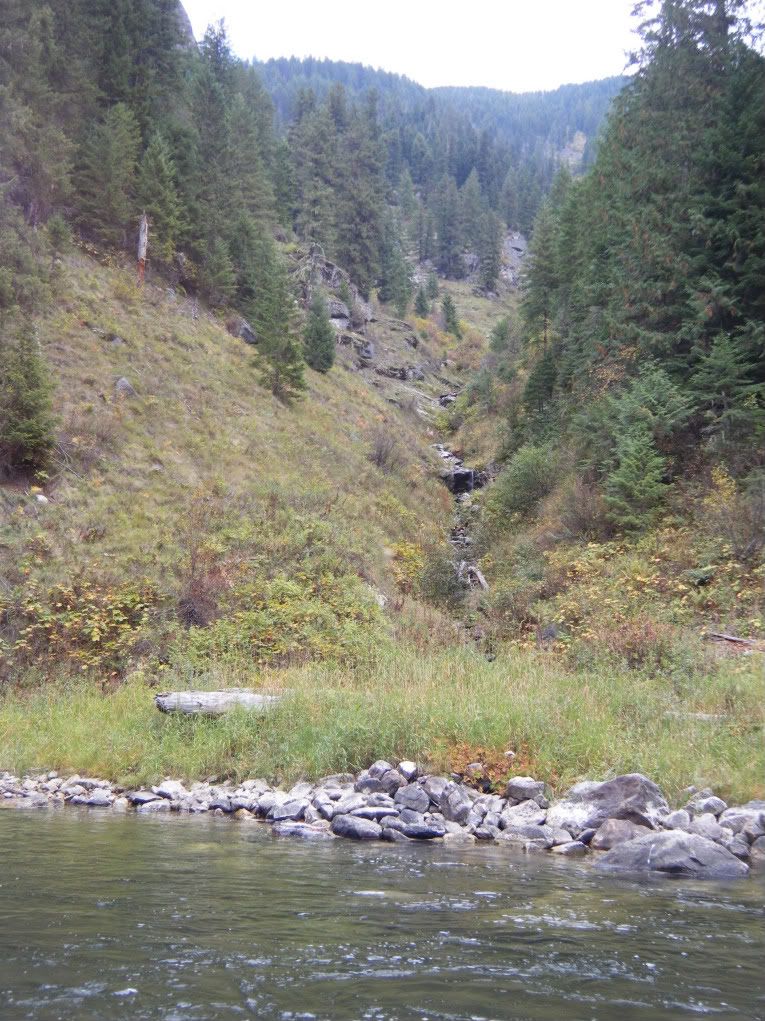 Here was my chatty co-pilot, Jeff Bandy. This guy has some awesome stories and told them from 3pm-1:30am on the way to our destination and again from 1pm to 9:30pm on the return trip. We've shared a number of trips and each has been remarkable, in large part due to him. (I finally outfished him with an epic day for me on Friday and a very good first pool on Sunday...and he will crush me for disclosing that tidbit)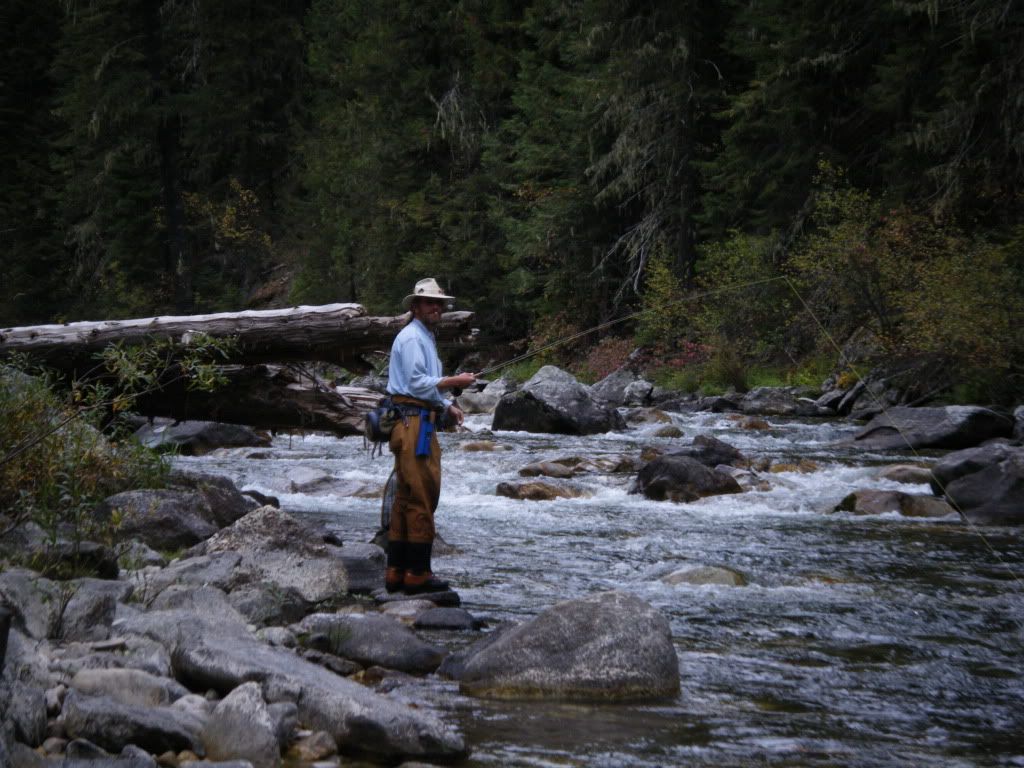 Here is the rest of the group. (I am clearly the whitefish of the group, seemingly existing in their presence, but obviously bringing the least to the table. I for one hope there is always enough love for the whitefish that I don't get cast from this circle of fine friends.)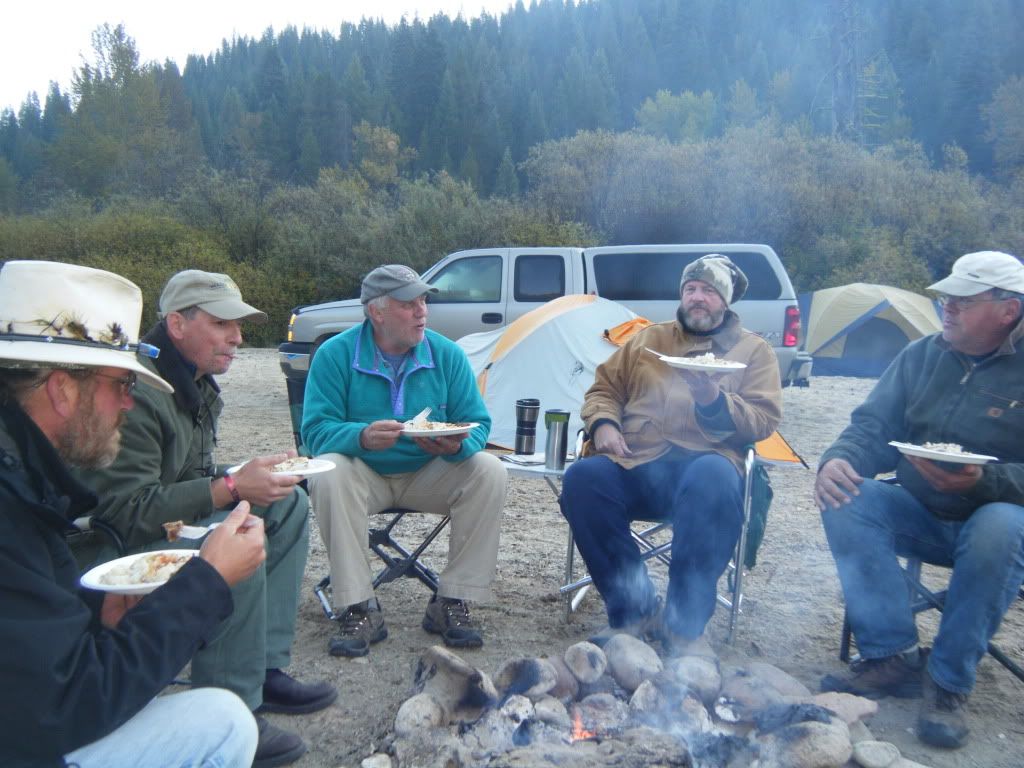 Here is my only known contribution to the collective.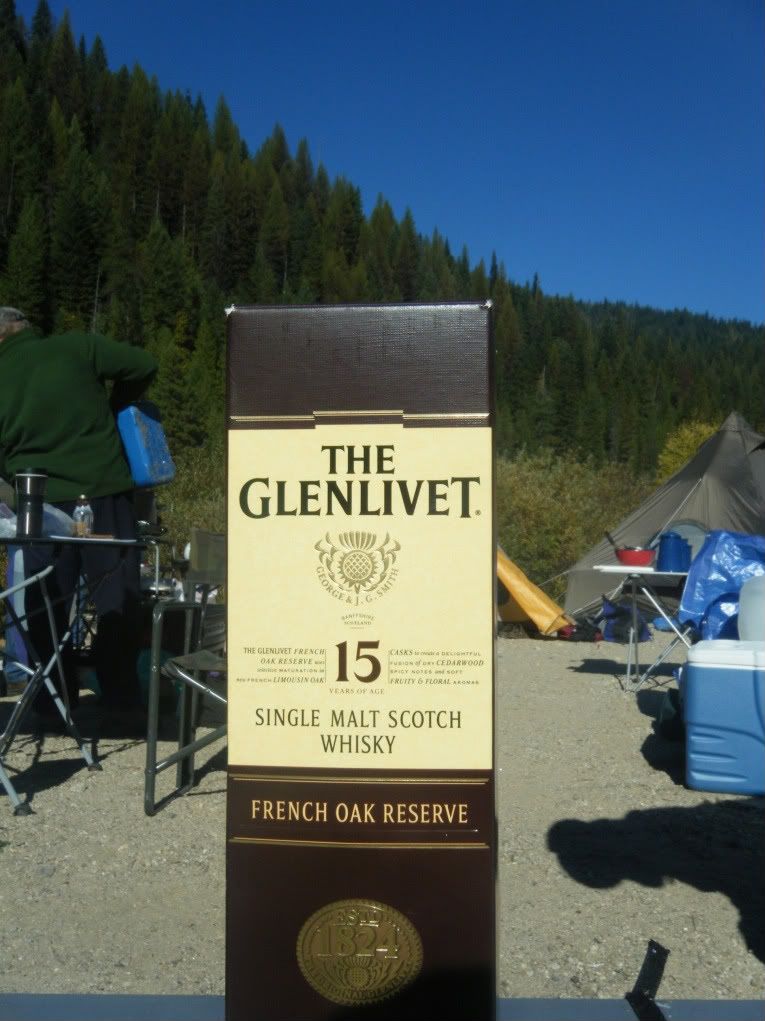 Thanks to Jeff and some "let's use this stuff up" from Bitterroot and Jim the meal came off great. Thankfully my biscuit mix that sank to the bottom of my sausage gravy rose and ended up fluffy and browned on the top as hoped. Jeff cooked up the sausage patties and started off the hash browns and eggs until I told him to go sit down while I watched them until it was time to ring the dinner bell. I had to do something to earn my keep.
No, Jerry Daschofsky, we are not looking for a camp cook. We are hoping that you'll have time to join us though. There are conditions. The only utensil you can raise is one headed for your mouth and the only kitchen items you touch are those that are holding your food. We can handle this.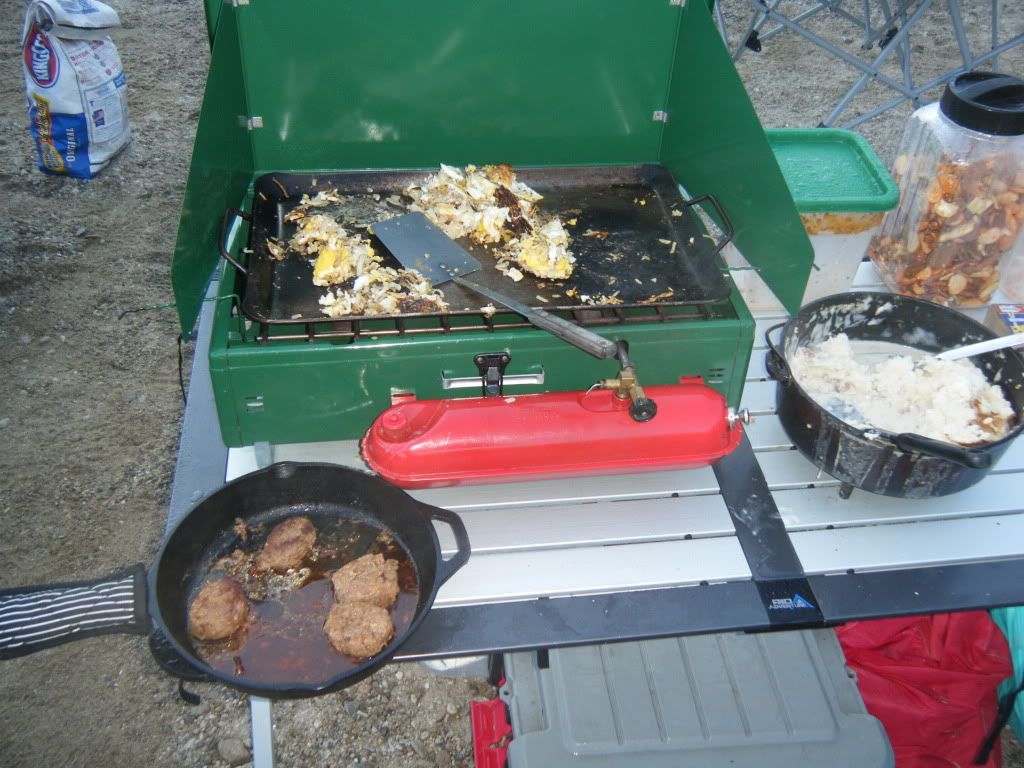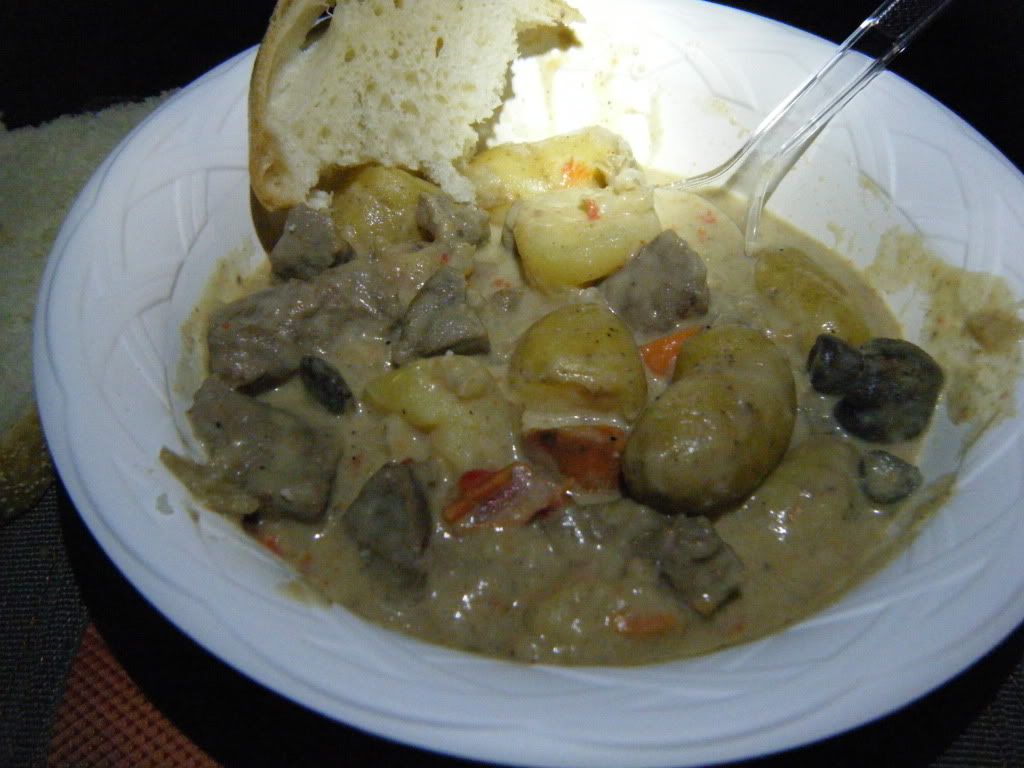 (This is Alex's Hungarian Stew which was so amazing...other guys took photos of other meals. No one missed a meal, no one lost an ounce and we did our best to make sure that all excessive food prepared got recycled into the next meal or eaten in seconds, thirds, etc.) There was some amazing camp cuisine, something I have found WFF membership to really deliver.
Oh, and there was the fishing. The water temps were pretty cold, likely ranging from the 46-53 range with the shaded east-west drainages and perpetually shadowed areas the coolest and the north-south drainages that got ample sunshine all day long were warmer and you had better have a nice bucket hat or sunscreen. Daytime highs reached 70, maybe 72 and the overnight lows were around 40 but on Saturday there was a pretty decent frost on my windshiled that required heating up and defrost before driving to explore. You've got to love the temp swings of the fall at a decent elevation.
Here are a few of the expected suspects based on where we were and when we were there.
(ample food source to keep the system healthy and strong)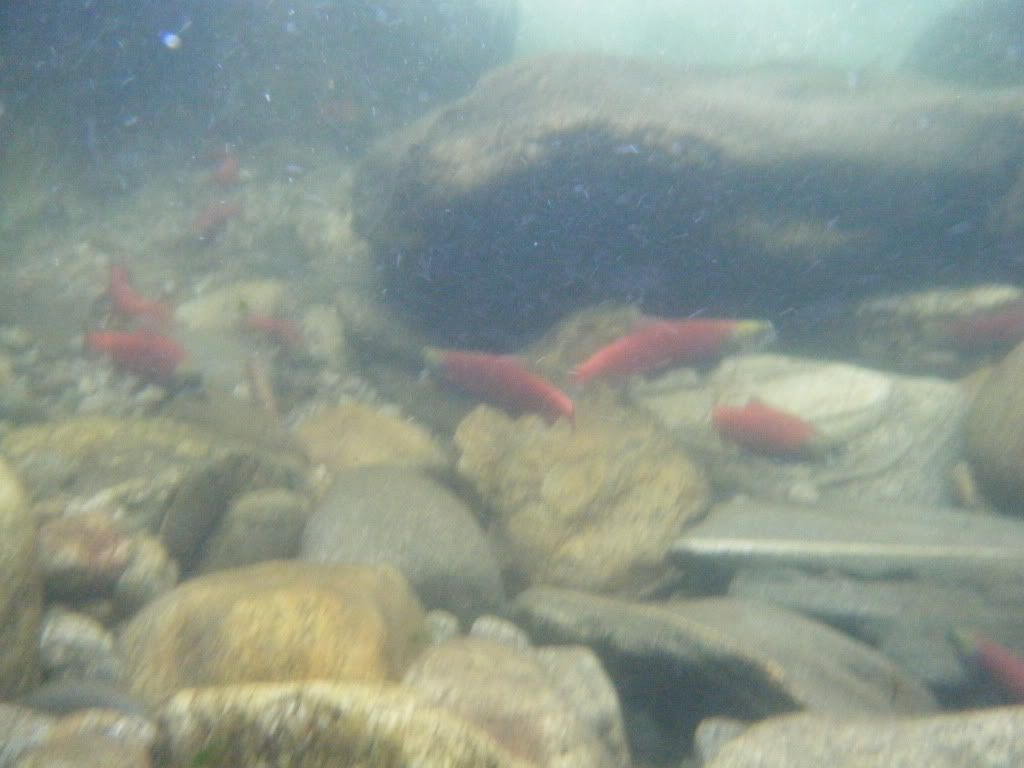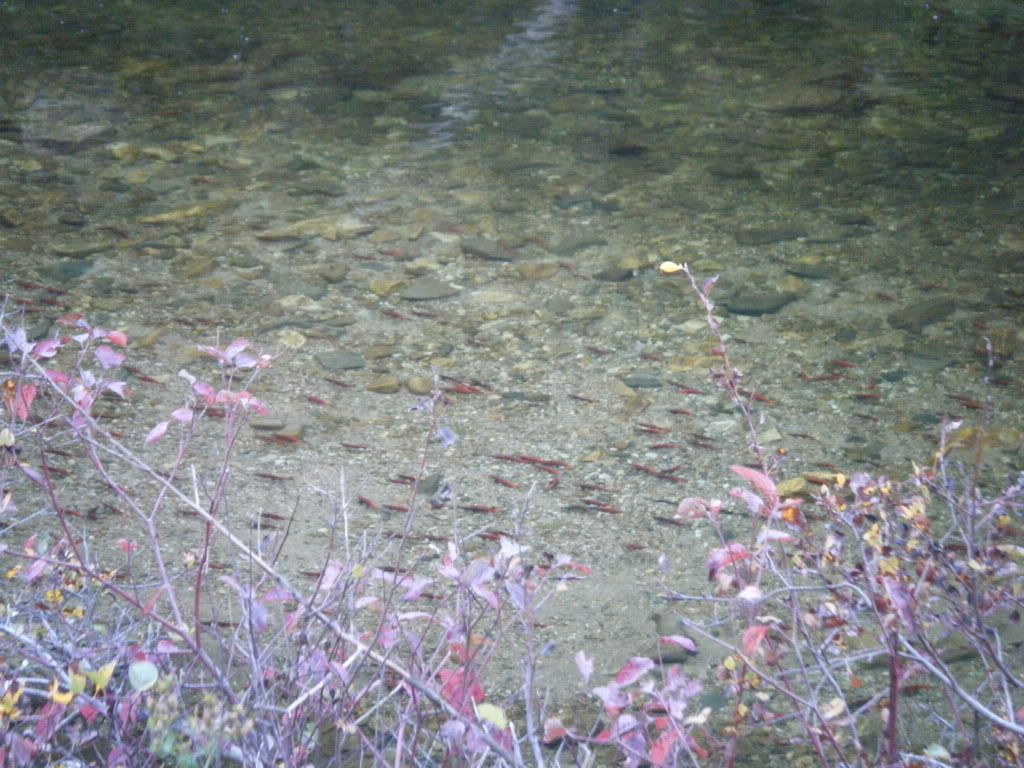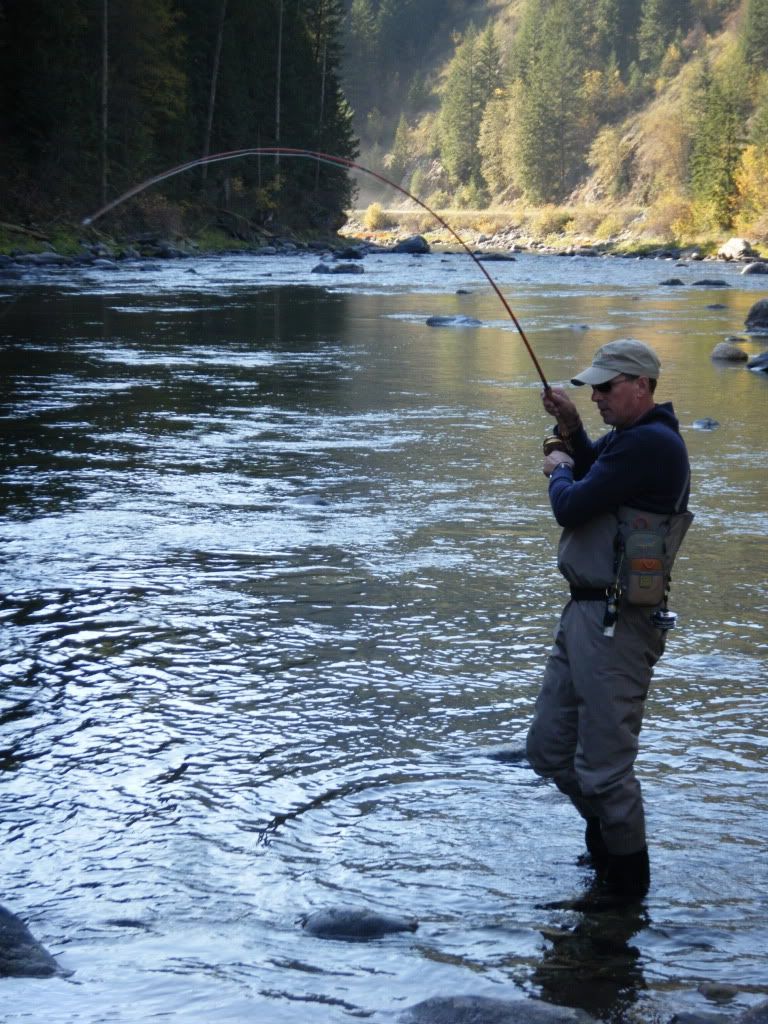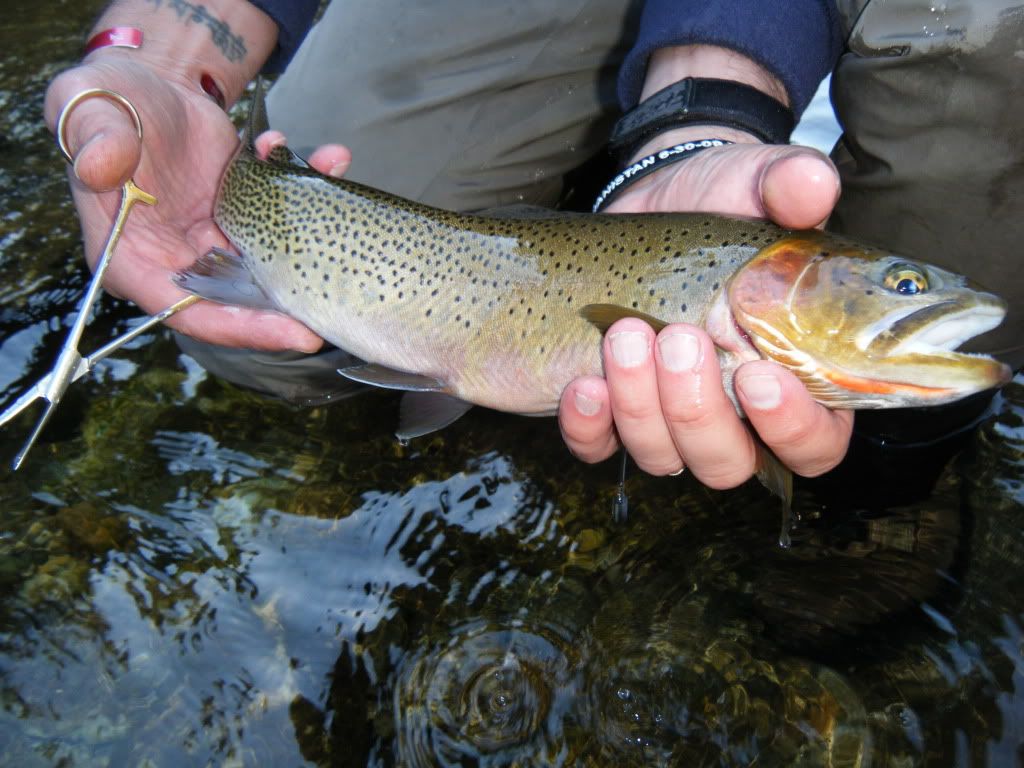 (Bitterroot's nice 16" fish from Saturday)
I caught my share too, many of the larger ones were either photographed by others as I landed them or quickly unhooked and released after the fight. I did not want to harm them after the fight by fumbling with them and the camera. It was easier with the smaller fish that I could bring to net easily and handle them and the camera at the same time. I did catch between 20 and 25 of these fine fish ranging from about 10" up to a pair of 16" bookends. I helped Jim land one that filled my net from wood to wood (curved along the net bag) which I measured to be right at 20"...did no one take a photo of that fish?. I also landed my first white fish, a dandy fish of about 16" to 18" that had a spirited fight. That fished saved my skunking on Saturday and I'm glad to have met him for a late afternoon dance.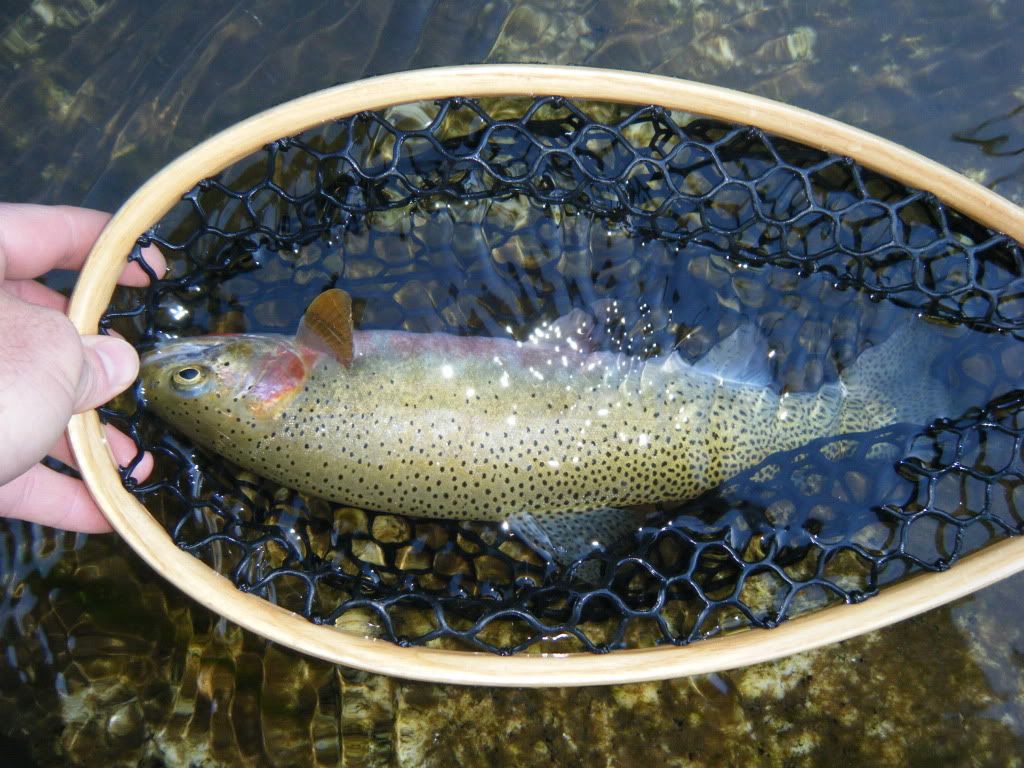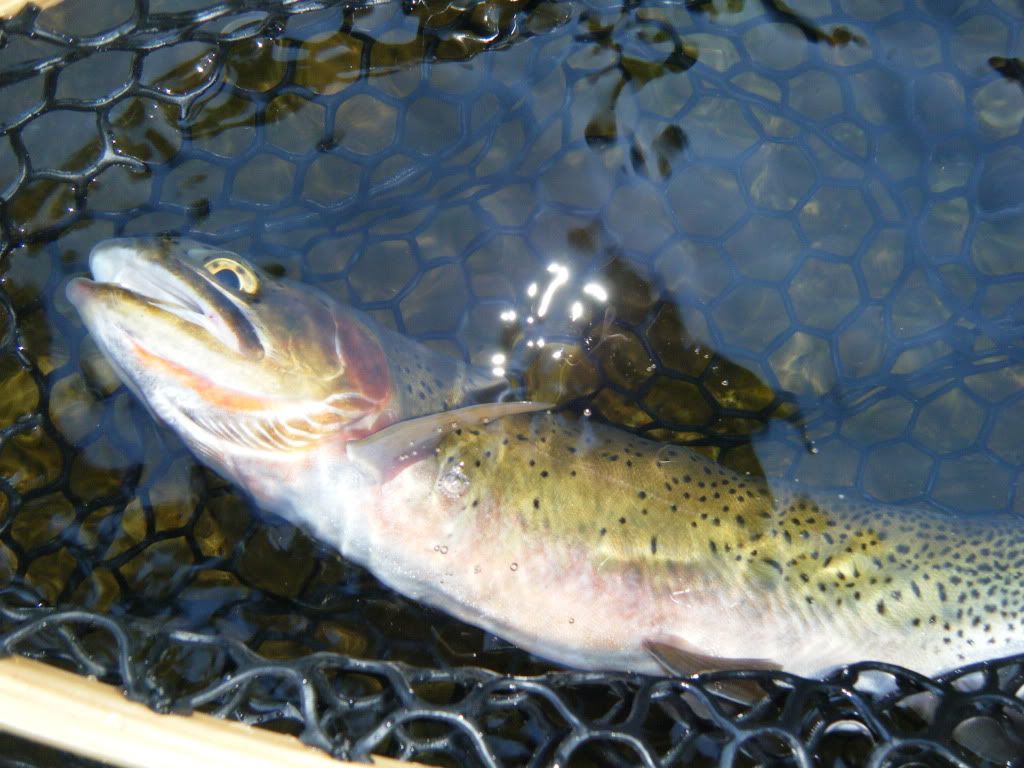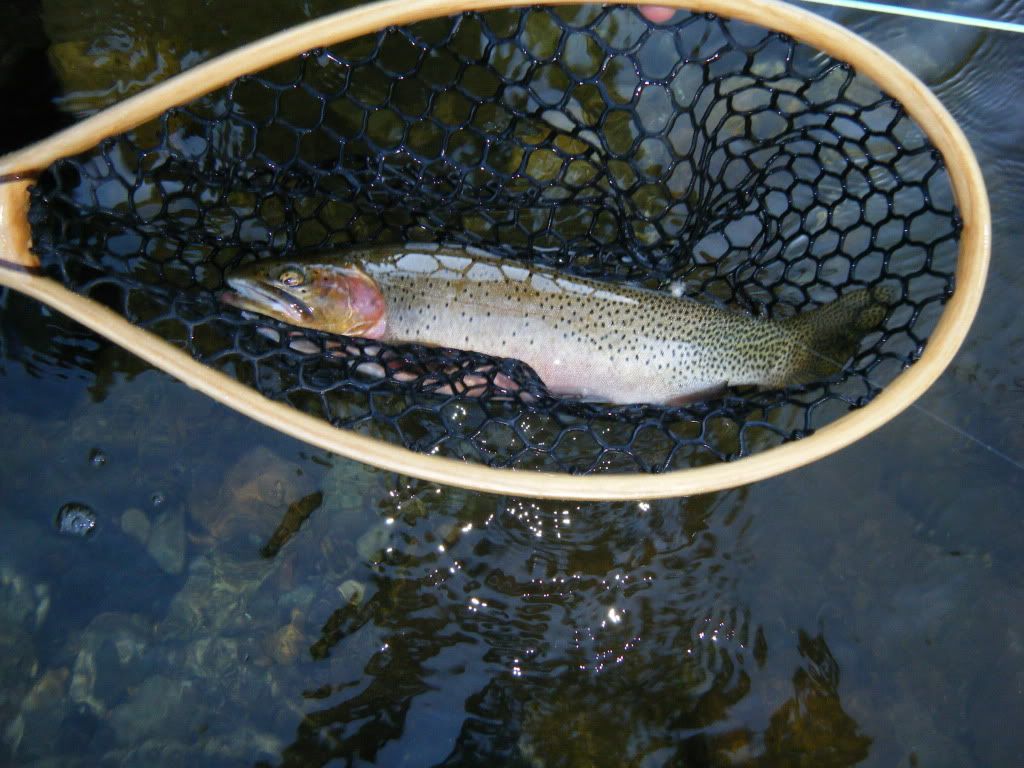 Hey guys, what did you think of the Clearwater National Forest trip?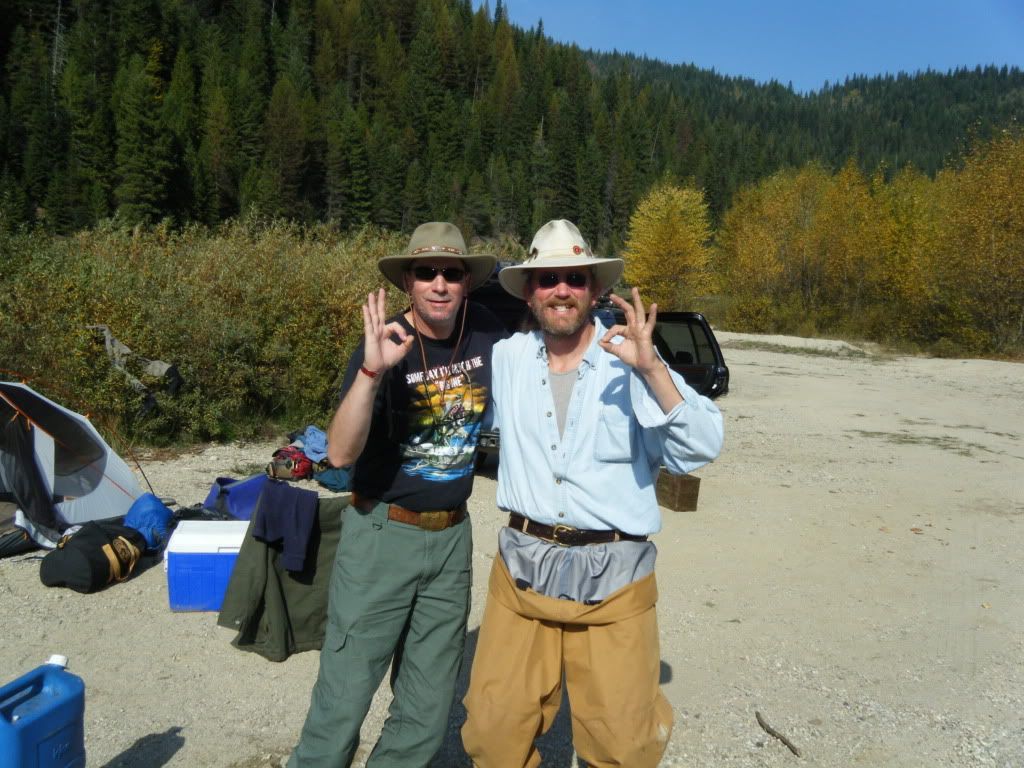 Okay gents, the floor is open for your additions, corrections and interpretations. As you know I'm not known for my wit, knowledge or skill.