No fish were harmed, hooked or even seen in the making of this report. For those that have read enough, have a nice day. It was a pretty good day overall with us seeing some great sights that I'll share if I can figure out why my mini disc is not recognized by my system...photos hopefully to follow, I'll edit the thread if I can master the technology.
Rob and I met Sunday morning near my house and we headed to breakfast at The Oak Table in Sequim. A great start to a crappy weather day with predicted high winds and lots of rain. Today was on our calendars, so we were going, but Rob's suggestion of a nice breakfast was a great one.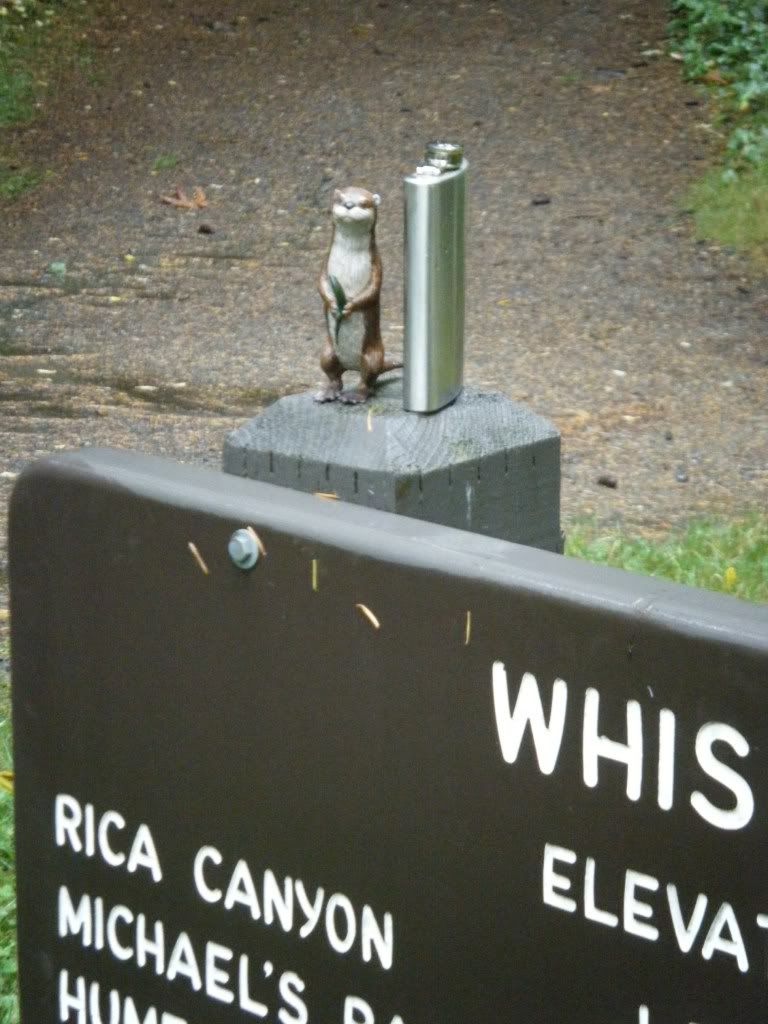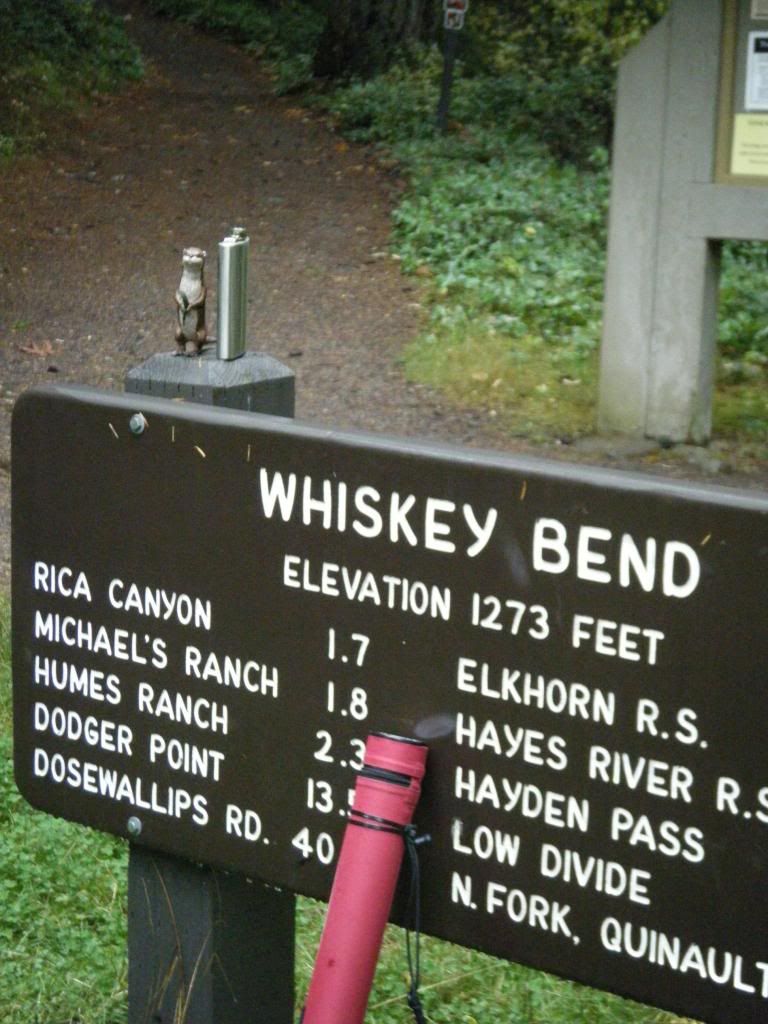 Just before we reached Whiskey Bend a ranger informed us that there was a tree down 1/4 mile from the parking area. We parked at the last turn out, the trailhead for Lake Mills, and geared up. As we headed down the trail I could hear the roar of the river which must be several hundred steep sloping feet below us and I was sure that the rain was having an affect on the river.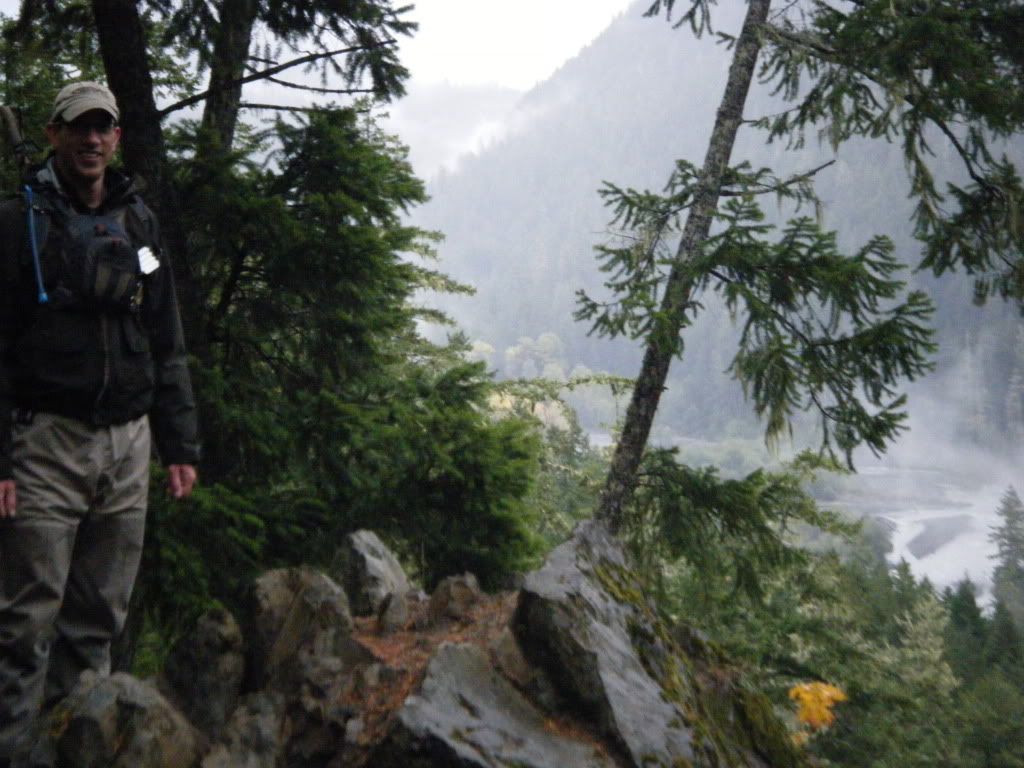 We hiked to the Rica Canyon spur trail. I was winded, due to the fact that I'm fat and horribly out of shape, but I got there (this is a very short hike). Down we went from the trail to the canyon. I was amazed at the cut bank height drop down from where I stood to the river. It was at least 30' vertical straight down. If the river can swell to this level it would certainly be an awesome sight to behold.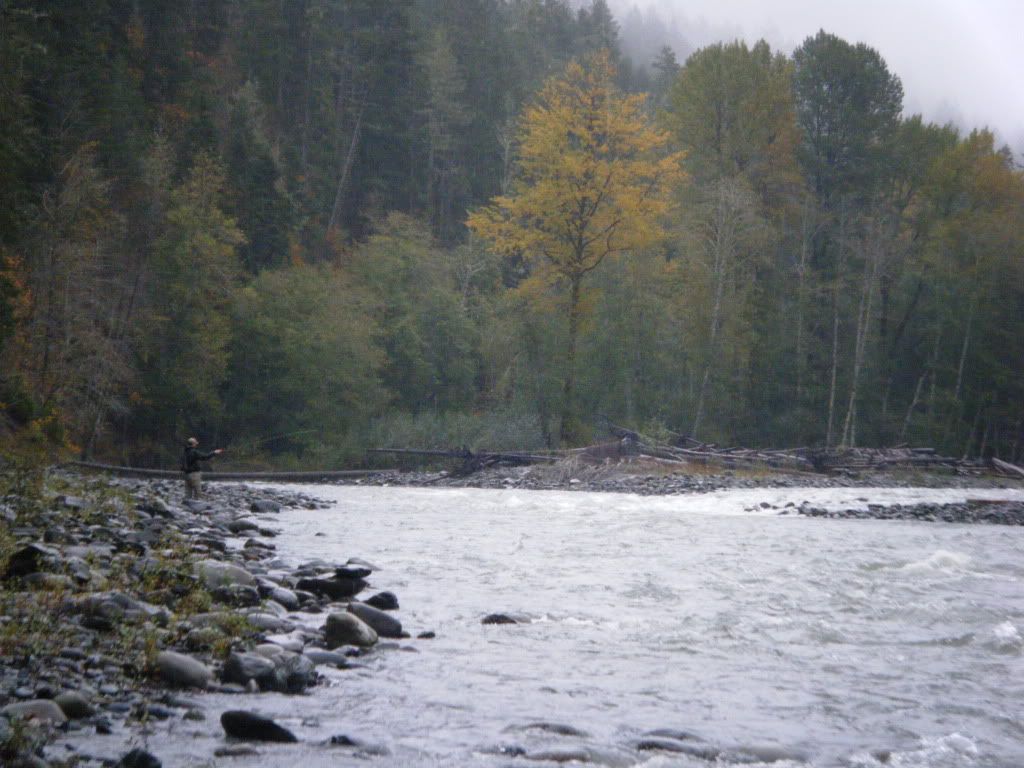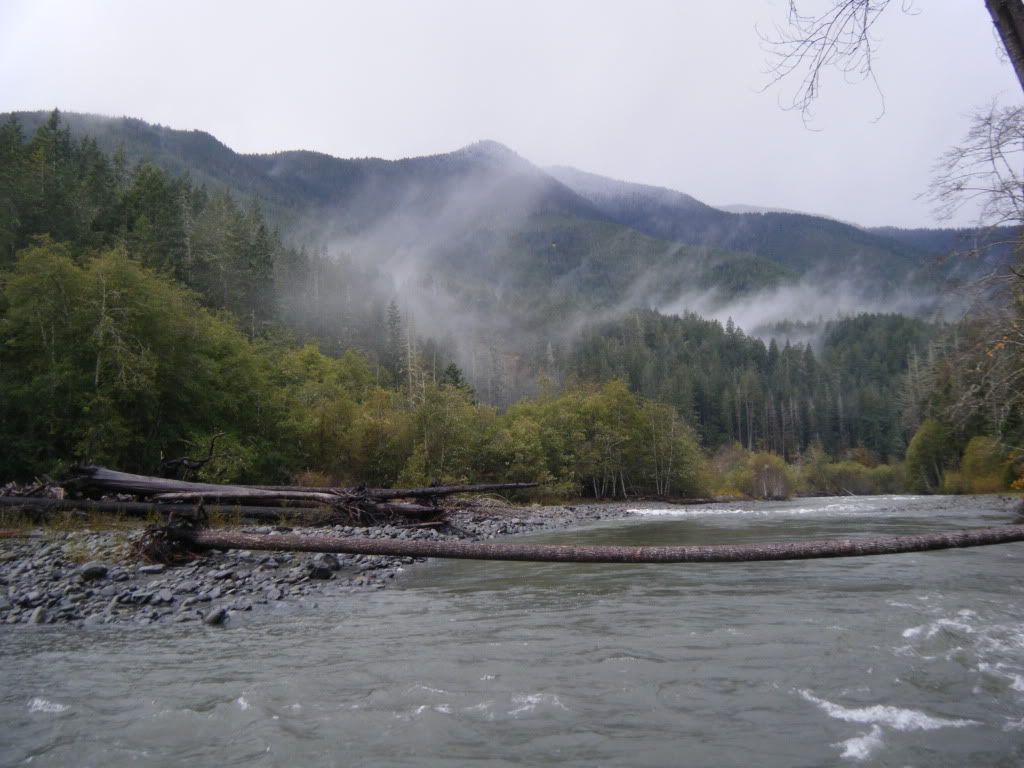 We worked our way along a trail headed upriver to a point to rig up and drop down to the river bed. The river was turbid, maybe 4-6" of visibility, churning wildly and angry. The rains over the past couple of days was not good, but again, this was on our calendar, so we were here. Rob stated that at worst we'd get a good hike in, and that was fine with both of us.
We tried weighted nymphs and streamers in the softer water along the banks. Neither of us touched any fish. I worked my way along a steep rock wall toward a log crossing the river. Rob watched me for a while then disappeared out of sight. As I'm clinging and scrambling he says from above "want me to take your rod", the freaking trail that we had left was about 10' above my head. I abandoned the though of my path and climbed up to the trail.
The next area of softer water we found was a hard bend creating a back eddy. We both tossed some junk into the swirling water but still touched nothing. At this point our trail led upward away from the river so we climbed up over a bit of a saddle I guess the area around Goblin's Gate, then back down to river at Krause Bottom. More meandering here, fished dries in a soft side channel, nymphs and streamers in the main channel and still no fish. The river was raging and it was powerful and awesome to see.
The flats of this river bed has numerous gravel bars that likely are submerged during run off periods, but now it seemed that it is a playground for wildlife. We spooked a small herd of elk a few hundred yards upriver of us. Since the fishing was not happening I figured we'd stalk up and try to get some pics. I got a few from a distance, one of a nice sized bull that Rob said was a six pointer. He and the rest of his herd saw us, scampered away and crossed the river to the west just below Humes Ranch.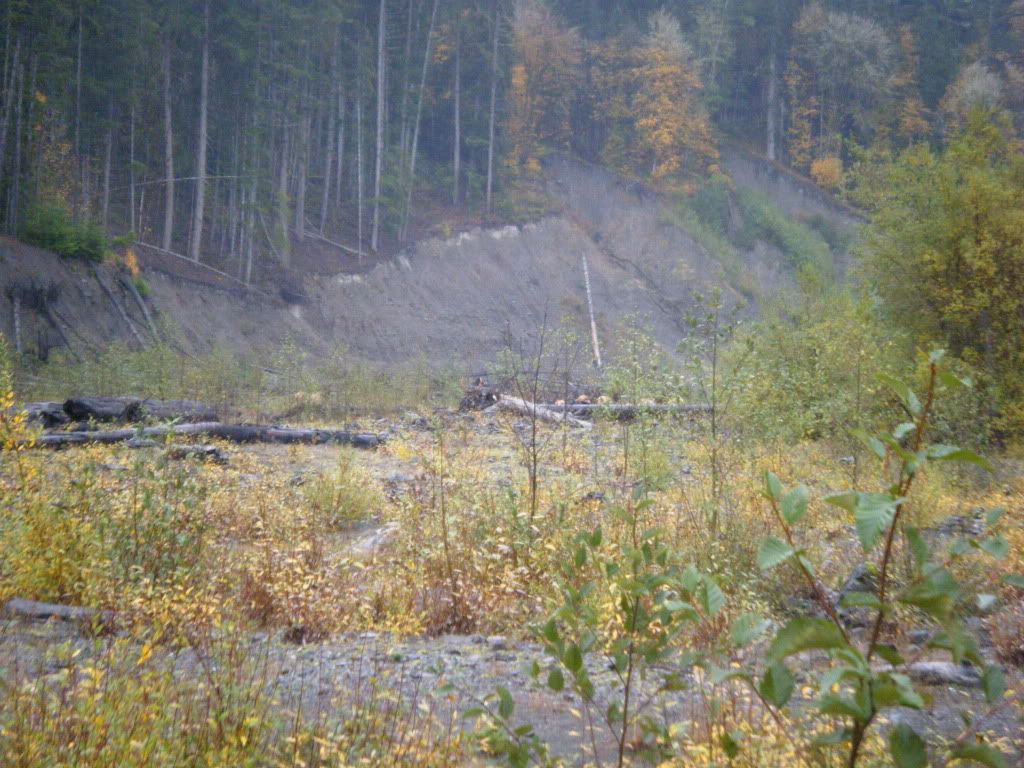 We had now hit the two stretches of river that tons of others fish when they are not committed to hiking into the upper Elwha, but that is what we had the time for on our trip. It was a good day, plenty of rain, not much wind, and after a late lunch at Humes Homestead Cabin after passing through the meadow that allowed us to see several deer. This hike was not difficult at all, the drop and rise down to the river was a bit of a challenge, but the rest was really a challenge due to my diet and inactivity.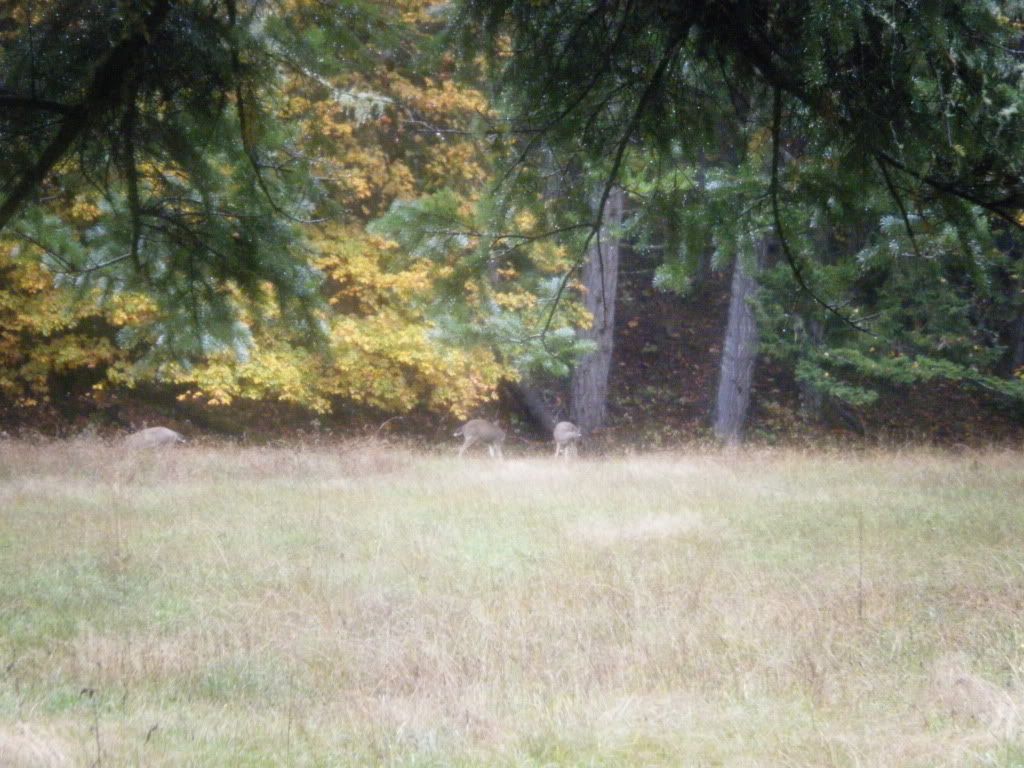 Hopefully the photos will show some of the beauty of this place. I am saddened that I've come to trout fishing in moving water so late in life and have not made more of a solid connection to this beautiful area. Hiking it once, without any idea to fly fish the area, some eight or ten years ago is just not doing this fine spanse of the earth its proper appreciation. Now that the river is about to close to fishing (get there by the 31st if you can) for the year and then for many years due to the two dams being removed this area won't satisfy your fishing needs. If you appreciate vast, beautiful and rugged country this area still merits a visit with a backpack and tent. I hope I can convince my family to join me on a hike or few in this area over time.
Between now and then I better get my fat ass in shape and those dam things will be a thing of the past.