This will probably be kind of long, so for those who want a quick summary....Alaska kicks ass!
This was my first time to Alaska and I was really looking forward to it. My dad and I met up with his friend who lives in Anchorage and we spent 4 days straight fishing. I wish we had another 2 weeks up there...
Day one:
I had heard about the "midnight sun", but thought it was just an exaggeration. Well, it is no joke, it really didn't ever get dark! For those of you who haven't been to Alaska this time of year, it is really weird. 11:00 rolls around and it feels like 6:00! Here is a view of the way in to Anchorage around 11:45 at night:
Day two:
We woke up in the morning and went to the airport for our flight to King Salmon. We arrived, checked in, rented a boat and were on the river by around 2:00. We tried for Kings first for a few hours (with gear) even though we heard they weren't really in yet and didn't have any luck. So we went up river to try for the bows.
We got to the area called "The Rapids" and right away we were seeing birds diving and big bows splashing at the surface after smolt. It was just like being out in the ocean when you find a big bait ball with birds and fish working it. I put on a smolt pattern and within about 5 minutes, I had a nice fish on: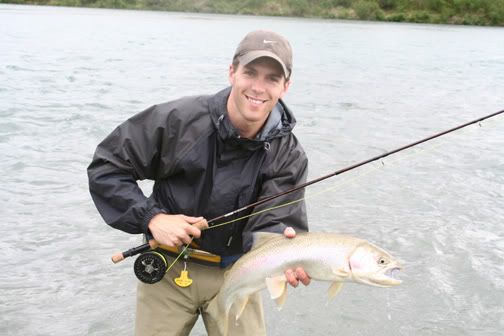 I gave up this spot to my dad and his friend so they could get a few and they hooked up pretty quickly too, each hooking 3-4 and landing 1-2 fish all in the 20-22" range. I worked some other water and caught a few more in the 20" range. They stopped hitting after a while, so we moved a little upriver and caught a few more including this one (which ended up being my biggest):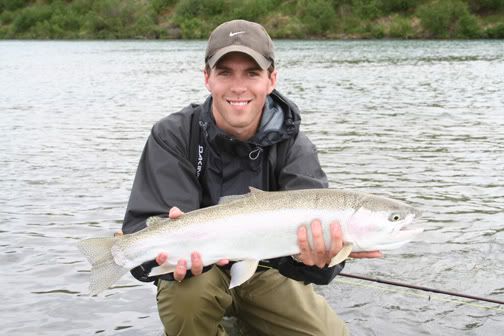 This fish took me right down to the end of my backing until I started runing downstream to catch up with him. Had a few more on as well including one probably bigger than the one above, but they got off. All the fish were pretty skinny, but fought like crazy. The action slowed down again around 7:00 or so and my dad and his friend wanted to try for kings again, so we went back down and fished for them until around 9:30 with no luck.
Day three:
This day we took a floatplane out to Brooks River to fish and hopefully see some bears. For those of you who haven't been there, it is a really neat spot. Since there are so many bears around, when you are walking around, you are supposed to yell "Hey Bear!" every 30 seconds or so to warn them. You feel pretty silly doing this, but better that then a surprised grizzly. It didn't take long to find one: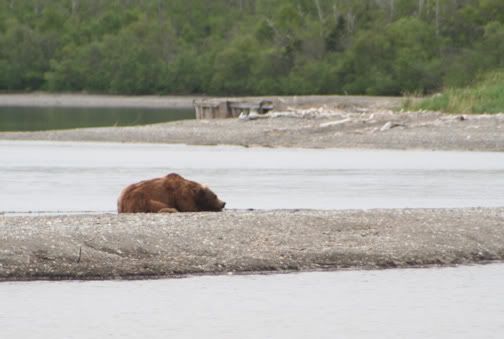 The fishing was pretty slow in the morning, there was some colder weather that came in so maybe that had something to do with it. We worked the upper part of the river first and after a few hours, only had 1 fish to show for it (about a 20" bow I caught on a streamer). The upper part had way less fish than the lower river, but we didn't know that at the time...:beathead:
At one area, we were walking down the bank and came out onto the river to see 3 people fishing the other side. They said just a few minutes before we came out of the woods, they had seen a big male grizzly and a wolverine right where we were standing...I guess that "Hey Bear" call works after all! Apparently they took off right when they heard us.
We came to the falls (luckily no more bears) and checked it out for a while before moving on. For those who don't know, this is the famous spot that you always see photos of with Bears catching salmon out of mid-air as they try to jump the falls: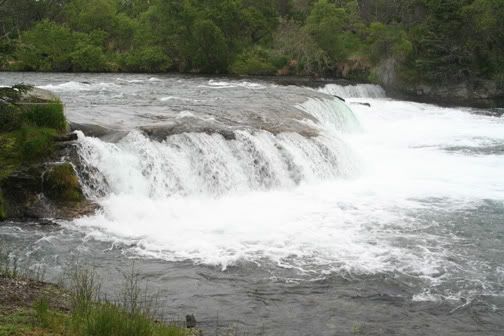 Once we got past the falls, we found quite a few fish, but they didn't come easy. We were expecting them to be looking for smolt/fry coming down, but they didn't care about all the ones we were putting in front of them. The river was really clear, so you could see lots of big bows hanging out in the current feeding. I tried a lot of different flies, but the only one I could get them to take was a small hare's ear. Later we saw a light hatch of some mayflies so they were probably keying in on those. Within about an hour, I hooked 7-8 fish and landed 4-5 all around 18-21" long. Not big by Alaska standards, but every one of them was fat and jumped out of the water multiple times when hooked. Here is an average one: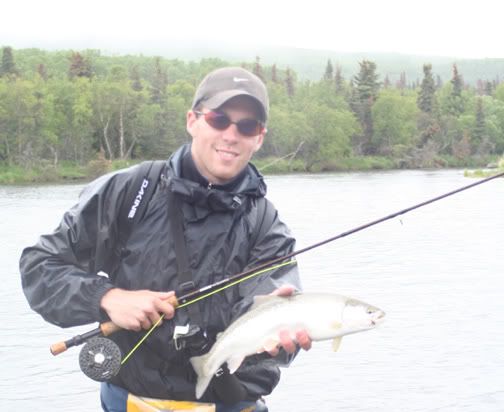 We took a break for lunch and then fished for another 2-3 hours. I hooked 6-7 more landing a few and lost one about 10' away that would have been pushing 25-26" and fat. My dad caught a few as well and lost a few more. Our plane came at 6, so unfortunately we had to leave - right when we were starting to get them figured out too...
Day four:
We took a flight out to the American River the next day. Here is the view on the way in and the float plane dropping us off at the lake: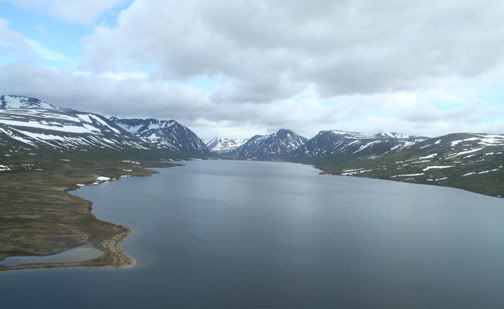 It is a very beautiful spot, I wish the weather was better so I could have seen everything, but it cleared up for a sec:
We had heard that streamers were working the week before, so we tried those for the first half of the day with very little luck. We worked our way down a mile or so and I caught one 21" bow and that was it. Feeling a little discouraged, we went back up river to try something else. My dad's friend went up on a nearby ridge to look for some artifacts and fossils and ended up finding some pretty cool stuff including some ancient fishing camp areas, perfect fossils and some other things.
My dad and I stuck to fishing and it finally paid off. After trying various streamers at different depths, I put on some nymphs and was into fish right away. In one hole I caught 3 different fish in a row. The first (to my surprise) was a Lake Trout, the second a nice dolly and the third was a nice bow (no pic of the dolly):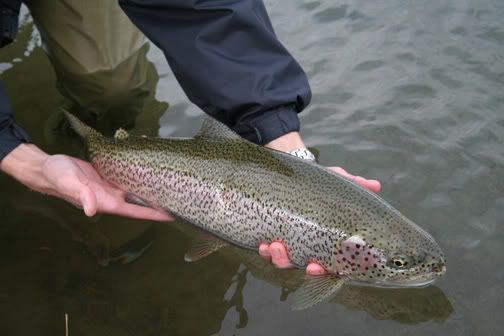 My dad caught a few here (and lost a few) and I caught 2-3 more bows and lost a few more as well. Before we knew it, it was time to stop and hike back up to the lake to get picked up...damn.
Day 5:
This was our last day flying out somewhere and my dad and his friend really wanted to catch some Kings, so we took a flight out to the Nushagak and rented a boat for the day since we heard they were in there. They had a ton of rain the day before, so the water was high and the visibility was about 8", but we still managed to catch 5 Kings on gear. Nothing huge, biggest was probably about 12-15lbs.
Day 6
:
This was our last day in King Salmon. Our flight was around 4:00, so we didn't get a full day in, but we rented a boat again and went up the Naknek for some more bows. The fishing this day was much slower. There was a huge tide change, so maybe that had something to do with it. My dad's friend wasn't able to land any. My dad did ok with 3 fish landed a few more lost. I caught 3 also and lost 3 more including one that broke me off when it hit (12lb test) and splashed around at the surface a few times to show me how big he was (huge) :beathead: Here is one from that day:
Day 7:
Didn't get to do any fishing, but we explored around Anchorage for a while since our flight didn't leave until around 4:00. Fishing related, I thought this was pretty crazy - Ship creek runs right through Anchorage with a run of Kings and about half of Anchorage comes down to fish them:
Didn't fish it, but we ate at the bridge restaurant you can see in the photo. By the time we finished lunch (around 2:30) there were people probably every 10' along the bank along the whole river.
Overall, it was a great trip and I would highly recommend it to anyone considering heading to Alaska. If I did it again though, I think I would come in August-September instead though to catch the Bows at their peak.