As I get older, it's getting harder to easily grab a single size 18 or smaller non hackled fly from the slots of my C&F fly box while on the water. I love the box because it neatly holds so many small flies (22 midge/baetis per row), but they really do line up close together. Without tweezers, my fingers want to flip out several surrounding flies and I'm too much of a tying junkie to leave spaces between slots in my box. Longer fingernails are not an option.
After tying them at home, I slip them into the box with a pair of Dr Slick angled tweezers, which is perfect for the job.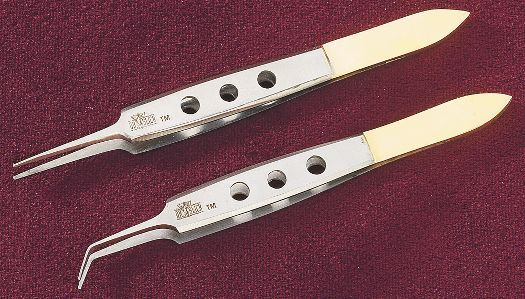 Although they have holes in the sides, they aren't zinger friendly for use on stream. I could velcro them to the side of the box, but I'd undoubtedly fling them into the water removing the box from my sling pack or vest. Alternatively, I suppose I could modify a pair and drill a hole in the back for a zinger attachment.
I've tried cross locking tweezers, but they're too large for small flies, require too much force to open and are too crushing when closed.
My hemostats are the fly saving curved type that allow one to grasp the back of the hook to release from a fish without crushing the fly body. I like them for removing hooks that don't immediately slip out of a fish.
Unfortunately, I don't like using them to try and remove new flies from the box where I really need to grab the fly body since the hook portions are hidden in the slots of the C&F box. They're too big for that job and even with less pressure the toothed portion can damage fragile fly body materials.
Anyone know of fine tweezers that can be attached to a zinger? Thanks.