While an iPilot bow mount would be nice, I wanted to make use of my existing 55# transom mount electric and didn't want to drill the hull anymore than the previous owner who must of been a Sarah Palin fan, "drill baby drill"...sheesh. This boat has a rolled gunwale, which makes things difficult. After way too much thinking about it, I stumbled across on old portable transducer mount for a tube or pontoon. The C-clamp fit the gunwale perfectly, and I built it from there. Bought some 4x4 1/4" aluminum from an online source that cuts to size (about $8.50), added two pads of 3/4" ply stained and urethaned and it was done. Haven't tried it yet, but the center of gravity with the heavy Minn Kota is pretty high so the gunwale may have some flex. I will probably anchor it to some through hull bolts in place now.
Asusming you can find the clamp which is the challenge, this mount should work on many different skiffs and can be removed in seconds.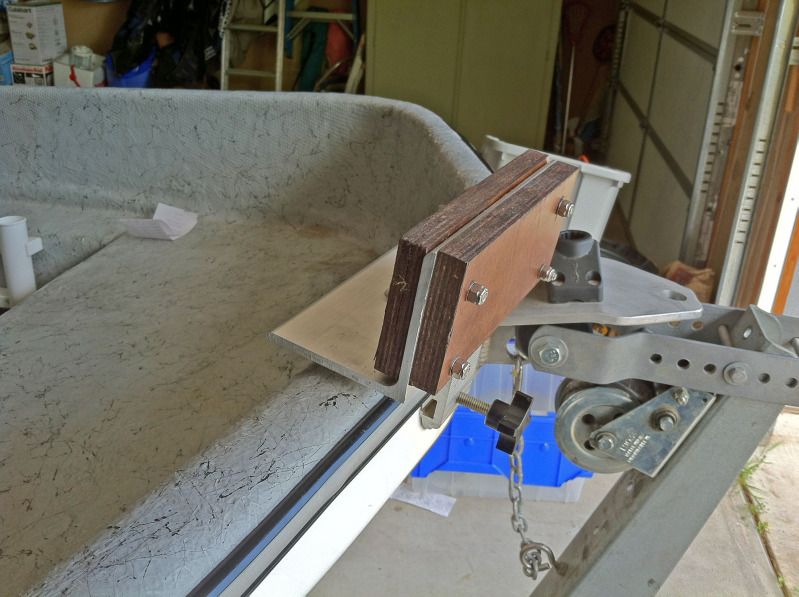 I wanted a stern mount too. When we took it out last weekend I nearly lost the motor because clamps don't do well directly on fiberglass.
The boat came with some channel aluminum for an Edie EZ Loader wheel system installed. I'll never use that system but someone down the line might, and I liked the idea of having an anchor for accessories on the transom. I ordered 18" of aluminum square to fit the channel from the same source above ($6.85) laminated two thicknesses of 3/4" ply, urethaned, and simply bolted together and ran two bolts through the channel and aluminum tube. This mount is very strong and essentially now part of the transom, although it too can be removed with only two cap screws.
Adding channel to the transom would be very simple, and it can provide a base for a motor mount, swim ladder, float tube loader, transducer, lots of things.
Total cost for both mounts was about $40, including shipping for the metal, and stainless hardware which was the single biggest expense. Hope this gives someone who may have been considering similar projects some ideas.