I fished the West Yellowstone area in early October this year. It is a good 12 -13 hour drive from Seattle to West Yellowstone. To break up the drive, I decided to check out Fish Creek in Montana and then spend the night in Missoula. Fish Creek is about half the size of the more well known Clark Fork tributary, Rock Creek. While the pressure on Fish Creek may not be as high, it is still a popular river. This was highlighted by the fact that the car that I followed into the access area had Missouri tags. Of course my Washington tags made no statement at all. I counted about 10 anglers on the lower 3 miles of the creek. The weather was clear and sunny in the mid 60's with little wind. The fishing wasn't bad. I took several small bows on nymphs and had a few risers to my hopper pattern. I spent the night at Ruby's in Missoula. Not a bad place for $85 per night. That evening I ate at Pearl's. They have a very nice buffalo steak on the menu.
Fish Creek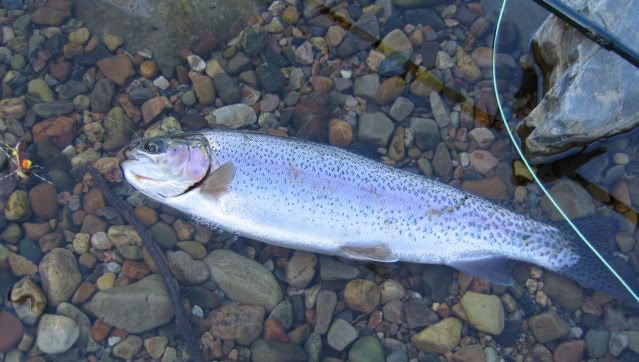 Fish Creek Bow
The next day brought me into West Yellowstone. After checking in at the motel, I drove over to Henry's Lake. While it was in the mid 60's, it was windy and Henry's lake was choppy. Trying to get out of the wind, I launched and fished in a cove on the west side of the lake but with little success. I left the lake and took the north road to West Yellowstone going by Quake and Hebron Lake. The wind howled at both of these spots as well. I stopped to fish the Madison where it enters Hebron Lake. There were a few takers but no fish to hand.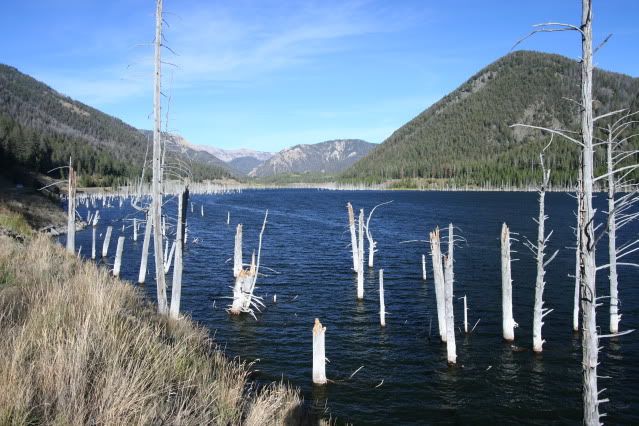 Quake Lake – created by an earthquake in 1959
The following day I returned to the north shore of Henry's. The wind was down and the lake calm. It was easy to see fish cruising in water that was about 6 feet deep. Slowly stripping a small black leech on an intermediate line was productive. I brought 10 fish to hand by 1:00 pm I decided to call Henry's a day and check out the Park.
Homes along the north shore of Henry's
Henry's Lake Cutthroat
Cutthroat with a black leech
After acquiring a Park Fishing License at a West Yellowstone fly shop, you can't purchase them at the Park entrance; I went to check out the Gibbon. The Gibbon is wonderful creek, but seemingly devoid of fish, at least for me.
Gibbon River
I moved downstream below the confluence of the Firehole and the Gibbon and fished a meadow on the Madison. There were lots of fish rising but most were small. Sometimes there was an aggressive take on a hopper.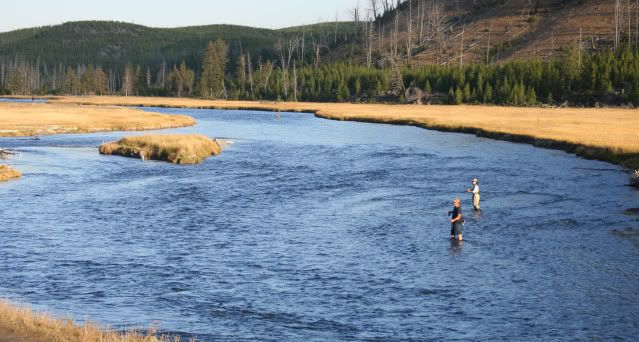 Anglers on the Madison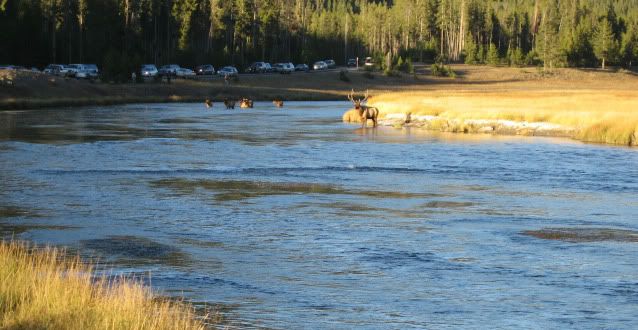 Elk herd and congestion along the Madison
For day three I returned to Henry's hoping for a repeat of the day before, but the wind had returned with a vengeance. After fishing for a while with only one take I decided to check out the Firehole. Arrick's Fly Shop had a sign stating that the Firehole was fishing better above the Midway Geyser Baser where the water was cooler. Above the Basin I found a nice meadow and walked in. The fish weren't large but they were aggressive. A stealthy approach was necessary. I tried small heavy nymphs to get into the deeper holes but hoppers and a black caddis pattern produced the best.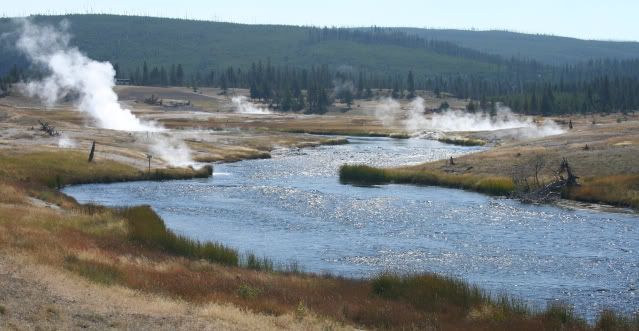 Firehole below Midway Geyser Basin
Meadow along the Firehole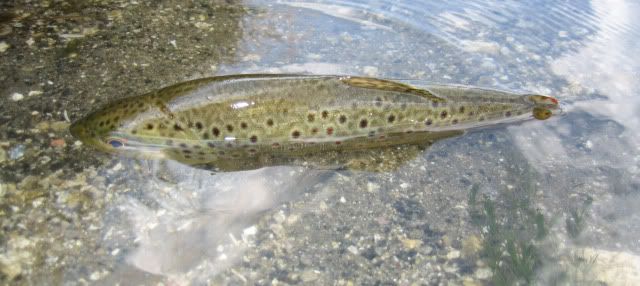 Firehole Brown
Firehole Valley looking down towards Midway Geyser Basin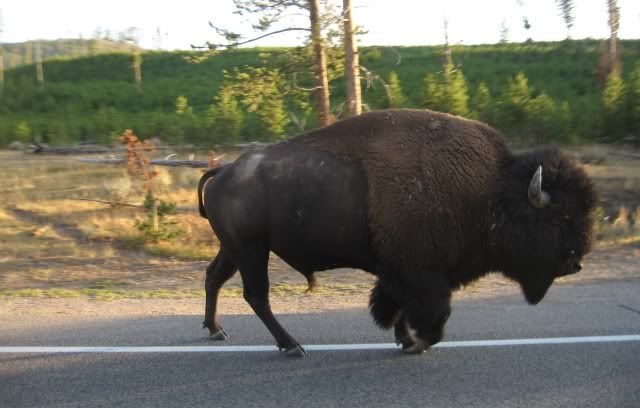 Traffic on the West Entrance Road
West Yellowstone isn't much of a town and finding inexpensive and decent accommodation is a challenge. I stayed the Lazy G Motel for $61 per night. The room was large and clean. However the room did not have AC. Finding a decent meal, besides a burger in West Yellowstone is another challenge. Sydney's Mountain Bistro offer nice fare but is a bit pricey. Also, if you are going to eat there, arrive early or late, otherwise expect to stand in line for a half hour or so waiting for a table. Another option is Wild West Pizzeria and Saloon. It has decent pizza at a good price but after 7:00 pm, it isn't a place for kids. It is a saloon and it is West Yellowstone. I watched a woman at a pool table try and use a pool stick as a phallic substitute in any number of ways (with all with her clothes on of course). I would not have wanted to have to explain this to my child. But she sure had everybody cracking up with her antics.
Sign of the times