This is a little late, but I thought it might be useful for other folks who are considering a similar trip...
I've always wanted to visit Ireland. Maybe it's the tales from my father's side of the family, who came over in the 1840s to escape the famine. Maybe it's because I'm particularly fond of Guinness, or maybe it's because I've wanted to see some of the amazing variation in Irish trout for a very long time. My wife had visited before, and was excited about a return.
For once I did my homework. For months I planned -- ordering weird materials and tiny double hooks, tying dozens upon dozens of traditional salmon and sea trout flies, practicing spey casts, watching river gauges, ordering several books, and scouring the innerwebs for every scrap of info I could assimilate.
A 10-day trip seemed doable. I booked a couple nights at what seemed like a genteel old estate in the Connemara region of Mayo, which manages a salmon and seatrout fishery on the Erriff River. We booked a few nights at a recently renovated house on a lake in Donegal, which had several salmon options and supposedly good trout & pike fishing nearby. We planned on staying the last two nights at a b&b in Galway, so we could stagger home from the pubs without worrying about driving. Of course, several trout waters of high renown were just up the road.
What could possibly go wrong?
An airshow in DC threw our original itinerary out the window; we were halfway to Nashville when the airline called and told us that flights were screwed up across the East, that we'd miss our connection in Philly, and there weren't any other options for getting to Shannon until the next day. We drove the two hours home, dejected. The flight the next day was considerably earlier, so joy upon joy, that meant getting up super early and then spending the better part of a day in the Philadelphia airport. There are no redeeming virtues in the Philly airport other than eventually leaving.
We got into Shannon, got our little rental Ford Fiesta and hit the road. Staying left was difficult, but trying to shift left-handed was particularly unintuitive.
A couple detours for scenery and historical points of interest, and we rolled up to our lodge as it started to get dark. It's situated at the end of a long fjord, and we had a beautiful view from the front steps.
Just up the valley is a memorial to the famine victims. It's worth remembering that roughly a million people died and an equal number emigrated during the famine. It's a very moving memorial.
They'd had an inch or two of rain that day, and the river was in full blown spate; high and peaty. I hoped it would drop to something approximating fishable levels by the next day.
Stylish digs, but we'd hit our first snag. The lodge had recently changed ownership -- in fact, we were the first people under the new management. They had not hired a fisheries manager yet, so I got no local intel other than "the lower beats are the best." They hired a woman to cook breakfast for us, but the in-house evening dining was not operational yet, so we were offered dinners at the other lodge that the management operates, about 15 minutes away. To be fair, these were spectacular meals! The next morning I got my salmon license and headed for the river. It had dropped a surprising amount and had cleared up a bit. There were a few other people fishing, a German couple, a couple of Norwegians, and a guy that drove up from Dublin. We all geared up and headed off to our respective beats.
The beats were roughly a mile long; on the first day I got two contiguous beats, one for the morning and the downstream for the afternoon. I tied on a small double Ally's shrimp and started covering water. It seemed that every twenty minutes the weather would shift, from bright sun to howling winds and rain.
It didn't take long to bump into an ubiquitous plant, gorse. This legume has beautiful flowers but has big nasty spines all over it, and grows in abundance along the rivers. I perforated a new pair of waders quite well after bumping into some. It seems to be most abundant right at crotch level, or where I needed to lean into a bank to keep from sliding into deep water.
The wind picked up throughout the day, and squalls of rain came though. By mid-afternoon it was blowing up the valley at maybe 40mph sustained; with gusts that would nearly knock me off my feet. Casting was difficult, even with the switch. I tried to expect a bump on every swing... that never materialized.
By the late afternoon I was pretty exhausted from fighting the wind. I was down near the end of my beat when the fly stopped -- I subconsciously strip set and launched a tiny little trout through the air.
We ran back into town for a beer… little did I suspect that this would be my last beer for a while. It was very tasty.
The next day dawned clear, and I grabbed a quick breakfast and headed out. My beats were further apart, and I got dropped off a couple miles up the valley. It was beautiful water, and HAD to hold a fish or three. I managed one slightly larger trout out of a deep seam before the rain swept in.
Heavy rain, and winds even stronger than the previous day. I continued fishing downstream, hoping for a grab. The temperature dropped, and I had to take shelter behind some old ruins for a bit.
I fished out my morning beat and started hiking downriver to the next, a couple miles below. The valley was spectacular.
There was a salmon skull up on the bank… at least there was one in the system!
These can't be good signs.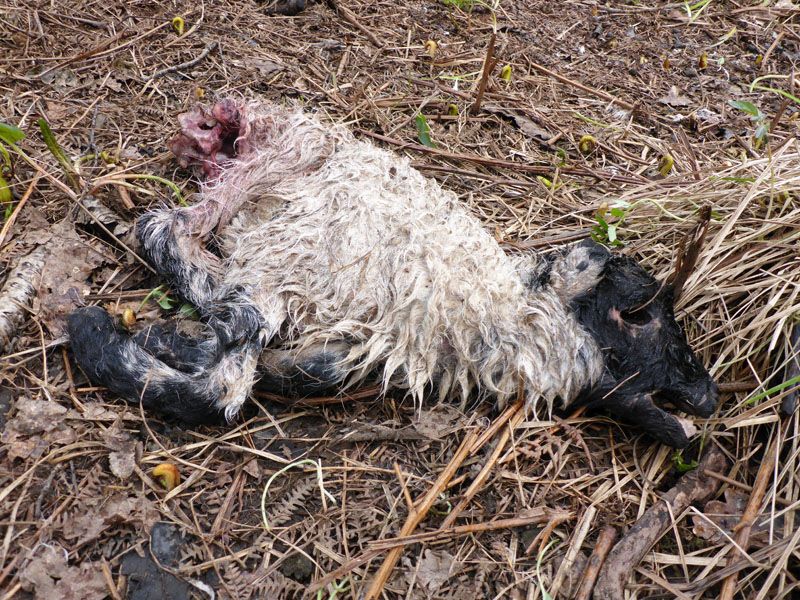 I was starting to sympathize with the last one.
I had gotten onto the opposite bank and discovered that not only was there no trail on that side, but there was no place shallow enough to get back across. I followed sheep paths, meandering through grassy tussocks and mucky bogs. The wind and rain were terrible, at times so bad I couldn't see what direction I was heading. The sheep were all tucked behind low tussocks, so I followed their lead, hunkered down and waited for it to blow past.
By 2:30 or so, I made it downstream to my beat and started fishing. I was shivering almost uncontrollably, but didn't want to blow a half-day's fishing for being a wuss. By 4 I'd had enough and walked up to the lodge, to discover that a) my wife had the keys to the lodge, b) that since nobody else was staying there yet, nobody else was around with keys, and c) all of the doors were locked. I found a corner of the house that was mostly out of the wind, curled up on a doormat and shivered as I tried to stay warm. My wife got back about an hour later, and I headed straight for a hot shower. I ran a very high fever all night, and was completely wiped the next day. I'd be out with the Connemara Flu for the rest of the trip.
My wife had drove into Cong and did touristy stuff, and saw a couple folks gear fishing for salmon. This little ruin is associated with Kylemore Abbey; hundreds of years ago the monks had rigged a bell system so that they could fish remotely and be alerted when a fish took. Pretty slick.
The next day we drove north towards Donegal, stopping to visit the megalithic tombs at Carrowmore. These are from ~5500-~3000 years old. Photos don't do them justice.
There were hawthorne flies flying all over the place. These are big non-biting flies that are restricted to Europe, and which apparently trout go bonkers for. There's quite a few traditional Irish trout flies designed to imitate them -- the Bibio, in particular.
After a quick stop for groceries and some cough meds, we arrived at our house and settled in. I was pretty much wiped out for the next couple days. You couldn't even bank fish the lough we were staying at -- you had to either hire a boat or a ghille with a boat. The local ghillie was booked, and suggested that nothing local was fishing particularly well other than the Drowes. We drove around some scenic areas, which to be fair were spectacular. This is Donegal Bay.
We toured a series of sea cliffs that were massive, but with few birds -- it was still early in the season.
My wife managed to get a SUP instructor from a nearby town to bring a couple boards up, so she had a lovely afternoon paddling on the lough -- at least until a squall rolled in, the wind picked up and they had to force through whitecaps to get back.
I had to try to fish, somewhere. There are a series of small lakes to the SE of Donegal that are supposedly loaded with pike, so I grabbed my 10wt and headed out. The wind was so bad that I could barely get a cast off the bank from the areas that I could get to, so I waded into some shallow, reedy bays that looked particularly toothsome.
No luck in a couple hours, so I headed back to the house, and made plans for one more day of salmon on the Drowes the next day.
The Drowes is a beautiful piece of water, and by all accounts there were a lot of fish in the system. There were also a lot of people, many fishing gear, and they don't operate on a beat system.
I managed a couple small trout despite the rain and incessant wind.
We left and headed south to Galway, after a quick stop at the Duff to look at a small waterfall. No salmon were leaping, but it was beautiful water.
Our b&b was right in the heart of the city, and there's no shortage of excellent restaurants and pubs. We had a spectacular dinner of John Dory, turbot, and a seaweed salad that was just incredible.
On our last day, we toured the city for a few hours before the urge to fish got too much. I took the car and headed north to a man-made ditch that behaves more like a giant spring creek, and which is supposedly loaded with giant trout. This may be the case, but it also had fast flows that averaged 6ft deep or more, and sheer vertical rock walls that made it impossible to fish from the bank. I think the rains had kept the levels unusually high. I scrutinized the maps, trying to find someplace to fish, and decided to try the mouth of the canal where it drains from Lough Mask.
The road was rough and several times I wondered if I was still on a public road, but finally came through a grove of trees and to the lakeshore. There were maybe thirty people fishing along the banks, and several boats visible out on the lake itself. LOTS of big brown mayflies fluttered haphazardly about, with surprisingly few fish chasing them.
Many of the bank fishermen seemed to be dapping -- using a live mayfly impaled on a small hook, a long Tenkara-style rod, and a weird floss-like line that caught every little breeze, causing the mayfly to skitter across the wavetops. I have to say, it seemed a somewhat more realistic imitation than a dead-drifted artificial!
The wind would whip up, driving flotillas of duns against the jagged limestone beach.
There were some fish cruising around, but not rising in any sort of predictable pattern. After a couple hours, I finally had a decent fish smash a comparadun.
Somewhat satisfied, I headed back to Galway for dinner and a celebratory Guinness.
The next day we hit the road for the airport early. I've missed fishing days in the Bahamas on a couple different trips by checking my gear, so this time I'd invested in a nice carry-on travel case. A couple searches on Speyclave and Blanton's and a couple Irish-specific venues suggested that I'd be OK, and indeed, I had no troubles at all carrying rods and reels from the US. Hooks were all in a separate checked duffle.
When we were scrambling to get through security at Shannon, the security lady inspecting my case informed me that all the line and backing had to come off. Four reels + three extra spools, including a couple big reels that are loaded with a
lot
of backing for sw duty. That was bad, but she positively lost her mind at a bundle of cable ties ("Have ye not watched Hawaii Five-O? That's how they bind up people! You could take over the plane with these!") and also binned two new rolls of braided wire for pike leaders (at $20 each) before I could protest. I called a supervisor over and he agreed to let me go back to check my case (which cost me an extra 100€...).
Maybe part of it was increased security due to Prince Charles & Camille's visit -- they flew into Shannon later that day (though I sincerely doubt they make him strip all of the line and backing off of his reels when he flies!).
Plus, we got reamed by the rental car company over a small scratch on the door of our stupid Ford Fiesta that I'm convinced would buff out. Despite two different insurance policies, we had to front up 1500€ for the damage fee. [The insurance company eventually covered about 2/3 of this -- still rather steep IMO].
Would I go back? Of course. You can't predict the weather. I'd probably splurge and do more boat trips for trout, or try to get better salmon beats, or spend more time in the salt. I knew the early season salmon were a long shot, and one more cast could easily have completely changed the outcome.