The rain has been relentless here in the mountains of Western North Carolina. 2018 was the wettest year on record for my little corner of the world, and I ended up with just over 11
feet
of total precipitation at my house last year. Two weeks in and 2019 seems to promise more of the same. The big lower valley rivers have just come out of flood or near flood stages in the last couple of days, and flows remain treacherously high even on many of the small headwaters streams that are my bread and butter. At this point, it's been essentially two straight months of rain, snow, sleet, slush, gray skies and clinging mud, with no breaks. Time, in other words, to dig into the archives and dream of warmer, dryer days past (and to come).
I took this trip back in early September. At the time, Hurricane Florence was churning somewhere offshore and its final track hadn't quite been firmed up. I was trying to squeeze in a two or three day trip ahead of the storm, and the days ahead of a big blow can be absolutely epic. Unfortunately, a mandatory evac cut the expedition short, but not before I got in a great day on the water.
---------------------------------------------------
With Category 4 bad news barreling toward the Carolinas, I've been worried that salty thing might become inaccessible for a while. A friend of mine down in the SC Low Country has been after me for months, trying to get me in on a special mission of sorts. Truthfully, I viewed the project with considerable skepticism, and it definitely had the smell of a wild goose chase about it. So, I've been holding out for perfect conditions: clear skies, flat calm swell, no wind and big pushing tides.
Today, the magic convergence occurred, and I made ninja run down late last night so we could do it to it bright and early. We were on the water before the sun was up, and at our first drop by the time it peeked above the treeline. Conditions were as advertised, but as I feared, our intended quarry was nowhere to be found. We burned daylight and petroleum distillates all morning to absolutely no result.
By lunchtime, with the foul stench of skunk still clinging to the boat, we decided to take up a side quest and started chasing the birds. It was the right choice. We quickly stumbled on several schools of false albacore, and there ain't nothing wrong with watching line peel off a reel at 35 or 40 miles an hour. If you've never had a go at these beautiful little ass-kickers, they're about the most excitement you can handle on an 8wt.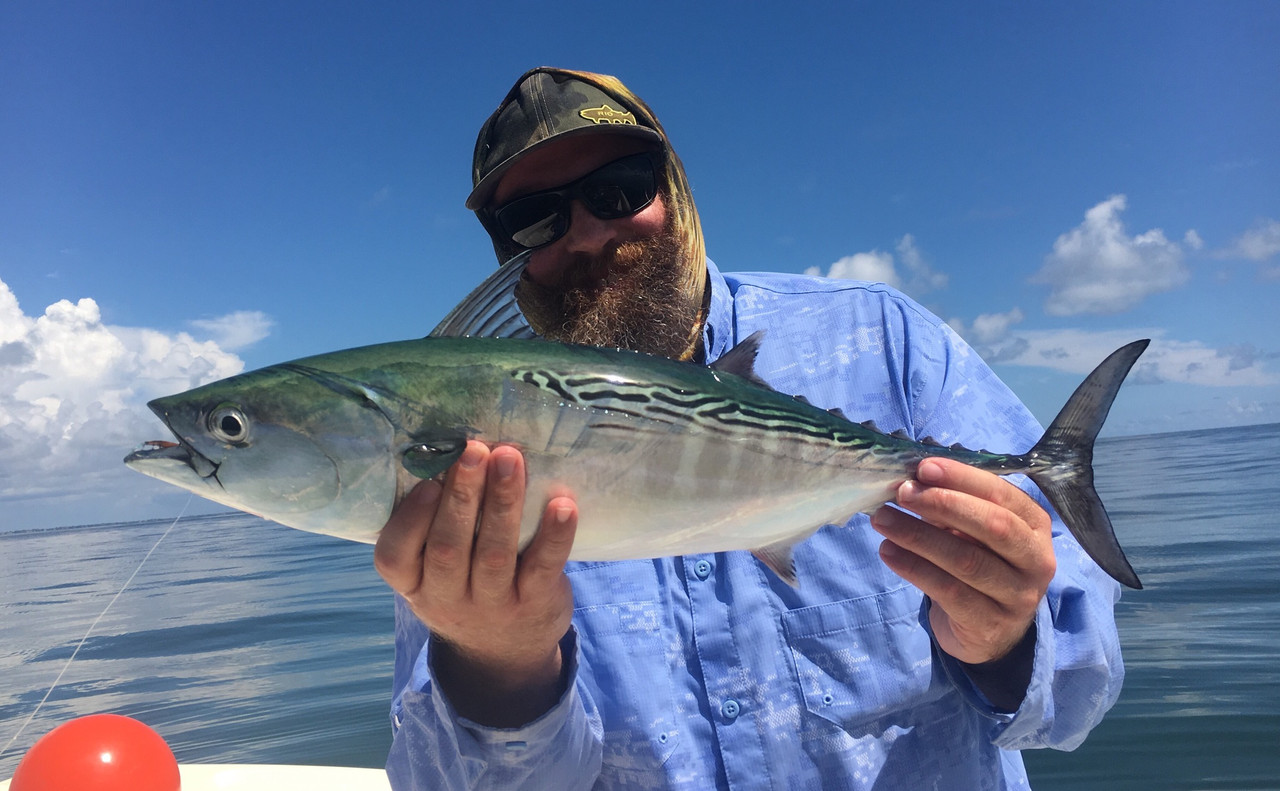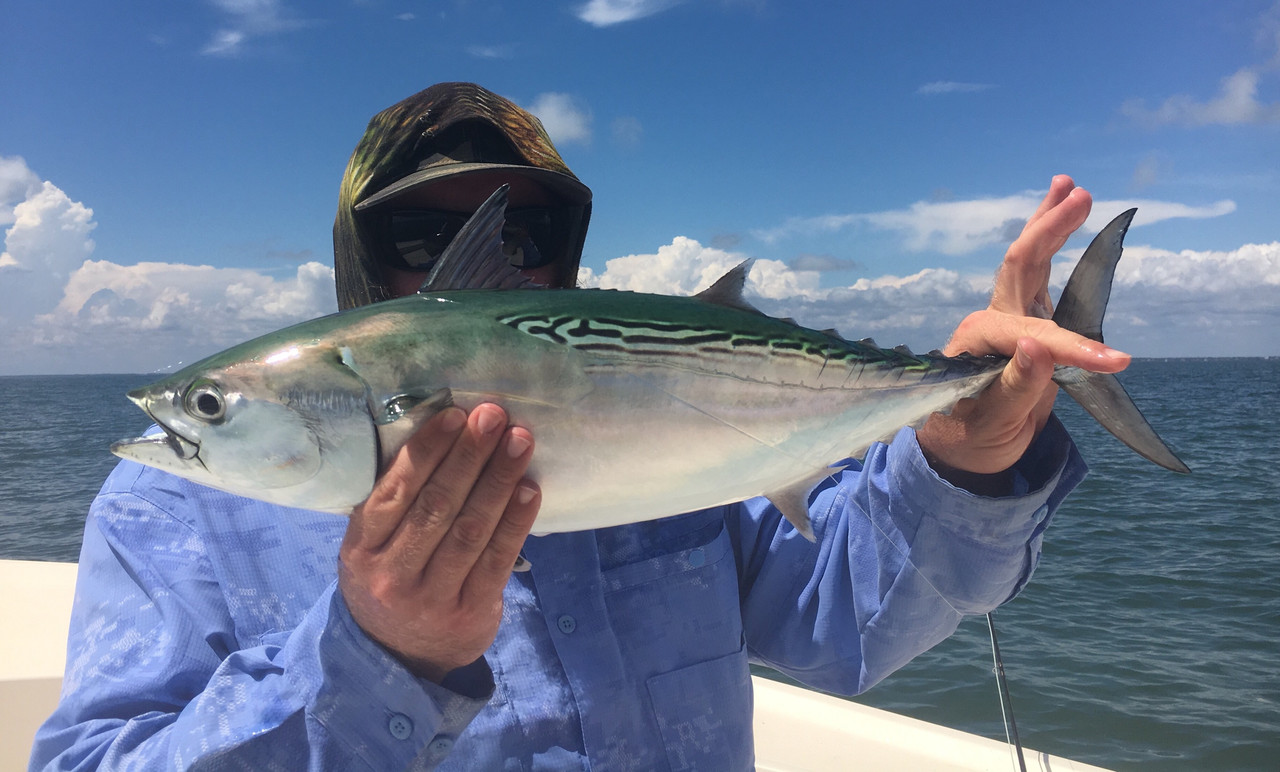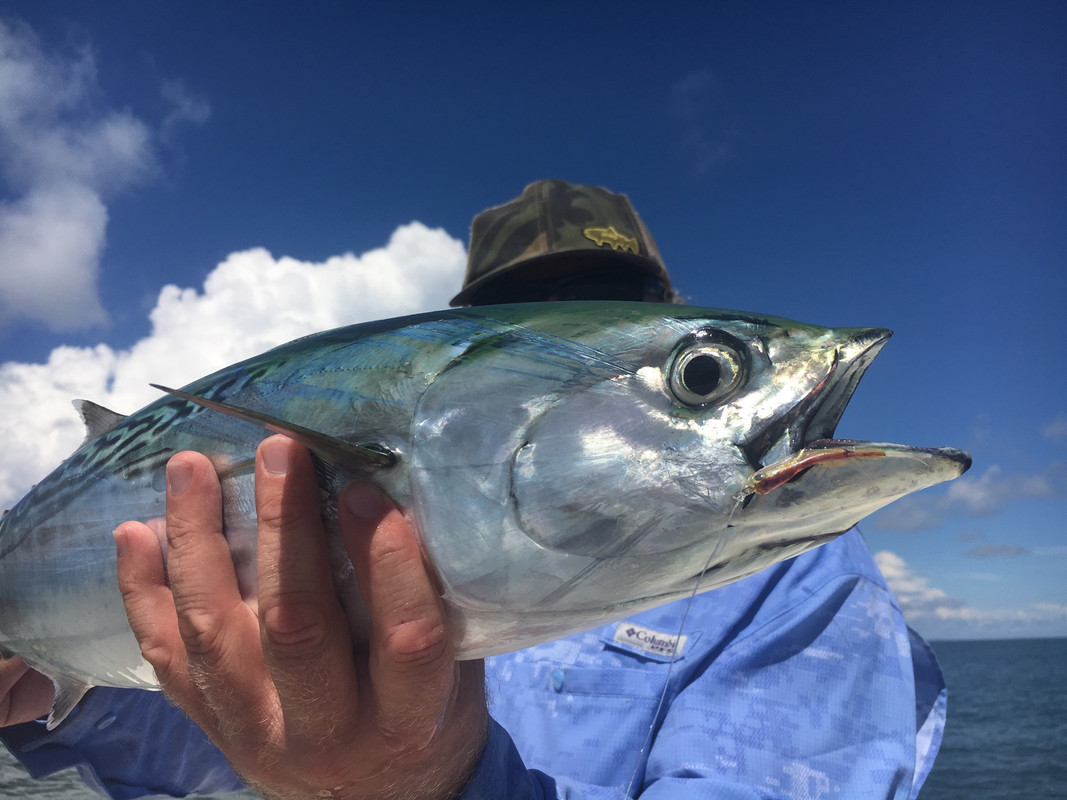 After playing with the bonitas, we decided to give it one last go at locating our true prey. As luck would have it, we stumbled on a huge pile of them tucked in on the lee of a sandbar. I farmed my first shot, and when I got a second shot, the fish spit the fly within 10 seconds. Eventually, a third shot rolled around, and this time, the fly disappeared into an open maw, and the hook went in clean. The battle was well and truly
on
.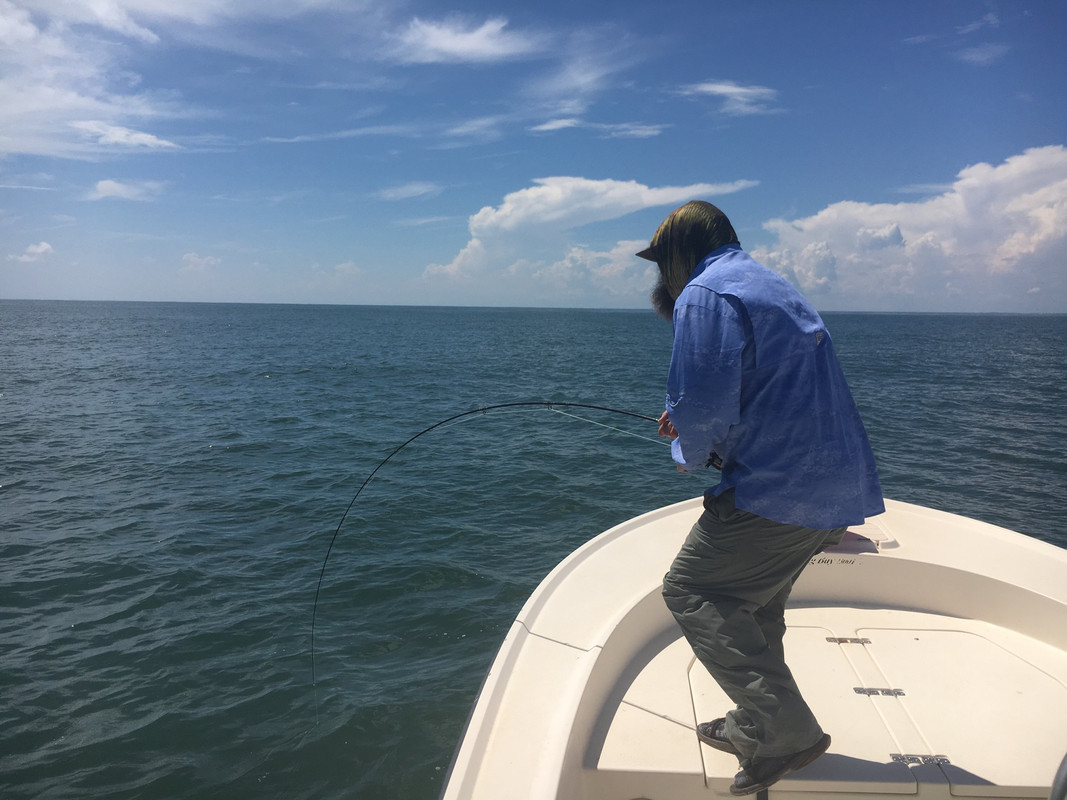 It's all real. Everything you've heard; it's all true. You have to experience it to truly believe it, but these fish make war, not love. By the time I brought the fish to boatside, I was so exhausted it was almost more than I could bear simply to lift a phone and snap a pic while my buddy revived the fish. Now, several hours later, my biceps and forearms keep spasmodically cramping even as I type this. Mission accomplished!
Cheers y'all!
Dylar