It happens almost every year. After weeks in the deep freeze, the North Carolina mountains get a respite as springlike weather moves in. You can't quite set clocks by it, but it predictably happens during the first two weeks of February (and yet, we're always surprised when it occurs). I treasure these "false springs," because they can bring with them some really good fishing at a time in the calendar cycle when opportunities can be few and far between, so when I looked at the forecasts last weekend and saw a five day warming trend culminating in mid-week highs of 75F (and overnight lows in the 50s!), I knew I had to get on the water and find a way to make some hay. Alas, prior commitments kept me busy for the first three days of the warmup, but Wednesday and Thursday I had nothing on my plate and time to get after 'em.
Wednesday morning, I slipped out of town and headed into hills for a little blueline action on a couple of streams that, for me, constitute the beating heart of my "home water." It was still a little chilly when I reached the first creek, and the bite didn't really pick up until the sun had been on the water for an hour or so. The first to come out and play were dirty egg sucking bows, but I found a few browns, too.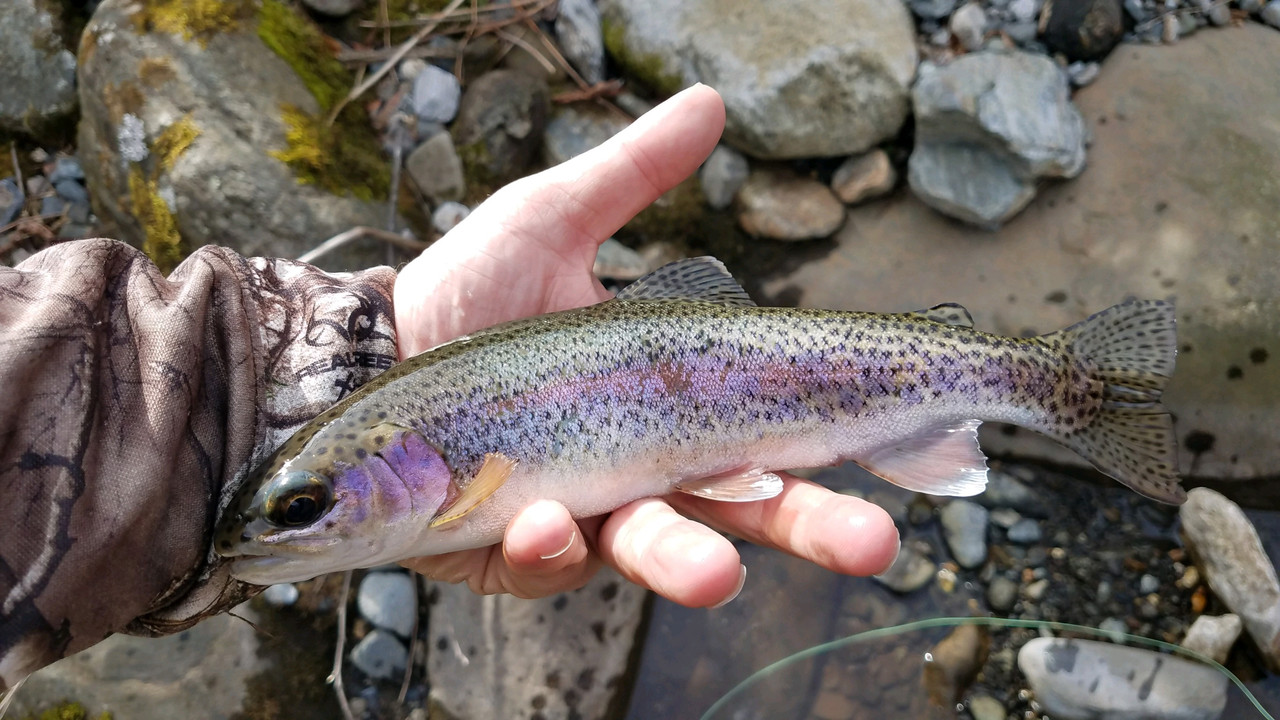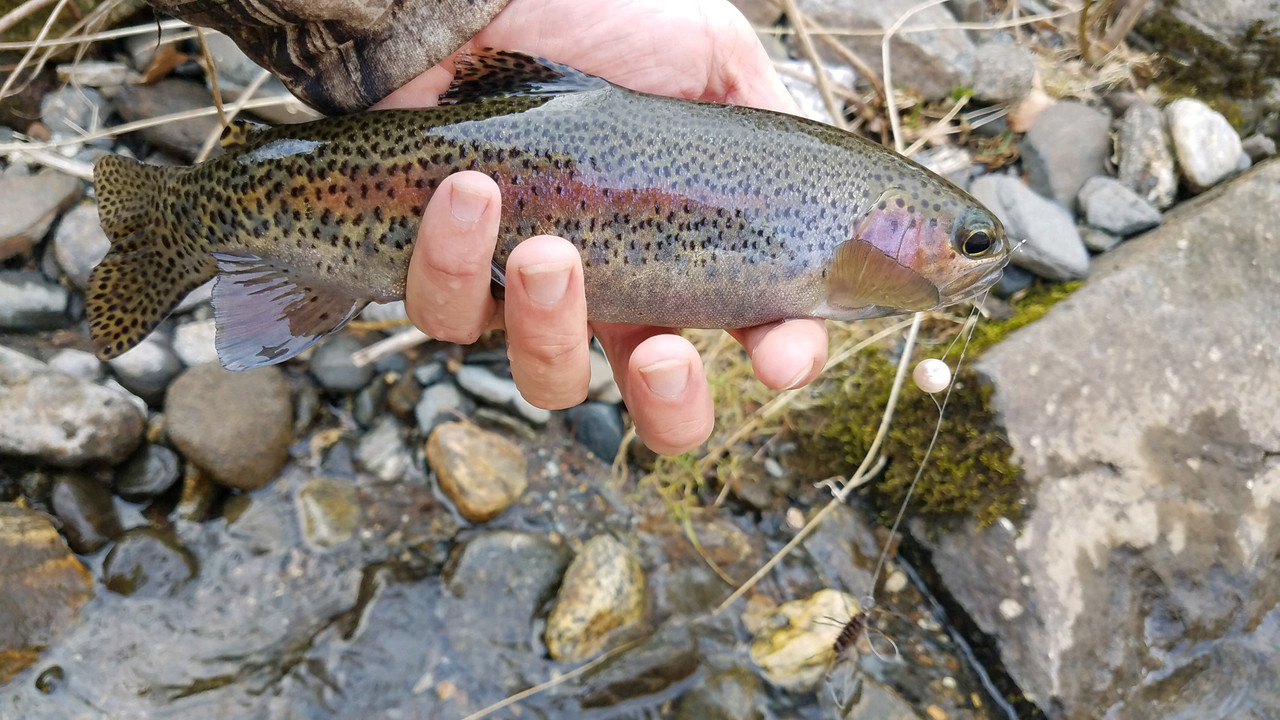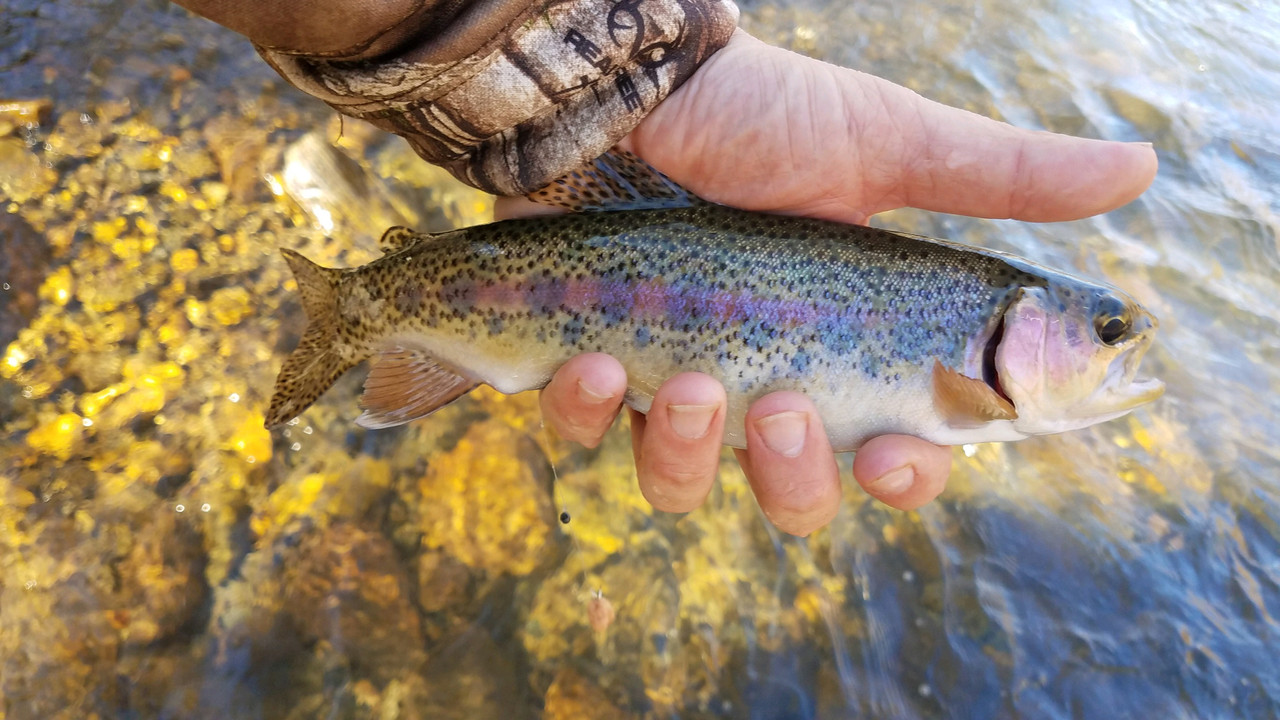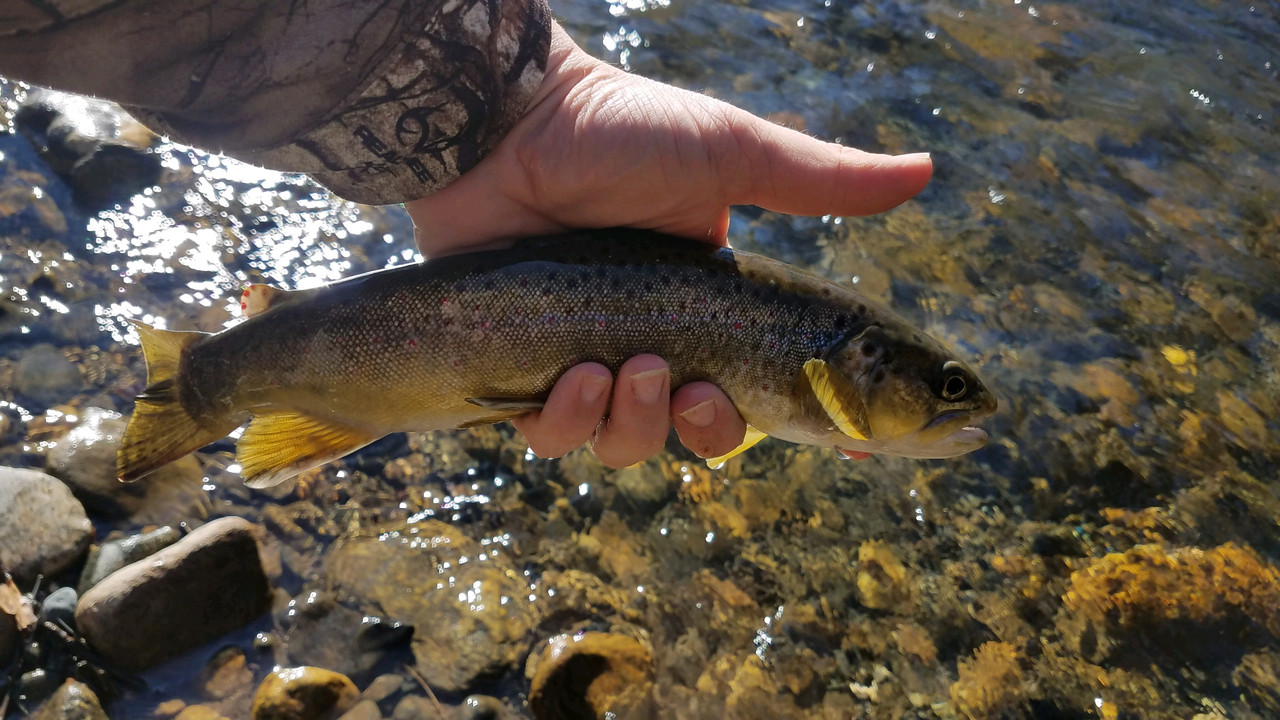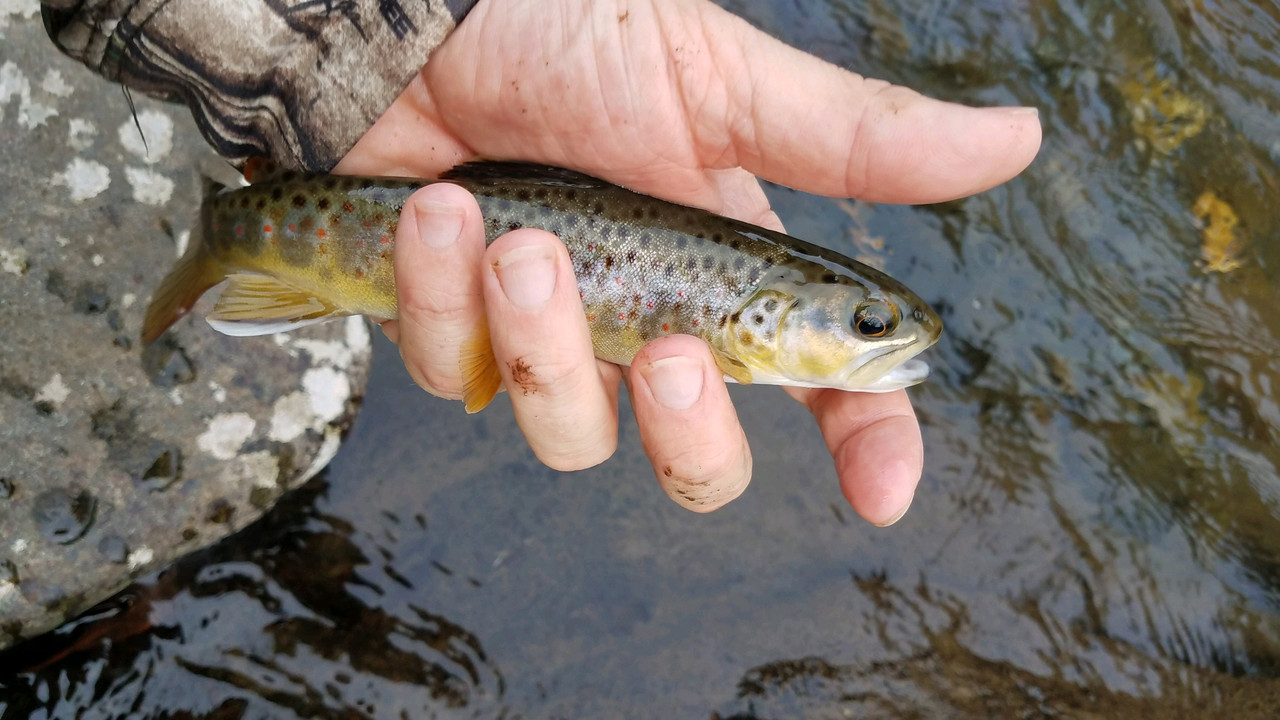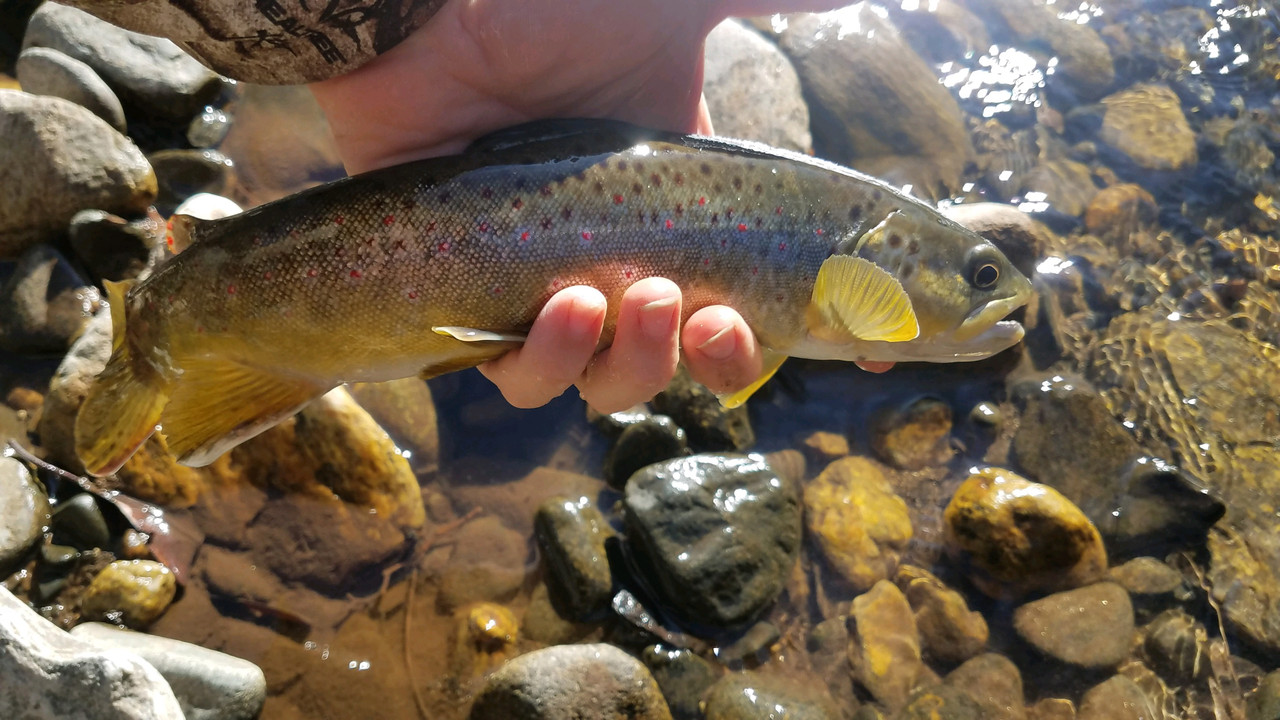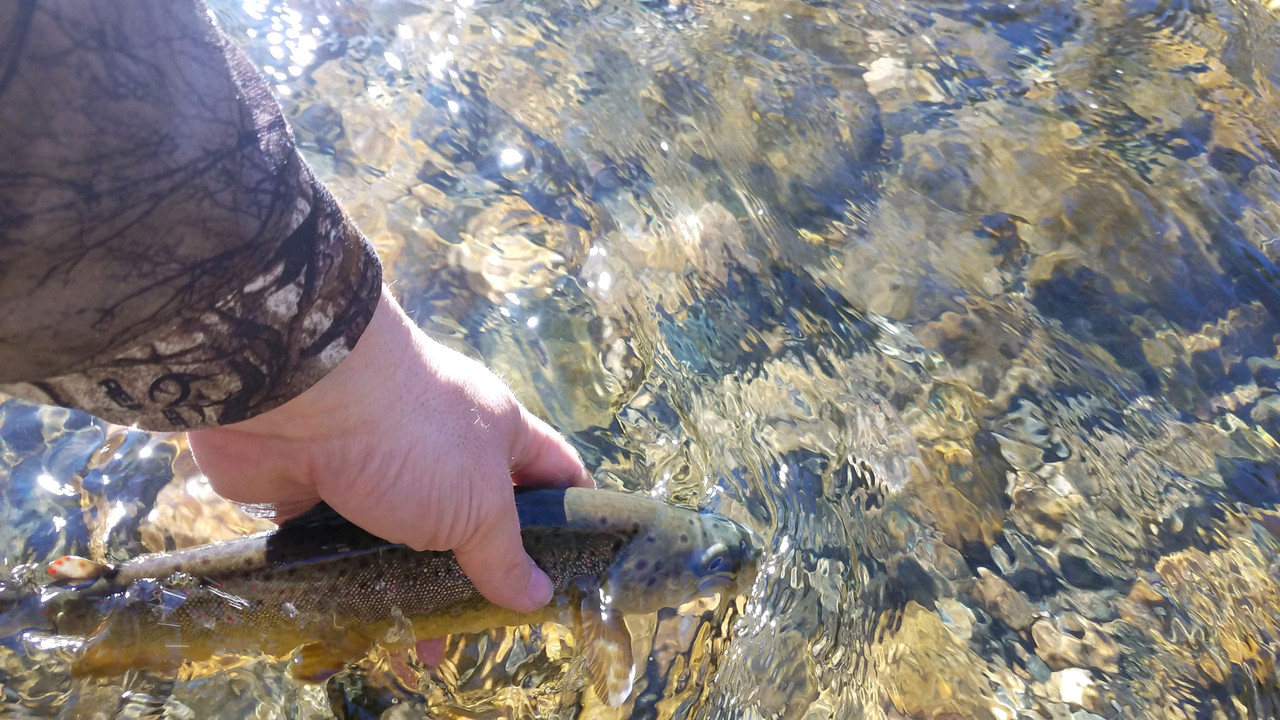 As the sun reached higher and the day warmed, I slipped over to another creek that runs through a narrow gorge. It never gets a ton of light penetration, and it seems less the promising as a winter fishing spot, but up high, it meanders through half a mile of open pasture land on private property, and I've encountered a summer-like topwater bite there under similar winter warmup conditions in the past. When I got there, the fish were, indeed, acting like they were in summer mode, gleefully chomping a foam hopper. I, however, was not in summer mode, and I was farming fish left and right. Part of the problem, I suspect, was that I left the box with the size 12 hoppers in it back at home, and the 10s were just a little too big for the class of fish that mostly inhabits this stream to consistently get in their mouths. It wasn't for a lack of trying though, and a few even overcame my incompetence and managed to hook themselves.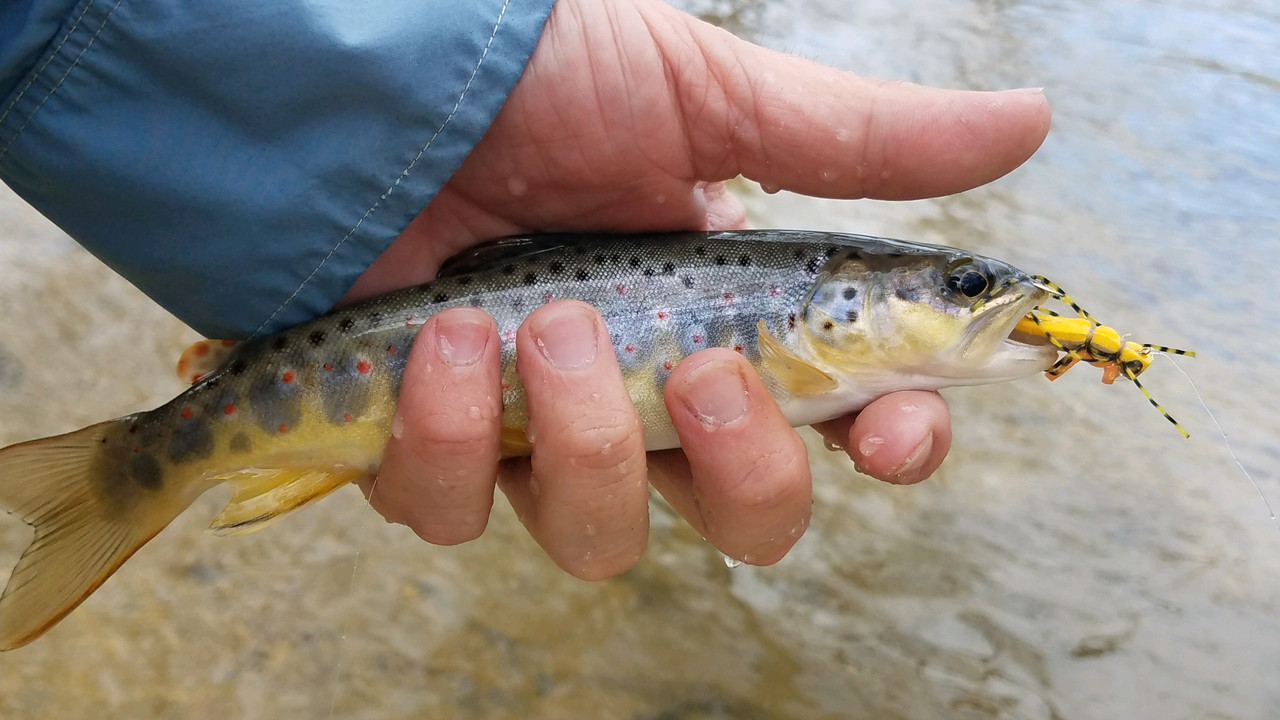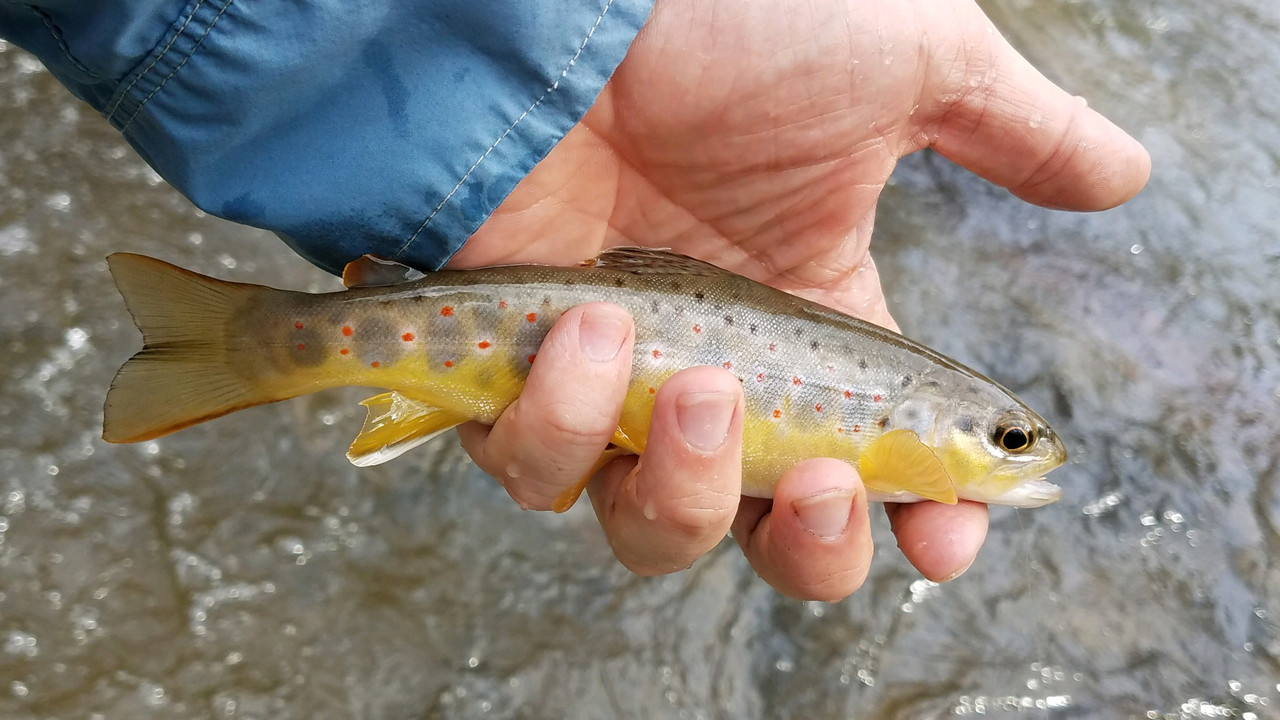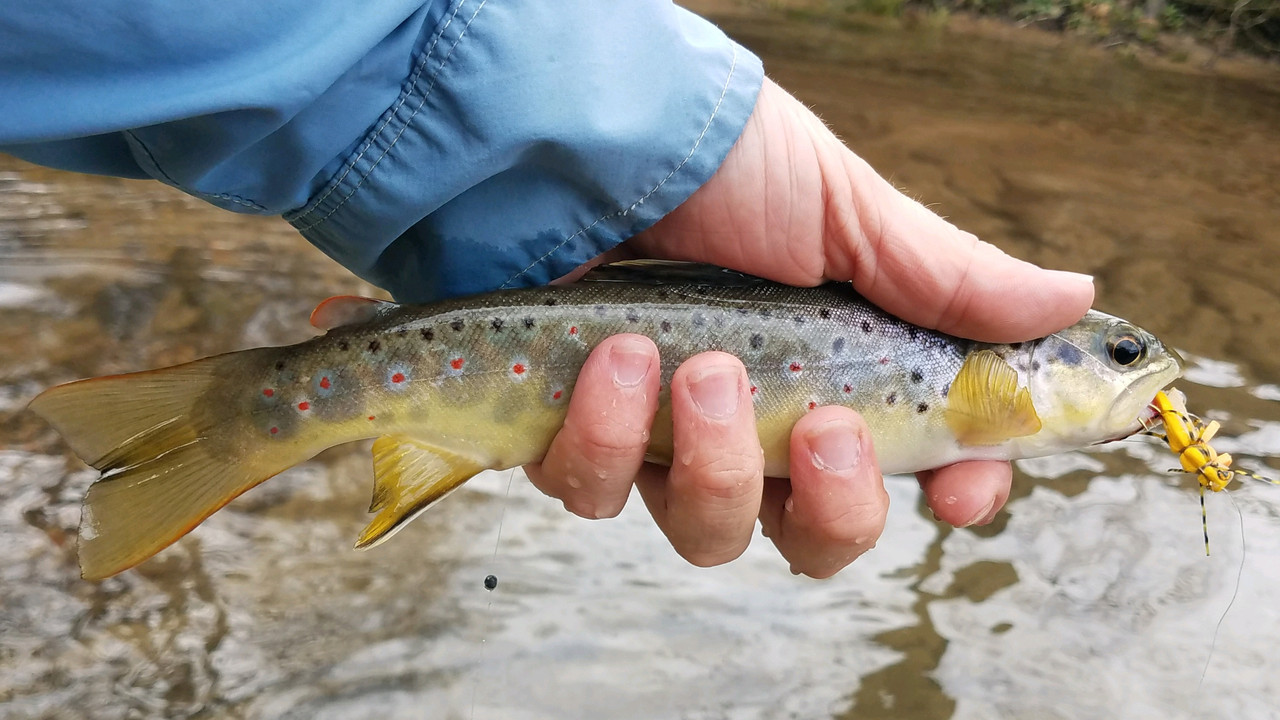 Eventually, I came to the waterfall that normally marks the end of the line for me. It's a real pain in the ass to get around, and there's only one real hole up above it before you pass the National Forest boundary onto private property owned by a grade A asshole. I only stray above it a few times a year because it
is
the nicest hole on the creek... and one time, I spooked an exceptionally large fish up there. I've always imagined/hoped it's still there.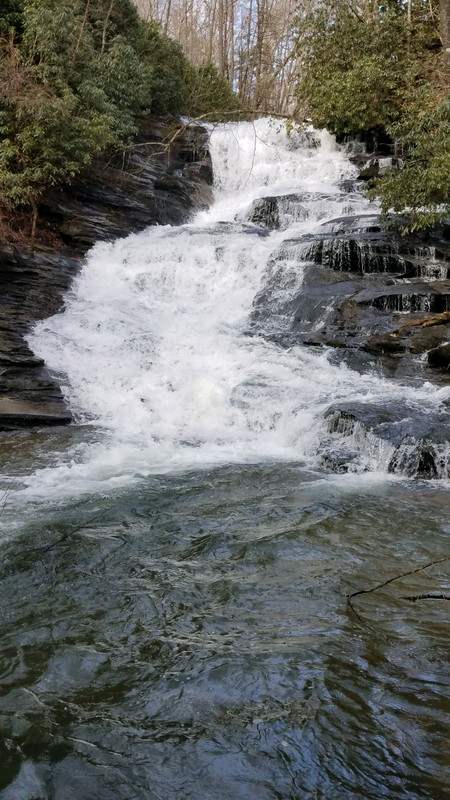 Good Lord it's a old beat up fish, but it's still up there, right where I left it. Good way to end a good day.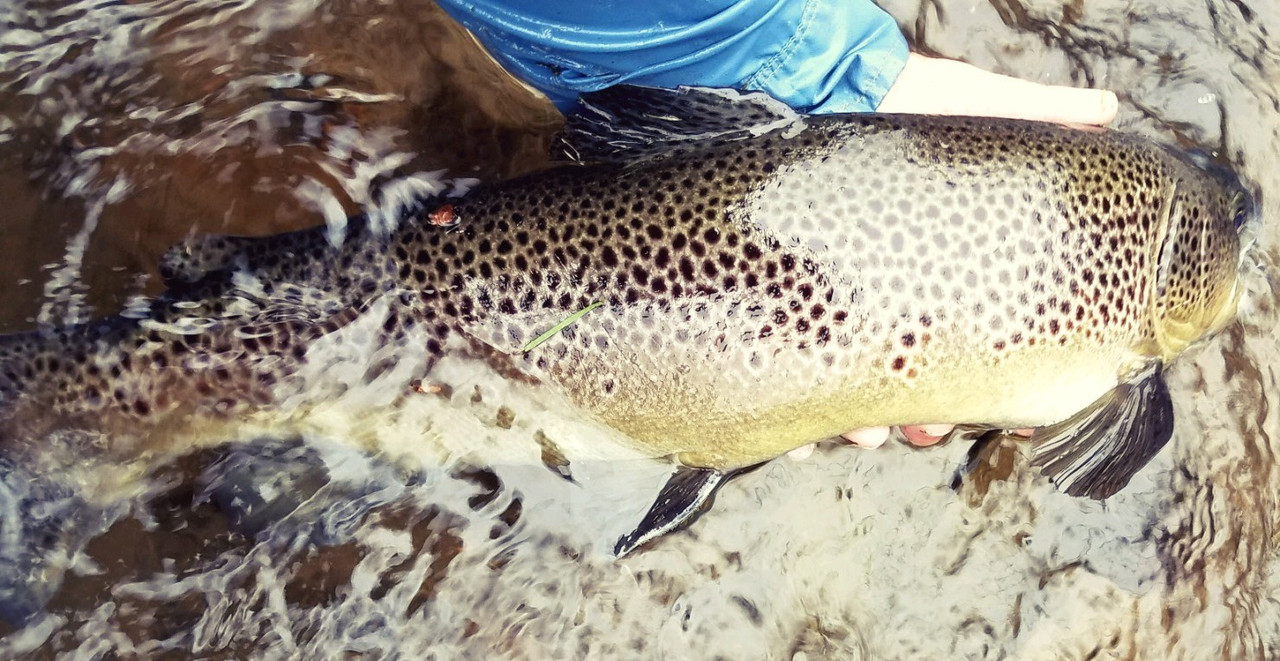 Wednesday night a guide buddy of mine called me up.
"You remember how you keep saying we needed to get after some smallies if Big Local ever cleared up and we got a mid-winter warmup?"
"Fuck yeah I remember."
"How does tomorrow sound?"
I met him at the takeout the next morning, and things got off to a slow start. He'd had to wait out some sketchy crackheads at the launch before bringing his trailer down to set up the shuttle, and we forgot to load some necessary gear and ended up having to backrow (fortunately only about 80 yards) to the ramp, run back down to putout, and grab what was needed. By then, the sketchy crackheads were hanging out at the putout. Oh joy.
Back to the launch and this time we finally got going for real. Conditions were midwinter ideal. Day five of an extended warming trend. Water temps just edging towards 50 (up from 33 a week ago). The river was running Big Fish Green with good visibility. Frontal conditions pushing in overnight. If we were huckin' gear, I'd call it a perfect day to chase a big jerkbait bite. But we're sporting folk, and those fish are there for us all year round, so we were, of course, fly or die.
Now I'm not usually one to pimp for a fly, but we were slingin' a fucking ace bug, one that is probably my very favorite slab of meat these days. The Swingin' D is a masterpiece of fly design. Fish it on the surface and you can walk it on a semi-slack line, work it like a traditional diver pattern, or just let the ass end hang down and wiggle while it dead drifts. Fish it on a sink tip and it gives you some of that jerk bait or fluke type action. Put it on a full sink and it will track and roll like a glide bait. It bumps over cover without hanging up really well, and will often float off of snags if given the opportunity. It is a
good
bug.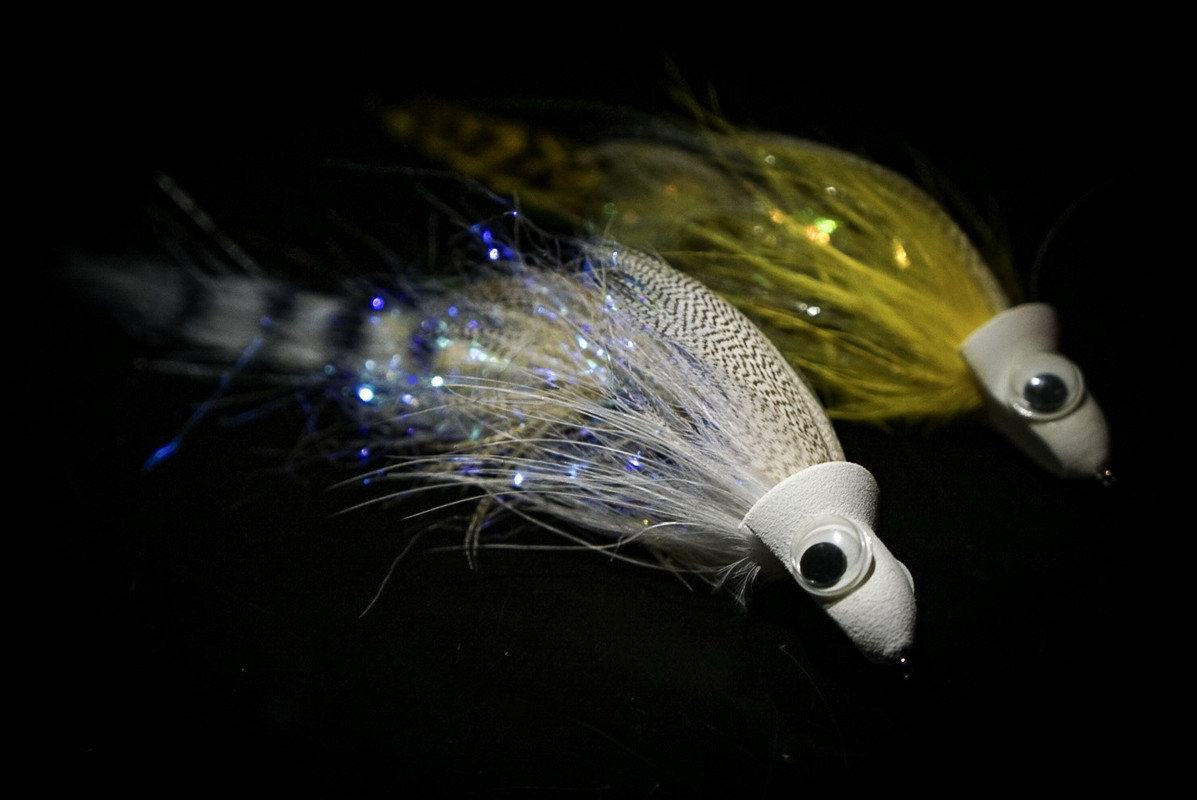 Normally this midwinter thing is not a numbers game, and our day held to that script. The corollary you hope for with, "not a numbers game," is, "but the fish you get are
quality
." Our day held to that script, too.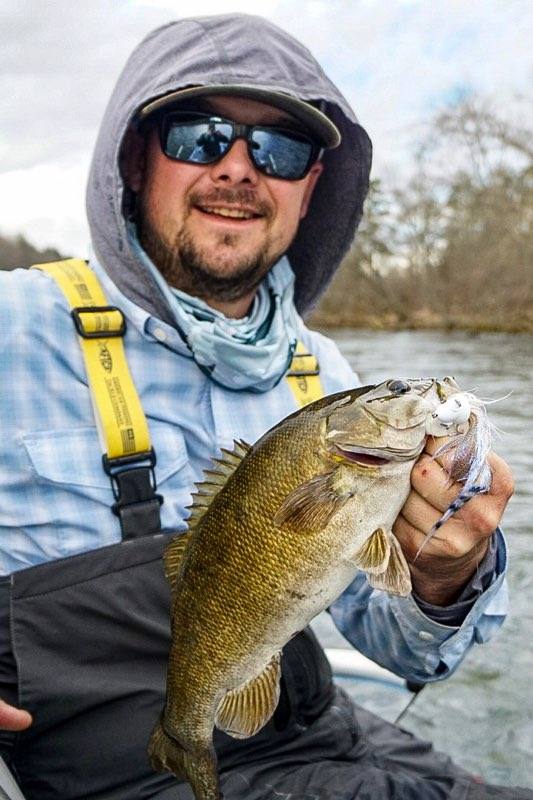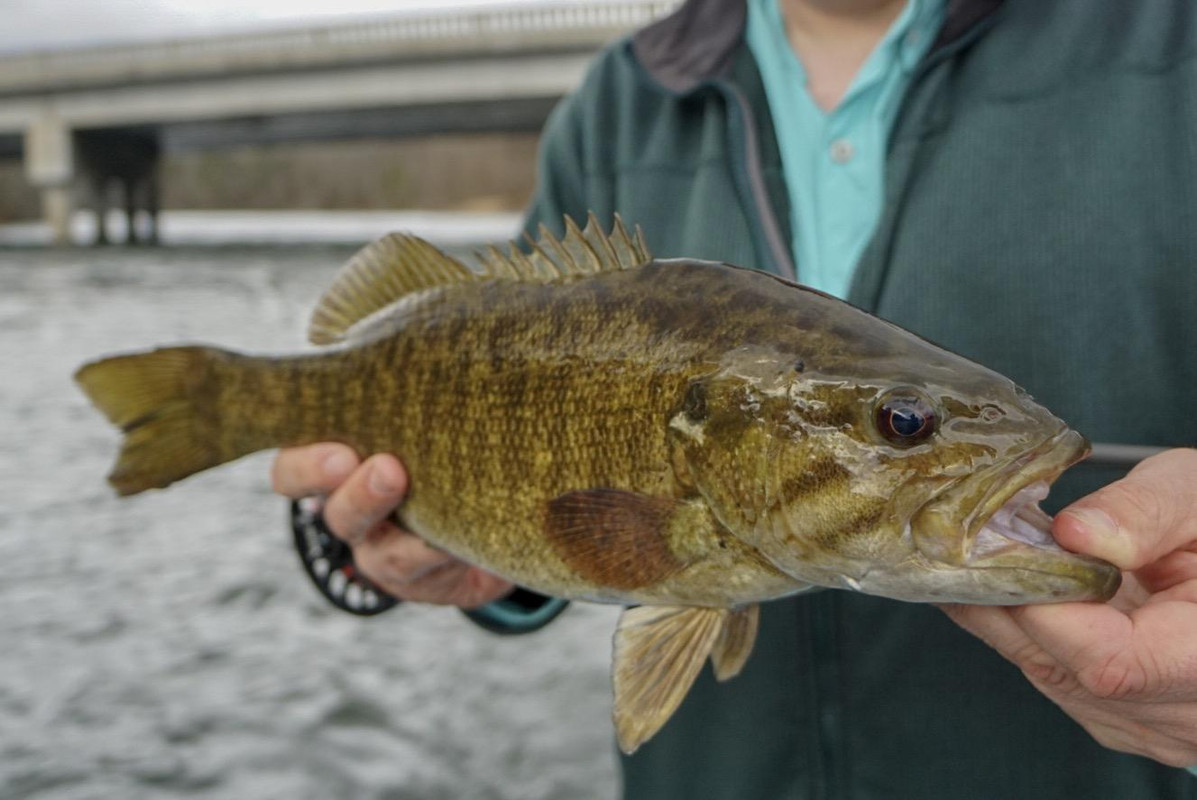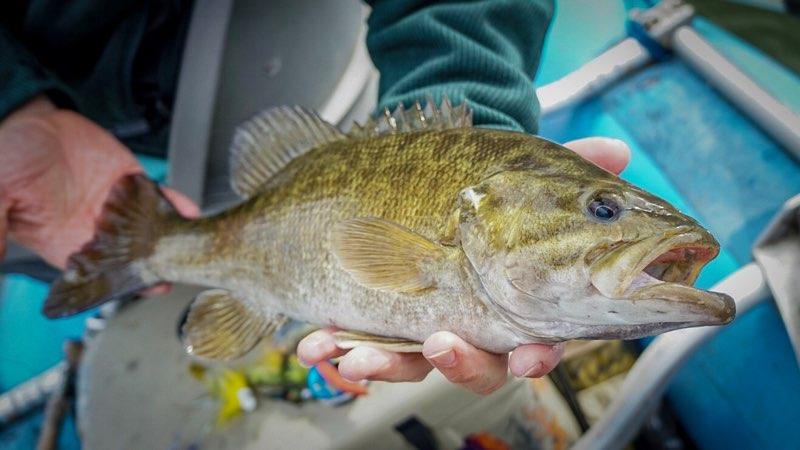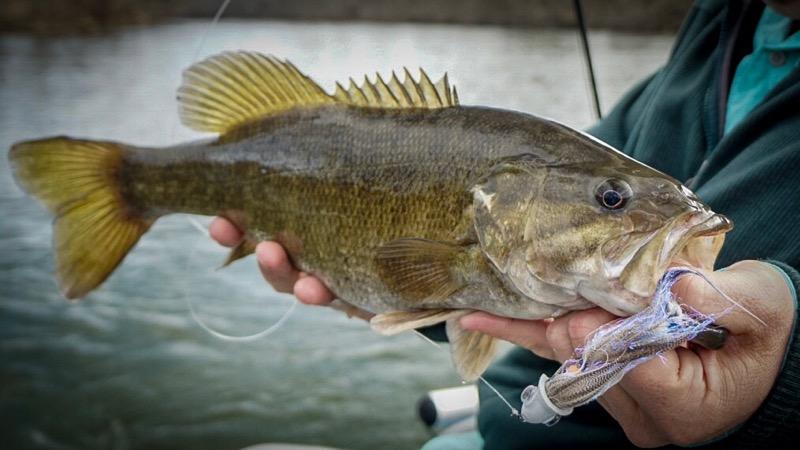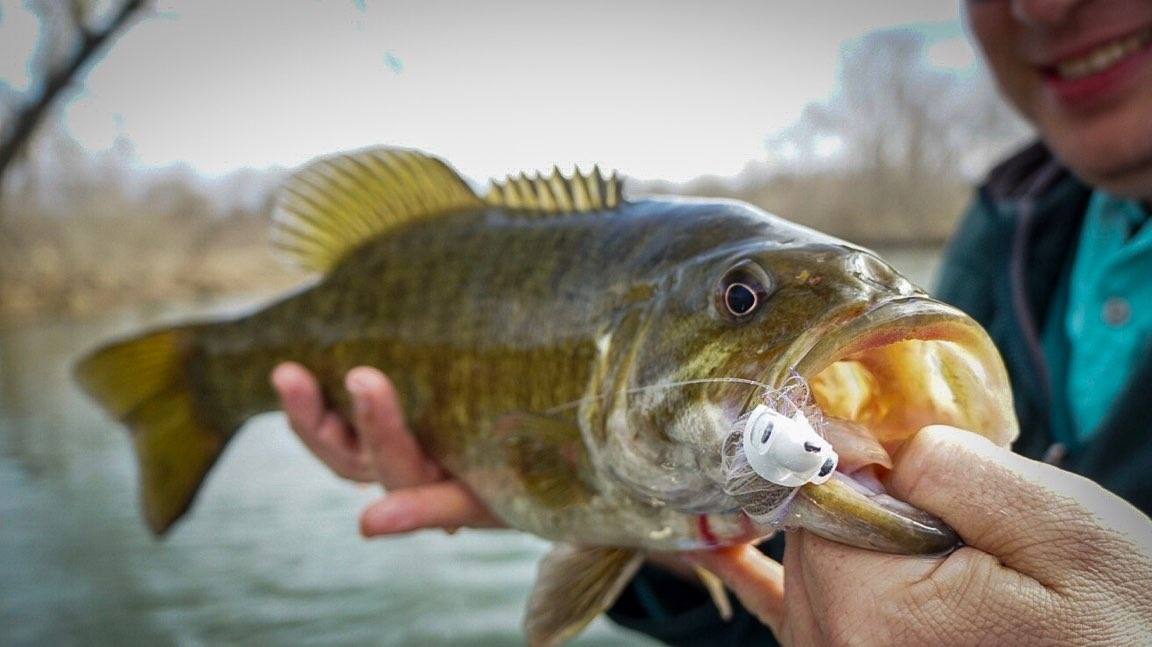 Cheers y'all!
Dylar