I've made some from PVC, and I've also gotten some built-in vacuum tubing which is lighter. Then, use this approach for a unique finish. I've done this, and it looks cool.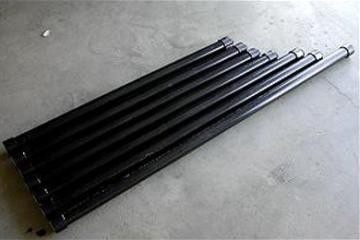 You have one extra rod with no sock and rod tube. You've been putting off buying a tube...why don't you just make your own?! With $4.00 and about a 1/2 hour's time, you'll have a DIY rod tube. These won't win beauty contests, but they work just as well as any retail version. Read here how to DIY.
globalflyfisher.com
in one of the comments
Second, and the most fun IMO, is to purchase white pvc, not abs. Using a medium grain sandpaper, sand the length of tube. Get the entire surface sanded. Then, using a rough grain sandpaper (medium will also work) run the sand paper from top to bottom (once or twice only - do not sand back and forth for this step). Force the grit to slice vertical lines down the pipe. Different techniques will give you different effects, you'll have to experiment. Now for the trick - take your favorite color of wood stain, and stain the pipe. Run your clothsponge with the stain from the top of the tube to the bottom. You will notice immediately that your case is taking on an uncanny wood appearance. Some folks can't tell it's pvc even when holding the case. Using a small camp stove and leather gloves, you can kinkbendwarptwist the pipe to increase the wood effect before you sand and stain. Beware of fumes.
I've been making didgeridoo instruments this way for over a decade. Each one is unique, and I've never had anyone guess it was pvc.