Long Lost Member
WFF Supporter
What do you get when you combine the following:
Cirque du Soleil Kooza
The family ladies three
Three fishy friends
Two nights at the Ellensburg KOA
Two HOT days in the Yakima Canyon
Two tanks of gas and about 400 miles
One totally stoked guy! We got out of the house, boarded the ferry and headed to Marymoor park for the show. It was hot, but everyone was excited to see the show so we managed to keep upbeat. The traffic was tight and so was the timing. We missed the intended ferry due to last minute packing of about 30 cuddly toys per girl and then I had to return home to grab the family ladies three fishing licenses.
Cirque du Soleil Kooza was worth every penny, lots of smiles, applause and stories told and retold over the weekend.
Arrived at the remote end of the KOA campground to find that two of the three fishy friends were there, had camp setup and they quickly helped make the family condo pop up to reality. Three airmattresses later, no need to be uncomfortable, and 90% of the floor was covered. There was hardly any room for bags or other stuff. No one was worried about it but me, so it was a non factor. Girlies were out for the night and the misses and I joined Jim and Bitterroot around the classic coleman lantern...we would have had a WFF caliber fire, but come on, it was about 10pm and still 87 degrees.
Bitterroot treated us to a fantastic dutch oven breakfast caserole of sausage, bacon, eggs, hash browns and lots of cheese. I think at this time Freestone rolled in with her mobile homestead and the three fishy friend section was complete. Fishy girl knew when the vittles were ready! It was HOT and the recommendation from Reds was to get up at O-dark-thirty or wait until the early afternoon. We took our time, and got on the water around noon to 1pm each day.
Day one: Ringer to Lmuma
,Jim was in charge of the tactical floatation plan. He is a fantastic planner and I trust anything he picks to be awesome. I think we did this scenic float in about six hours. We really took our time. The river had some color and was running around 3000 to 3200 cfs, as I was told it was close to 3.5 mph just floating. The fishy trio were fishing and I was just rowing the family so we were on different plans but figured that we'd keep in contact througout the float. This was my first day floating the Yakima Canyon and it was great. The human and inflatable zoo at Ringer was something to behold. As the misses relays the events of launches of seemingly incapable floatation devices and extravagant assemblies of air filled creations I wish I had handed her my camera before heading off to drop the rigs at the takeout.
During this entire float my 6 y/o daughter was fishing off and on with her ultralight underspin rig loaded with 4lb, casting bubble and a very buggy looking rubber legged stonefly nymph that I got at a recent stop off at the Gig Harbor Fly Shop (thanks guys).
She got her casting down pretty good and could consistently get out 20' but started progressing to casts as far as 40'. I did my best to row her near softer water on the sides of seams and she understood where to put that fly. Reward of the day? Her first Yakima river catch, a tiny fingerling with parr marks...she surely did not mind, nor did I. Could you blame us?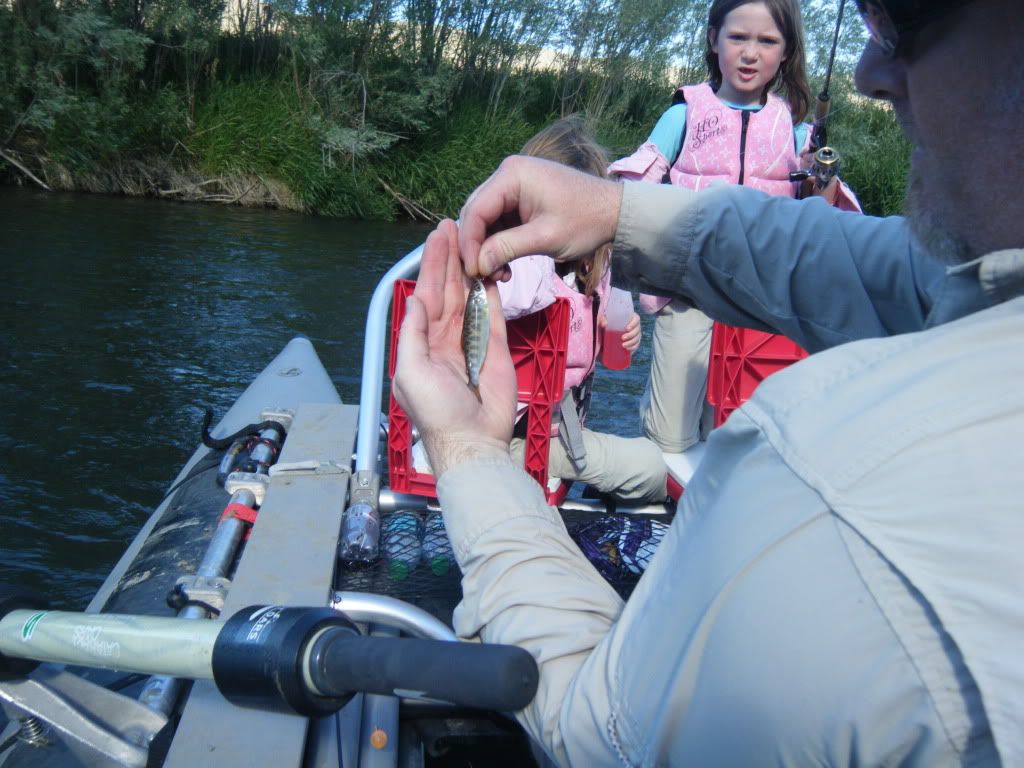 As soon as she landed that fish she wanted to take a break. Little sister wanted her shot. She's only 5 and asked her sister to cast for her twice, but then decided to give it a shot herself. Her first cast resulted in this little guy. No shit, her first cast.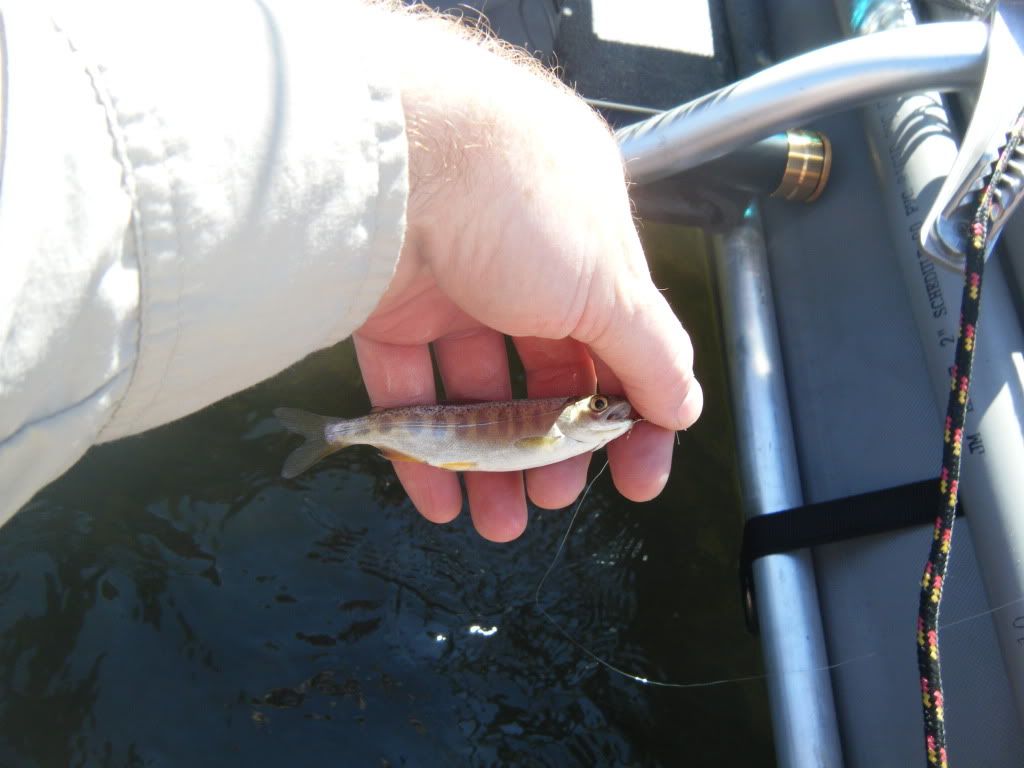 It was like mission accomplished, she had her fishing fix and went back to checking the scenery and echoing when mom or dad told big sister that she was making good casts.
Big sister caught another carbon copy of her first a half hour later and after that she said she had enough. We took in the sites and enjoyed some break time conversation with our other boat...where it seemed the lady was also up on the gents in the fishing results.
The hatch was pretty friendly, many apologies were rendered as they realized the girls were sitting in the front of my boat. There were plenty of ladies and gents on the various floating masses of vinyl, rubber and flesh that took note and waived and called out to the girls. There was a lot of hatch abandonment and debris, we picked up what we could reach...there is a lot more out there.
Back at the ranch. Bitterroot started working on steaks with a simple dry rub. While we waited, Freestone broke out some appetizers. That set was amazing and then the steak, simple never tasted so wonderfully flavorful. Bitterroot did a lot of prep at home, like the bean salad and potato salad that rounded out that meal fantastically.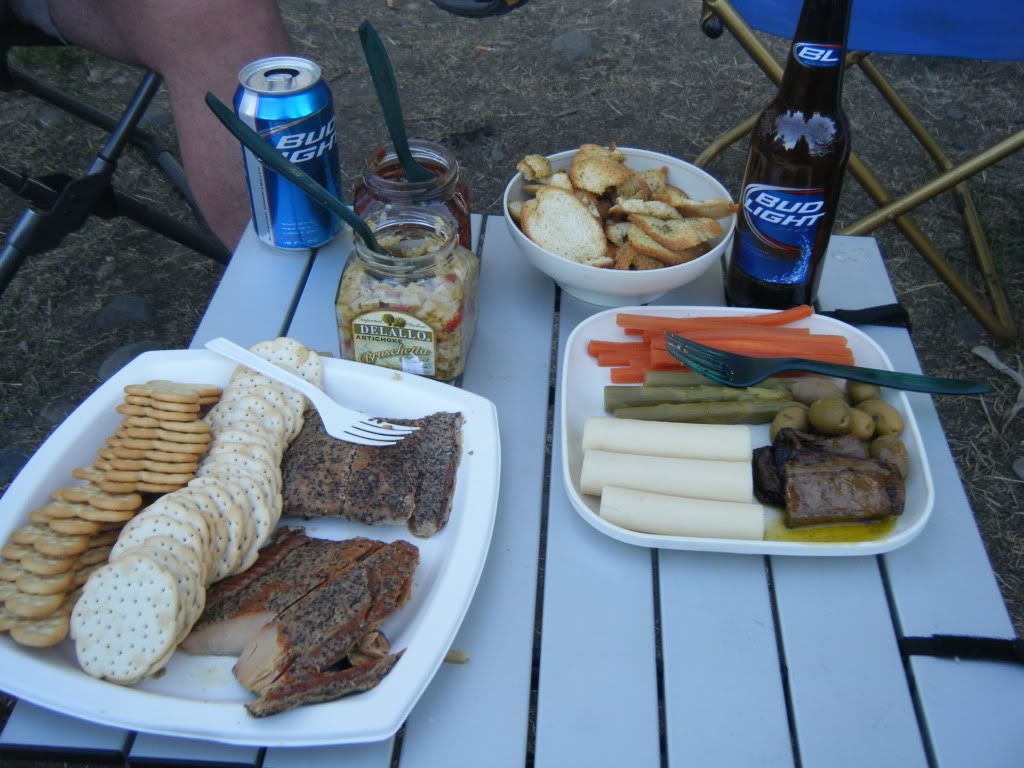 After the girlies were out for the night we returned to the classic coleman lantern. We found out a lot about who in the group is a minimalist and has one of each of the things he considers necessary. Conversely we found out who has one of nothing and can outfit a small army, outdoor adventure team or most college recreational departments...Freestone's gear rental...
There were stories. Jim's two little ladies are grown up and hiking this weekend, a multiple night outing, each with a pack weighing in at about 28 pounds. He enjoyed his when they were the size of mine, got them hooked on camping, water and the outdoors and they are still hooked today. Speaking of hooked, we learned that a little girl of 5 decided that she wanted a fishing outfit for her birthday. Her folks begrugingly caved in and got it for her. Three years later and that would be three fishless years later, she realized why she just could not get the fish to stick on the hook. A boy, also about 8 and the first she ever kissed, caught a fish, she rushed over and saw the lure he used. She then realized that the hook like device she had been given by her folks was a snap swivel. Three hard working years trying to hook and land a fish on a snap swivel and she kept at it! Now she is one fishy gal for sure. Soundsl like we need a snap swivel fly swap and contest to see who can bring one to hand on this peice of terminal tackle. How about a little Dickle? Well, our favorite fishing pal who we sometimes call little Dickle had to drink his dickle out of a regular cup, as he forgot his little dickle cup this trip. Freestone had a little dickle cup though, a silicone one...and you can bet she has more than one.
More stories flowed as did the beer and scotch. We had to drink the beer before all the ice melted, it was HOT, remember.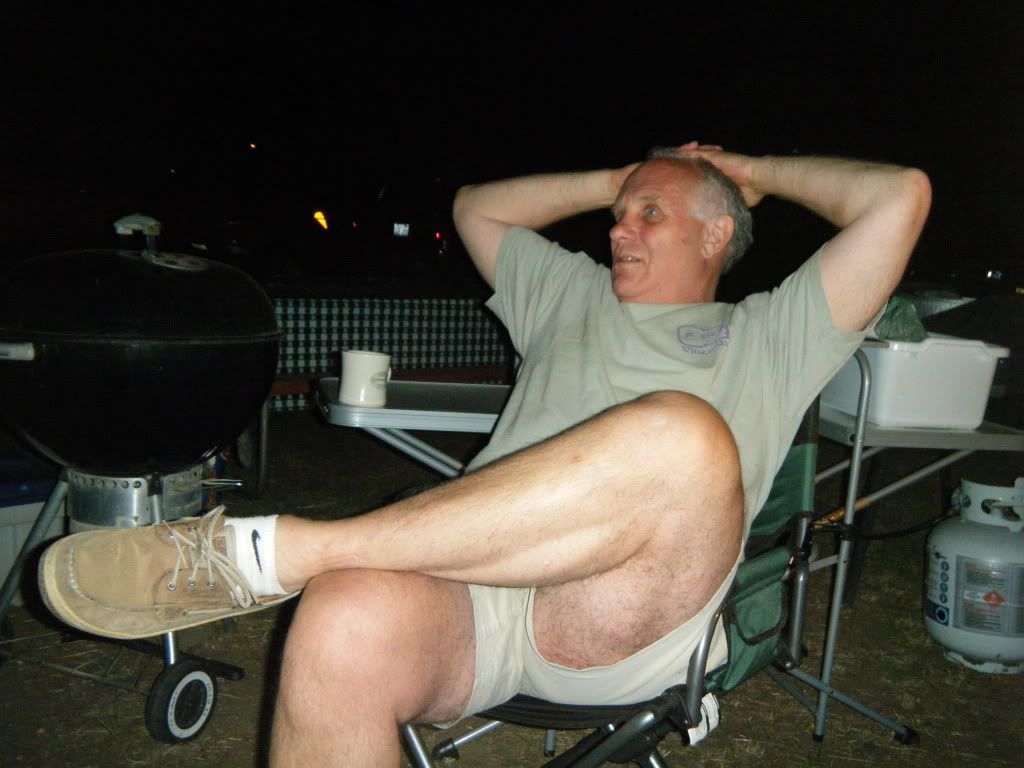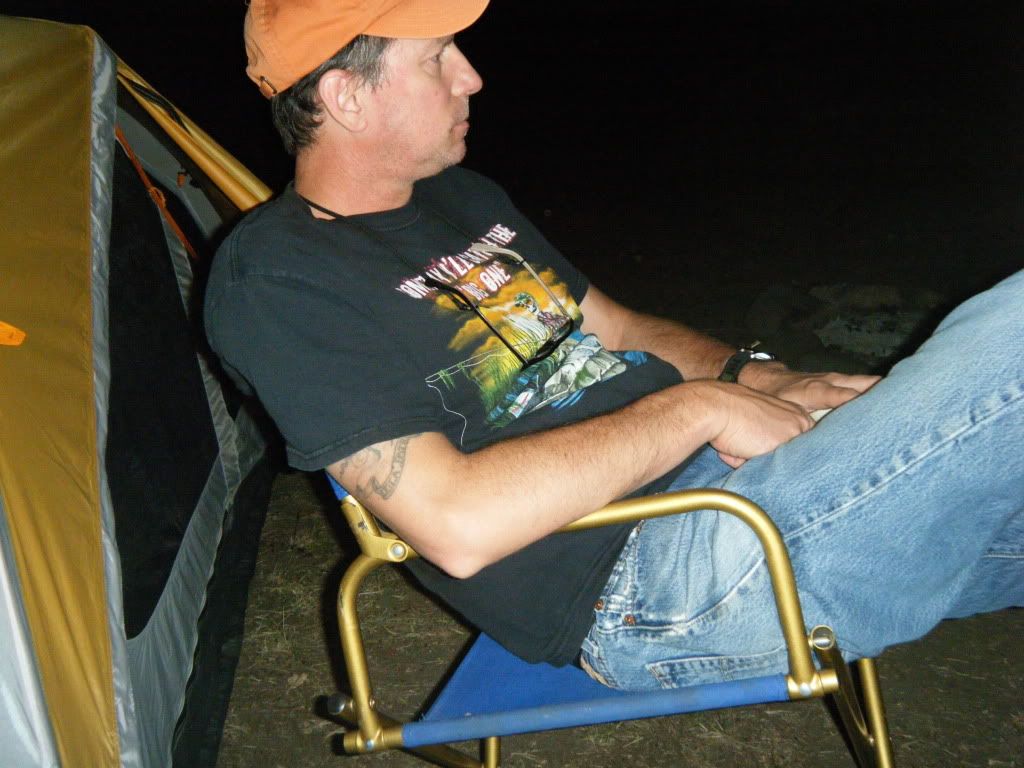 It was a good day, trust me.
Day Two: Reds to Maher
Sunday was the departure day. We broke camp, the girls hit the KOA swimming pool to give me the time I needed to pack the rig. The fishy trio headed to Reds about a half hour before us to pick up some beverages for hydrating and to get Jim's beautiful boat in the water and get ready to help me launch mine fast to get us all moving. Day two was as HOT and as BRIGHT, but there was not quite the tube hatch chaos at Reds. We saw Ted teaching a spey casting lesson near the ramp and he had a productive outing in the morning. Fishing was slow for our boat, but I heard that Freestone was into them again. I saw her reaching over the side releasing one at one point. The girlies were having a grand time. One one stop off to explore a tiny grass island we found a lot of these.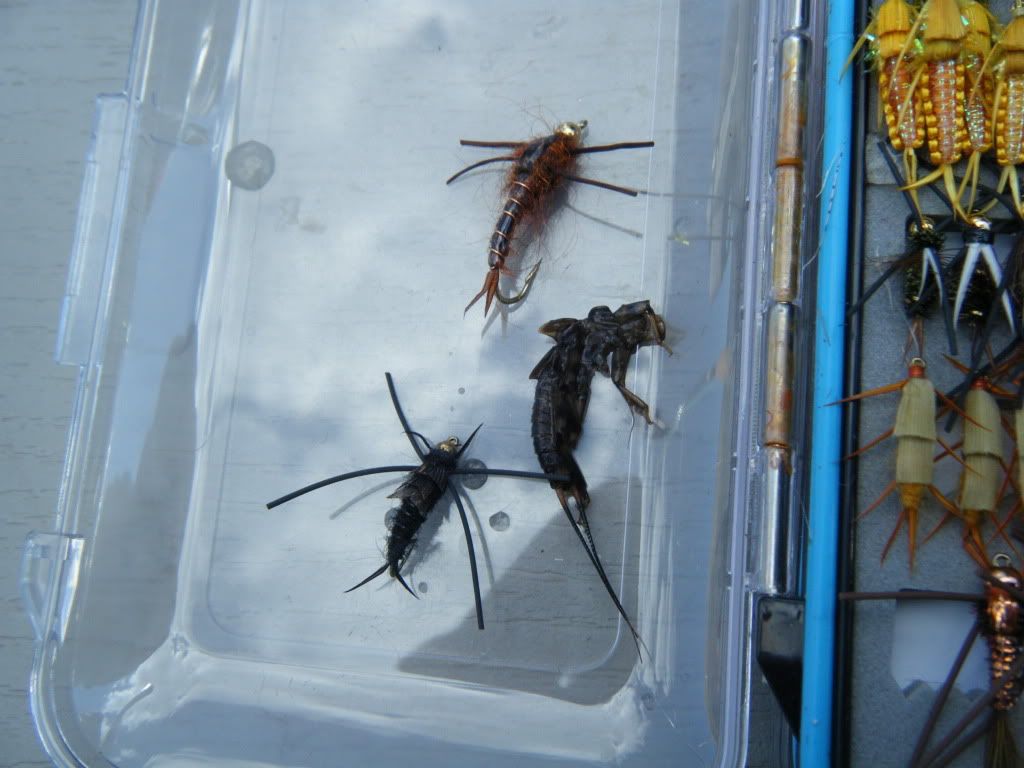 Little miss focused on fishing told me once that she was working on casting to the big ones and my talking to her was distracting. It was hilarious. She basically told me "I'm fishing here, will you shut up and leave me alone" only did so in her sweet own way. About ten minutes later she hooked and brought a 12" Yakima River native rainbow to the net. Just as I went to dip the very nice fish, that had her ultralight rod about tacoed, the fish changed direction for a run and bumped the net and got off right at the side of the boat. Undetered as I told her she caught it legit and I messed up, she rocked out another perfect cast allowing it to land before a boulder and swirl into the feeding zone behind it. No more fish for the day, but an awesome time was had by all.
I can't imagine how I got so lucky to have a family of three lovely ladies that would put up with me for about ten hours on the river in such HOT conditions or how I got to know the fishy three. I'm a damn lucky man. Thanks for reading along.
Craig, good to meet you briefly. Derek, sorry I missed you, but maybe we did talk if you were all garbed up for sun protection. If so, that is a fine looking boat and I'll look forward to filling one of its seats. Eric, glad you and your son had a good day out too. Did my rig have the ticket on the window when you saw it? I guess my pass blew off the mirror to the floor. There is always some drama to every story I guess.