Okay, my turn. To be honest, the group working on the trip plan said one pair of anglers would do a breakfast and dinner for the group. Lunch was on your own. I thought I was going solo...until THE JEFF joined the festivities and by then I had the meal plan set.
Rules of the group: It was supposed to be simple (note that both Bitterroot and Alex MacDonald have already posted their meals that seemed to break the rules of simplicity in one way or another)
To feed 6:
6 cans of sausage gravy, available in fine food stores near the canned meats and gravy. I know that both Campbells and Libby make this product.
Jiffy biscuit mix (all it needs is water to mix up)
Put the sausage gravy into a seal a meal bag before the trip, freeze for good preservation since my meal is several days into the trip.
Cut open the bag, pour contents into the dutch oven. I used a 10". I strongly suggest that you use a 12".
Heat the gravy with about 6-8 coals beneath the dutch oven and 6-8 more atop the lid. This preheats the gravy while you mix up the biscuit batter (not in a nalgene bottle as the dough ball gets firm and you'll never get it out).
Dilute your nalgene bottle trapped dough ball to emancipate it, now you have a more runny than expected biscuit mix. Pour it into the cauldron of goodness, watching it sink to the bottom and panic that you are ruining breakfast on the one day you have this responsibility. Quickly grab a bowl and mix up the second box of biscuit mix that was supposed to be tonight's pot pie top crust. Spread this mix atop the sausage gravy,
Put on the lid. Prayer helps here. Allow to cook from atop and below for about 10 more minutes.
Observe the 6 cans plus 2 batches of biscuit mix begin to overflow the dutch oven. Now simple to prepare will be complicated to clean up.
Once the top biscuits have risen and browned it is time to ring the breakfast bell (what is that triangluar thing called?)
Thankfully:
The runny biscuit mix that initially sank, rose as it cooked and really made the two batches of biscuits a bit too much but it worked out well. I learned that it will rise to the top, but being a bit more runny it would take a few more minutes to rise and cook to expected consistency.
There was some leftover hash browns, eggs and sausage from previous meals (Bitterroot/Jim and Alex/Dave I think) and Jeff had cooked the sausage patties, hash browns and added eggs into the hash browns. Overall it ended up pretty damn good, despite my efforts to ruin breakfast. I actually enjoy cooking, and normally do it quite well for my family. I was sweating this meal as I seemed to have gotten it off track early and often.
Apologies apparently not necessary as evidenced by this: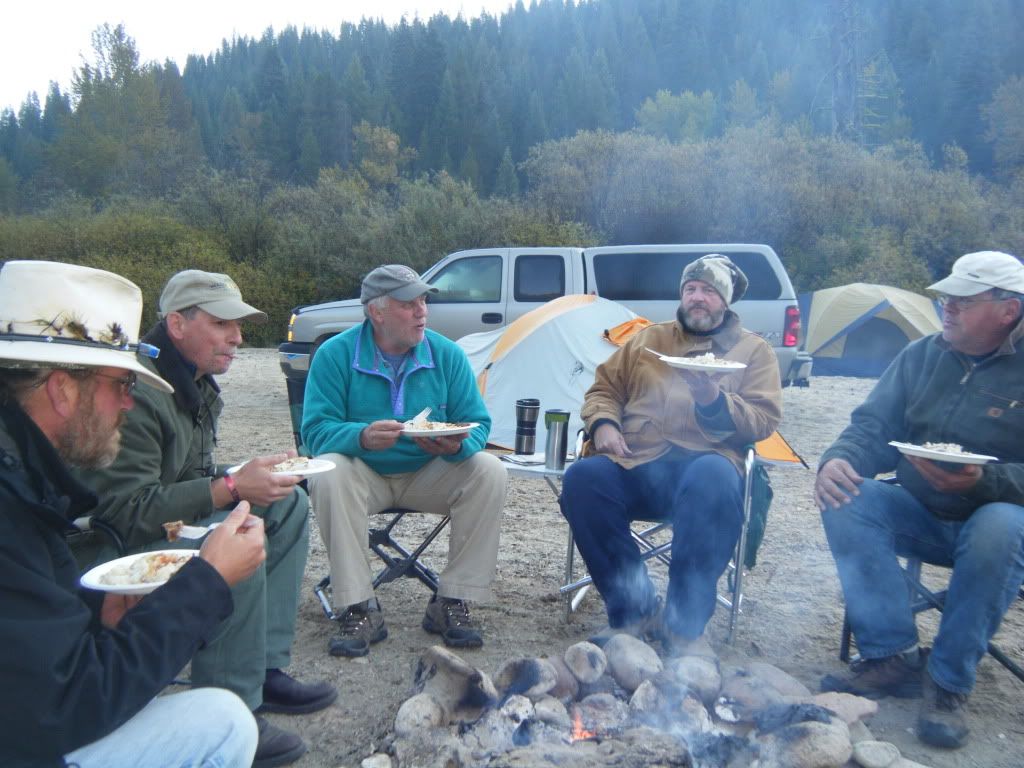 I am likely the weakest link of the group, hell, we all know I am. I just hope I'm not about to get tossed from the group. They are a lot of fun and have brougt me great places and taught me great things.