Should have made this a week or so ago but better late than never eh?
The wife and I recently celebrated our 10 year, and she told me to find someplace international and cheap...We always travel with our daughter so it had to be someplace 100% safe...so Baja it was.
We ended up finding what (IMO) was a nice bare bones hotel 5 or so blocks inside town, the Hotel Sante Fe. Depending on how long you book the price varies, say, 40something to 70ish, and the room comes with 2 beds, AC, and a kitchenette. It would be a great place for a few guys on a boys fishing excursion.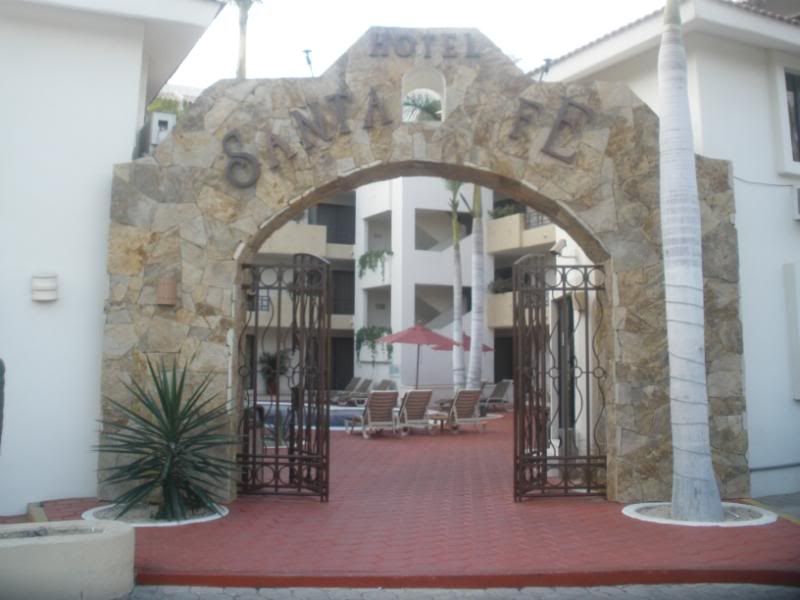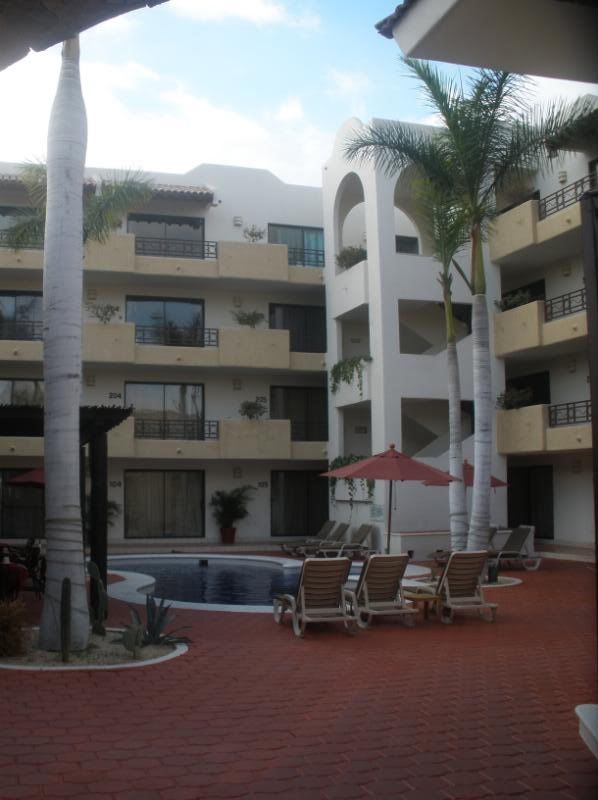 A block east of Sante Fe is this little joint in which one can get lunch, buy a baby stroller, or have their dog groomed. It's all up to you...and the food was badass btw: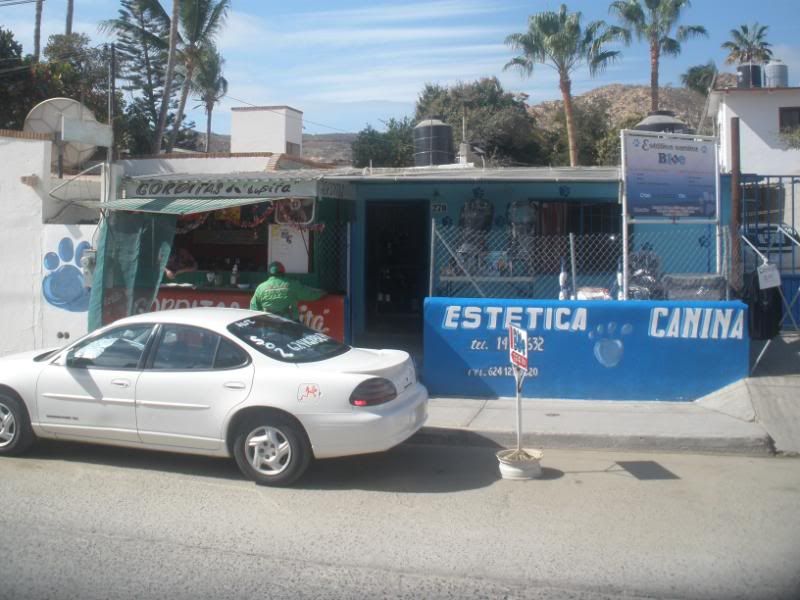 Another 3 blocks to the east was the best eatery in the entire city (I'll arm wrestle you over it) Birria De Res LA Terminal: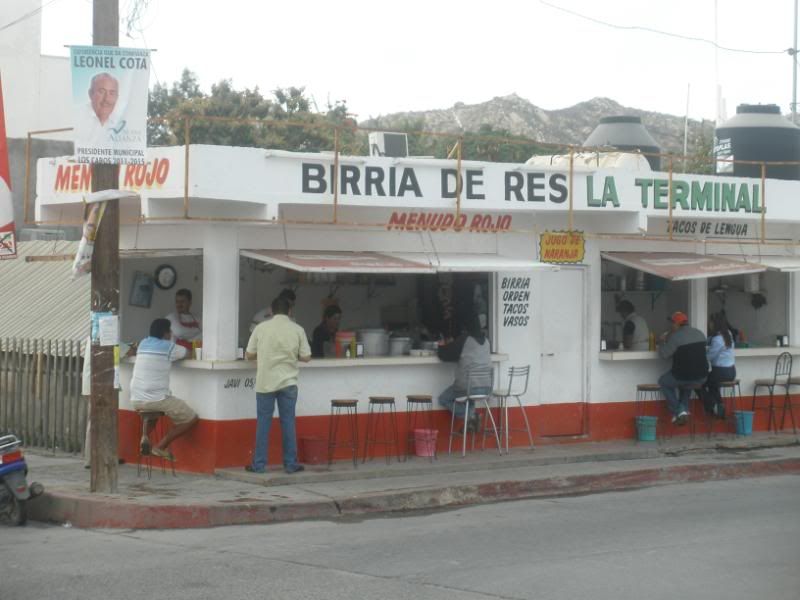 They're only open 7-12, and serve Birria, Menudo, and lengua or cabeza tacos, nothing else. It's the shizzle.
I like to get up early so I'd often get up, get coffee, go eat a bowl of Birria, then go get the girls up for second breakfast.
After a day on Medano we'd had enough of both tourists and hawkers so off to somewhere else. After google mapping a bit before we left I saw that we could take the 'long cut' to both Lovers and Divorce beach. All of the Pacific side hotels seem to be the ultra baller hotels, and try to block beach access, though AFAIK it's illegal for them to do so in Mexico. Anyhow we legged it through the Solmar like we owned the joint, and had to hike up this to make it to the beaches: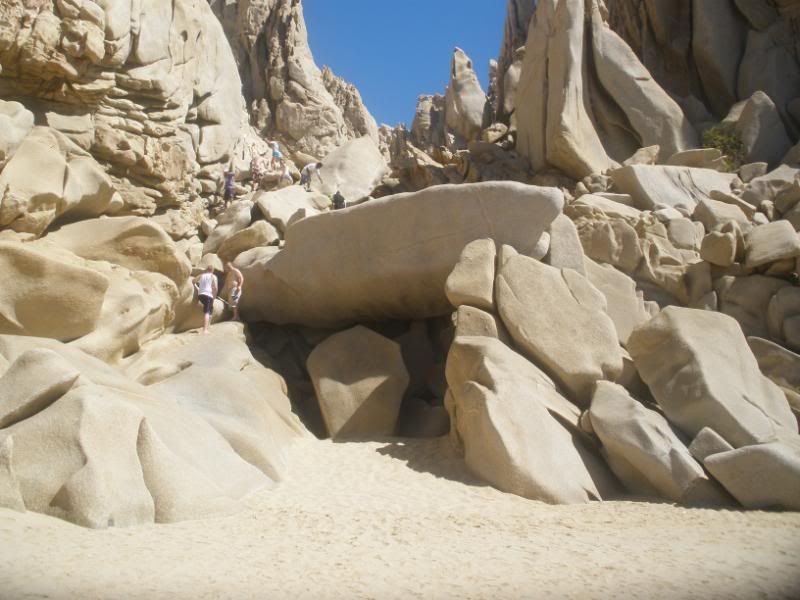 On the way back the tide was out enough for us to run around the front of the rocks, though a word of warning for anyone headed there: DON'T FUCK WITH THE PACIFIC.
srsly. It's powerful and steep in this area and even the locals that were surfing had a 'tender' boat there to assist them if necessary.
The day after was a special day for our daughter as she was able to hit up the popular Cabo dolphins and swim, feed, command, and play with a dolphin. It's a bit spendy, but a pretty cool experience for animal loving kids. I haven't scanned any of the pics ( they really get you on those!) but I do have one of her downstairs with a parrot: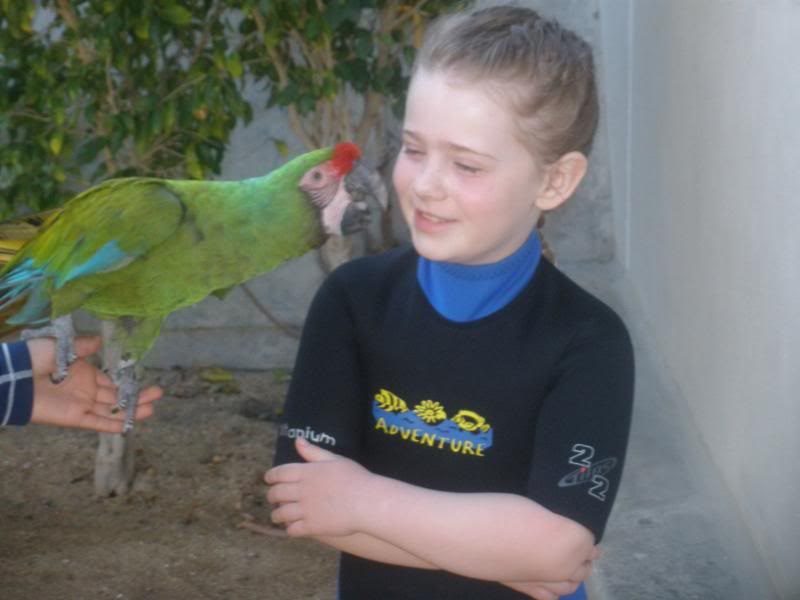 The day after was my first day to fish and with the help of Christophe, Evan and Philster I was able to assemble a crack commando unit: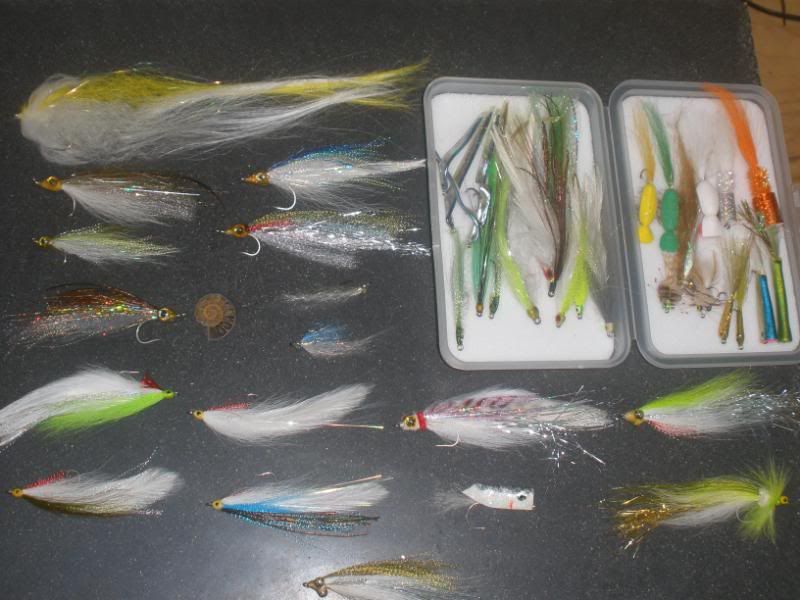 For those that don't know Philster is pretty much this guy:
of Baja flyfishing.
I'd also like to thank Pez Gallo and Mingo for some PM info/help as well.
I really think the data and gear you guys lent me made it all happen. Cheers :beer2:
I knew the fishing would be tough with the off season and cold water, but man! Wind! We didn't even troll past the old lighthouse Pacific side as we took wave after wave over the bow. I was 110% newb dumbass gringo as I only had a polo, shorts and flip flops on for the day.
We saw Mingos buddy Rafael, who Ramon knew. Ramon thought it would be cool to tease Rafael, and told me that Rafaels nickname was 'kitty' around the docks. So there we were puttering around the lighthouse with my guide flipping shit to the pirate dude wondering why I wasn't joining in on the festivities. WTF :rofl:
We were able to get on one bait ball (yeah only 1) which lasted all of seconds, and I ended the day with 4 new species of fish caught on the fly for myself, and a couple of Sierras to eat as well. I had quite a few sierra hook ups but the fish were super skitish, even short striking me . The schools were very small, and the fish refused any fly with bite wire, which meant every time I had a strike/fish I had to reel up and re-tie. Honestly guys the fishing was so tough I was focused on being productive the whole time, and I didn't bother busting the camera out for a money shot the entire day.
I did get this one after a kick ass chef made us lunch though: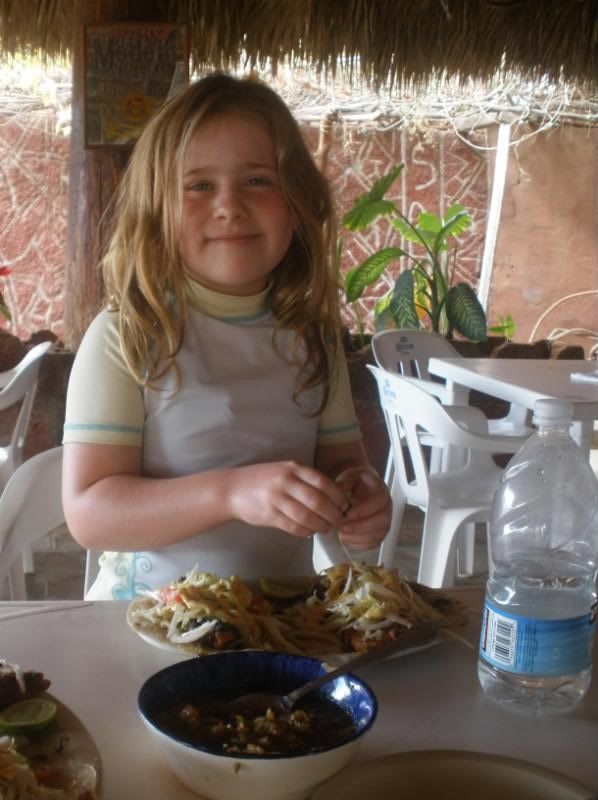 We had Ali @ Ali's International on La Playita cook the Sierras up for us, and as I've posted elsewhere Ali is eccentric, a good chat, and a damn fine guy behind the cooker as well.
I was supposed to fish another day with Ramon but I guess I'm not all that hardcore as some, because I opted out to just hang with the girls and do jack shit for another day, and man do I love to do jack shit in Mexico.
Later in the week we spent time at Chileano beach: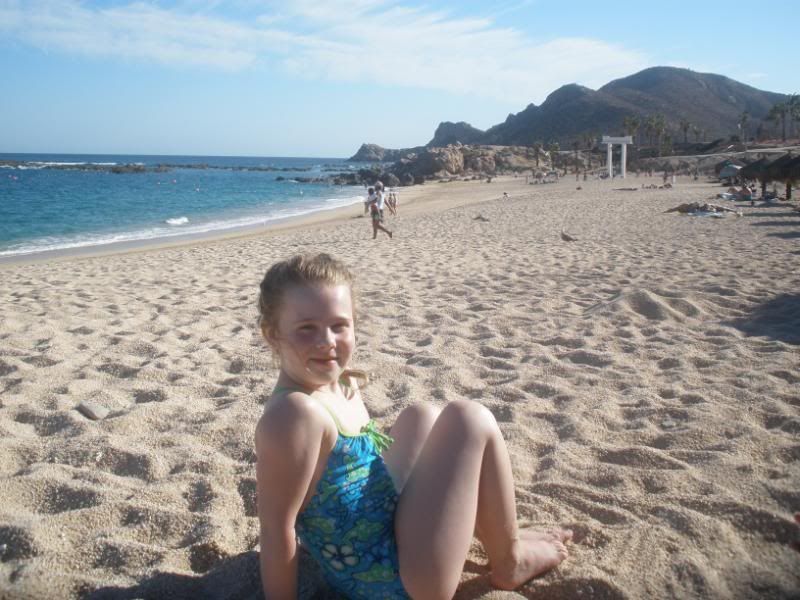 Chileano is an enclave of 3 different beaches, some sort of fish reserve(guess how I found out it was no fishing :rofl
a popular topless spot, and a good quiet place to take the fam ( so long as your wife is o.k. with you knowing there are other nice racks out there besides hers I recon) Anyhow it's quiet and nice and I suggest a visit.
We also found La playita beach, a few feet away from the panga fleet at San Jose Del Cabo, and the kind of beach you'll see few tourists at. The locals tell me the rooster fishing can be epic, but I just couldn't get it done on the fly from the beach here. The weather was off, and I never did make a trip to the beach @ 0:dark30..was too busy sleeping in or eating I guess
.
The rest of our stay was made up of variatons of: tacos/street food, walking, sunshine, sleeping in, and chillin' at the beach...a pretty badass experience when compared to cold ass traffic infested no steelheadz havin' Seattle.
Links:
Hotel Sante Fe (CSL):
http://www.tripadvisor.com/Hotel_Re...Cabo_San_Lucas_Los_Cabos_Baja_California.html
Ali's International (SJD):
http://www.tripadvisor.co.uk/Restau..._Jose_del_Cabo_Los_Cabos_Baja_California.html
I also found a few bakeries and produce stand around town, if anyone is staying off Medano and needs a heads up LMK via PM.
-Terry