My father and I spent a ton of time looking around for a new raft trailer. We narrowed the options down to what is shown below. I thought it would be helpful to post this as a resource for others looking for a trailer. I tried to be unbiased and just show the info we found. Feel free to reply to the thread and add any additional resources you know of. Hope this helps.
MS Metal Works, Molalla, OR
They had two options we were looking at:
http://www.ms-trailer.com
Raft Trailer
It is 7 by 12 ft for $1475. It also comes with a full length roller bar and a spare that is mounted to the underside of the trailer. You want the drop tongue option unless you have a lifted 4x4. It has 3500 lb torsion axles. He can make it with D-rings or 2x4 pockets and two options for the wheels. Nice guy, stays busy but will return phone calls and emails. Takes around 7-10 days to make.
The standard trailer without the roller, winch and spare is $1200.
Standard Flatbed
They also make a regular flatbed trailer in different sizes. The 7x12 is $975. 6 x 10 is $850. 7x12 flatbed with 2x4 pockets, 2 red / 2 amber marker lights, 2 rear tail/marker lights. #3500 spring axle with ezy-lube, tongue jack w/ wheel, decking, 2" ball & flat 4 wire connection.
ALL TUBE STEEL FRAME AND CROSS SUPPORTS
Can add roller bar, spare and winch for $200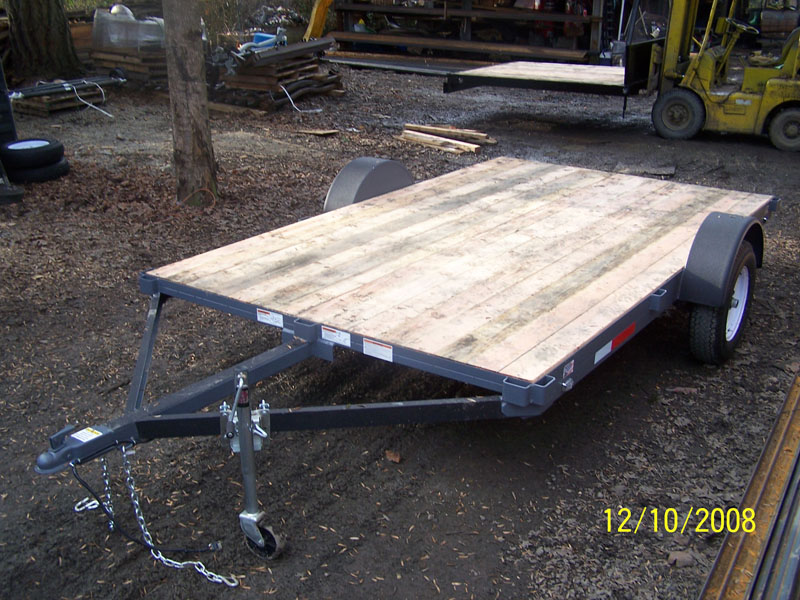 Orange Acres Trailers, Missoula area, MT
http://trailersorangemt.blogspot.com/
Orange Acres Economy Raft Trailer $1395
Full 80" inches wide x 10' foot long.
Made with 3/16ths thick 3inch channel steel, fully welded, 3" channel cross support on axle and gusseted. in front and rear,
These are a Tri Frame Tounge
3" tube tounge made of 3/16" inch steel, with a 2x3 A-frame supports on the tongue prevents tongue from breaking or bending when you hit something backing it up.
36" sub frame made from 3" channel ties into cross members (3'' inch channel) and welded to 5200 lb rated spring holders, with 3500lb springs.
Swing lock jack with a six inch wheel, you can lift this trailer by hand but if you have a bad back you will enjoy this jack for moving this trailer around. it swings sideways and sits lower than the deck so you could put a raft over the top of it if you had a 12 to 15' raft.
Due to problems that we have seen with 2000# axles, we only use a solid 3500 lb Dexter EZ lube axles, we use 3500# instead of 2000# axles because the have a bigger set of bearings than the 2000# axles so it means that they last longer. They also have a ez lube grease fitting on the hub for easy seasonal maintenance, you can put a grease gun on it or have the guys a jiffy lube do it for you. If you dont have EZ lube hubs you must remove the wheel and hub to pack the bearings. Incorrectly packing the bearings can cause the wheel to sieze resulting to tire blow out or the wheel falling off compleatly, rolling into oncomming traffic.
Full size 13" tires and wheels, trailer radials, not smaller 12'' or 8'' inch tires that turn faster and wear out bearings on highway. more ground clearance for getting over rocks and rolling over logs.
( I also sell them without tires and wheels if you want it cheaper or have tires yourself)
Custom 2 x 6 decking milled right here in Montana, stained with oil penetrating stain. Our deck boards fit in bolt down steel pockets for easy replacement in 20 years. Bolts don't go though decking( this causes decking to split over time due to flexing). also makes deck easy to remove for trailer painting or rhino lining in the future. (Also available undecked for discounted price, so if you want to install your own plywood that will rot out in a few years.)
2 coat of primer and 2-5coats Rustoleum brand Black paint, (also available unpainted if you have your own custom plans, rhino lining, truck color, or want to save a few bucks,)
this size, will also carry 2 ATV's sideways. Boxed in taillights, DOT stickers
OPTIONS AVAILABLE:
Raft package:
2'' full length roller bar, removable
sky winch and 20 ' strap, lifts rafts up as you winch it on trailer
spare tire mount in A-frame tongue.
tie down loop in rear center for locking down back of raft
10 steel stake pockets on sides and front for building side boards for enclosing or firewood racks.
plus 2 more stake pockets on tongue for strapping down ramps or securing front of raft.
also available in 5',6',80",7',and 8' widths
8'-20' lengths
call for pricing
Call Jeffrey-James at Orange Acres 370-5466 for more info.
Built by a Montana, who loves rivers and knows how rough Rock Creek and Blackfoot river roads can be.
M & M Auto and Trailer, Stevensville, MT
http://raftatvttrailers.blogspot.com/
Base Raft Trailer
Complete list of equipment on Base raft trailer
Deck Measurements 6' x 10'
$1395.00 No this is not a typo $69.95 to weld down deck and stain combo.
M&M the leader is Raft Trailer has taken the step forward. Moving to Stevensville, Fall of 2011 to expand our Sales, Service, and Parts business. this is an example of our Base model yet loaded with extras.
1. Note the sky winch stand is longer, aprx 24-30 inches
2. Low profile for easy loading. How many times have your seen a trailer that is like trying to load on a pickup bed! Protect your raft and your back!
3. New Acrillic stain from Home Depot. Our staff has, along with Home Depots staff created the perfect stain, protects, keeps moist, yet is appealing to look at.
This is a combination of stain, Linseed oil, and exterior oil base paint.
4. Tounge strength, and length, Makes it easy to back up and 10,000 lb tinsel strength, we have never had a tounge bend or break!
5. Now a 1100 lb. winch has replaced a 500 lb. for the same price. 20 ft Seat Belt webbing strap with 5,000 lb tinsel strength included with D-ring hook
6. Dual rollers are standard with two brackets or full rollers if you choose to upgrade later which have three brackets
7. Our competitors seem to be more worried about our decks than their own. we have replaced hundreds of decks due to cheap wood, screws through the boards or like the Billings backyard corner cutters, use plywood.
8. right now 2010 we see our trailers being sold for $800-$1500 more than our customers pay for them. Thats why they drive from Colorado, Texas, California etc.. all the time, the perfect ingrediant...Quality & Price mixed with American made components, you bet they drive 1500 miles one way.
9. have not raised our prices for 6 years
10. Note 8 Loops side of each frame for tieing off
11. 6 ply 13 inch steel trailer radial on white spoke enamel wheels made in USA
12. 2"x 6" Kiln Dried Fir from St. Regis, Montana Welded down in two sections.
13. 5 coats of Rustoleum Oil based Gloss paint and 2 coats of primer, Hardner included
14. Hand twisted wiring, like Ben Franklin did, Simple and it works, no butt connectors, no quick clips.
15. 6 Steel 2"x4"stakepockets, Steel Loop on Winch tower base
16. LED waterproof lights for your saftey in steel protective brackets
17. 52oo lb. Spring hangers and 4 leaf steel springs
18. Reinforced a-frame supports for extra tounge strength
19. D.O.T. reflective Stickers (Front,Side, Rear,Back) for Safety
20. 3500 lb. dexter Ez lube (outside grease zerks) Axles 5 on 4.5 Hub face
21. 2" fulton lockable couplar
22. safety chains
23. Swing Lock Jack with dead foot
24. flat four plug connector in plastic conduit
Options
A. Full rollers rear and three Brackets
B. Roller jack 6" Wheel, 8" wheel, Side crank handle
C. D- rings
D. Spare tire mount (Winch or Tounge mount)
E. Extra Stake Pockets
F. Tool Pad, Dry Box holder
G. Grip Strut Galvanised Ramps & Holders
H. Extra Length, extra width
I. 15" tires 205, 225
J. Additional Loops
K. Round Tube Frame
L. Gusset Supports Rear
Elam Trailers, Oregon City, OR
http://www.elamtrailers.com/raft_trailers.htm
Raft Trailer
Standard Features
- 7 Feet Wide by 12 Feet Long Deck
- Smooth Flat "Quality" MDO Decking
- Full Welded Steel Frame using 100% 3" x 2" Rectangular Tubing
- 3,000 Pound "Extra Capacity" E-Z Lube Axle (Standard) (Trailer Weight 450 lbs)
- 13 inch "Trailer Grade" Tires with Custom wheels
- Recessed, Shock Absorbing Tail Lights (Submersible)
- Side Marker Lights
- All Enclosed Wiring
- Safety Chains
- Tie Downs; 6 places - Front, Rear and Sides
- Multipurpose use, ATV, Snow Mobile, Utility, Hunting, Hauling, Etc.
- Transportation Handle on Tongue
Options
- Spare Tire (Underside Mounted) - $79 - $65
- Rear Roller Assembly - $165
- Winch & Winch Stand - $225
- Locking Oar Box - $50
- Stake Pockets - $8
- Additional Tie Downs -
STANDARD TRAILER SELLING PRICE: $1,795.00
Iron Eagle Trailers. Manufactured in Oregon, but dealers all over NW.
Has 3 possibilities that we looked at:
http://www.trailerinfo.com/
Iron Eagle 3000 6x12 is $1330
Ironeagle 3000 Specifications:
A simple flatbed that you can customize as you see fit. This versatile low cost trailer utilizes the same durable frame design as our other single axle models but without walls. Stake pockets are included which accommodate 2x4 posts allowing you to configure and build your own custom walls. There are several examples in our photo gallery.
The 3000 Series utilizes the same frame and running gear as our Voyager and Magnum series utility trailers. A simple ramp accessory kit is also included that enables you to make a pair of inexpensive and effective lumber ramps if you need them.
Available Sizes:
4x6, 4x8, 5x8
5x10, 5x12, 5x14
6x8, 6x10, 6x12
6x14, 6'6"x10, 6'6"x12
6'6"x14
Color Choices (No additional charge) Black, Charcoal, Cobalt Blue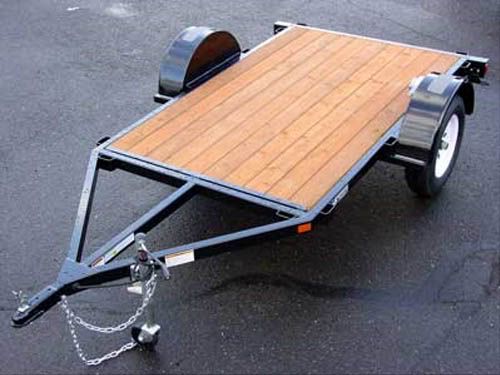 Iron Eagle VersaMax 7x12 for $1499
Ironeagle Versamax Specifications:
This trailer is defines "multi-purpose". VersaMax is designed for maximum versatility and will transport bulky cargo weighing up to 2300 Lbs. Items such as Inflatable Rafts, Snowmobiles, ATV's, Hot Tubs, Drift Boats, etc. which can be too wide for trailers with fenders are a perfect match for this trailer. The deck height is only 25"
VersaMax comes equipped with stake pockets on all sides of the frame. Stake pockets accommodate 2x4 lumber which enables you to build whatever style of removable walls or railing that you need for your particular application. There's also a tie-rail along the perimeter of the trailer for securing your cargo in any configuration. The stake pockets also double as excellent tie-down points.
You'll appreciate the low deck height when handling bulky items or launching your Raft or Jet
Versamax Raft Edition
Can be purchased direct from the manufacturer or from a distributor.
Versamax Raft edition 7' wide x 12' long Custom polyquad decking ( same as alumaweld boat floor) 3500 # axle Galvanized Wheels All LED lights Rear Galvanized roller Winch on front with tower ALL tube steel framed Trip tube tongue 54" long easier towing Swing up tongue jack with wheel stake pockets all 4 sides with rub rail Tie your raft anywhere with rub rail Full Lifetime frame warranty in writing!
Trailers NW is a distributor and has the trailer for sale for $1899.
Olympic Trailer, Olympia, WA
http://www.olympictrailer.com/local-trailers.php
I heard they can build a modified raft trailer out of one of their standard utility trailers for around $1500, but I tried calling them 3 times and they were very unresponsive. I have seen the one they built, the deck is pretty high, but offers lots of storage below.
Barney Conrad's Custom Street
http://www.customstreetstuff.com/Trailers.aspx
All Aluminum 7' X 12' or 10', 3500# Torsion Axle, Sealed Beam Lights, 13" tires and tounge jack
Custom built trailers, for you and your investment - be it a raft, frame gear or any other expensive toys or equipment - this is the one thing you can rely on to deliver your gear safe and worry free.
Our trailers are only made with the highest grade materials; they are built to last and are built according to your custom specifications. We guarantee you will NOT be disappointed with the high quality workmanship invested into each and every trailer.
Base Price $2,550.00
Options:
2" Aluminum Roller $175.00
Winch with 2"X20' Strap & Mount $135.00
Spare tire, locable mount with lug wrench $280.00
Stake Pockets & Rub Rail $205.00
Sub-Total $795.00
Total $3,345.00