More playing around tonight.
First off, I am thinking of a way to make a stuff-sack that doubles as an UL sling pouch. Turn the stuffy inside-out and it'll have a tab to pin on a fly patch, maybe a small tippet pocket (where the patch kit otherwise lives), and a tab and loop for some hemos. Thing is the dims of the rolled tube make the bag a bit odd shaped... If not slung over the shoulder, maybe clipped to a D-ring on the tube instead? I really would like it to be a useful and flexible piece of kit though. Maybe it could be folded in half and only use part of the volume?
Photo:
With it folded in half it could be used a lot like this gem that's no longer available: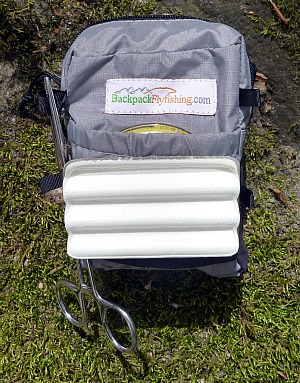 Also, I got in a bunch of new valves to play around with since I've been pondering an inflatable backrest, and I didn't think the valves I'm currently using are suited for smaller volumes. I've been scratching my head and toying with elaborate backrests with sling straps and other accoutrement that freak me out as far as failure points are concerned, but it kept getting out of hand and weighing too much (in my mind I'd like the thing to weigh around 3 ounces max). Needing inspiration I grabbed a simple square pillow off of my kid's bed and threw it in the back of a prototype... Just might work!
Anyway, pics:
New valve -
Simple backrest:
I think with either some straps that run under the butt to the front seam of the seat or simply an extended flap that you sit on to hold it in place it should provide enough support without the weight penalty and complexity. That's less than an half a square yard of fabric so it should come in just under 3 ounces with valve and extra fabric for the sit-flap. On the plus side, it can double as an air-pillow for your tent or a rock-softener for sitting on in camp. I LOVE multi-use stuff.
Quick question - how much is too much weight for a backrest? Would you pay extra for this option? Hmm... I think I really need to go fishing for a day with and without the backrest and see how necessary it is for myself before I spend too much time on this... Regardless, at least I have something to test.
BTW, you'll notice the Vader tube is back. I'm playing around with a different seat thickness. This bright blue fabric is HEAVY (relatively) but I have it on-hand so I'm using it to prototype stuff. Even with the extra weight, Vader with the blue seat is still right at 30 ounces. Can't cry too hard... Due to the way I had to repair the tube though I'm using a non-production attachment technique - hence the suspenders. No, that's not the direction I'm going in.
_SHig