Welcome to Miami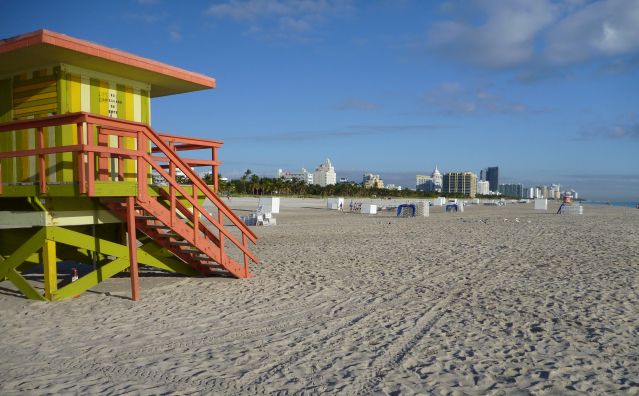 My wife and I decided to spend a little time in south Florida before the Northwest winter set in. Never having spent much time in Miami and wanting to see South Beach, we picked a small hotel right on Ocean Drive. This is quite the eclectic neighborhood. It has a myriad of people with lots of different languages being spoken. But most important, being on a beach, it was an opportunity to fish. Because the beach is so popular, that time was very early in the morning. The air temps were a little cool in the morning, starting in the mid 60's but the water was still warm in the upper 70's. I was told that this was a little cool for many fish and some had already moved to deeper water. However the baby jacks were there to play.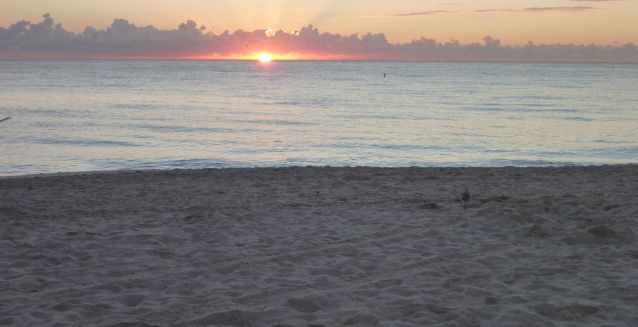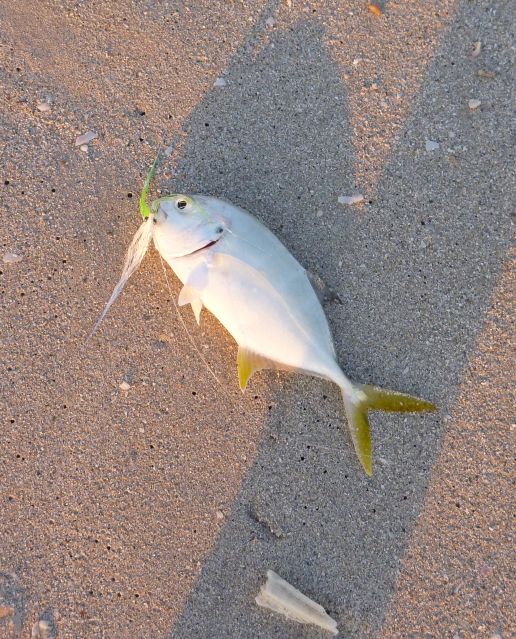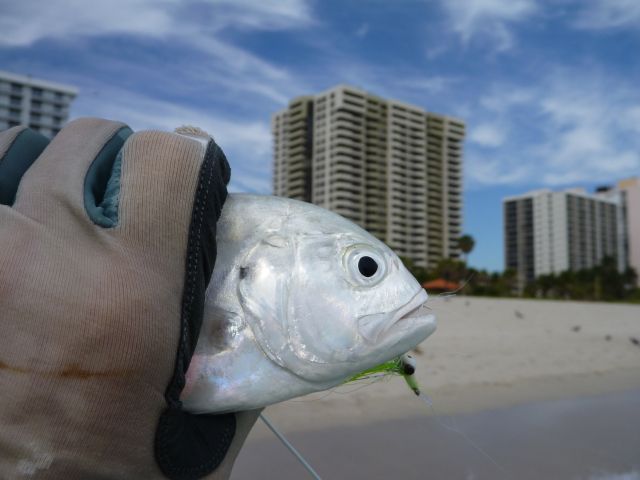 On the third morning I decided try Key Biscayne for a change and a few less onlookers. Oddly, while fishing is allowed on most areas of Miami Beach, beach fishing on Key Biscayne is strictly limited. I did find one spot to spend some time and took a few jacks before it was time to get back to the hotel.
While changing out of my wading boots I saw that I had ants crawling all over my feet. I had inadvertently stepped on a fire ant mound hidden the grass. I quickly brushed the ants off but received about 40 bites in just a few moments.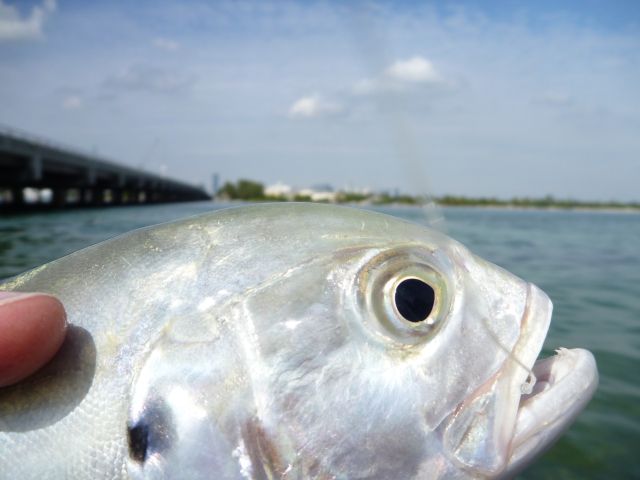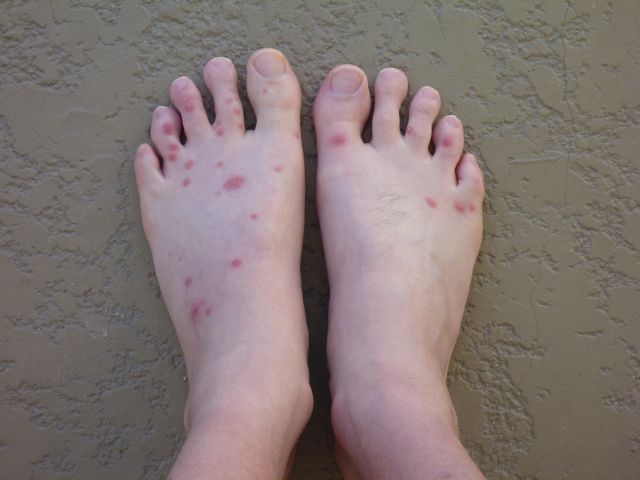 As if the ant bites weren't enough, the cold front that passed through the Mid-Atlantic States putting snow on the Hurricane Sandy victims also dropped the Florida temperatures to the lowest level since March of 2012. When we drove over to Naples the next day morning temperatures were in the high 50's.
Naples is quite different from Miami. We went from a diverse young demographic to a homogeneous white demographic with the average age of 64.3. Comparatively, I haven't felt this young in years.
After several days things warmed up and a regime of prednisone cleared up my feet so that I was willing to go walking in the water again. The water temperature of the Gulf of Mexico was around 75 degrees. I started fishing with the incoming tide on a small estuary and picked up a couple of flounder. A fellow kayaking through the mangroves told me that there were still red fish and snook along the beach so I decided to give the beach a try. Instead of redfish and snook I found pompano and sheephead schooling together.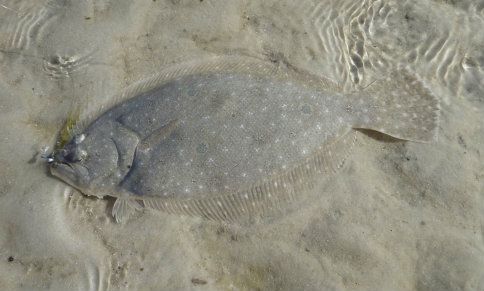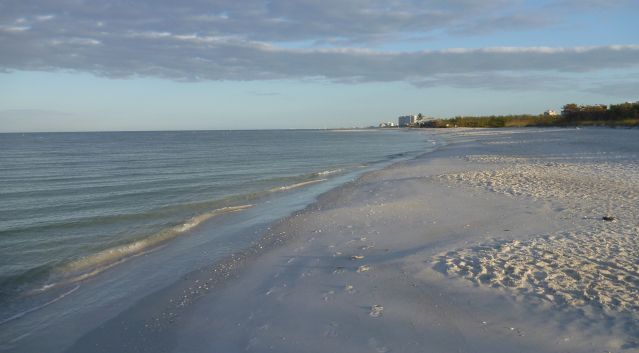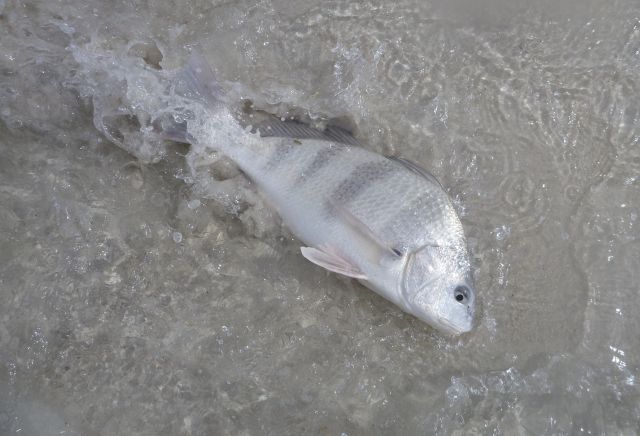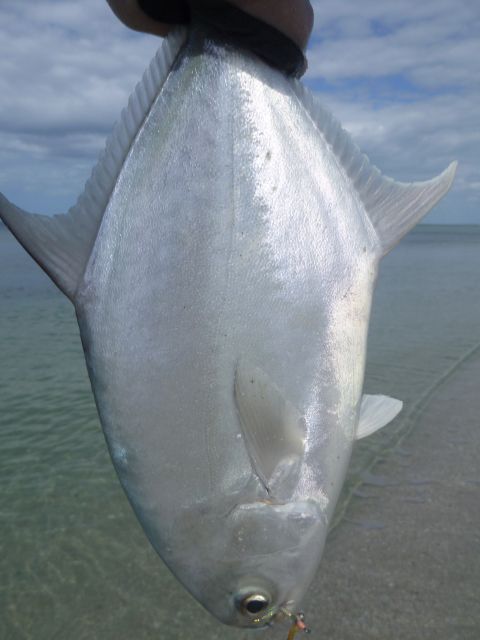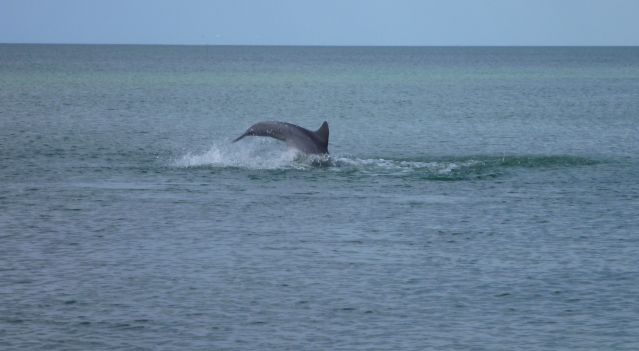 The next day, and with the idea of getting a snook off of the beach in mind, I decided to try a park beach with a larger estuary pass. I found lots of snook cruising the beach but only had one hookup which I lost. The snook cruise the beach right along the very edge of the water and sand looking for small bait fish that they can trap and catch in that very narrow margin. Sometime they just sit still waiting for the bait to move their way before making a grab. They willingly and quickly take the fly, but getting the set is near impossible because of the surfs motion. It puts enough slack in the leader that the take becomes undetectable. There must be a trick to it and I am thinking that an indicator right up against the shock tippet may work. But that is for another trip.
The following morning I tried narrow pass where the water moved from the mangroves into a large bay. As the tide rose in the mangroves water was pushed through this small channel into adjacent bay with a rush of current. Jacks were chasing anything caught in the current and busting water all over the place. A Clouser thrown into the current produced a take on nearly every cast. Keeping them on was a different thing. It was a good 45 minutes of action.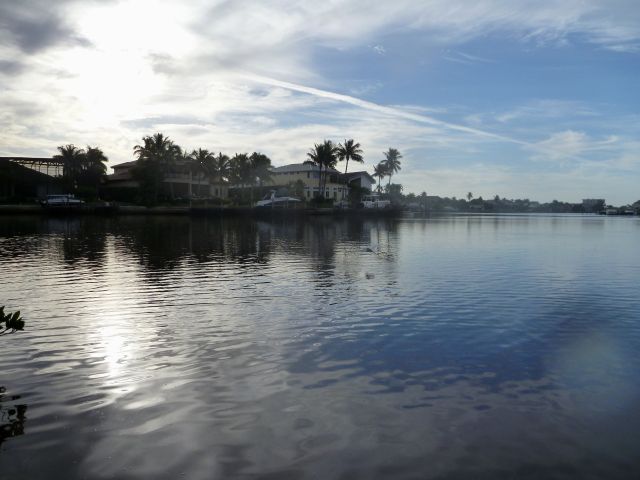 A couple of comparisons between Florida and Washington got my attention. Here in Washington, without a Discover Pass, it costs $10 to enter a state park. The cost in Florida is $4 or $5 depending on the park. However, an annual state park pass in Florida will put you out for $128. That makes the $30 Discover Pass a deal.
While in Miami we went to witness the Redbull "Flug Tag" where they basically push a crafted glider off of a ramp to see how far it will glide before it crashes into the harbor. Most don't glide worth a damn but one did manage 128 feet. The transit station we used to get to the event was also an early polling station. People were lined up by the 100's to vote. We later read about people waiting up to 7 hours just to cast their ballot. Maybe voting by mail isn't such a bad idea.
One of the 28 Gliders in the competition
The wining glider
Politicos out to meet and greet in the swing state of Florida