A quick fishing trip to the Skagit yesterday. Morning started cold and wet. Not really a drenching rain but steady. As the day continued it cleared a bit and we even had a bit of sun. We fished about 4 runs with not a lot to show. Between two of us we caught a handful of bulls. This was my first day fishing the Skagit for something other than cuts in two years. The first time out with a two handed rod in two years. My casting sucked. I am not much of caster to begin with. With the rust of two years taking its time to flake off even by the end of the day I was still struggling. Also the first time out with sled on the faster water of the river in a few years and I managed to screw that up a bit also by running up to the shore a bit close a few times and allowing the foot of the motor to drag some rocks. It was like being a rookie all over again.
Air temps were likely in the low forties with a light wind and water temp was 42. Not an uncomfortable day but I am older and feel the cold a little more than I did ten years ago. This is not like fishing for steelhead in the spring.
I shot a couple of pics with the Iphone. I didn't bring a decent camera because of the wet weather.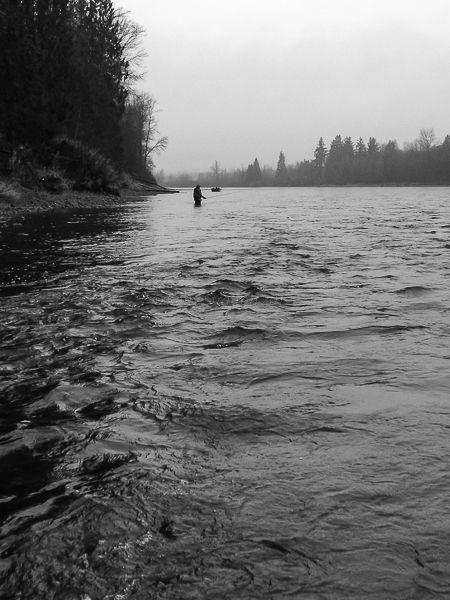 This bull went about 22 to 24 inches. He made a couple of decent runs and managed to get the Bougle' to talk a bit.