Today we decided to re-try a mid elevation reservoir for smallies. We've fished if before and picked up a couple, but conventional wisdom is that fly fishing this lake for anything but state triploids is futile because of the steep slopes and that the bass seem to be deep. My friend brought his conventional gear; I left mine locked up and took three fly rods with lines from floating to T-200.
My first cast was with a floater with a beautiful simiseal leech sent to me by a generous WFF member. WT was 69°so a floater seemed appropriate to start. After my friend had taken three or four good sized smallies at 15-20' I realized a floater and small flies were out, and switched to my 6 wt. with T-200.
By the time I had my first fish, my friend had boated over a dozen smallies, mostly 3 lbs. or better. He was using a 3/4 oz jig and getting them at around 20 feet. I had made close to 20 fly changes, and had absolutely nothing to show for it except a growing pages of iPhone notes I'd made about different areas we fished. Swimming flies wasn't working--they were clearly hugging the bottom as confirmed with the sonar. My large, heavy largemouth jigs weren't doing it either for some reason. It was really hard to find something the right size and right density to dredge at that depth with 10 mph winds blowing the boat, and the Memorial Day wake boarders kicking up wakes.
After boating a decent fish, I felt a little better but still didn't have the pattern. Then it hit me. The trout in that lake are like snakes after a few months, and a contact at State DFW told me the feed was sparse. If the feed was sparse, why are the smallies so large? Of course they're not swimming, why would they? My weighted minnows, zonkers, divers, leeches, poppers and other typical smallmouth gear were foreign to them. My crawfish imitations, designed to fish at fairly shallow depths, were too light to hug the bottom at 20', but that's what their forage must be.
Rummaging through the bass box I selected a heavy fly with rubber legs and a brass cone in chartreuse with some flash. Maybe this one would climb some stumps and kick up some rocks. Never used it before. This time, at 22', I could feel the bottom easily, and then came the snag. Then it moved--and the rest is history.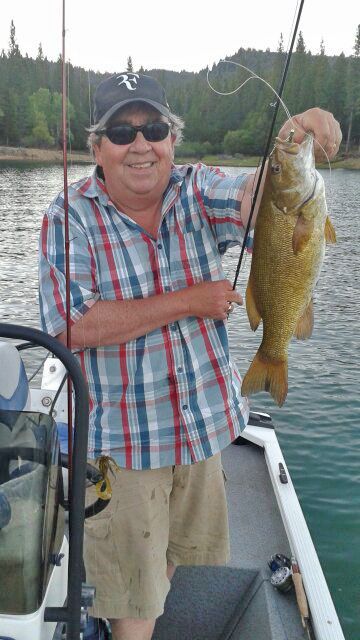 About 5 lbs. and probably my personal best. Sometimes this old guy is a little thick headed, but mentally calling up any conversations and data about the lake along with some real time observations paid off pretty well!
By the end of the day our best count was 17 smallmouth, most 3# or better, and one largemouth. These sizes in that quantity are practically unheard of in California, especially for fly fishing, so we are feeling pretty good about this late afternoon learning trip today.