·
Donny, you're out of your element...
Discussion Starter
·
#1
·
I am an avid window seat flyer, this is one of my bibles, I highly recommend it if you like geology and geography
There's nothing about what I saw flying back from Boston the other week in the bible here. During the night flight there is an expected light void from about Toronto/Buffalo to Spokane, It's a pretty interesting flight most of the time, if you leave early evening, you fan out along the Berkshires, into the Adirondacks, Finger lakes, straight over Niagara falls and great lakes and then typically it is dead dull for the next 120 minutes, in part as you loose all daylight. (If you get a full moon it gets interesting again when you fly straight over Glacier NP, the Rockies, and into the channelled scablands and Cascade crest.) Not anymore, there's something disturbing now to look at.
You hit North Dakota, and once there was darkness and now, holy smokes, there is now about a 500 square mile area of bright and irregularly spaced lights. Not dense lights like you see in a city, but spread out, each light probably an eighth to half mile between the others.
I looked it up later as it made little sense to me. Those lights are from the Bakken oil fields of North Dakota. And lights is one way to describe them, the other is they are burnoff flairs from oil fracking. The want the oil, they pump chemicals into the shale to frack it out, and they burn off the natural gas that comes with it as it is "too hard to store."
This is so depressing when you think about all that energy burned because we're too lazy/incompetent to figure out some way to store it
Here's a satellite view.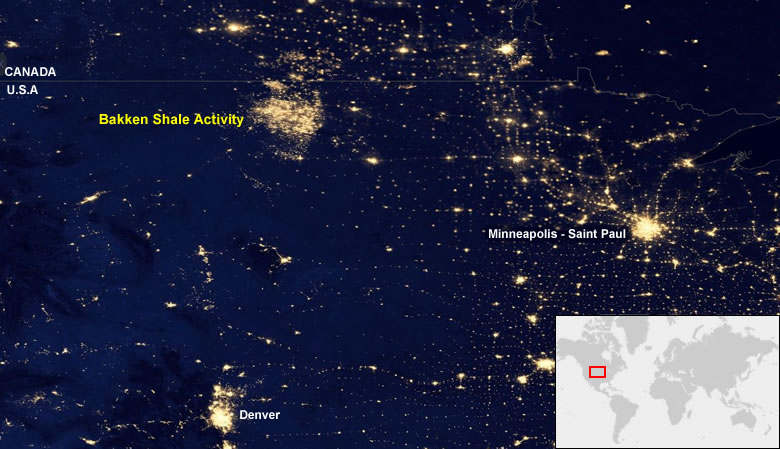 And a link to the article that goes on to describe this process at multiple oil fields around the globe. Jeezus, all that energy, gone. What a waste.
http://geology.com/articles/oil-fields-from-space/