Recently picked up my first Sharpe's Scottie spliced spey rod (13' #9) and one thing is for sure...these suckers are heavy tipped and require a ton of reel to balance. I knew it was going to take a lot of reel, but had no idea HOW MUCH reel until I taped it up and hung 24 oz of full reel on the rod and the tip promptly dropped straight to the floor. Hmmm...gotta be a solution other than holding above the cork. So, got to talking with Klickrolf and he and I bounced some ideas around. Short of paying a machine shop a couple hundred bucks to machine a counter balance I couldn't come up with an easy solution...until I decided to Google "brass b*lls"...literally. And what popped up was an absolutely perfect solution at a reasonable cost. Turns out threaded brass balls are available in multiple diameters and threads. Amazing how little brass it takes to create a bunch of weight. I settled on a 1 1/2" diameter (weighs 8oz) drilled and tapped 1/2'-13 as the thread for the Scottie butt turned out to be 10x1.50 and I figured I would have enough space around a 10x1.50 stud within the 1/2-13 tapped hole to provide an epoxy bond. Well, back to my local Ace Hardware today and messing with options and threads and lucked out with a retired machinist who still has a shop as my Ace Hardware red vest wearing helper and the guy proceeds to break out his machinist tools and measures thread, pitch, etc and says "I'll just machine you a thread to thread transition in my shop out of brass". Floored me...and Ace always amazes me with the experience level of their employees. In any event, mid week this week he will be doing exactly that and I'll be having him make a couple for me for future rods or tweaking as larger or smaller diameter brass is also available. Now that 15' Sharpes that took 4 pounds of reel to balance just might have a better chance of getting fished. Here are a few pics of what I was putting together in preparation prior to meeting my machinist today. Will post more as the project comes to completion. I know from my searches that there are others out there struggling with this dilemma and for under $75 this seems to be a perfect match when it's all said and done and will look cosmetically appealing (and functional). Threads will stay the same to retain original integrity of rod.
Original Scottie Rubber Butt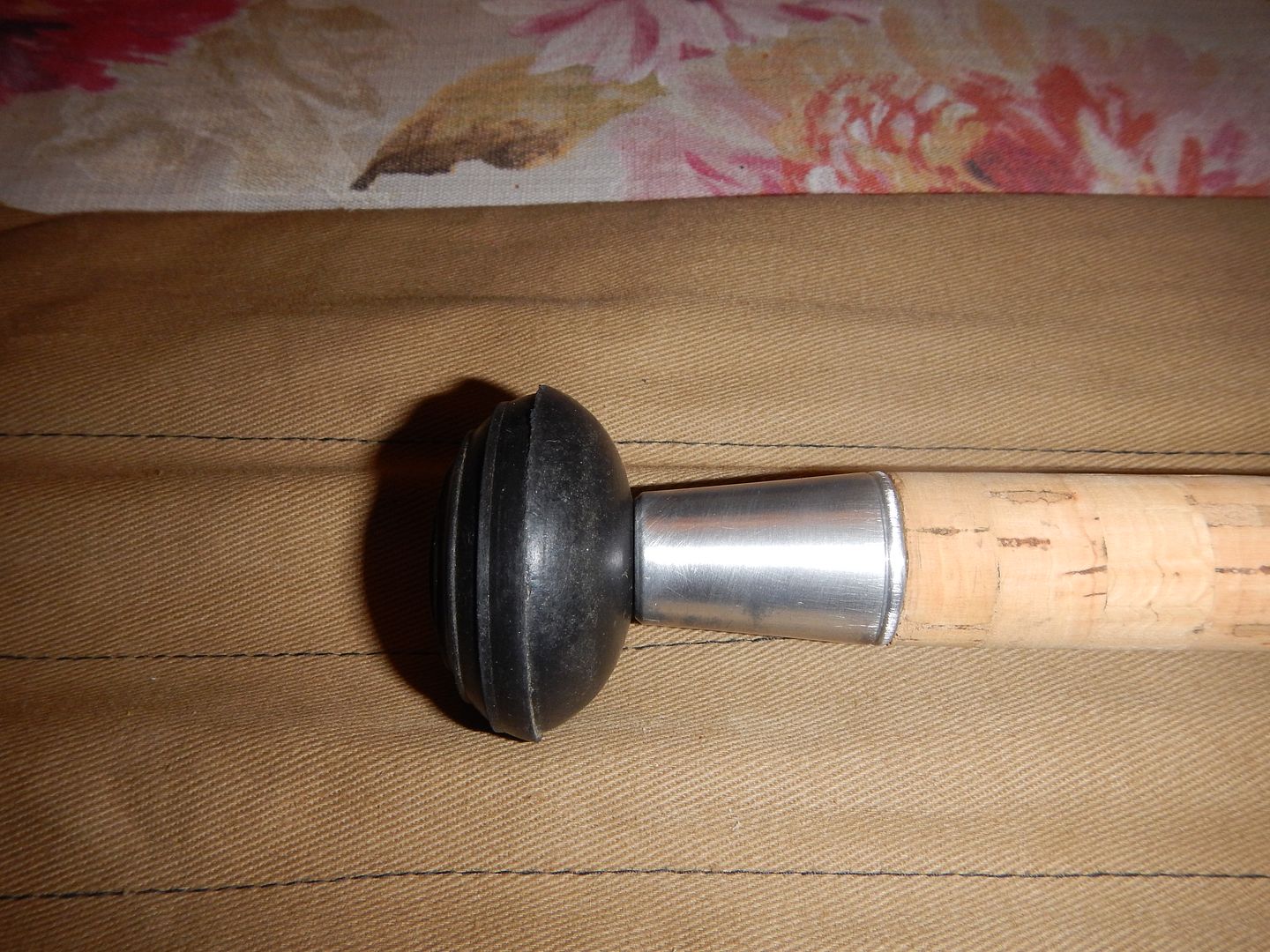 1 1/2" Tapped & Threaded Brass Ball
Brass Ball Positioned at Scottie Butt - May leave 1/4 - 3/16" of solid brass in between butt and brass for cosmetics.
Original idea was this automotive stud epoxied in to the threaded ball and screwed in to the Scottie. The brass thread to thread conversion will be so much better and 100% on versus an epoxy set.
More pics to come later this week. This should effectively take 10 oz off of the reel required to balance the rod? Will see what the end result is and will update the thread. Hope this is helpful to some.