Fished two lakes May 9 and 10--then the weather shut us out. May 9 I was fortunate enough to spend the day with Brian Chan on one of the lakes he actually built when he was working for the Fisheries Dept. This was my first time fishing for trout in B.C. and it was a trip I'll never forget.
I took my non fly fishing wife on this trip, so we stayed in Kamloops. Probably the best decision too, as apparently the Hwy. 24 lakes are still mostly frozen, and even Kamloops was having some flooding problems. The lake we fished was a little higher elevation than Kamloops, 1800' or so, water temp was 56°, OAT about 60°. Wx was mostly sunny with a few clouds.
Brian--I just love the guy. He's all science and methodology. He has a G3 1756 skiff with a 40 hp Yami tiller, two sonar units, two electric anchors, a $16 Berkeley rod holder which you
will
want to get to replace the Scotty holders, and of course a great assortment of flies, of which I had none, mainly because I didn't bring hayhooks and black rope as that's how big the midges seemed!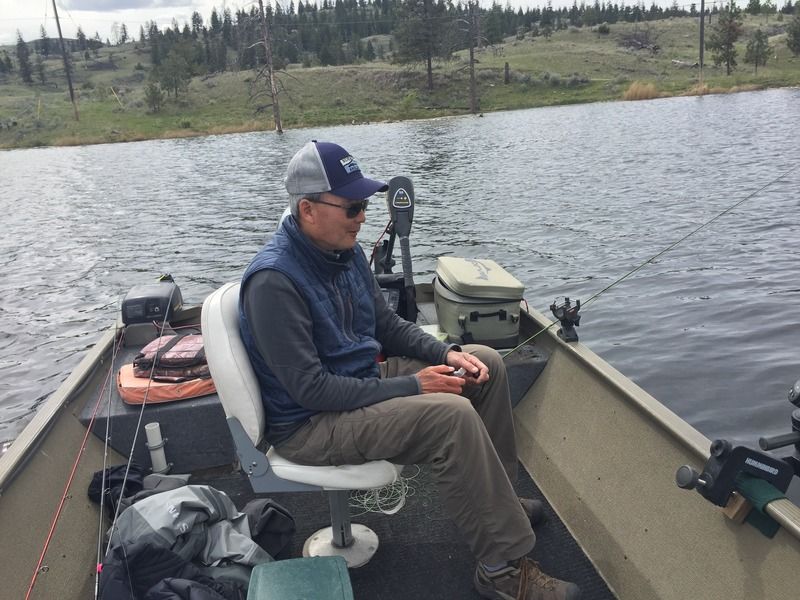 We started out stripping dragon flies along the bottom using my Deep 6, and I hooked up almost immediately with maybe 4-5 more in the next 30 minutes or so. Here's my first B.C. trout, and one of the smaller ones of the day. Two strains in this lake--Fraser River and Blackwater--got about 50/50 of each, this of course a Blackwater.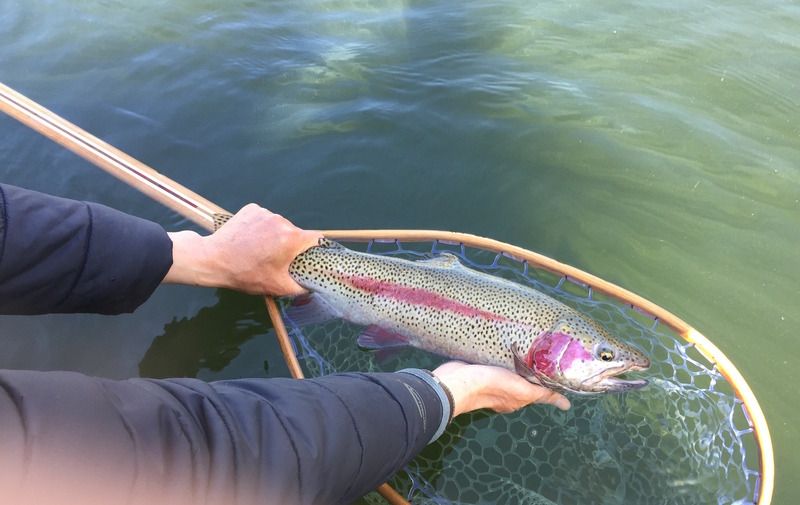 Once he spotted some fish on the sonar, we went to indicators, using size 10,12, and on occasion a 14 midge. I don't think I own a midge bigger than 18. We were fishing 22' -34' down, all new to me. I rarely fish with indicators, and when I do it's usually about 12', not 30. I brought two rods, a 5 wt.glass rod and a 6 wt. 9' Z-Axis as a "back up." It became quite apparent the 580 glass rod would be completely inappropriate. I'd say that Z-Axis was the minimum I'd ever use in these waters as more than once I thought I was going to snap it on a fish, especially being so deep and so close to the boat. Incredible fighters!
Once we got a fish on the bobber, Brian grabbed it and pumped the throat (not the stomach). He carries specimen bottles, and examines the contents carefully, and adjusts the fly accordingly.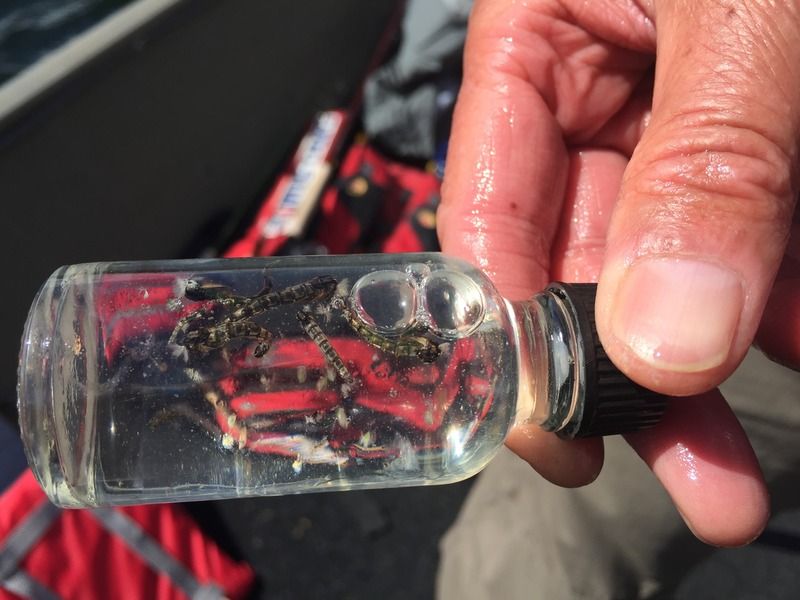 We then went to the straight down, fast sinking line approach which I've never tried. Rex and Buzzy were telling me about the "vicious" strikes using this method. Brian in his ever demeure manner, said, "yep, it will wake you up." About five minutes later as we were chatting, I felt my arm flying up as the rod crashed into the water, and I think I cut loose a non-Canadian style expletive! Jesus! I have never had a strike like that!
We moved around some, talked to some other boaters who of course all know him, and I was shocked at the open sharing of information--that's unheard of down here and so refreshing. I ended up with over 20 to the net, probably lost (through my own fault mostly as I rarely go down to 5x tippet when fish this size are available ) another 10 or so. Three were under 18", the rest were up to 26" and all top, top quality fish, mostly 3-5 lbs.. I was blown away when Brian told me these fish were all one year old and were 2016 4-5" fingerling plants!
Day 2 Edith Lake (on my own)
When I first got to Edith nature called and I needed to drop a deuce. There was an outhouse which is always downright disgusting at lakes--but with no real choice I opened the door and this is what I saw:
I've spent a good part of my real estate development career using these on sites, and I always thought they came from the factory with mud and toilet paper and burrito wrappers on the floor! This was so typical of every inch of Canada that we saw--clean, pristine, no impact. Even better than Oregon.
Brian likes Edith, and recommended it as I didn't really have that many options with a passenger car rental, which I'd never do again up there as the roads are a long ways from level, plus some of the lakes were inaccessible due to road flooding. Weather was clear at first, then because cloudy with some rain. I gave it four hours without so much as a maybe. I was completely unprepared with only my float tube, no sonar as I was close to overweight for the plane, didn't have the right midges either, and saw only one fish taken on the lake on a flatfish. None of the fly fishermen got anything. Disappointed? No, not too much, as the education I got from Brian was much more important for the next time, and the previous day being so great helped too.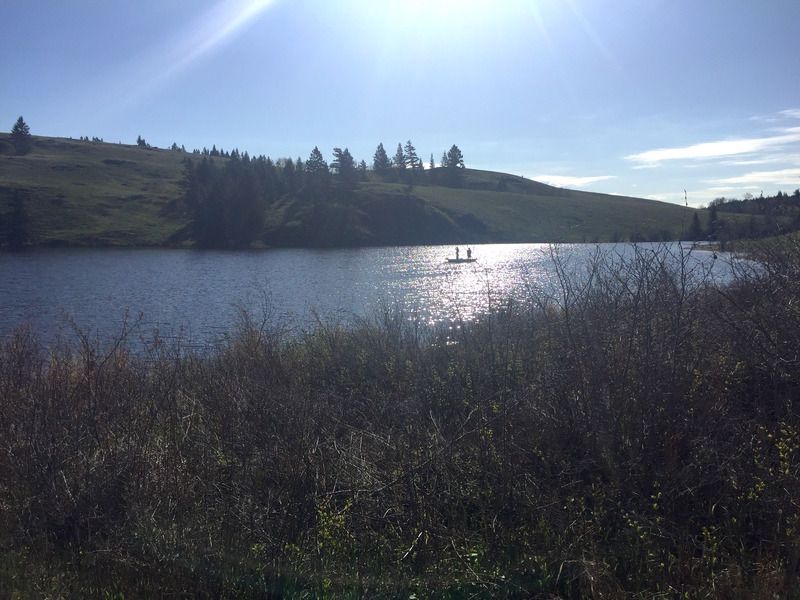 The next day we had planned to tour some wineries in the Okanagan but roads were flooded so we worked our way back to Vancouver and spent a couple of days there. Haven't been there since the 70s, man that place has grown into a world class city with a great vibe.
Narrative

If I added up the poundage and lengths for the day, it's probably the best trout fishing I've ever had, plus I'm just not used to the uber high quality of stillwater trout in this size. I'm super happy with 5-6 good fish over 20" from Craine Prairie for a days work, and Brian actually felt bad that the day wasn't better! With that said, I'm still not a convert to bobber fishing, as I'm addicted to the often smashing takes when stripping nymphs or streamers, plus it seems to me you have to know there are fish very near you when indicator fishing--no searching. What I am now able to reconcile though is definitely using it when stripping doesn't work, instead of being my usual hard headed self and not trying it. As far as fishing the Deep 6 straight down and deep, oh hell yes, but probably a better technique for the boat than for a tube, given the choice.
I'd love to come back if I could mainly strip, which Brian says you can in October with shrimp, although it's cold. Maybe there are other lakes than have larger insects, I don't know, but I know I will be back, maybe meet up with some guys from the forum for a 24 trip. I also want to try the Yukon or N.W.T. for pike and grayling, never been to either. Brian also put me on to the Fernie area in the southeast corner of the province for big bull trout and pike. Sounds amazing.
For those who haven't done the B. C. lakes, most of you are within driving distance, so do it. It's worth the trip if for no other reason that the fish are all fingerling plants so they've learned the ways of wild fish, might even almost call them wild after a year or so.
Found some terrific restaurants in Kamloops too. Not too many years ago "great food" and "British Columbia" were not often found in the same sentence, but there are some highly creative foodies there now and we totally enjoyed every meal. And, I got to try Poutine and it's much better than it sounds!
Special thanks
to forum members Robert Engleheart, Buzzy, Mark Yoshida, and Starman77 and some others for a ton of help for trip planning, there's no way I could have pulled this off without all of you, so grateful!
John