Hi dcsam. Here is a link to Rainbow Guide Service which does specialize in guiding folks who are disabled. The owner Joe Biner is a fantastic guy with a great sense of humor. He has cerebral palsy but was extremely capable in the boat and was a great guide for us, along with his Dad Curly. We used his guide services two years in a row on both the Big Hole and the Bitteroot (last time was 2000, so it's been awhile). We liked Joe and Curly so much that we all went out to a small local bar for drinks and listened to live music afterwards. ( I remember buying the house a round and it cost me less than $20!) So funny! We didn't hire guides the third year because we stayed in a cabin on the Bitteroot river , but we did have them over to our cabin for a visit our very last night we were there. Joe also has a cabin for rent, but i don't know what it looks like.
Joe Biner's Rainbow Guide Service
Darby Montana
Listing Type: Outfitter/Guide
City:
Darby Montana
Region:
Glacier Country
406-821-4643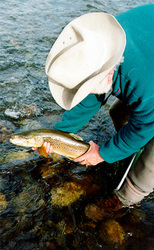 More Images
Joe Biner's Rainbow Guide Service offers catch and release fly fishing. We are a member of Floating Outfitters Association of Montana and provide services for the physically challenged. Safe, fun fly fishing of Western Montana's great rivers for families as well as the serious experienced angler. There is no pressure beginners instruction, we also offer over night river camping and scenic float trips. Contact Joe Biner at
406-821-4643
.