Discussion Starter
·
#1
·
I'm moved into my new place. But still doing projects around my place. Was a hard process finding a place. My wife wanted land and a barn for her horses. I wanted a room that was just "mine" to be a man cave. We found an old farmhouse in Graham (was built in 1900, thankfully renovated once in 1947 and again in 1997) and are in the process of making it "ours". My wife got her barn. An old cowbarn. So it's perfect for us, I can convert the open feeder side into walk in stalls since we free range our horses. In process of building a tackroom and stalls are done except for making the doors and hanging them.
But I was blessed, not only did I get a room, I get my own house. Property still has the original "bunkhouse" used for the farmhands. It's a small 2 room one bath bunkhouse. Has a busted waterline, so need to get that fixed so I have running water and toilet there. But the two small rooms will be outfitted to be my "mancave". I'm going to be installing a full bench for tying. With space to put up an extra table. Here's where the fishing related comes in. I do have tons of material. I'll be restocking once I'm done (I used up alot of what I had so I wouldn't have to move so much to the new place, and since I had to cut down tying thanks to the move and retrofiting property). What I was thinking, if we have enough members in the immediate area (I know of one who literally lives just down the road) we could have a monthly tying gettogether here. Plenty of room to park, and enough room to have several tyers I hope. Gonna take awhile. But hoping by summer to have it totally ready. Working on it here and there. But have a single wide mobile rental on property I've been working on. Now getting barn finished in the next week or two. Then I can start working on my garage/shop. THEN, bunkhouse (I know, should do that one first LOL).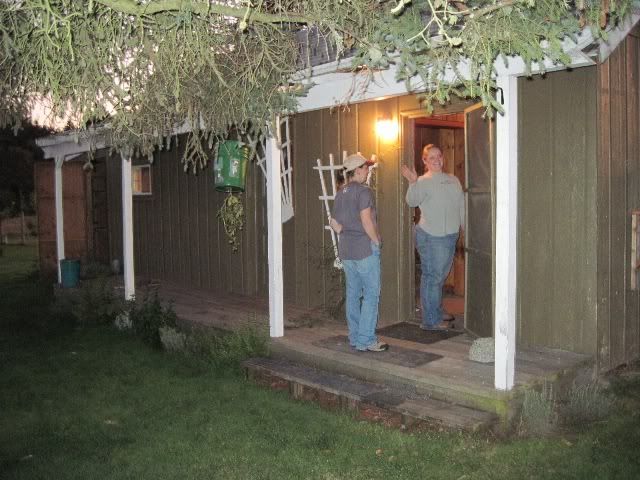 That's what it looked like when we moved in. Will be slowly transformed shortly (will look about same outside). So, who's nearby? I'm actually on Eatonville cusp. Just off 260th and Mountain Hwy.