Discussion Starter
·
#1
·
So not too long ago I started fly fishing (seriously) again. It's pretty sad cause it's all that is on my mind again...I'm thinking it will pass, at least I'm thinking it won't be at the forefront of my mind all the time.
Anyhow, after Josh took me out to PNP I've been trying to master the saltwater and since I live in Bremerton and my time is limited due to family priorities I'm pretty much forced to love salt water fishing. No problem there. If I can cast a fly and enjoy some time alone it doesn't matter what kind of water it is, as long as there are fish in it.
So I've been hitting the local beach(es) and tossing many a fly. I suffer from ADHD (for real) so I can't keep a fly on too long before I switch it out to another one... even if it produces I'll switch... primarily because I'm curious if that's the ticket or if it really doesn't matter.
Well, up till now the Micky Finn has been my ticket and if at the moment I was asked to pick one fly only that I could fish the beaches with it would be that fly.
I find hard current and swing it and stripp it back after the swing and that's mainly when I get my hook ups. All hook-ups are nice and clean, the fish is hooked with the hook coming out of the bottom of it's mouth, never the side or in the lip, but just a full bite with the hook coming out of where the double chin would be if the fish had one...
Anyhow, I have various versions of Mickey Finn's (also b/c I have ADHD) I can't seem to tie the same fly twice before getting bored with it, so I start to make variations... pretty lame really, since usually the flies that work I only have one of. Either way, I no longer tie flies so if I can get myself to buy at least two of each I should be fine in case I loose one.
Here are the versions I tied, the one that worked is the bottom one... I have not even bothered trying the other Mickey Finns, because this one with the red beard and the lack of darker top is the one that is scoring!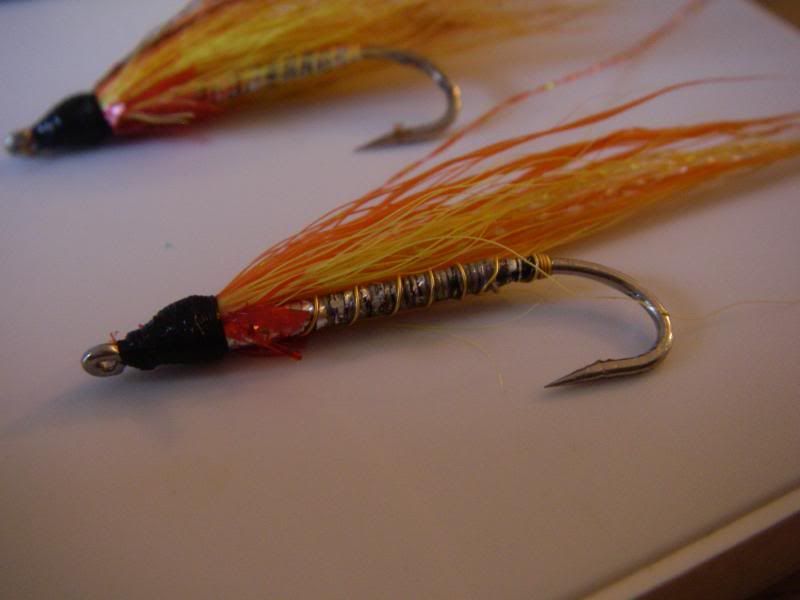 Also the mylar on the body of the bottom one is different... I don't remember what it's called, but it's kind of dark gun metal-ish rainbow..
Sorry, I don't know the material name anymore.
It's worth giving a shot, unless it's just the fish around Bremerton that dig this fly, cause we like bling round here!