Discussion Starter
·
#1
·
"We're going to the Yakima, Yakima, Yakima River" sings my youngest as she creates an impromptu song. She won't repeat it now, but if you try your own version she'll tell you that you are singing it wrong. At five she does understand her rights as a songwriter.
Plan: Fish the Yakima for two days with my Father in Law. Hire Derek Young for the trip. My father in law is one fishy dude but is not used to a 4000-4200 cfs river. His wading abilities are not as great as 20 years ago and his eyesight requires an occasional assist for fly ties and wind aided messes. Derek first introduced me to the Yakima back in January. Sitting in open seats in his boat twice convinced me he is a great guy, skilled, and knowledgeable.
Who: My father in law and I...wait, add the three lovely ladies in my life. They agreed to come along to be with my father in law. They mapped out their own activity plan while we were on the water and kept busy in the pool and searching the Ellensburg area for hidden treasure.
The trip: The Yakima is in full irrigation flow and the graphs on the days we fished had it between 4000 and 4200 cfs. I don't know much, but I know this is moving pretty brisk and wading would be tough. Daytime temps caused us to plan on wet wading, that was a good call. Derek knew a lot of places where pulling over to the shore would allow some somewhat sheltered wet wading with lots of side channels, eddys and undercut banks where lots of trout would hide. We were not really seeking trophy catches, but were ready if one presented. What we wanted was a great, safe, relaxing day stalking, dead drifting and swinging flies of various forms to trout eager to come out and play for a while. We were not disappointed.
8/5: KOA Campground to Ringer. New to me water and that meant that I was happy from the get go. We were not more than 30 yards from our campsite when we were into our first fish. There were a few more for me (I suck horribly but I'm working hard at improving that) and a lot more for my father in law. This guy is just one fishy dude and I will always relish the chance to fish with him. We were on the river from about 1pm to 8pm and back in time for a great steak and potato dinner, courtesy of the Mrs! I was very impressed, as a gear whore, of Derek's Green Drake raft. Heavily rockered, very firm inflated floor was easy to stand and fish from all day. Very cool craft, maybe once I've gotten my fill of my 14' cataraft I'll consider one of these. I was also impressed with his loft tent that sits well above his truck bed. The truck bed can be fully filled with trip gear and his easily set up tent in this loft was super cool. My girls called it his truck tree house. When I ditch the SUV I'm looking for a truck and one of these! What can I say, I have a weakness for cool gear.
8/6: Bristol to the Thorp Bridge. New to me water and that again meant that I was happy from the get go. I think I had a fish on within minutes and was grinning. Of course I'm my own worst enemy and repeatedly fouled my leader and two flies. After mumbling at myself quite a bit I decided to take a look around, relax and enjoy the scenery that Derek had chosen. The fishing started slow for my father in law, but did not remain that way for long. Fishy dude was into them after about an hour and then for the rest of the day he was pretty busy. He really got into a bunch of fish and I got into my share. We found a few bright sided fish in the 8-10" range in the heavy flows in many riffles. When wet wading we opted for calmer water and enjoyed the constant interest by the little guys. My father in law did get into a couple of very nice fish that, despite his skill, experience and pressure on the fish, spat the hook as we got a look at them. Nice fish for sure. I had one fish hit and break me off quickly, never saw it, but still enjoyed the rush from the hit. Today I asked to row the raft, I wish I had asked sooner. Derek had brought us through some challenging stretches and we all enjoyed taking some of the larger drops and standing waves over a more pedestrian route. The raft was a blast and through it all I stood and fished. My chance to row came pretty close to the Thorp Bridge, so I only got to do some quick maneuverability tests and rode a few moderate standing waves.
What a great two days to spend on the water. Spending time with my father in law as he consideres if his wading and sight skills might soon put an end to his fly fishing adventures was great. He has fly fished many places in North American and South American and has success stories from countless big trips. He spoke wonderfully of his time on the river with Derek and remarked he was among the best who's ever guided him down a river. That is a pretty high compliment based on the number of guided trips he has taken over the past 40 to 50 years. Spending time around camp with the family, who allowed me to change out of my wet gear before putting me to work around the campsite, was fun as always. And it was fun to fish with a trusted new friend who continues to show me new stretches of the river.
Here are a few of the many photos I took:
Launch.
You can tell a lot about a person by the company they keep.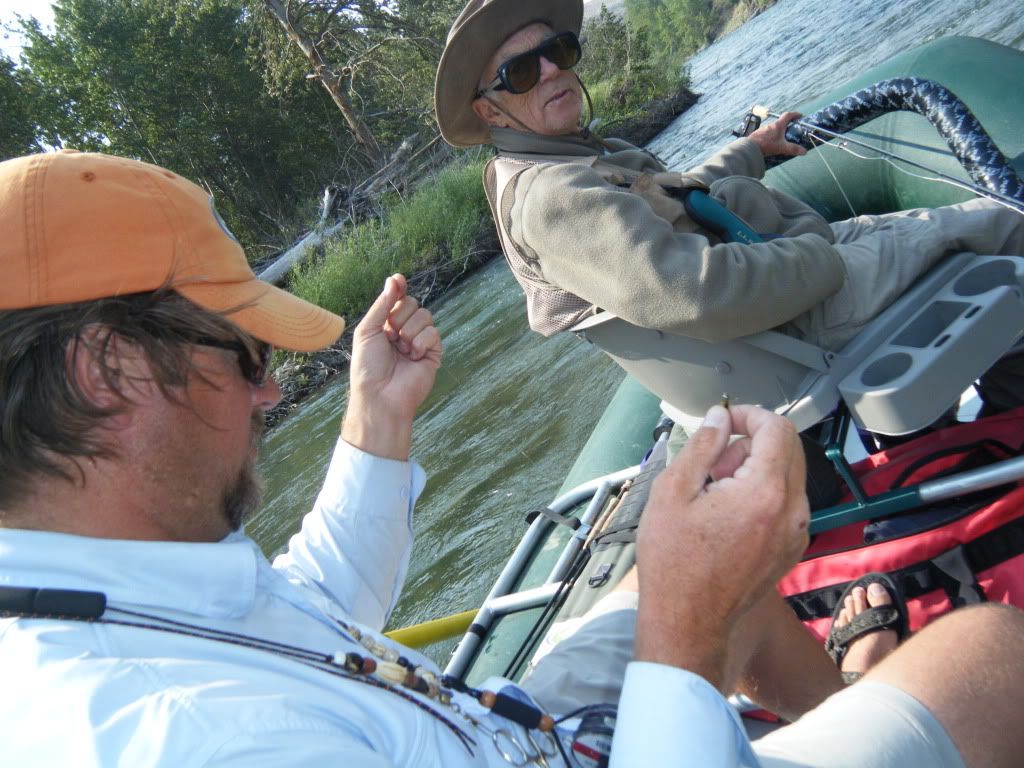 Hoppers taste good, even if I tied them.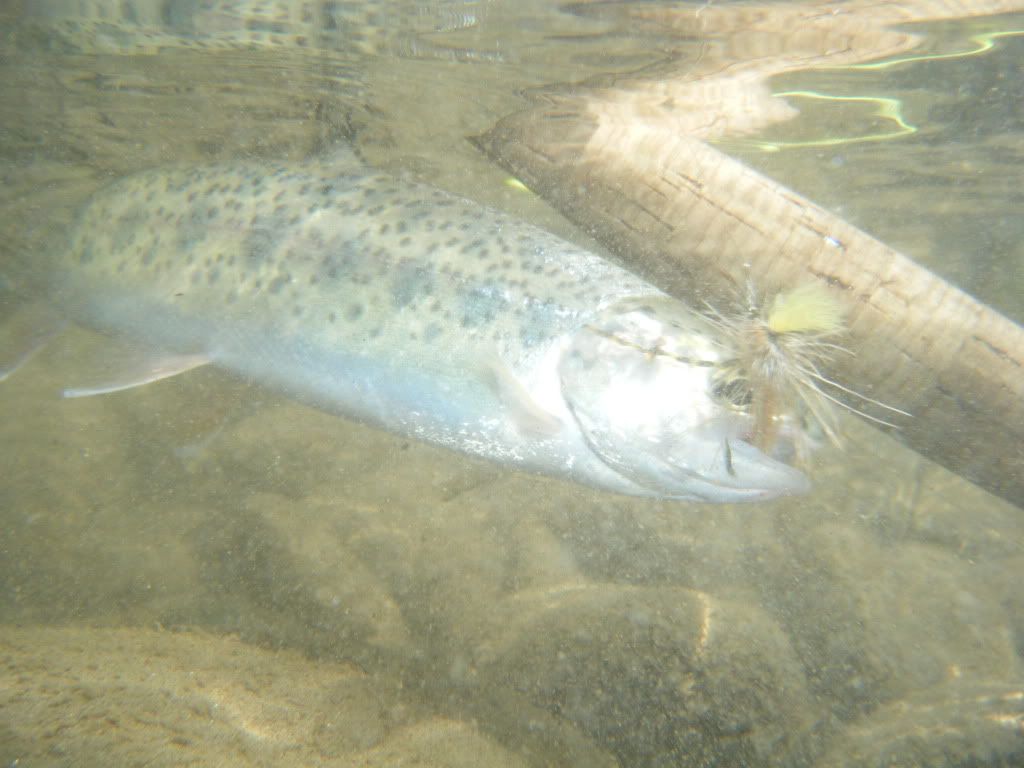 The more a hopper gets hammered (legs are missing), the more interest there is in the hopper.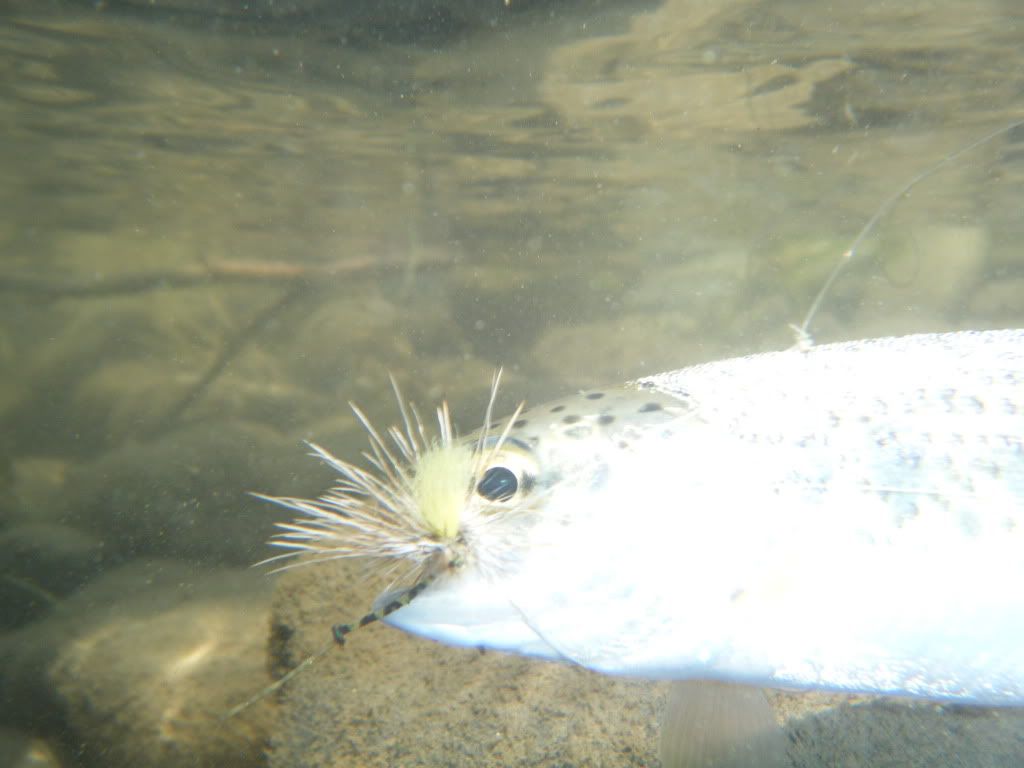 Sometimes you need to expand your focus, forget your poor casting, the wind and take a look around. This may improve your fishing and catching experiences.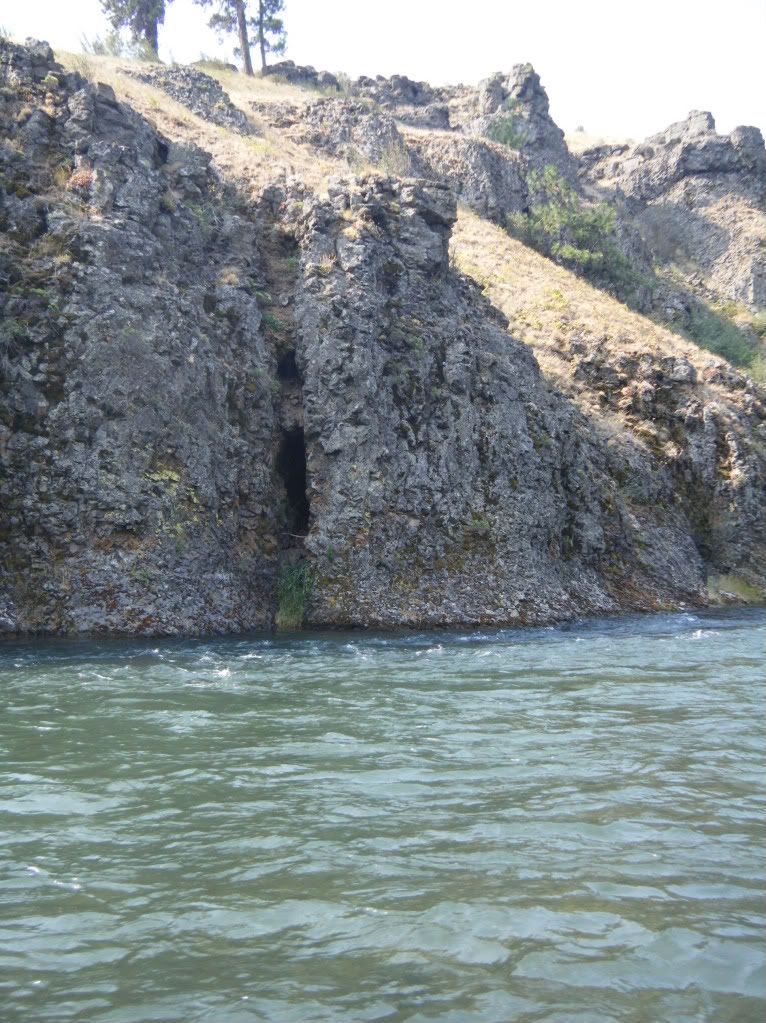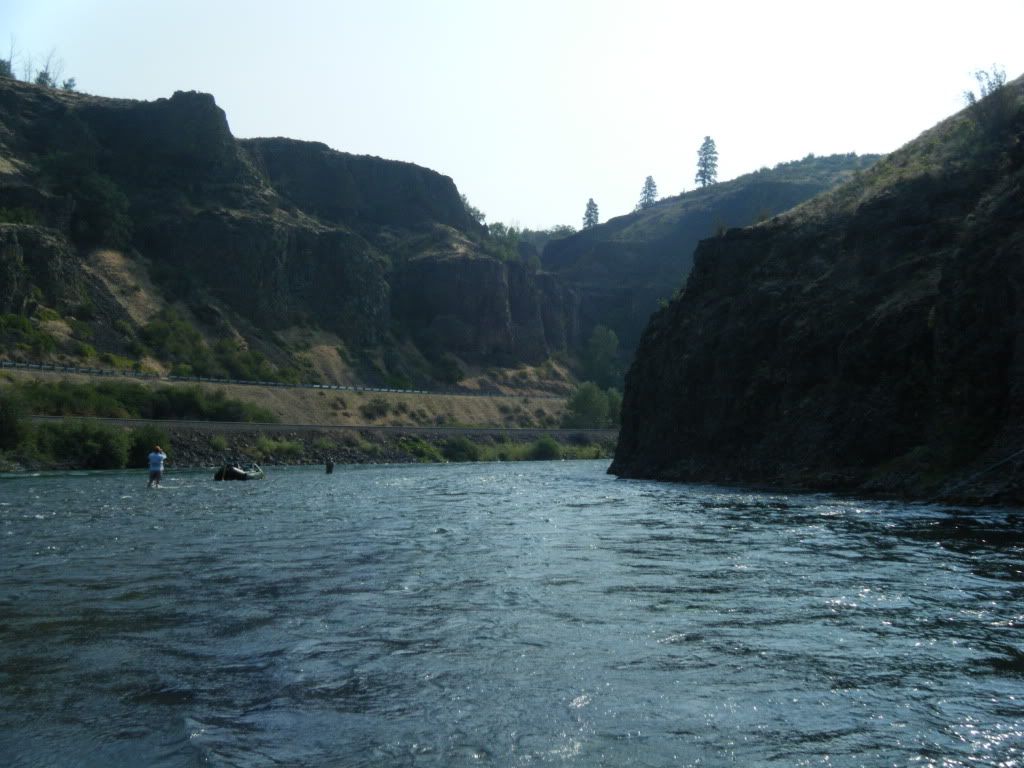 Enjoying the view sure did help my catching. I got cocky and took this of what was to be my largest fish in the two days. I got a few good looks at him and as I got him just about close enough...gone. Humbled as often as I mumble.
I can't wait to head back to the Yakima, Yakima, Yakima River. I'll be back in 13 days for the PHWFF Two Fly Event. I hope to see many of you there!