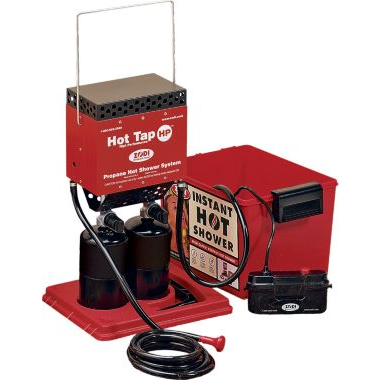 4
Selling my ZODI Instant Hot portable camp shower. Two burner model and I don't believe we've ever used it so it in as new condition. We camper camp and use that shower. If it's winter time...we just tough it out for the hunt or camp time...and maybe stink a bit. Exceptional portable heater and shower with outstanding customer reviews. This unit is typically $299...$150 plus actual shipping costs for this one (estimate at $25 or so but will confirm baased on buyer's location).
Info from ZODI on the unit:
Zodi Hot Camp Shower
With this easy-to-use portable shower, you can have hot water to 100° in less than one minute. Place the battery- operated high-pressure pump in any water source for the ultimate in portable showering convenience. The Hot Camp Shower is powered by four D-cell batteries and a 16-ounce propane bottle (not included) that will generate 25 hot five-minute showers before replacement. Piezo ignitor starts heat quickly. It has a waterproof battery case with an on/off switch, as well as an extra-long 8-foot flexible shower hose with a water-saving head. The high-impact plastic 4-gallon carry case holds enough water for a 10-minute shower. Case lid removes to serve as a propane cylinder base. Choose the one-burner or super-fast heating two-burner model. Batteries not included.
Available:
One burner - 8"L x 8"W x 19.5"H
Two burner - 8"L x 16"W x 19.5H"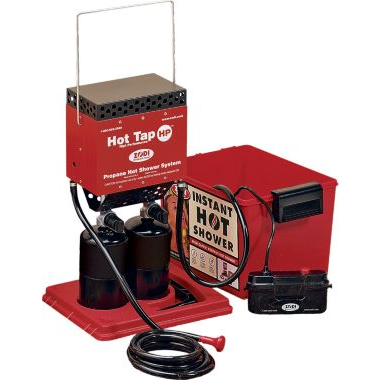 The unit I am selling...